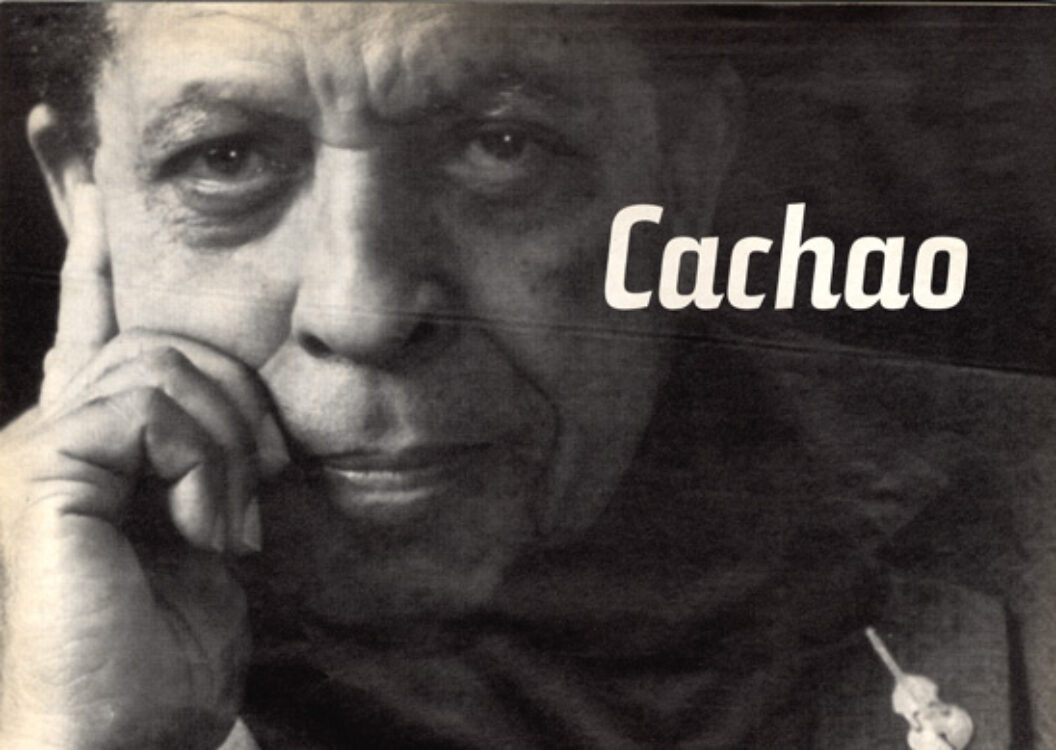 In 1938, two decades before the world went mad for the sultry horns and grunts of Perez Prado, a prodigious Cuban bassist, Israel "Cachao" Lopez, and his brother, Orestes, had created a piece of music they called "Mambo." The mambo came to do as much for Cuban public relations as sugar or cigars. Yet by the '70s, its inventor was living in relative obscurity with tens of thousands of other Cuban exiles in Miami. Humble of spirit, he might have gone on playing weddings for years until a worshipping childhood fan named Andy Garcia produced a concert/documentary, Cachao: Como Su Ritmo No Hay Dos (Like His Rhythm There's None Other) in the hopes of assuring his hero due recognition. Before long, Cachao was recording with other renowned Latin musicians, like Paquito d'Rivera and Tito Puente, on Gloria Estefan's Grammy-winning Mi Tierra. Emilio Estefan signed him to his Epic-distributed label, Crescent Moon, and Andy Garcia went on to produce his album, Master Sessions, Volume I which has also been nominated for a Grammy. Cachao is catching on.
The offices of Estefan Enterprises are unexpectedly serene when I arrive. Seemingly, the only person around is the secretary, who points me in the right direction. As I approach the large, empty conference room, a second figure appears in sunglasses and a baseball cap. The gentle limp gives him away. Brown and rotund as the sound of his name, he at once puts me at ease with his warm, paternal manner, and the rhythm, so atavistically African, of his Havana accent.
Jorge Socarrás Watching you play double bass is the most curious thing. Sometimes you strum it with your hand, sometimes with a bow. I've never seen anyone play like that.
Cachao When I'm playing a serious concert, I handle the bass in the classic form, but when I play my own music, anything goes—a hand here, another there. I'll play one way and then another, however the whim hits me. It's just another of my creations. I like people to see something they've never seen before.
JS When and how did you start to play the double bass?
C It's been only 68 years, since I was a very small child. Before working as a bass player, I was a percussionist—I played bongos. Then I played the tres [a Cuban guitar with three pairs of strings], and later I began to play other instruments as well: trumpet, piano, but I've decided to dedicate myself to the bass.
JS How did it come to be your instrument of choice?
C It's in my roots. In my family in Cuba there are 35 bass players, or so I'm told. I've never been back.
JS What music were you listening to when you started playing?
C Well, the most popular dance music in those days was the danzon and the son. Then there were all the other kinds of dance music; the rumba, the guaguanco, and the guajira.
JS Did you have any favorite composers back then?
C In reality, yes. For example, Ernesto Lecuona was of that time. On Como Su Ritmo there's a piece by Maestro Lecuona: "Al Fin Te Vi" (I Saw You At Last). There was Gonzalo Roig, who was very good, and Rodrigo Prats. These were all "classical" composers who had written many pieces. Then when I started with the Havana Philharmonic, which I did for some 30 years, I had the opportunity to work with great directors.
JS Cuba fascinated the musical world in those days.
C Yes, yes, of course. Everyone came to Cuba to direct the symphony, all the big names except maybe Toscanini, who I think was in ill health.
JS You tell a story about Stravinsky—how he couldn't keep up with the rhythms of Cuban music.
C Yes, the maestro was in Cuba directing the symphony, and came to a three day Lecumi [a branch of Santeria] feast. There he just couldn't notate the rhythms of the descargas we were playing.
JS If Stravinsky couldn't follow them, how can you explain the complexity of those rhythms?
C Well, for example, by ear, one might be able to learn it. You can play something, but to write it so that people might understand it—that he couldn't do. There are very difficult African rhythms which have no time signature. One can try every which way; there's no figuring them out.
JS But the person who feels they can play it.
C Oh, of course! It can be played.
JS During the time that you played with the Philharmonic, did you ever have any conflict between the music you played there and the music that you really wanted to play?
C No, because I always respected the music and ascribed each to its own universe. There was serious music; Brahms. Hayden, all that, and also opera; Puccini and what have you. Then there was my music. If, for example, I were playing an opera—any opera, I'd finish up and go to the dance hall. Generally, concerts ended around 11:00 at night. By 11:30 I'd be playing at the dance hall. It was another universe! I'd do both and feel good in either atmosphere. But I liked classical music—I still do.
JS Where did you get the inspiration to change the form of the danzon?
C My brother and I were always coming up with different things. There was between us, not exactly a competitiveness, because he was ten years older than me, but … He'd create something, so I'd try to create something different. And from each of our different styles, we came up with many versions of the danzon. We modernized it into the mambo.
JS Was it a conscious invention, or a natural process?
C It was natural. Let me explain. We were always looking for the impact on the public. When we made the mambo, it was very fast. That's why I made Como Su Ritmo; you can hear how the mambo was conceived. Back in that romantic era people didn't dance fast, so we had to slow it down. Mambo to danzon, danzon to mambo. Later in the '50s, Perez Prado came along with a variation of his own, and his became international. If it wasn't for him, the mambo wouldn't have gone worldwide. For that I'm grateful to him. To his credit, he accomplished what we never could.
JS The name "mambo" is an African word for a kind of bedtime story. Did you choose that name as an acknowledgment of the music's influence?
C In part, yes, because, as you know, what's Cuban in origin is also African. The Africans had as much influence as the conquistadors on what is Cuban. Naturally, this being in the blood, many things have come into being always with an African influence.
JS What most distinguishes the mambo from the other Cuban dance forms; rumba, cha-cha-cha, etc.?
C It's a style—unique, but nonetheless Cuban.
JS What about the descarga?
C It's another crazy thing I was into. Musicians would come together from all the different clubs—The Tropicana, The Hotel Nacional—at four in the morning to descagar, let it all out. We made a first recording out of these improvisational jam sessions and it wasn't taken seriously in Cuba. "This guy must be crazy," people thought. Yet in the States, because of the jazz scene, it was taken seriously.
JS Was it considered scandalous the way rock 'n' roll was?
C No, people accepted it because they were being exposed to more television and radio; they got used to it.
JS In 1962, you left Cuba and went to Spain for two years before arriving in the U.S. What influences have you felt in your music since then?
C Well, jazz was an influence, even though I wasn't making any. I began to play in New York, with Charlie Palmieri's orchestra. It was only for a couple of days, but it got me going. After that, I was with some other very dynamic musicians including Pacheco. That was at the New York World's Fair in 1964. It led to an opportunity of playing with Tito Rodriguez. His bassist had a hand injury and wanted me to take his place. So I ended up playing with Tito for two years. I was also with Machito for a while, and later with Eddie Palmieri.
JS Had you known any of them before the U.S.?
C Well, the ones I'd met in Cuba; Tito Puente, who I think of as a brother, and Tito Rodriguez.
JS Did you get to play with any American jazz legends, like Dizzie Gillespie?
C No, I didn't, though he was interested in procuring my services. I told him it would be difficult because I didn't speak English, and he, being a very agreeable fellow, said he didn't care what language I spoke, that he was interested in me. He added that there were a lot of American musicians who played beautifully, but that he was interested in a Latin stylist such as myself. I couldn't do it because it was a bachelor band; they played six or seven months here or there, and what about the wives? That's why I couldn't go with him, though it would have been an honor.
JS Returning to the present, we know that Gloria Estefan's record, Mi Tierra, won a Grammy last year, and that you played a part in that. Now your new record has been nominated. To what do you attribute the resurgence of Cuban music, and your re-discovery in particular?
C I'm of the opinion that it's the variation on the recording. It's a history of Cuban music from the turn of the century to the present. I think this makes an impact; when you listen to a whole sequence of things that evolve out of each other, it's exciting. At the same time, it's a cultural experience. You're tracing roots.
JS What about your next record?
C Well, there's still so much you haven't heard from the first recording session. It all occurred in ten days—14 hours a day. We recorded several different things—classics, as well as discoveries made on the spot. So much went on, I came out of the studio spinning like a tornado.
Jorge Socarrás lives in Miami Beach where he is working on a novel about life in contemporary Cuba.
Originally published in
Featuring interviews with Felix Gonzalez-Torres, Juliana Hatfield, Li Young Lee, Antonia Bird & Danny Boyle, Liz Diamond, Bradford Morrow, Dave Hickey, David Seidner, Shirley Kaneda, Cachao, and William Gass.