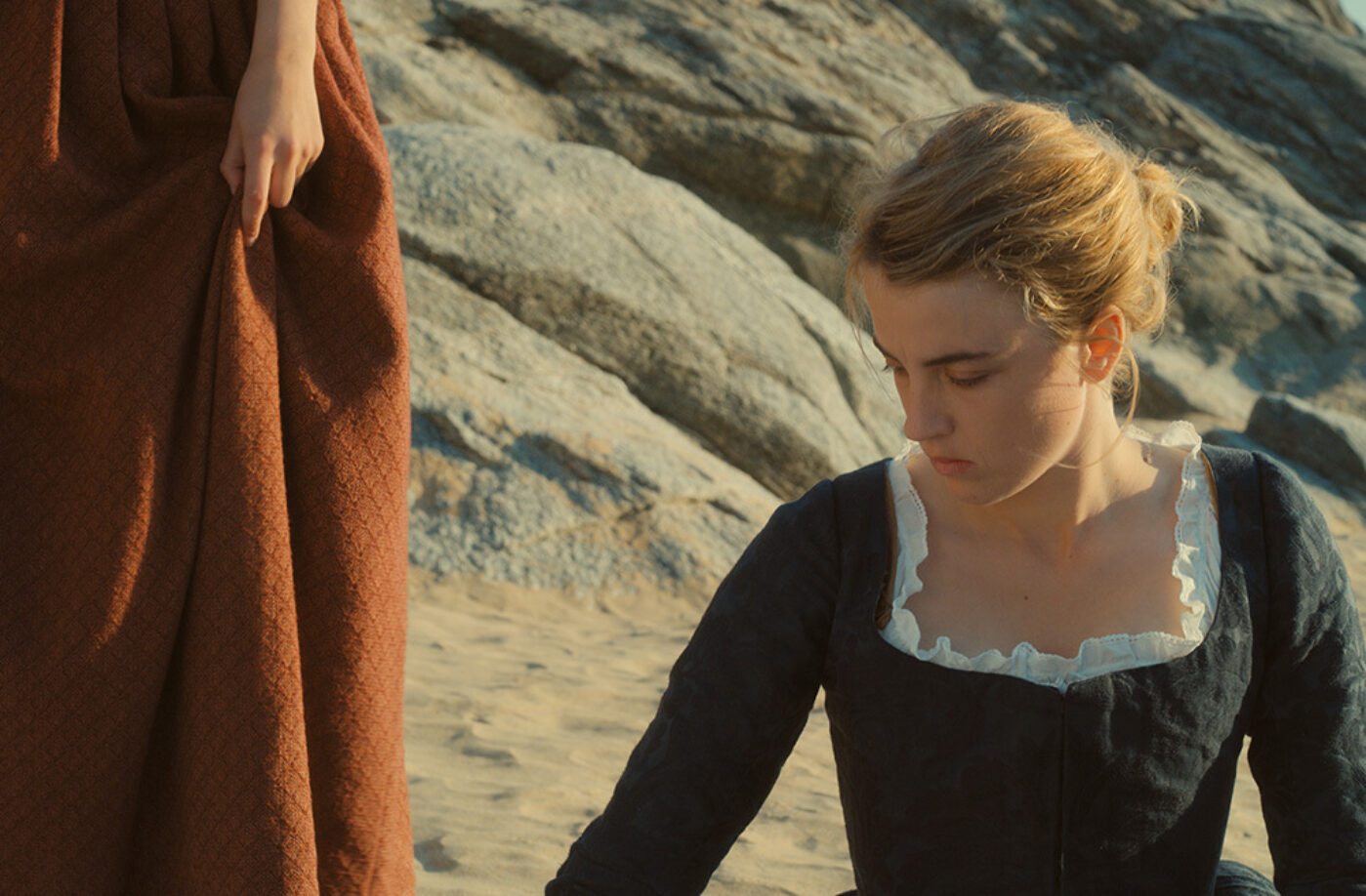 (Lilies Films, 2019)
Portraits and hauntings are inseparable bedfellows in film history, from Preminger's Laura to Hitchcock's Vertigo to Dieterle's Portrait of Jennie. The painted muses of midcentury noirs exist to be made over in their own image, like Pygmalion's Galatea—think of the dreamy specter that pulls Edward G. Robinson's character to ruin in Fritz Lang's The Woman in the Window. The subjects are idealized for consumption by men, often luring them to tragedy. Céline Sciamma's beguiling Portrait of a Lady on Fire works loosely within the confines of the genre, only for her and her cast of women to upend the tropes they have inherited.
The movie opens with a shot of a blank canvas, immediately striking an analogue between the frame of a painting and that of a film. It's autumn on an island off the coast of Brittany in the late eighteenth century. Painter Marianne (Noémie Merlant) has made landfall at the behest of an Italian noblewoman (Valeria Golino) who's anxious to return to the cultural riches of Milanese high society. Her homecoming hinges on the marriage of her daughter, Héloïse (Adèle Haenel), to a wealthy suitor there. Though the two have never met, the arrangements have all been made, and the nobleman's only remaining requirement is a portrait of his betrothed on which to "swipe right."
Marianne, the daughter of a renowned Parisian painter, under whose name she submits work, has been commissioned to paint the portrait because she is a woman. A man had previously tried and failed. Héloïse, mourning her recently deceased sister—who, facing the same marriage prospect, appears to have flung herself from the island's jagged cliffs—simply refused to show the previous painter her face. Marianne's predecessor leaves behind one of the film's most striking images: an otherwise finished portrait with a void at its center. Marianne is to work under the guise of Héloïse's "companion for walks," stealing glimpses of her features before returning to her quarters to paint in secret. Cinematographer Claire Mathon shoots from Marianne's perspective, favoring Héloïse's profile on the foggy cliffs and extreme close-ups of her hands, as these details envelop Marianne's memory.
"Is that me?" Héloïse prods Marianne when she sees her finished portrait. "Is that really how you see me?" Marianne sputters how it's not just what she sees; there are conventions that must be honored. These artistic customs, we are meant to infer, have come from men. Héloïse posits that such an approach lacks life and presence. Marianne dismisses her, saying that presence is made up of fleeting moments, which lack "truth." Héloïse counters that feelings are not fleeting. The thought nags at Marianne, until she destroys her attempt and vows to start over.
We never see any men on the island, and they are not missed. Ostensibly there's at least one, his presence implied when Marianne and Héloïse accompany the housemaid, Sophie (Luàna Bajrami), to procure an abortion. As the three women travel to a blissful bonfire, their silhouettes recall the opening of André Téchiné's The Brontë Sisters. This terrain, empty of masculinity and devoid of hierarchy, suggests a utopia that cannot last. Sciamma and the characters seem to yearn for a canon of feminine art to draw from, prurient without leering and where painter and subject are on equal footing.
A surprisingly matter-of-fact sequence stops the narrative entirely to turn the film's gaze on Sophie's abortion, which Marianne cannot bear to watch until Héloïse implores her to look. The camera lingers for a remarkably long time on Sophie as she undergoes the procedure with a cooing infant at her side. It is a gentle space, free of judgment. But for Marianne, this possibility of a new life among the women, outside the patriarchal domain, is threatened by the incursion of their eighteenth-century reality: over and over she turns a corner in the cavernous estate to see an apparition of Héloïse in her wedding gown, glowing like Pepper's ghost. In Héloïse's refusal to be Galatea, she is instead Eurydice to Marianne's Orpheus—alive and burning bright, to be extinguished in an instant.
Mark Lukenbill has programmed films for NewFest, Interference Archive, and the Spectacle Theater and written for MUBI, Screen Slate, and Film Comment.
Originally published in
For our 150th issue, we have redesigned our flagship print magazine. This design reaffirms our mandate to deliver the artist's voice, supporting the vital discourse that appears in BOMB with vivid imagery and innovative juxtapositions that encourage dialogue across the arts—from conversations between artists, writers, and performers to exciting literature. We present exchanges in their formative state: revelatory, fluid, and iconoclastic.

---
This issue features interviews with Bruce Pearson, Anthony Roth Costanzo, Jacolby Satterwhite, Cathy Park Hong, Christiane Jatahy, and Seth Price, as well as fiction from Amelia Gray, Deb Olin Unferth, and Jenny Wu, and poetry from Sawako Nakayasu, Andrei Monastyrski, and Bob Holman.