Brothers 'n Sons and Female Heroes by Eileen Myles
In the first in a series of reprinted editions from San Francisco's [2nd floor projects], Eileen Myles discusses the work of brothers George and Mike Kuchar—from oil painting in Oklahoma to illustrating Gay Heart Throbs.

Discover MFA Programs in Art and Writing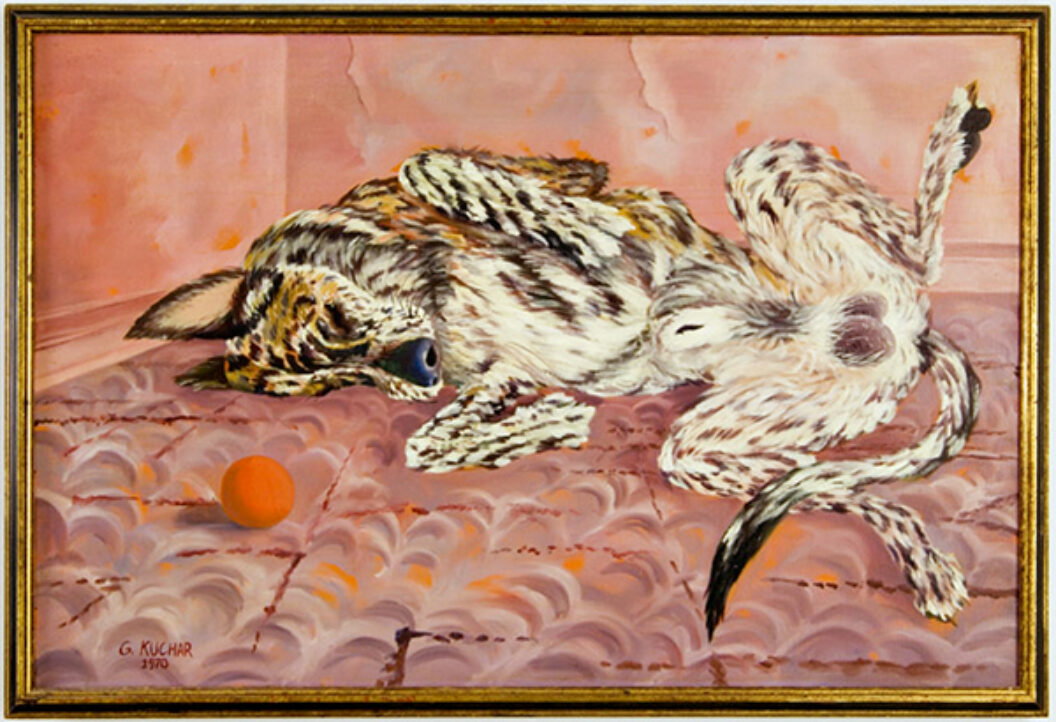 I remember once reading an interview with Francis Bacon in which the interviewer sets us up for the conversation by telling us that Bacon had that quality of all great artists in which he knew when to pull back and when to go forward. Like stop and start were great seismic moments that affected the destiny of the work. It maybe suggested that great art was the result of great will—subtly calibrated to respond to the push and pull of the self, the animal driving the creativity bus. The Kuchar brothers, especially outside their own proscribed area of expertise, are presenting us with a small but glowing body of work: drawings and paintings, in oil, watercolor, and tempera and all made from an entirely other kind of spirit—I think—George says he makes paintings ambiguously, I make 'em cause I like painting, he paints them when he's sitting in a motel room in Oklahoma—enjoying the weather and also waiting for it to change. There's no grandiosity whatsoever in his talk about this work yet the further he went in describing his process the richer the work became. And I was already a convert. He and his brother Mike went to art high school in the Bronx where they grew up. The push was towards illustration, getting a job. I don't think it had that result at all for George. He said he learned about oil paintings from the Walter Foster books you'd find in Woolworth's as a kid. He liked that old guys did this kind of work. He was already making films that were screening at the Underground in New York with Warhol and all those other guys, and painting was just something extra he did. I forgot to ask him if these paintings have titles but the big orange oil painting of a man and a woman looks like they are watching television and George confirms, indeed they are, they were always watching television. The painting was a gift to Larry and his mother and when he showed it to them they just changed the subject. Years later Larry wanted the painting, after his mother had died but George by then had gotten attached to the painting hanging over his bed. It was safe! For George giving or even selling a painting to a person is inextricably linked to whether that person is going to give the painting a good home. If someone pays a lot for a painting his assumption is the painting might also be okay. The subjects of some of his paintings often come from special sources. One of my favorites is a woman with a beach ball having a tug of war with a purple creature with very well formed thighs. It's the New Jersey Devil George tells me. The creature haunted the New Jersey pine barrens of the '60s and also would occasionally leave a hoof mark on a roof. George researches his paintings. Looks for stories he wants to do. I enthused to him that his paintings look like movies. They're very similar, he replied. I pick characters, and I'm used to working in a box. I was looking at him in a beige room with a window and a dog (the famous Bocko.) They were on a train. But otherwise the box being the frame of the canvas or paper, the screen or even a comic strip. Art Spiegelman was a neighbor in San Francisco in the '80s and that's how George got into doing that, through their friendship. His paintings are filled with heroines. I like women he explains. They already paint themselves and women are attracted to emotional situations. How do you like feminism I ask. It forced people to take sides. He likes it better now. Not so much anger. It was rough, especially at school. Then he tells me about Joyce Wieland, a Canadian filmmaker who recently died whose work he thinks I'd like. I thank him, and I will check her out. One painting which stands out for me is a luminous back—of a young man I assumed. Maybe seen through a greasy lens, or by a hungry paparazzi. I was in a motel in the panhandle says George and this former student comes into the room took off all his clothes and lies down on the bed. Yeah that painting is special. I'm glad you like it. I was already in an altered state, he admits. Was the student Curt McDowell, I suggest, being smart. No but Curt was in the room at the time. Most of George's paintings are from memory, but I forgot to ask if this one was. Neither Kuchar brother has shown or sold his work much. Bruce Hainley got George to put a couple in a show at Casey Kaplan's in New York and they were snapped up quickly. None of this work has been produced in the last couple of years. If you sell all these you'll just make more I cheered. That's not how it works he informs. I paint because I like to paint. And I don't like to paint my apartment. These cover the walls, they cover a lot he laughs. So the paintings are even painting of yet another sort. Then he makes a beautiful distinction. For film I get very involved in creating the lighting. Painting is about going where the weather is, astonishing places like Oklahoma in the spring, and painting in the light.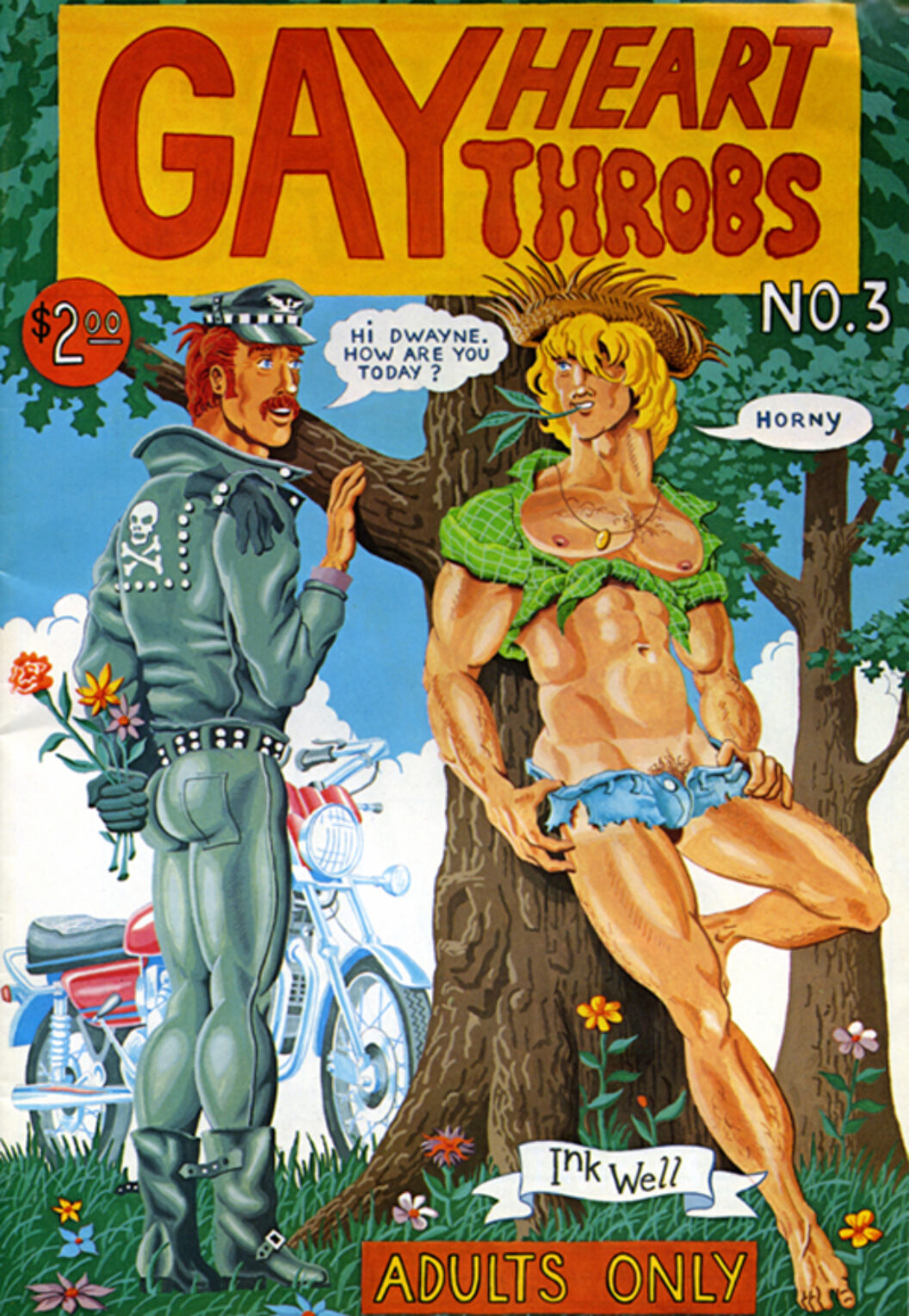 Mike Kuchar's body of work is largely commissioned. Unlike the world of Francis Bacon's bull. His will. Mike's work, in fact, is as postmodern as it gets. A roommate had a friend who needed art for some gay publications. Mike did a few for them, got paid, and the word got around that he was good. Gay Heart Throbs, included here, is one of them. It's amazing that these are extensions of stories long gone, that Mike's drawings have outlived those forgettable tales. And carry them too. I ask him about these big hunky men with peaceful eyes and elongated tits. One stands like a surfer on a dinosaur's back. The dinosaur, of course, is hot too. I find myself thinking of Nicole Eisenman's masculine women and Mike Kuchar's guys pushing through fountains of testosterone seem like feminine men, all their bold poses seemingly for show. Seen to be scene I thought. Classical Hodgepodge is what he calls his arrangements, men holding up clumps of the earth like Atlas, or underwater, swiftly ducking a shark. One man is holding back a red sail in a sexy (and absent) wind. They're juicy cartoons Mike brags. I like flowery stuff, a lot of curves. I don't care for too much macho. I like cuddly; sweetness. Mike has shown even less work than George. I mean in galleries, not in magazines. Maybe only one gallery show, but significantly another show was held in a sex club. Beneath the drawings were pillows and couches. If you like what you saw you could just get down and illustrate the stories yourself. Which seems the highest kind of praise for art and the truest way to install it. Not "in" a meditative stillness, but encouraging active praise so that any modeling on the wall by Mike could get improved on today. He calls his work pulp. Like flesh, or trees? I embellished the stories he states firmly. Every time you draw you get better, from each job my work became more refined. I was working to a deadline. I would take care of it and they, his pinups, his action characters, they just went out into the world.
About :
Since establishing [ 2nd floor projects ] in San Francisco in 2007, I have featured twenty writers in the exhibitions, with six writers forthcoming in 2011. My programming includes commissions to writers throughout the country to produce an edition: essays, personal narratives, interviews, poetry, or mixed-genre pieces in the form of handcrafted broadsheets or chapbooks. From early on in my art practice, I have been interested in trespassing disciplines. These visual, theoretical, and narrative crossings perhaps address an interstitial space of engagement with the artists' works from the writer's point of departure. A distal approach rather than the traditional essay model, such as an exhibition catalogue. For each exhibition, I design and print in-house a limited run of 100 on archival papers. The writers are also invited to give a reading during the run of the exhibition, or to send a recording if they are not in the area. [ 2nd floor projects ] participated in the NY Art Book Fair in 2009 and 2010. BOMBlog will be re-publishing these pieces regularly over the next several months.
Eileen Myles is a prolific and accomplished writer whose most recent work, Inferno (a poet's novel), was published by OR Books in 2010. "Brothers 'n Sons and Female Heroes" is included in her book The Importance of Being Iceland from 2009. She lives in New York City.
Check out this BOMB Podcast with Eileen from November 2010.