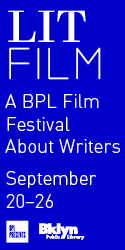 The Brooklyn Moon Café may have opened as a coffee shop two years ago, but by inviting neighborhood poets to perform, proprietor Michael Thompson gave name to a major scene. While poetry used to be relegated to schools, as in the Black Mountain or New York schools, with readings, the latest crew of poets, close kin to the Beats or Jazz poets of the '50s and '60s, spin and sample word beats à la hip hop in shows. "Moon" Poets who have so quickly orbited out of the Fort Greene Friday night open-mic jam into the Jetstream headed for transcontinental venues, can be picked up via satellite, ads, MTV, cameos as rappers and on jazz CDs to come by Roy Hargrove, Rodney Kendrick, Sam Newsome, David Murray and Russell Gunn. The "Moon" wordsmiths, fresh as they wanna be, improvise freestyle, kick a beat, recite nonstop, compete, cut and cut up. As progeny of hip poets, no different than generations before, they generate their own prognosis. Check these samples eked from the fertile minds of soothsayers, eager to hurl ciphers beyond their "Moon"-scape into the far reaches of the four-dimensions—their precious space-time here on the planet.
This selection of poetry includes:
Two Poems by Mariadadessa 'Ekere' Tallie
Untimely Meditations by Saul Williams
The Sweetest Revolution by Jessica Care Moore
Originally published in
Featuring interviews with Tim Roth, Amy Hempel, Emmylou Harris, Matthew Ritchie, Wallace Shawn, Christian Wolff, Gilles Peress, Kendall Thomas, and George Walker.