Broken On Purpose: Wolfgang Neumann Interviewed by Zach Davidson
Sculpture made from shattered dishware.

Discover MFA Programs in Art and Writing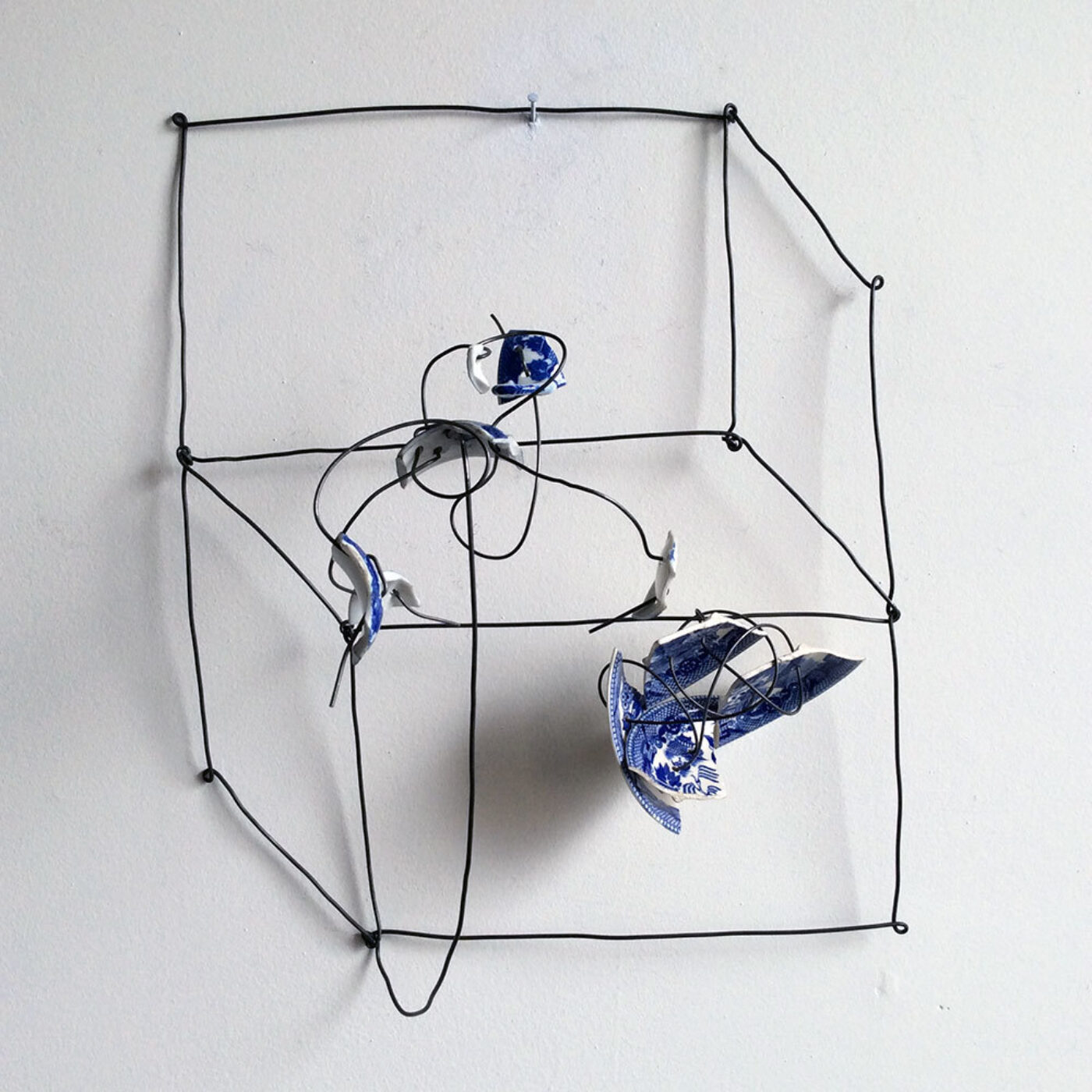 "He is a calm man by nature and not liable to break anything really nice by accident." So reports the narrator in Diane Williams's short story "Sigh." Williams's characterization could equally apply to her own partner in nonfictional life—the architect and sculptor Wolfgang Neumann. Neumann, too, is calm and not liable to break anything really nice by accident. On purpose? Yes, Neumann likes to break really nice things, and these broken things—a blue-and-white Chinese bowl, a crystal wine goblet, a terra-cotta plate with red and yellow dots—constitute the bases of his art. "A small object's overall smallness on a shelf caught his eye—a round-bodied jar of free-blown glass whose neck was straight, that had flat shoulders—a flask he would not get to smash! It was streaked with permanent crimson and cold black. It had about it the real suggestion of the softness of human flesh." Is Williams inhabiting the perspective of Neumann? Who knows? But for the viewer of his kinetic sculptures, there is a real suggestion of not merely the softness of human flesh, but also of its sensitivity, tactility, and vitality. His sculptures connote organs—his art is life-bearing.
Zach Davidson Your work is included in the exhibition SQUARE2: The Art in, of and about boxes at Studio Ex Purgamento in London. As an artist who is also an architect, how has the box as a form influenced both your professional and your artistic practice?
Wolfgang Neumann Ah, as an architect, I have primarily dealt with boxes, yet it has been my ambition to get away from boxes and to create more organic forms. My thesis architecture project was based on the rapid cell growth on the tip of a carrot in which the shape of the cells is similar to a truncated octahedron and is stackable in multiple ways. So, I guess from the very start of my work I have been trying to escape the box. As a sculptor, I am free.
ZD When I think about your work, I think about movement, which is a quality that I generally do not associate with a box. Was it a challenge for you to create work for this exhibition?
WN Of course, since I live and work in boxes, they are always on my mind. The sculpture I'm contributing to Studio Ex Purgamento is a two-dimensional projection in combination with a three-dimensional conglomeration of ceramic shards, of which one group is stationary and the other is movable.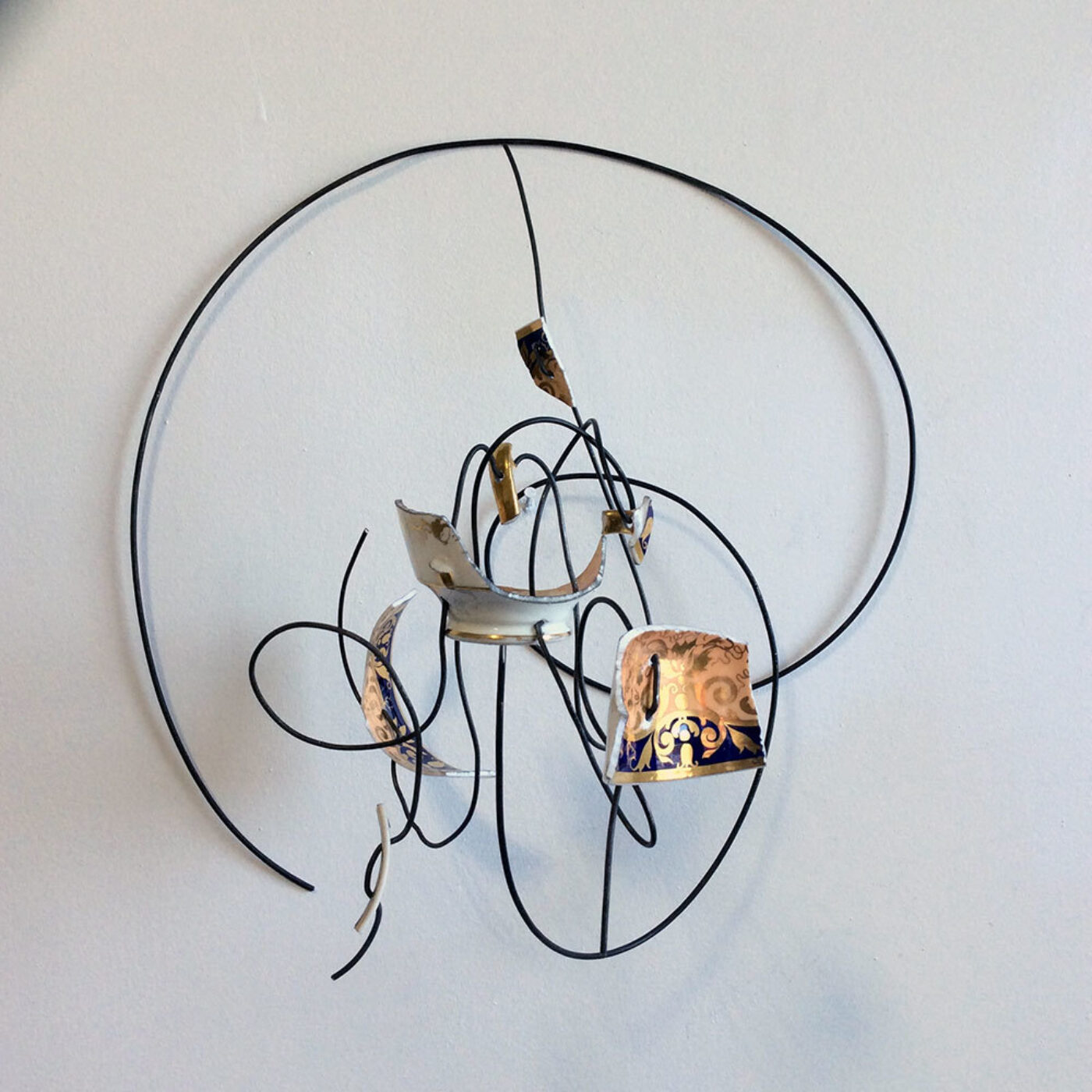 ZD My introduction to your art came through your partner—the writer and editor Diane Williams. Sticking with the topic of movement, when I read Williams's fiction, her language is unusually flexible, as though her sentences are double-jointed. I'm wondering if you identify any relationship between, say, the syntax of Williams's work and the oxidized steel rods in your own kinetic sculptures, and how both are capable of promoting motion?
WN I may not be the one to know!
ZD In his 1937 essay "Mobiles," Alexander Calder writes: "I have made a number of things for the open air: all of them react to the wind, and are like a sailing vessel in that they react best to one kind of breeze. It is impossible to make a thing work with every kind of wind. I also used to drive some of my mobiles with small electric motors, and though I have abandoned this to some extent now, I still like the idea, because you can produce a positive instead of a fitful movement—though on occasions I like that too." Have you identified an optimal breeze for each of your kinetic sculptures to respond to?
WN I do like to gently blow on my mobiles or give them a gentle prod, and I encourage every viewer to do this as well! Although actual movement is not my main objective. Even my stationary sculptures, I think, imply movement. So when a movable sculpture is not moving, there is still movement in it; and when it moves, the parts that move ought to move with slow grace, so that the entire sculpture is both static and in motion.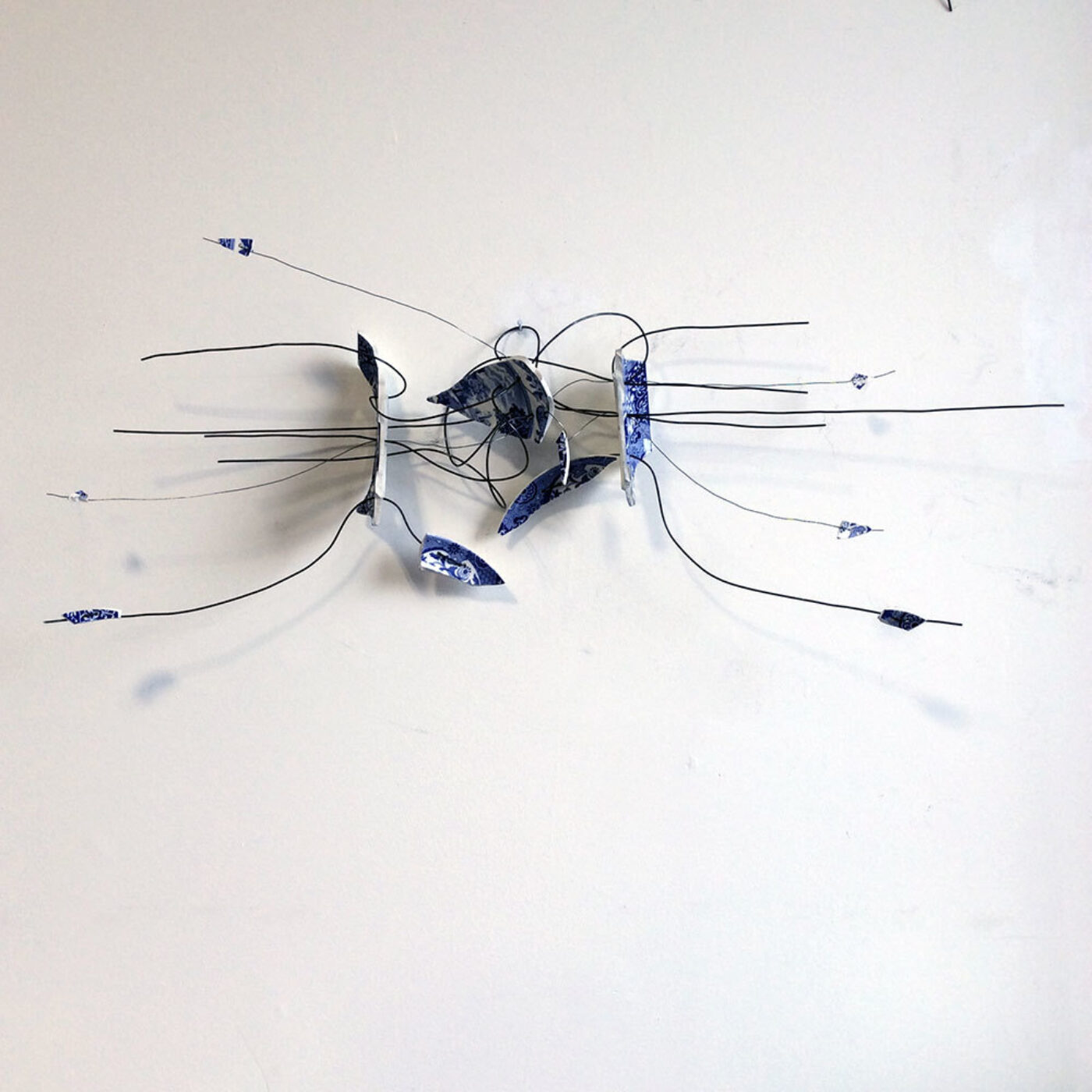 ZD This distinction between a "positive" and a "fitful" movement—"fitfulness" seems to be one of the emphases of your work. Not just in terms of movement, but also in terms of other life forces, including the intermittency with which we break objects, since broken objects are a motif of your sculptures. Might we say that unsteadiness is one of your design principles?
WN Un-anything doesn't sound good to me. How about readiness instead of unsteadiness? Readiness can imply the start of something that has an unknown outcome. I do have a hand tremor, so that when I draw, my line is necessarily wiggly, and when I undertake sculpture or jewelry making, the necessity to be precise and deliberate is an enormous challenge. The tremor provides unexpected surprises that I delight in.
ZD Williams expressed curiosity about your apparent lack of desire to establish a larger audience for your artistic creations. Whereas her short fiction is published widely, your own art practice has remained relatively private. As an artist, is it important to you to acquire viewers?
WN Yes, it certainly is, but I am inherently shy, and I don't have any formal art education. I'd rather make another artwork than spend time on self-promotion.
ZD What factors are you considering when coming up with names for your sculptures?
WN I ask Diane. She tells me that she loves to think up titles.
ZD As we've discussed, brokenness and damage figure prominently in your art. The influential editor Gordon Lish—with whom Williams studied—said that the wound is our salvation. Are you making sculptures from the wound?
WD Some people feel shame when they break things or people. I like to break things, and then I can get to feel shame.
ZD How do you choose the materials you use for your sculptures?
WN Sometimes friends and relatives bring me fragments of precious objects they are heart-sick they have broken. I enjoy it more when I smash my own plates, pitchers, platters, cups, saucers, bowls, goblets, glasses. We find these items at street fairs, thrift shops, and flea markets.
ZD What roles do light and shadow play in your creations?
WN I have spotlights in my studio that I can aim at a piece in progress so that I can evaluate what affect the light has. To those who own my sculptures, I recommend these be lit from below.
ZD Calder said: "For me, increase in size—working full-scale in this way—is very interesting." What variables inform the scale and size of your work?
WN Up to now the scale of my work is based on the size of the ceramic that is available to me. I have surprised myself, however, by taking a small bowl, for instance, that ends up as shattered fragments forming an artwork four feet across.
ZD In your laundry room, the ceiling and cabinets are arrestingly painted. What inspired you to paint your laundry room?
WN I have a big book that features Swedish folk art that was popular from the latter half of the eighteenth century until the mid-nineteenth century. The characters are in typical Swedish folk dress, and the scenes are often biblical. This artwork, called Dala painting or kurbits painting, was produced by itinerant painters who decorated the important rooms of people's homes.
On one pair of cupboards, I painted the wedding at Cana; on the other pair, a horseman approaches a city, and there is a kurbits—a giant, fantastical, flowering tree—in the foreground.
We now also have trees and sky on the room's ceiling and walls. Why did I do it? Something had to be done! It was such a dingy room.
In my Tribeca studio—I am now in Yonkers—I decorated a space that was inserted into the elevator shaft (my storage closet) with flowers, and leafy vines, and a horseback rider. I was the only one who ever saw these.
Many years ago I learned about the Japanese Noh Theater, which is one of the oldest theatrical forms in the world. I was and I am still fascinated by the lavish, many-layered garments worn by certain performers. The inner layers are kept well-hidden from the audience, but are no less magnificent and ornate than the outer ones, and are intended to give an actor the power and the inspiration to achieve a perfect performance.
Wolfgang Neumann's work can be seen in the group exhibition SQUARE2: The Art in, of and about boxes at Studio Ex Purgamento in London until December 8.
Zach Davidson is a writer and editor. He lives in the Bronx.