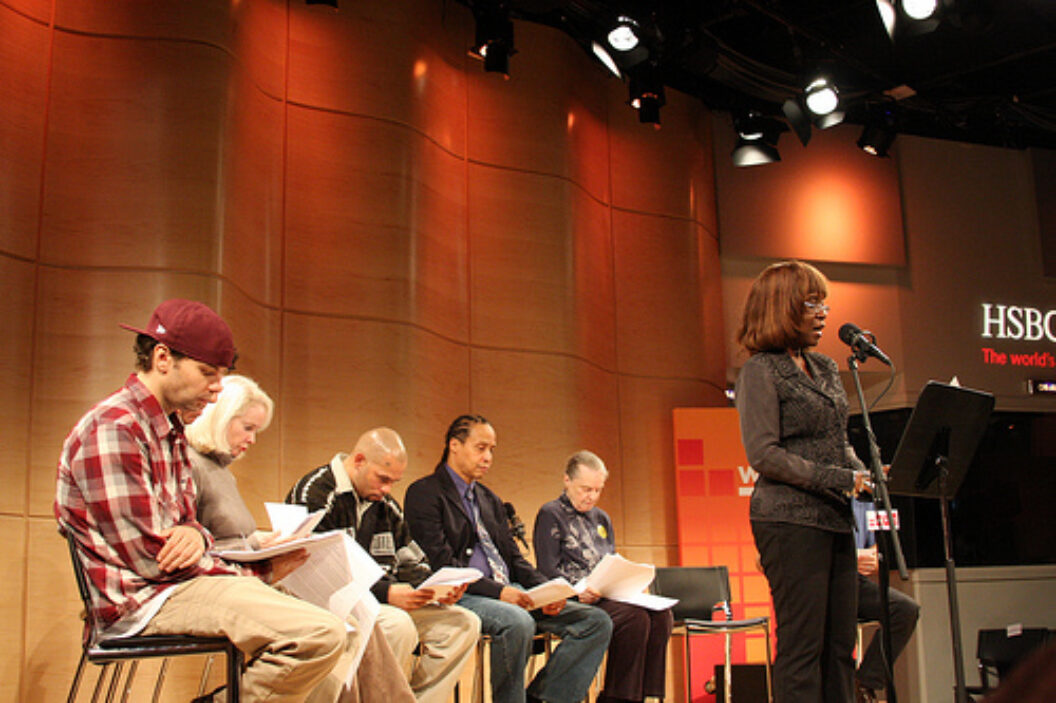 An installment of WNYC's signature series The NEXT New York Conversation, PEN America's Breakout: Voices From The Inside began with a brief introduction about PEN's Prison Writing Program and its involvement in prisons by Jessica Hagedorn whose novels include Dream Jungle, The Gangster of Love, and Dogeaters, and then moved swiftly into readings of poems, stories, journal entries, and the memoirs submitted to PEN's Prison Writing Competitions by incarcerated people. The evening's readers included established writers and performers such as Mary Gaitskill, Eric Bogosian, Lemon Anderson, Sean Wilsey, Patricia Smith, Marie Ponsot, and Jamal Joseph as well as Dawud Gonzalez, a Brooklyn-based poet whose heartfelt reading of an untitled poem bookended the readings like a stoic rendition of Taps.
Of the readers, only three spent time in prison, and the distinctions between the other reader's lives and the ones they were presenting gave the evening an air of necessary disjunction, raising the possibility that the incarcerated poets, memoirists, and fiction writers whose work was being read could be anyone: a celebrated short-story writer like Mary Gaitskill, a distinguished novelist, playwright, and actor like Eric Bogosian, the Chair of Columbia University's Graduate Film Division like Jamal Joseph, or even the iconic poet Marie Ponsot, an 88-year-old woman, and the vivacious sage of the evening as well as the author of the forthcoming Easy.
When the readings were complete, Jackson Taylor, The Director of Pen's Prison Writing Program and author of the soon to be released novel, The Blue Orchard, introduced an audio clip of Kenneth Hartman, author of Mother California and an inmate in the California Correctional System. Hartman was supposed to participate in the evening on a live feed, but at the last minute the connection was abruptly disallowed by California Corrections, so what was heard was a recorded phone conversation between Hartman and his publisher. Hartman spoke about rehabilitation, and how one can be literally and figuratively freed or saved from prison through education and the written word.
Afterwards, Jackson used Hartman's perspective to jump into a brief interview with Lemon Anderson and Jamal Joseph about the relationship between writing and imprisonment. Anderson, the star of the hit one man play, The County of Kings, admitted that he had not written much while incarcerated, but upon his release he found writing, or it found him, and it awakened in him a sense of purpose. A poet, playwright and screenwriter, and a former Black Panther who founded the Impact Repertory Theatre and served nearly a decade in state and federal prison, Joseph told a story about how a play he wrote and the theatre group he led in prison had transcended gang culture and prison turf wars.
The writing of incarcerated men and women shared at Breakout: Voices From The Inside was heartfelt and humorous, self-reflective, and exacting. It demonstrated that prison is a physical environment as much as it is something that infects one's mind and soul. However, the evening also conveyed something greater. It proved that the frustrations and sadness prison imposes on its inhabitants cannot suppress the human need to bear witness, to speak a truth, to sing poetry and story in celebration of the individual life and the lives of those within one's community.
Matthew Aaron Goodman is a writer/author living in Brooklyn. His most recent novel, Hold Love Strong, was published by Simon and Schuster (April 2009). His website is "holdlovestrong.com.