Brandon Downing's Lake Antiquity by Ben Mirov
Ben Mirov on Brandon Downing's collaged poetry collection Lake Antiquity.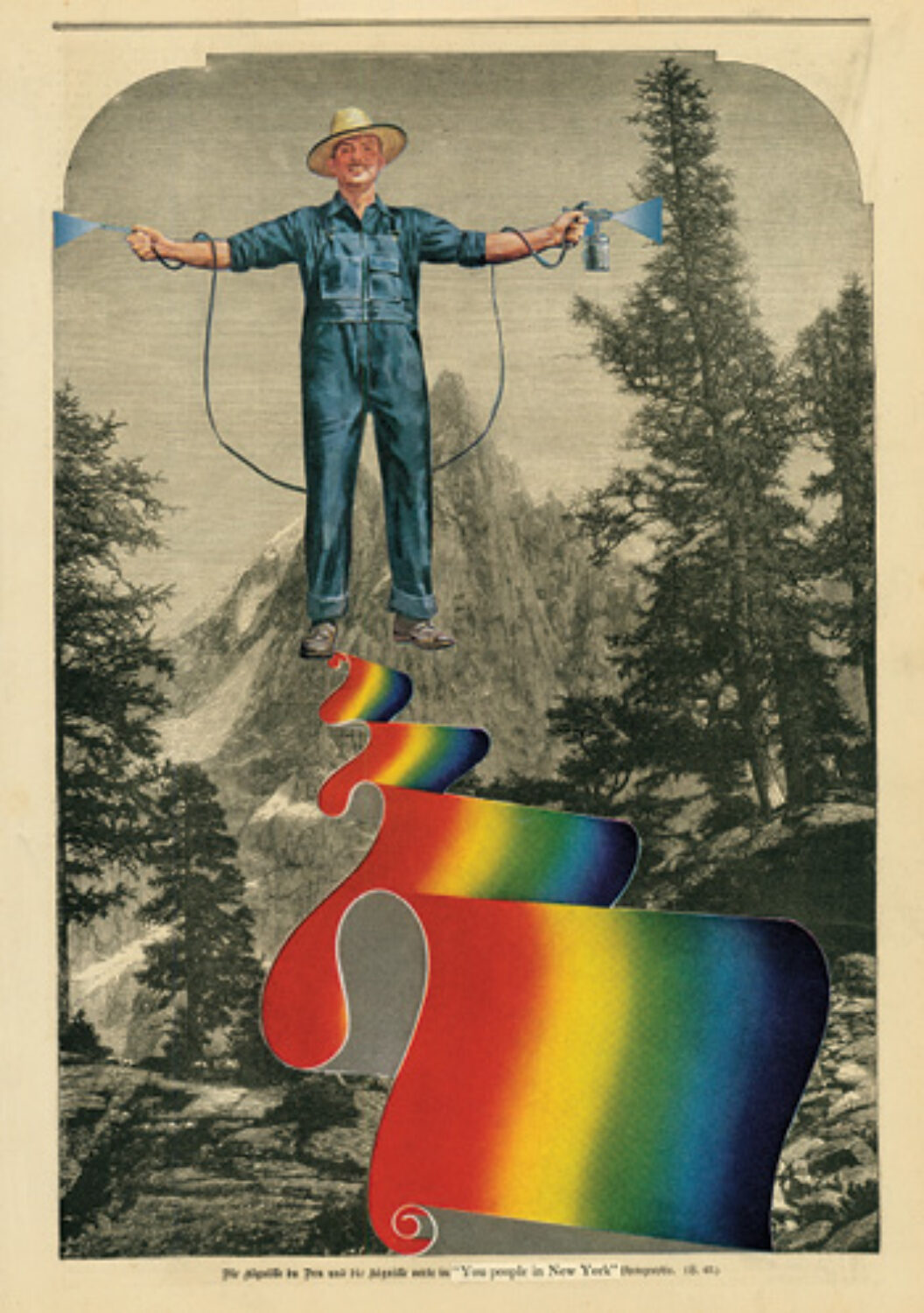 Fence Books, 2010
Effectively straddling the boundary between visual art and poetry, the word/image collages comprising Lake Antiquity mix unassuming, bluntly adorned imagery with painstaking technique and obsessive source-material selectivity. Drawing on influences equally obscure and mainstream, antiquated and contemporary, the book displays a fractal-like treatment of history, playfully reorganizing the appropriated images and text. The influence from artists, writers, and poets such as Wallace Berman, Jess, Max Ernst, and Joe Brainard predominates in the collection, but the spectrum of Downing's predecessors extends into the relatively obscure worlds of Bern Porter, Charles Henri Ford, Isak Dinesen, and George Meredith.
The collages in Lake Antiquity are as much about the formation of their images and words as they are about a reverential irreverence toward their source materials. Downing prefers to use original documents, impishly deconstructing what others might see as sacrosanct artifacts to incorporate them into ostensibly casual juxtapositions. "I insist on cutting (defacing) actual books, and not reprints, but the earliest available editions. I love the texture of the 19th-century book, the thick leading of the type, the heavy impression, the curves of Baskerville type, the fibrous papers, and the genuineness of it all. Reprints? Humbug. Photocopies? Nuh-uh," he states in his interview at BOMBlog.
The hand-cut edges, the yellowed pieces of text, and antiquated imagery carry a residue of history and cadences of Americana that are as vital to the coherence of the work as Downing's desire to create, in his own words, "instruments that can hit new notes!" His collection's highly approachable aesthetic is disarmingly appealing, two-dimensional yet holographic in its historicity, and mind-bendingly far-reaching in its permutational formations of meaning. At its center is an impulse toward a seamless coherence; history, cultural refuse, and the poetic line are caught in the centrifugal force of Downing's vision and regurgitated as beautifully flawed dreamscapes.
Lake Antiquity is out now from Fence Books.
Ben Mirov is the author of Ghost Machine (Caketrain, 2010) and I is to Vorticism (New Michigan Press, 2010).
Originally published in
Featuring interviews with Charline Von Heyl, Fred Tomaselli, Mika Rottenberg, Thomas Hirschhorn, Adam Phillips, Charlie Smith, David Toop, and Jan Lauwers.