"The context for creation is collaborative, it's peer-based, it doesn't emerge from a bubble. So why should these works be viewed so discreetly thirty years on?"

Discover MFA Programs in Art and Writing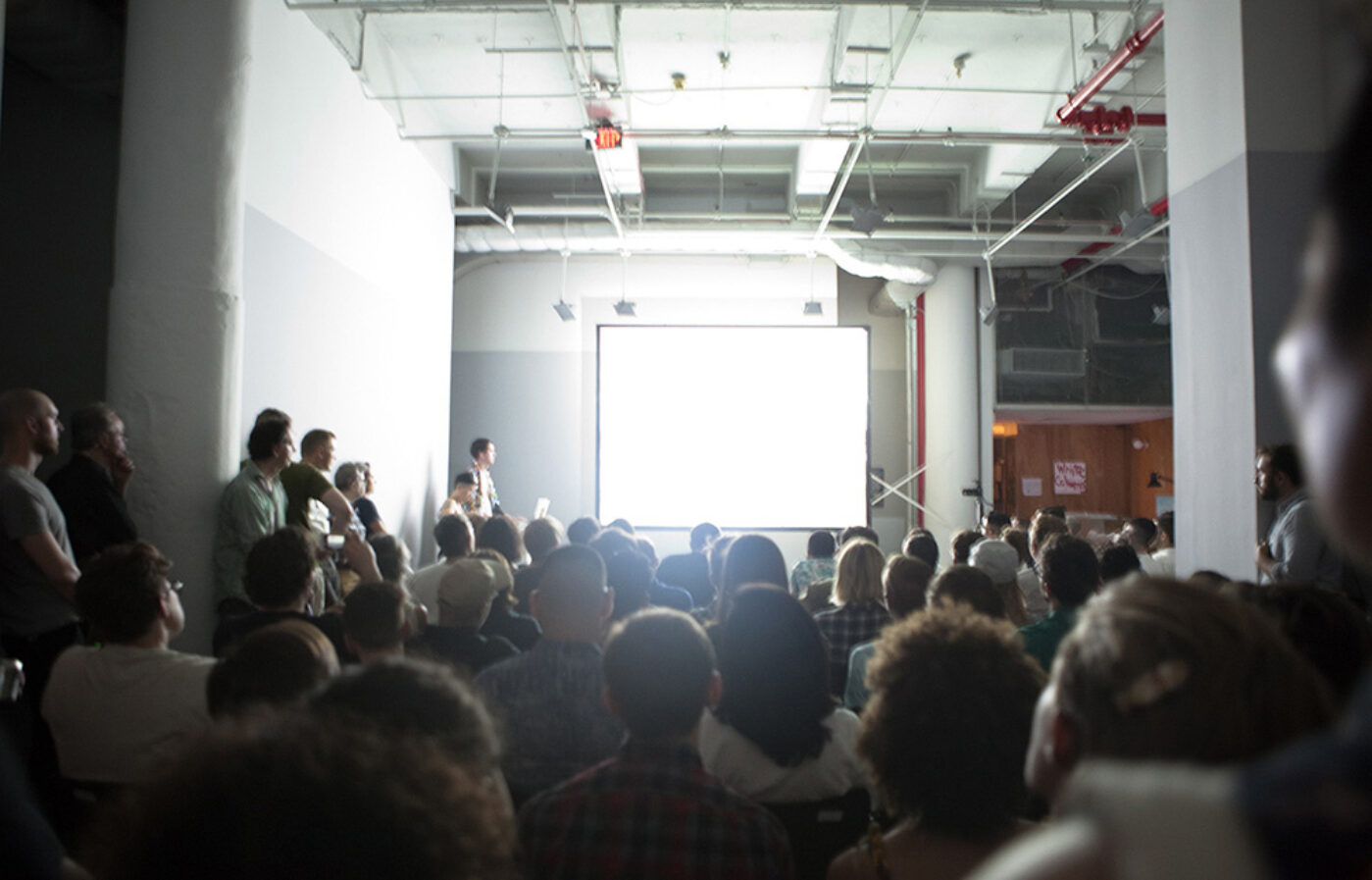 It's late and dark. And the only way to enter the Echo Park storefront of Machine Project is through the back alley, where a green light is flickering and an OPEN sign hangs on the metal door. It's here that Bradford Nordeen of Dirty Looks and his Los Angeles co-curator Clara López Menéndez have converted the space's basement, Mystery Theatre, into a porn theatre on March 20, 2015. "Sesión Continua: a porn theatre in Echo Park," presented screenings of classic, hardcore works of gay and lesbian erotica over the course of 24-hours.
Converting spaces is nothing new to Nordeen, who has been running Dirty Looks (DL) since 2011. The roaming platform for queer experimental film, video, and performance makes use of a range of spaces, from historic bars and former bathhouses to theaters and DIY project spaces and arts institutions. There is something very casual in Nordeen's approach, a "sure, let's try it this way, this time" effort. But one conversation in, and it becomes clear that this informal approach sits alongside the experimental nature of his work, and that it somehow balances his deliberateness in collaborating with certain artists and showing specific works. There is a significance and urgency of having these works seen, time and time again.
It is unmistakably personal work for Nordeen.
Suzy Halajian When we first met last year at a friend's birthday at El Chavo in Silverlake, we spoke about how you had started to expand DL, initiated in New York City, to Dirty Looks: Los Angeles. What was the driving force to expand your platform to Los Angeles, and what were your initial considerations with this undertaking? 
Bradford Nordeen Wasn't I just talking up a party I was throwing for Outfest? (laughter) Well, I used to live in Los Angeles. And I guess, in some ways, starting DL was inspired by that and getting out of CalArts—where I did an undergrad degree in Photography and Media—and not really knowing where to view experimental work, and also getting a lot of bootleg DVDs from the internet of Jack Smith, or whatever.
DL has come out to LA pretty consistently from the start—we did our first Roadshow in 2012 with Darin Klein at the Hammer (who I used to sell my queer zines to at Skylight Books over a decade ago). There was always the sense that this kind of a project didn't exist in LA. There are some great microcinemas in place here, but the experimental film scene can be debilitatingly heterosexual, and it took a while for me to really feel the urgency that drove me to initially launch in New York. Perhaps it's because I didn't live in LA. Although the more time I spent here, working on [Outfest] Platinum, I could see that the art scene in LA was having such a resurgence, and I could see the potential for a program that was community-based and presented by individuals, whereas most of the film organizations in Los Angeles present themselves as very institutional.
Then during the summer of 2014 I met up with Clara López Menéndez on Fire Island, and we just made a beach pact to do it. It was kind of an immediate and startlingly quick decision.
SH One of the DL projects in Los Angeles I was most excited by was your intervention at Machine Project. I was curious about this collaboration, considering the crossovers with the space's existing audience, but mostly in how dramatically it felt the space had converted to a seedy porn theatre, with signage erotically prompting the audience to enter the screening. Can you speak about how the project developed and how you dealt with the audience?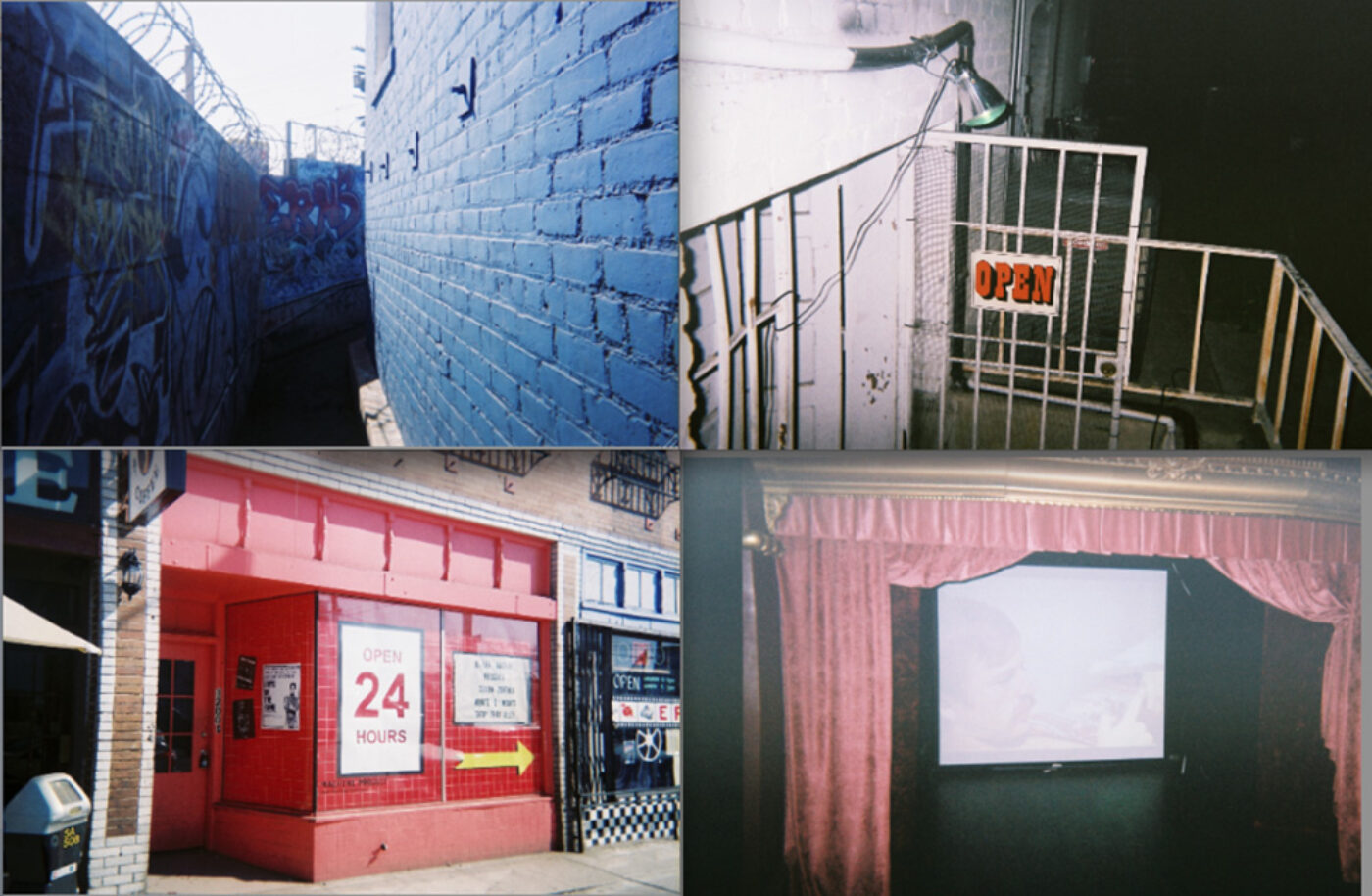 BN Well, Clara already had the idea for the film program—a "sesion continua" style screening in a different venue over twelve hours, I think it was at first. And I was obsessed with the little vaudeville theatre that they'd built in that basement. I wanted to do something there, but it had to be right, not just some screening in a cute theater. We developed the project working with Machine and looking through the holdings at the ONE Archives, like a lot of Pat Rocco's photographs and print programs from LA porn theaters in the pre-VHS era, mostly 1969–1972.
That alley was presented to us apologetically, actually! They were going to be installing that week and we couldn't enter through the storefront, but when they walked us back there—through the cement and razor wire—our faces lit up like it was Christmas. They gave us a lot of freedom working there.
With regard to audience, we were really just thinking about what kinds of settings these originary theaters were. The project emphasized queer sociality (which is a big part of DL), but also the idea of public arousal and sex. Sex is so private now, so we wanted to invite people into the space to make arousal communal. We put the thing up on Craigslist! There was a whole set of structural elements set into play by the old porn theaters: a higher ticket price, no promoted schedule, the ability to stay all day. For me, that was really exciting because it begs a shift in how you approach the thing as a spectator. People are less in control of what they're looking at or what they're going to see, so they perhaps engage more or find themselves more immersed in the specificity of that little basement theater.
SH Your project is in a lot of ways about building and expanding community, through programming iconic works along with up-and-coming queer experimental film, video, and performance. And meanwhile, creating a discursive space for the queer art community, and also the various communities that attend DL's screenings and events. For example, with Dirty Looks: On Location (DL:OL) this past July, you presented thirty-one works in thirty-one different locations in iconic and LGBT art and cultural spaces, as well as bars, sex clubs, and cinemas throughout New York City. Can you speak about the importance you place on community, and what communities you have in mind when you're organizing—knowing that you make a concentrated effort to not limit your projects to an art audience?
BN Well, initially I was interested in just engaging a "broad" array of communities. Whatever that means. A real impulse for me in starting DL was access, or maybe granting exposure. I had been a casual viewer in a theater class once, auditing it, and wasn't versed or prepared for the experimental work that changed my life, so I wanted to create an approachable context for casual spectators to come to an event, engage, and hopefully be surprised and inspired by the work they saw. I was also relatively new to New York. In very early outreach for the series—in great graphic material designed by artist Deric Carner—we were trying to open up the audience for what, I guess at the time, was more your standard "American Avant-Garde" kind of canon, keeping it varied and queer, of course. But that was the mindset. I wanted to be a part of something that I didn't see in the world, so I created it—and in the closest space to what I was looking for that I knew in the city—Participant Inc. The project began because someone offhandedly mentioned that there was no regular programming of queer experimental work in this city. And I said, "Well…"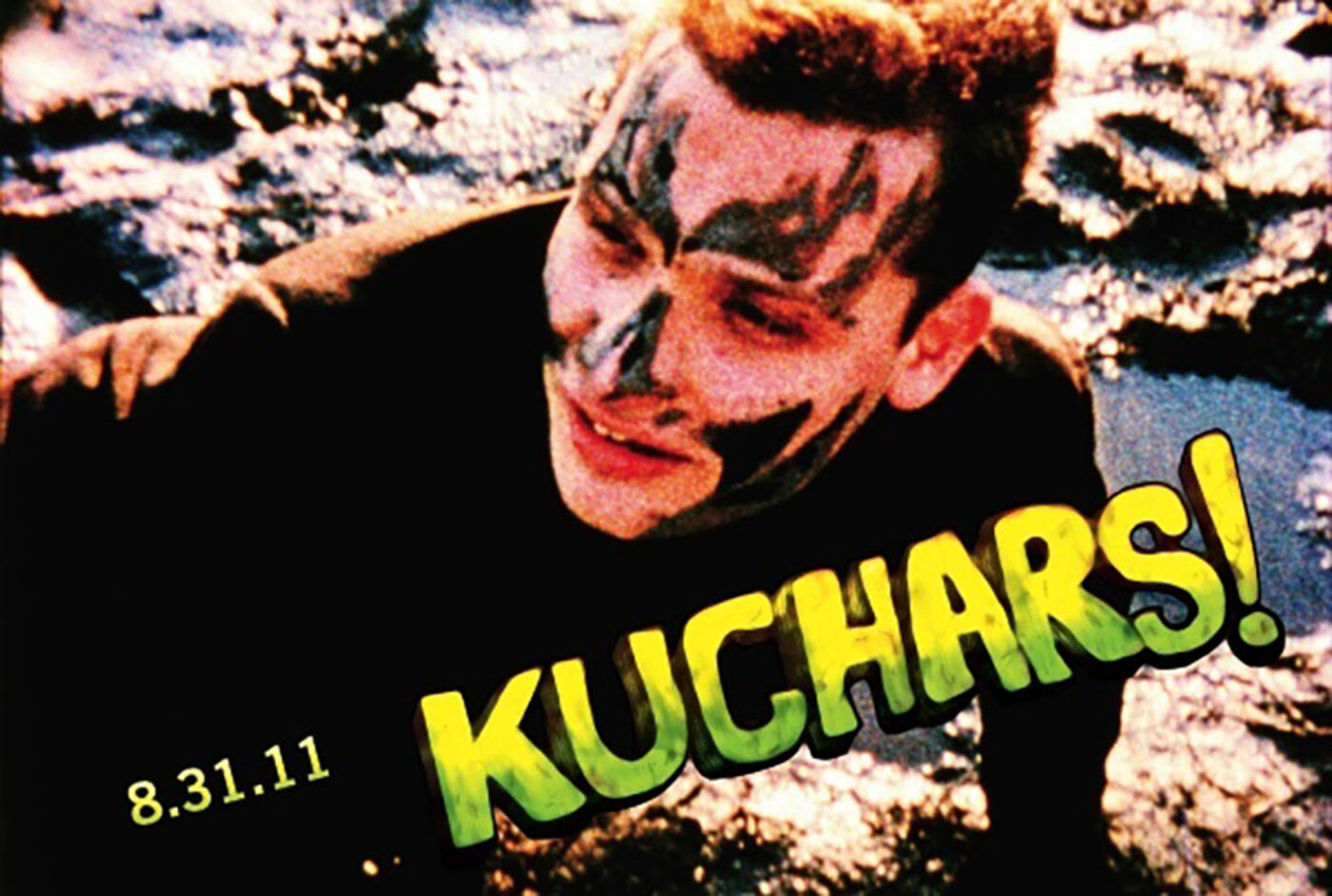 Then things opened out. DL has expanded beyond my curatorial voice, engaging other contributors, either within the DL:OL project—which presents, as you said, thirty-one events over thirty-one days in July, by twelve emerging curators—or for monthly screenings. It kind of took its own shape through the constant progression of monthly programming, and I think it attracts divergent communities through that raw energy. This year's DL:OL was perhaps the most striking example of this—with 500 RSVPs in advance for our program "Misadventures in Black Dyke Dating in the '90s," at the Mayles (organized by Vivian Crockett), or a completely slammed two-part program at Stonewall called "Bad Asians" by Leeroy Kun Young Kang. These two programs truly mobilized communities I don't have direct access to, and who are definitely underserved in these kinds of platforms. It's thrilling to create something out of a felt necessity that reverberates over time, in ways that constantly surprise you. 
SH DL's screenings and performances oftentimes enter spaces through different yet politically and aesthetically charged engagements with organizations and spaces: a host basis at more DIY bars, art and literary spaces and theaters; more involved ongoing collaborations with nonprofit organizations such as White Columns and Participant Inc in New York; and also engagements with institutions such as MoMA and ICA in Philadelphia. Can you speak about the distinction you make between hosting and more engaged collaborations, and the ethos around this? And how do these different spaces affect the programming?
BN I would say that, first off, the bars are actually the most politically charged spaces, rather than just hosts. It's there that you find the most diverse cross section of viewers and where art and the everyday confront one another quite palpably.
The roaming model was started to keep spaces (and their respective audiences) varied. I mean, you know, these were and are mostly donated spaces. Let's be practical. It's New York. Space is precious and hard to come by, especially for a burgeoning screening series. But launching at Participant was really crucial. Lia's input was (and continues to be) invaluable. Sometimes she brings up forthcoming projects, like the Cookie Mueller show, that we can contribute to, but often our work with Participant or White Columns is that of a terrifically supportive host.
The DL:OL model was born out of touring around institutions and seeing how the work shifted; how an experimental short from 1967 is transformed in an air conditioned theatre at 2 pm on a Sunday, as opposed to 9 pm on a hot summer night with a beer in a folding chair. It got me thinking about this Manny Farber essay in Negative Space, where instead of talking about the underground films of that period of experimental production in New York (1960s), he talks about the theaters and how they were kind of decrepit, secondary venues which kind of amplified their function as social spaces—a meeting space for peers. More often than not, when we're collaborating with an institution, we approach a collaboration hyper-aware of how the setting will impact the screening material—like in our first meeting with Rajendra Roy at MoMA. I lead with, "We don't want to use your theaters." He was super enthusiastic about that idea, showing film outside of the basement, alongside the sculptures or the architecture of the museum. That changes the way people look at it. And that's what I'm interested in achieving with these film-situations, let's call them. The context for creation is collaborative, it's peer-based, it doesn't emerge from a bubble. So why should these works be viewed so discreetly thirty years on?
SH What you bring up is an interesting point, how one needs to take into account changing contexts when presenting works decades later in many cases. Especially since viewing expectations have changed given that social media and platforms are so exhausted, and hugely affect the way we access and experience time-based work in both physical and virtual spaces.
Access for your audience (and also DL) to various historical sites through projects, such as former bathhouses and other sites where gays and lesbians communed, is I imagine an essential consideration for programming. But also, I know this year some of DL:OL's programs were only online on the DL Instagram and also on Xtube, the amateur gay porn site. What was the impetus behind that? And how do you feel these changing realities affect the ways we should consider social spaces entering the virtual, and also more expanded conceptions around gathering and togetherness?
BN I mean, in some ways this is a logistical thing. On Location is in July, so every year we have July 4th to contend with. This time we decided to celebrate the communal potential of Instagram. I love Instagram, because unlike some of the other language-based social media platforms, it more or less has created a purely visual vernacular, while existing to bring virtual communities together and grant a sense of interconnectedness. It worked so well for an artist like Dynasty Handbag, who regularly uses its video function as an improvisational exercise creating little snippets before she goes onstage.
Xtube is kind of the same, really. It can be employed in really interesting ways. I've written about its generative potential and communal capacities when Travis Mathews used it to raise interest and appease the porn production company who funded his feature, I Want Your Love. Also, it's interesting when you chuck on a title salaciously at home there, but that's definitely far from the conceptual mark of that site. You get some fabulous comments.
I'm kind of a selective luddite, but it would be naive to not acknowledge these sites as communities, just like the ones we celebrate elsewhere, in real life.
Out in the world, people often confess that they haven't been to certain spots, unsurprisingly sometimes, like a jack-off or "buddy" booth. For others, it's The Eagle on jock strap night. But then sometimes I get people who say, "This is my first time at Stonewall," or wherever, and I realize how important these bars have actually become, more so than some of the significant, "historical" community sites. In some instances, they're just landmarks now.
SH I'd be curious to hear what filmmakers and video artists influenced you when you were growing up in St. Louis, and what spaces for queer, experimental film you were seeking out—if any existed, whether physical or virtual?
BN I didn't really get what experimental film was until I was in college. I left St. Louis when I was seventeen, graduated early, and got out! But there was an amazing little video store run by this emo gay couple called Whiz Bam! that had an amazing selection of mostly New Queer Cinema (Gregg Araki, Todd Haynes, Gus Van Sant). But in retrospect, they had weirder stuff too, like Vaginal Davis's Fertile LaToyah Jackson Akshionist Video Magazine. Now, I don't remember renting that, but the very fact that I knew it was out there is amazing. What a haven that shop was.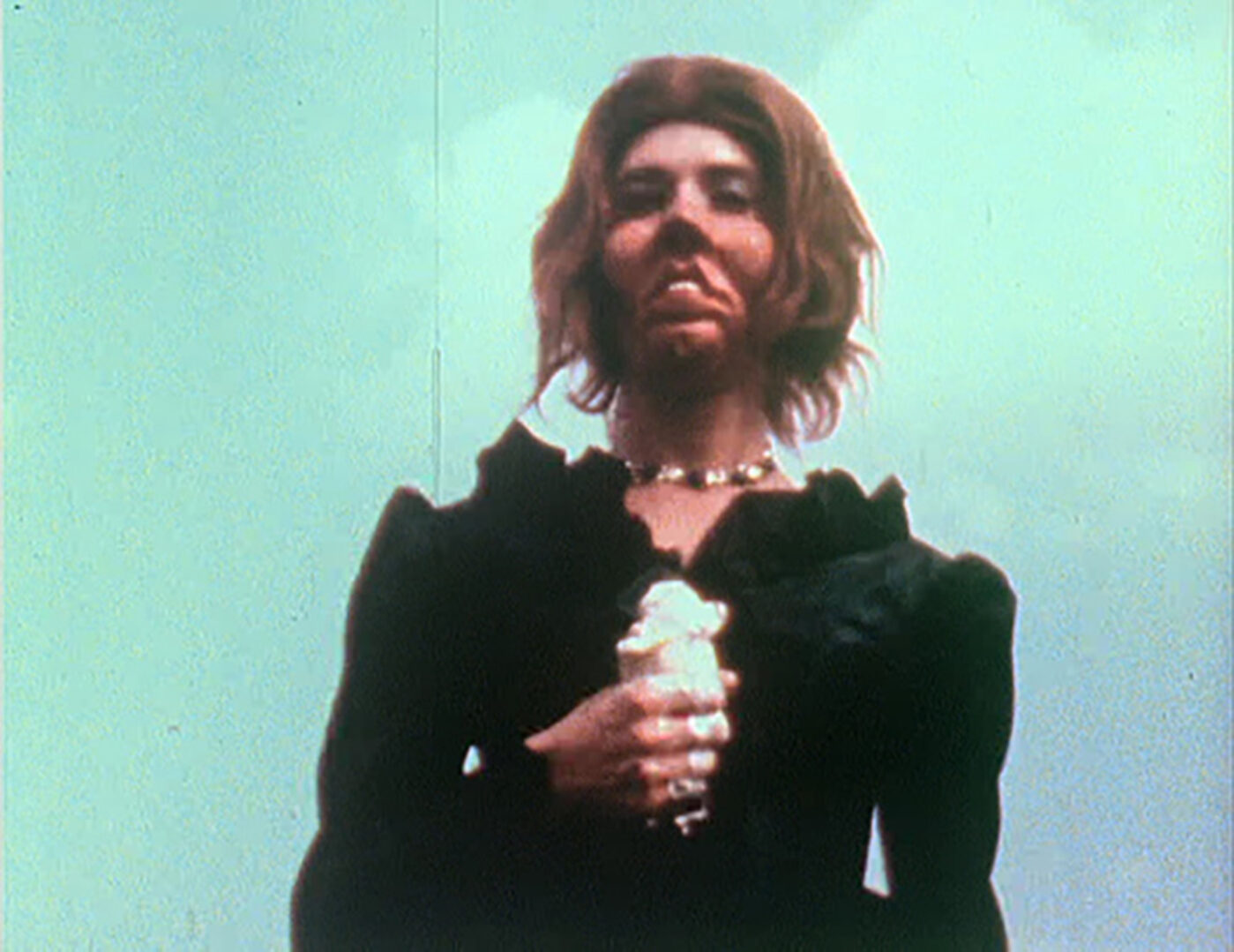 In high school I went away to summer camp at California State Summer School for the Arts, where I worked with Greta Snider, Naomi Uman, Valerie Soe, and Danny Plotnick. They taught me to make films, which I really can't do, but I think it gave me the vernacular. Around that time I was also watching a ton of Pasolini and Derek Jarman on VHS tapes acquired from an arty Hollywood Video shortly before going to college and discovering Kenneth Anger. I remember the intense recognition the first time I watched his Fireworks that suddenly I understood, very deeply, the cultural, aesthetic, and cinematic legacy that these Hollywood Video tapes were so deeply entrenched in. It was through that jarring effect that Fireworksstirred in me (and Deren, and Anticipation of the Night…) that made me fall in love the first time I saw a dead starling, filmed in a single take on dry soil, through the lens of filmmaker Luther Price. The movie was Green. That moment blew my mind—this simple image expanded, so ripe, harsh, and metaphoric. I was in love! I carry that fucking bird with me everywhere…metaphorically, of course.
SH What've been some of your ongoing, or even surprising collaborations with artists and filmmakers since DL started?
BN Well, it's a world with few boundaries. One thing that was funny… I remember meeting with filmmaker Michael Robinson when I first started DL. He's so good. I was really just thrilled by this film of his that I saw at "Views from the Avant-Garde" (These Hammers Don't Hurt Us, 2010), and wanted to show more of his work. DL had maybe one or two screenings by that point, so I was green, but we went out for coffee and Michael was so forthcoming, even though he was showing it all over the world. We've become very close friends and RuPaul's Drag Race viewing buddies. I interviewed him for Little Joe and part of the interview that didn't make the cut, I think, was about his programming efforts early on in his practice in Philadelphia. I sort of recognized that that's what he must've seen in me. I think being really upfront, excited, and personable with the artists that I've worked with has built some incredibly deep and lasting collaborative partnerships, and friendships too. With people like Chris Vargas, Jill Reiter…
Or with Luther. I wrote him or called shortly after I moved to New York, during a period when he was not really screening so much. I met him in Boston and he just unloaded a satchel of material for me, including those slides—unique works—and he was like, "No one has projected these before." I was writing about his suite of films Meat and my piece was veering towards reception studies; I wanted to really see how those films were received by an audience. So I did a screening! My first actually. I didn't know what I was doing, but of course I showed the slides—he asked me to! They're beautiful. There was never much professional distance with Luther. I would get 4 am emails from him, and these have resulted in numerous screenings, a large-scale performance… We'll sit around gabbing about Karen Carpenter or cats for hours. That's the way this world works, for me anyway. It was nerve-wracking for sure, meeting—for the first time—this person who inadvertently placed me on this path. But it's funny: it's perhaps become the longest and most intuitive collaboration I've had working with DL so far—and maybe the best example of how we work.
Suzy Halajian is a Los Angeles-based independent curator.