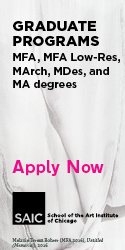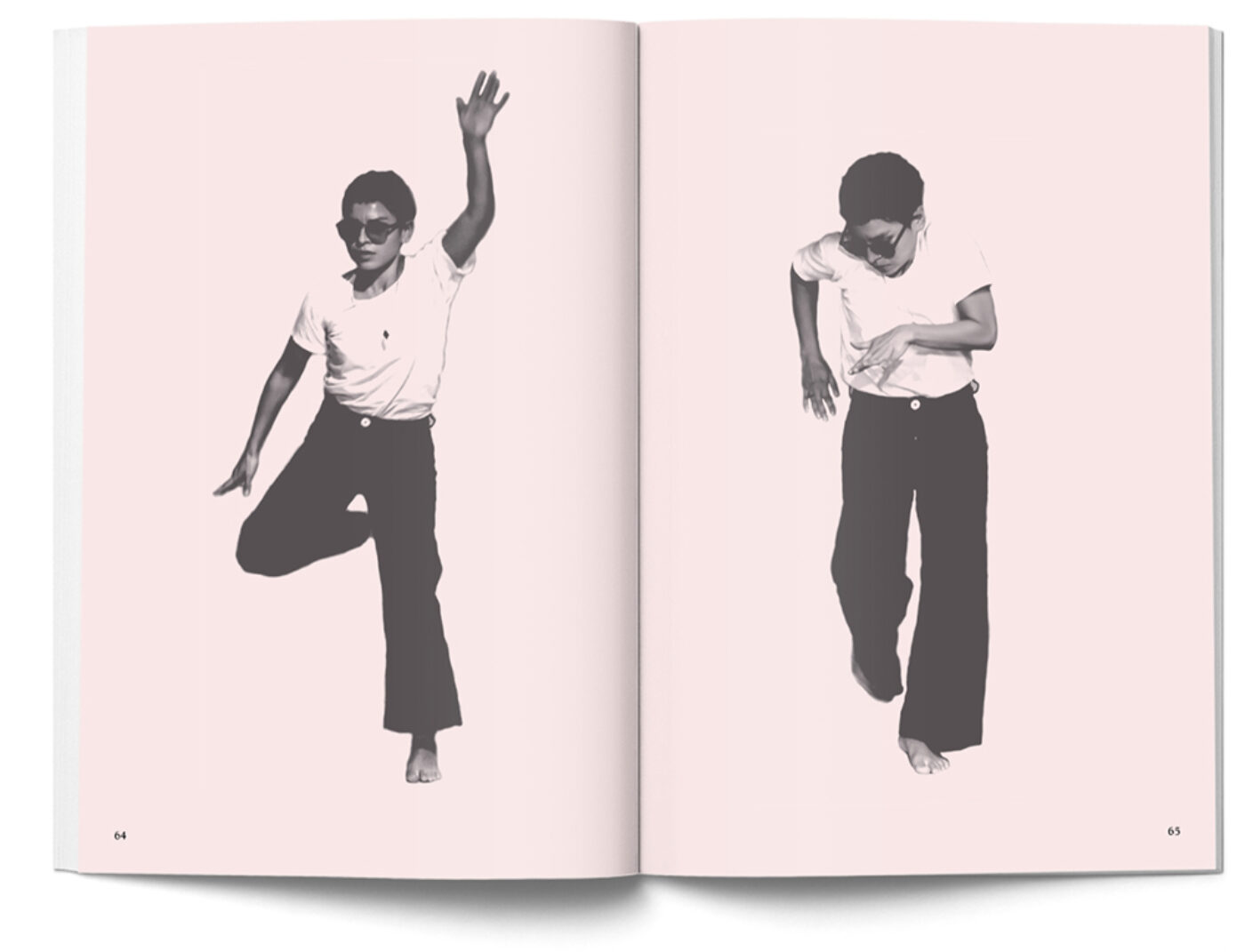 "I am unprotected. This is the stage."
—Matty Davis and Ben Gould, Carriage (Wendy's Subway, 2019)
How do we translate performance onto the page? Words can explain, embellish, and distract, and they can transform matter into something else altogether. Among the recent renaissance of performance publications, the most impactful ones remind us that we can, and indeed must, read performance. Whether in a live context or as a poetic reinvention for the page, words are more than mere explanations and stagehands of the body, the event, the spectacle. Words force us to be nuanced.
Mariana Valencia's ALBUM was published by Brooklyn-based Wendy's Subway as part of their Documents series, which "highlights the work of performance- and dance-makers in printed form." Based on the dance artist's performances between 2014 and 2018, the book contains Valencia's scripts along with annotations, song lyrics, doodles, and photographs. Valencia's marginalia and typographic play—poetic footnotes, a monkey emoji, a cosmogram—create a spatial, even choreographic, experiment as we read. We follow Valencia as she ponders history-making, literary prizes, the value of rice, and vampires, and cheekily encounters the clichéd "lesbian dilemma": Do I want you, or do I want to be you?
Performance documentation pulls on what's familiar or different, and what's intimate or public. Toward the end of ALBUM, there's a stop-motion-like sequence of black-and-white photographs of Valencia, with the notation: "THIS IS WHAT I LOOK LIKE WHEN I DANCE FOR MYSELF IN FRONT OF YOU."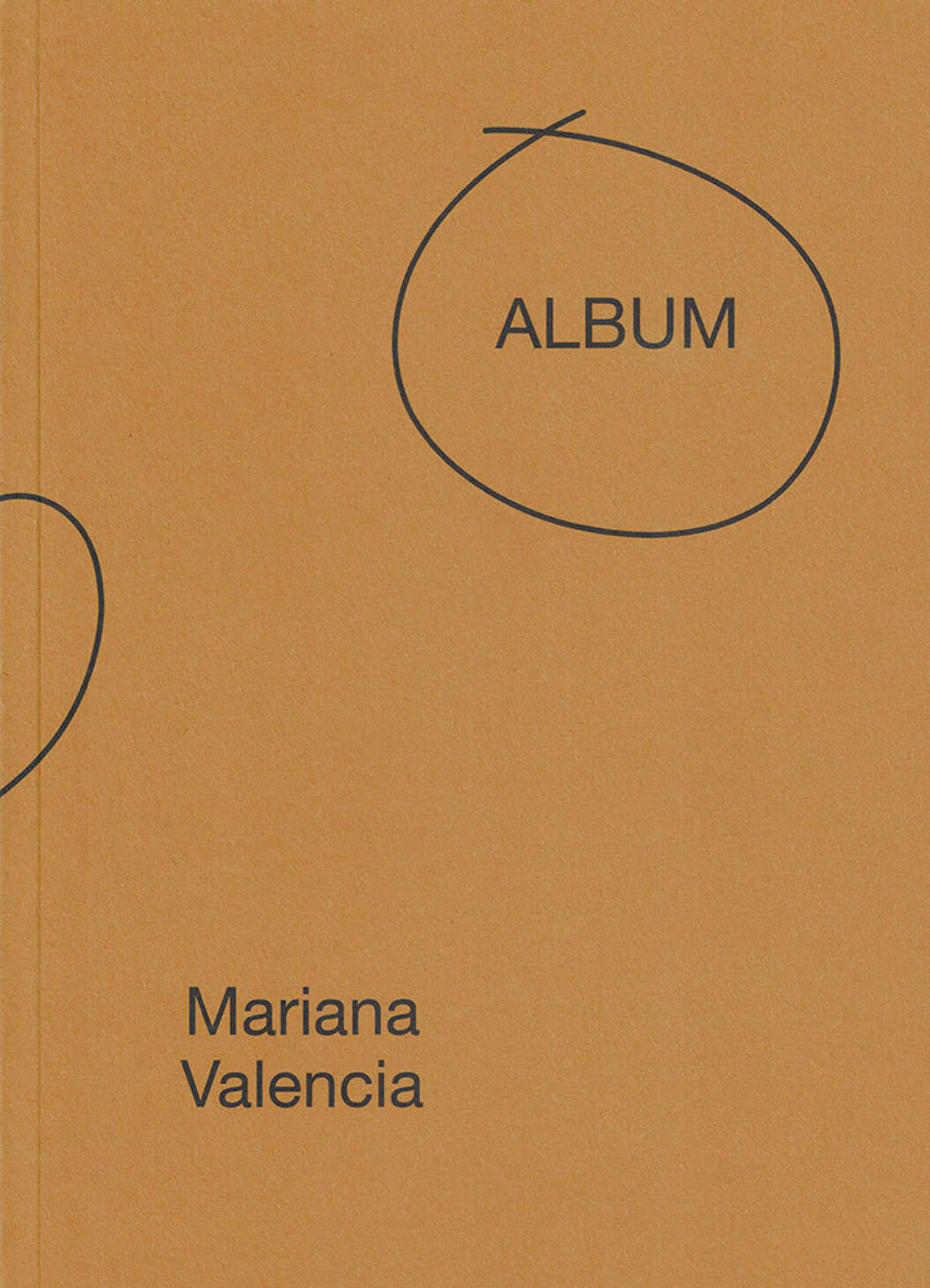 Maybe reading is always the author's private dance under the reader's gaze, or, as Rebecca Solnit writes in The Faraway Nearby, what is "said to total strangers in the silence of writing […] is recuperated and heard in the solitude of reading."
A performance script, especially a poetic one, can also simply exist in this paginal solitude, like a closet drama, not necessarily intended for the stage but written as if, left to the solitary reader to imagine. While a photograph gives the illusion of reality, it comes from the past and is therefore, as Roland Barthes suggests in Camera Lucida, "magic, not an art." Poetic language is always a step removed from reality and can refer by association or metaphor—indirectly but no less intimately. Still: who is a performance or documentation for?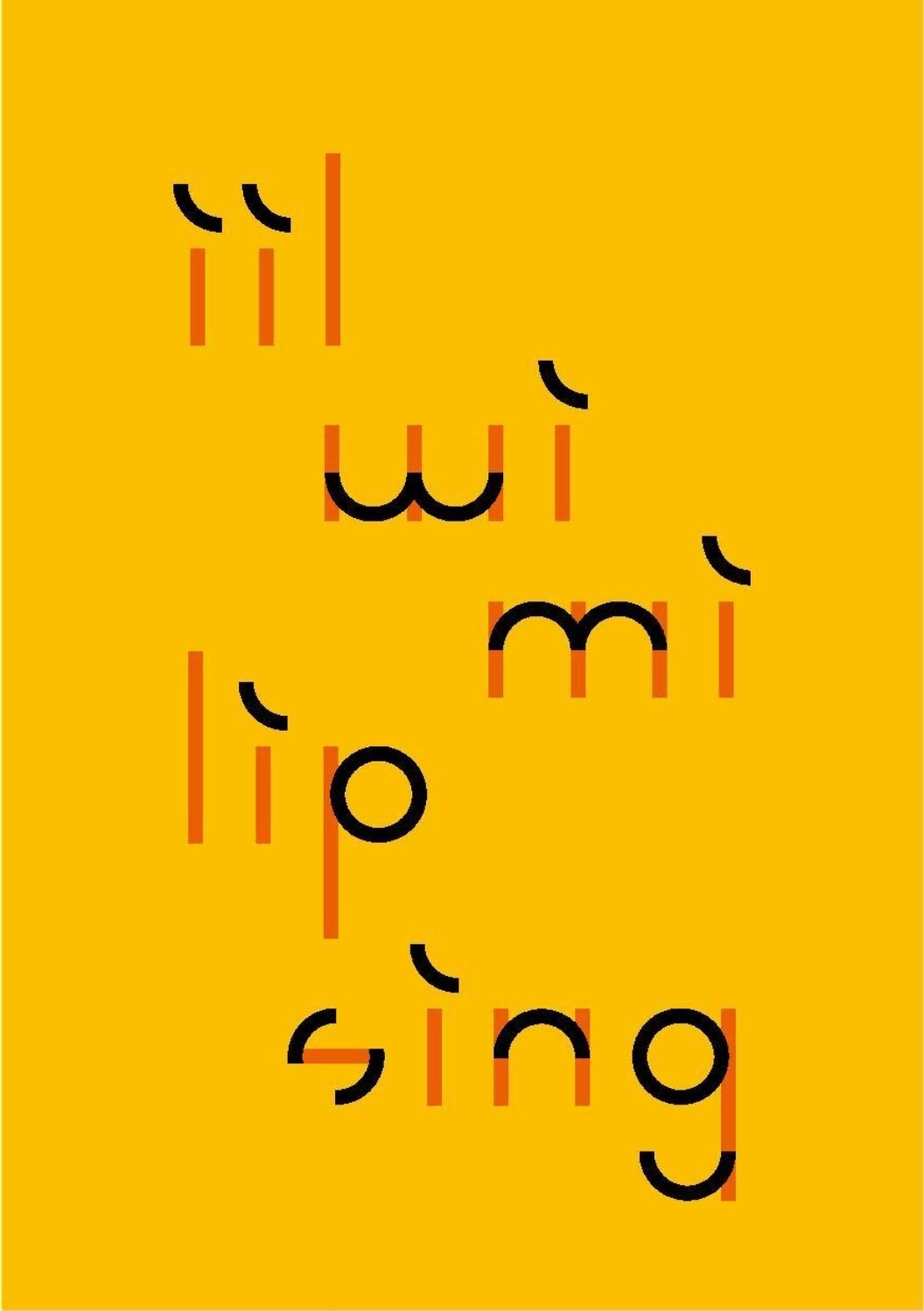 There is, regrettably, often a sense of mereness attached to performance documentation, as if failure or inferiority were built in. London's PaperWork magazine, by contrast, rejects the premise of mere documentation: "We give each element (print & event) its own space, so the magazine is not a document and the events are not launches." That said, the word document, as the media historian Lisa Gitelman reminds us, derives from the Latin docere—to show, point to, teach. Therefore, documentation itself can be more than indexical, and also pedagogical and imaginative.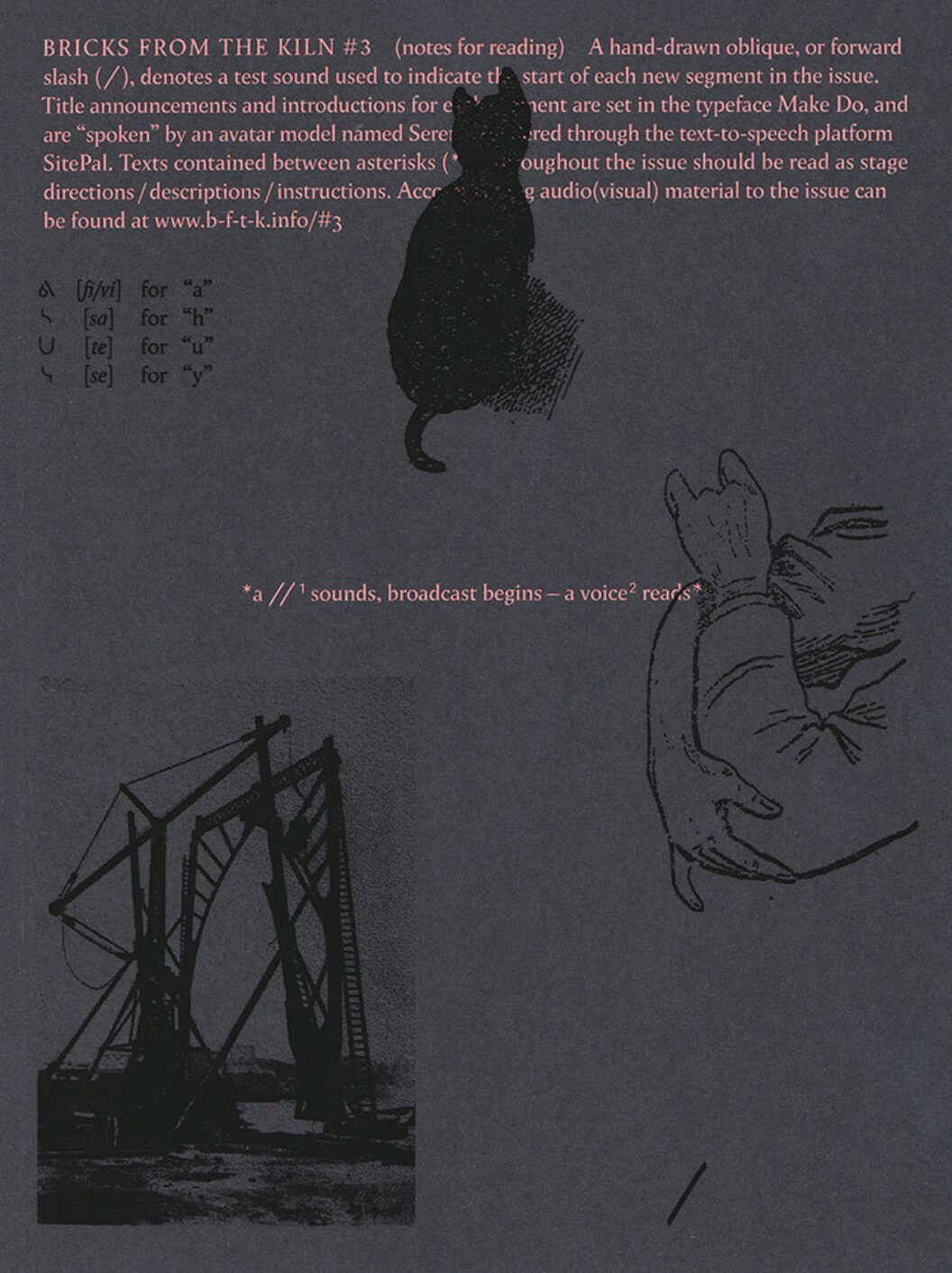 The latest issue of the UK-based magazine Bricks from the Kiln, for example, began as a series of live events, which were then "transcribed and supplemented as a printed issue." The editors produce various ephemera (handouts, leaflets) throughout the year to accompany live works. Their previous issue similarly expanded the form of the print magazine by making it more explicitly time-based. Each contribution featured an audio component online, so readers could listen and read simultaneously or treat the text and audio as separate experiences.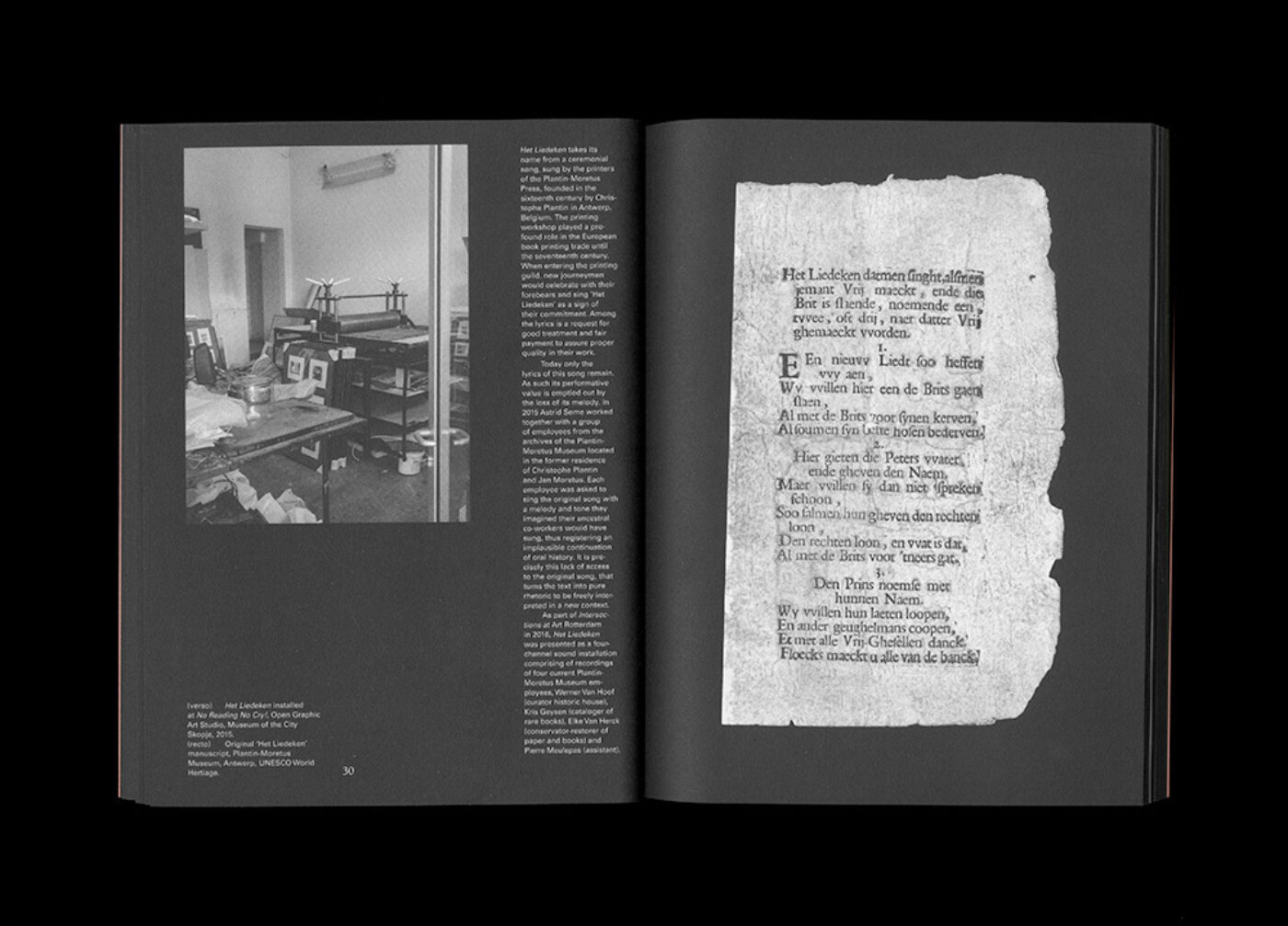 What these recent performance publications share is an interest in voice, specifically whose voice is heard and how. They also grapple with linear and non-linear narrative, textuality, the interplay between image and text, the line between poetry and performance, creative forms of documentation, and what constitutes a version versus an iteration, leaving a reader with imaginative work to do.
Sometimes the page is the stage. And we, the writers and readers, are unprotected.
Sophie Seita works with language and sound on the page, in performance, and through research and translation. Her latest publications are My Little Enlightenment: A Lecture Performance (Other Forms, 2019) and Provisional Avant-Gardes: Little Magazine Communities from Dada to Digital (Stanford University Press, 2019). She is an assistant professor at Boston University, co-organizes the interdisciplinary Sound/Text seminar at Harvard, and divides her time between the East Coast and the UK.
Originally published in
Our spring issue features interviews with Chitra Ganesh, Tania Cypriano, Charles Atlas, Netta Yerushalmy, Vi Khi Nao, Amani Al-Thuwaini, Andrea Hasler, and Bruce Boone, as well as fiction from Verónica Gerber Bicecci, Justin Taylor, Rebecca Dinerstein Knight, and Lee Relvas, and poetry from Shuzo Takiguchi and Bruce Boone.