Discover MFA Programs in Art and Writing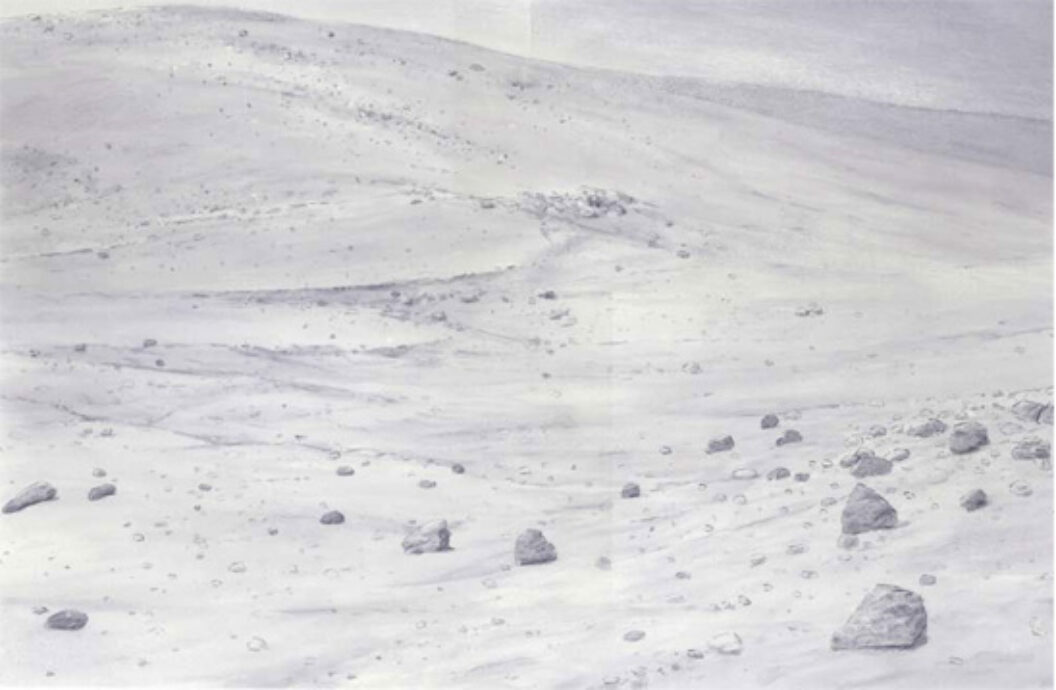 On Himmelskibit Hill, Mars 
From Earth, Mars is a planet of photographs. Artists will find art in these images, and scientists science—certain truths will be revealed to each. It is a place that can only be explored by viewing oddly unfolding pictures—whether NASA's, Hollywood's, or those unexpectedly encountered in BOMB.
NASA has been particularly busy on Mars lately—making many pictures and naming landmarks. With no one on Mars to disagree, and no patrons to commemorate, explorers of Mars are mostly free to name rocks as they like. And this is how it should be, I think.
Not long ago, a rock-covered ridge (adjacent to McCool Hill in the McMurdo Panorama) was photographed for the first time and named by a NASA science group. Among many rocks visible in the photos, four were given names—Orcadas, Juan Carlos, Castilla, and Primero—after locations in Antarctica.
In these drawings based on NASA rover photos, I have given Low Ridge a different name: Himmelskibet Hill, after the Danish "sky ship" which first traveled to Mars in 1917. I also have named numerous rocks left unnamed by NASA for the first time here. Besides, I have supplied the four NASA-named rocks with supplemental aliases because sometimes confusion can help reveal chaotic truths hidden beneath order by making us look more closely at what we take for granted. All the new names I propose refer to films that tell stories about Mars—these names remind us that sci-fi cinema has explored the potential significance of this place already in pictures that are historical, endlessly present, and of the future.
In 1982, Jack Goldstein said that "art should be a trailer for the future." Since then, several famous futures have come and gone but what he said remains chaotically true. Art is not timeless but, rather, may be recurrently renewed, like the future. This project is dedicated to that memorable idea.
—David Clarkson

01 Das Himmelskibet (aka The Sky Ship), Denmark, 1918
02 A Trip to Mars, USA, 1910
03 A Message From Mars, UK, 1913
04 M.A.R.S., (re-released as Radio-Mania), USA, 1923
05 Aelita: Queen of Mars, Soviet Union, 1924
06 Just Imagine, USA, 1930
07 Flash Gordon: Mars Attacks the World, USA, 1938
08 Flash Gordon: Deadly Ray From Mars, USA, 1938
09 The Purple Monster Strikes, USA, 1945
10 Rocketship X-M, USA, 1950
11 Flying Disc Man From Mars, USA, 1950
12 Flight To Mars, USA, 1951
13 Zombies of the Stratosphere, USA, 1952
14 The War of the Worlds, USA, 1953
15 Invaders From Mars, USA, 1953
16 Devil Girl From Mars, UK, 1954
17 Conquest of Space, USA, 1955
18 It! The Terror From Beyond Space, USA, 1958
19 Nebo Zovyot, Soviet Union, 1959
20 The Angry Red Planet, USA, 1960
21 Battle of the Worlds, Italy, 1961
22 Battle Beyond the Sun, USA/Soviet Union, 1963
23 Santa Claus Conquers the Martians, USA, 1964
24 The Wizard of Mars, USA, 1965
25 I Marziani Hanno Dodici Mani, Italy/Spain, 1964
26 Robinson Crusoe On Mars, USA, 1964
27 Frankenstein Meets the Space Monster, USA, 1965
28 Santo Contra la Invasion de los Marcianos, Mexico, 1966
29 Queen of Blood (aka Planet of Blood), USA, 1966
30 The Deadly Diaphonoids, Italy, 1966
31 Quatermass and the Pit, UK, 1967
32 Mars Needs Women, USA, 1967
33 The X From Outer Space, Japan, 1967
34 Mission Mars, USA, 1968
35 The Man Who Fell To Earth, USA, 1976
36 The Alpha Incident, USA, 1977
37 Capricorn One, USA/UK, 1978
38 Contamination (aka Toxic Spawn), Italy/Germany, 1980
39 Star Crystal, USA, 1986
40 Total Recall, USA, 1990
41 Martians Go Home, USA, 1990
42 Ultracop 2000, Hong Kong/Philippines, 1992
43 The E.Y.E.S. of Mars, Japan/France, 1993
44 Special Report: Journey to Mars, USA, 1996
45 Mars Attacks!, USA, 1996
46 Species II, USA, 1998
47 Mars, USA, 1998
48 My Favorite Martian, USA, 1999
49 Red Planet, USA/Australia, 2000
50 Mission to Mars, USA, 2000
51 John Carpenter's Ghosts of Mars, USA, 2001
52 Armitage III: Dual Matrix, Japan, 2002
53 Stranded (aka Náufragos), Spain, 2002
54 Lost on Mars, USA, 2002
55 Close Encounters: Infestation From Mars, USA, 2004
56 The Mars Daybreak, Japan, 2004
57 Crimson Force, USA, 2005
58 Doom, 2005, USA, 2005
Originally published in
Featuring interviews with Adam Bartos and A.M. Homes, Jacqueline Humphries, Tod Williams and Billie Tsien, Andrei Codrescu, Mary Gaitskill, Matthew Buckingham, and Pauline Oliveros.