Celebrating 40 years with curated selections from the archive.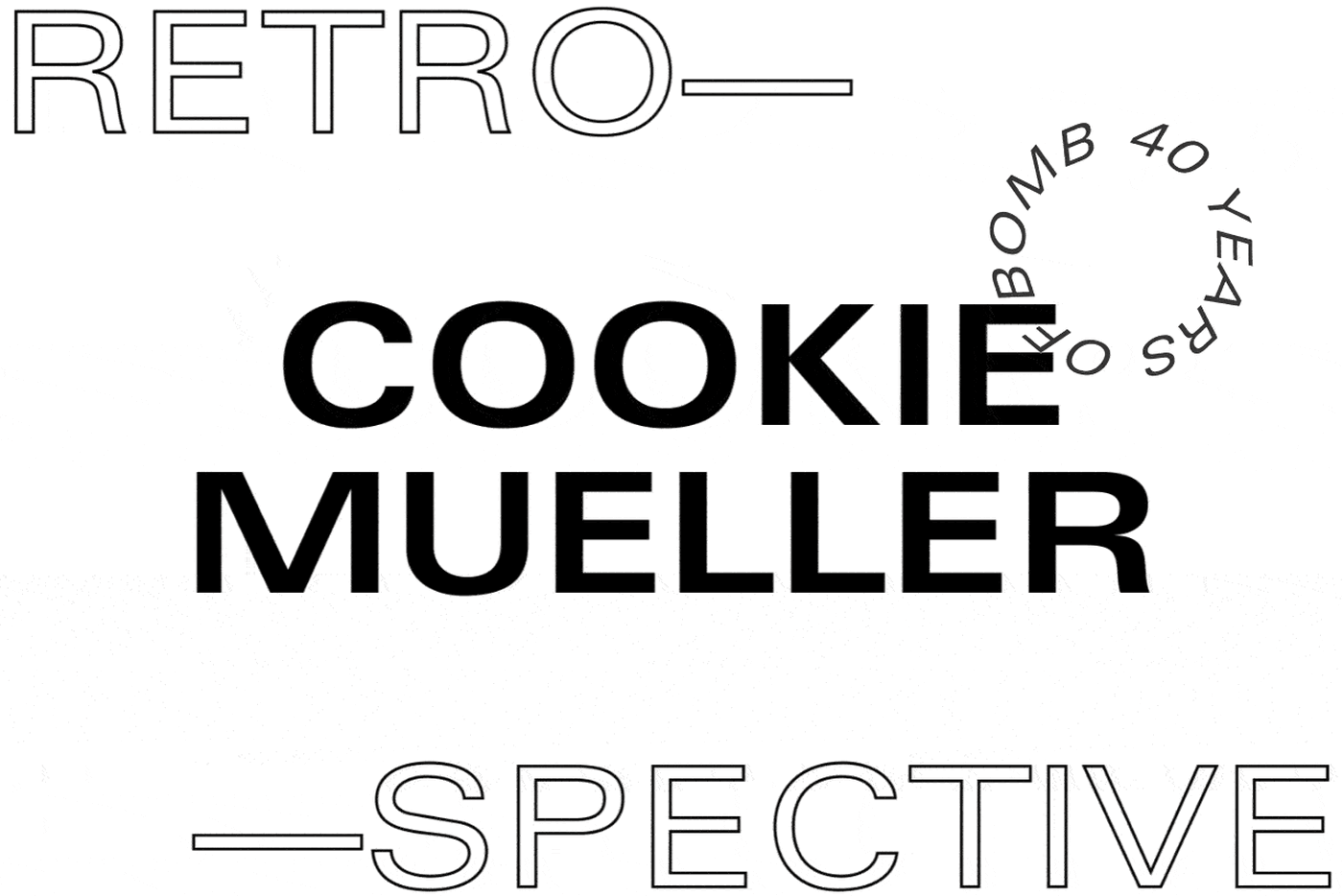 We first encountered Cookie Mueller as a slice of blue against white walls while reading her memoir Walking Through Clear Water in a Pool Painted Black (1990). Once she has your attention it is hard not to be transfixed. To look for Mueller's work is to court a distance miles and pixels away from its first publication; the BOMB Magazine archive deposits further slices of this haze of a being to us.

The story "The Simplest Thing" writes existentially about womanhood, about roots, tunnels, hollows. It is both above and below ground: that cold, damp dread of bottomlessness, of falling, of floating just above a drop. It follows the internal monologue of its protagonist, Molly, who has left the city for the first time in five years to stay with some close friends in their lake house. We first meet Molly, "the woman who lately had been thinking of herself as a joke," floating in the middle of Confidence Lake as she roasts in the sun among the bodies of personified trees. In a surreal slippage into existentialism—the bottomless of the lake and a scream that silences the forest—Molly realizes that in fact "she was everything," "she was in the soup." Molly's existential process operates as a sly refusal of nature writing, fucking with Mother Earth. Typical of Mueller's style, sketches of place are transitory, and habitations of scenery and voices gather in a cacophony. Nature is disjunct and overhangs the story; the trees are girls and women, bitchy with hips like catwalk models gossiping and goading Molly as she floats.
Mueller was a writer, actress, mother, and many other things who lived in New York City in the 1970s and '80s; she was one of the many who died from the neglectful response of the US government in the face of the AIDS pandemic. She died young and never finished the novel alluded to in her bio at the bottom of the short story published in BOMB in 1988 two years before her passing. All accounts of her are written with love, grit, and adoration. Through "The Simplest Thing" we receive handfuls of her dry humor, the kind that drops you in the middle of the story and makes you feel like you are in on the joke. It is an uncanny combination of generosity and nihilism.
Cookie invites us along to:
a party,
a hot sweaty gathering of voices,
a dusty road trip.
In sitting with this text we come to think about absence and how it is filled with transitory moments that make up a life and sit just beyond reach, making Mueller's frank honesty and uninhibited imagination precious and important to hold for a moment longer.
Cookie Mueller's "The Simplest Thing" was published in BOMB 24 (Summer 1988). Read it here.
Dead Lovers: Rose Higham–Stainton, Zoë Frost & Gina Prat Lilly Writing Through Cookie Mueller commissions three new texts that write in, through, or around "The Simplest Thing" and is available from Sticky Fingers Publishing.
Subscribe to the BOMB Retrospective newsletter, in which co-founder and Editor-in-Chief Betsy Sussler will spotlight the magazine's living legends featured from each of its four decades. Click here to subscribe.
Sticky Fingers is an intra-dependent publisher based in London. It consists of designers and writers Kaiya Waerea (she/her) and Sophie Paul (she/her).