BOMB Retrospective: Coco Fusco on Two Undiscovered Amerindians Visit the West
Celebrating 40 years with curated selections from the archive.

Discover MFA Programs in Art and Writing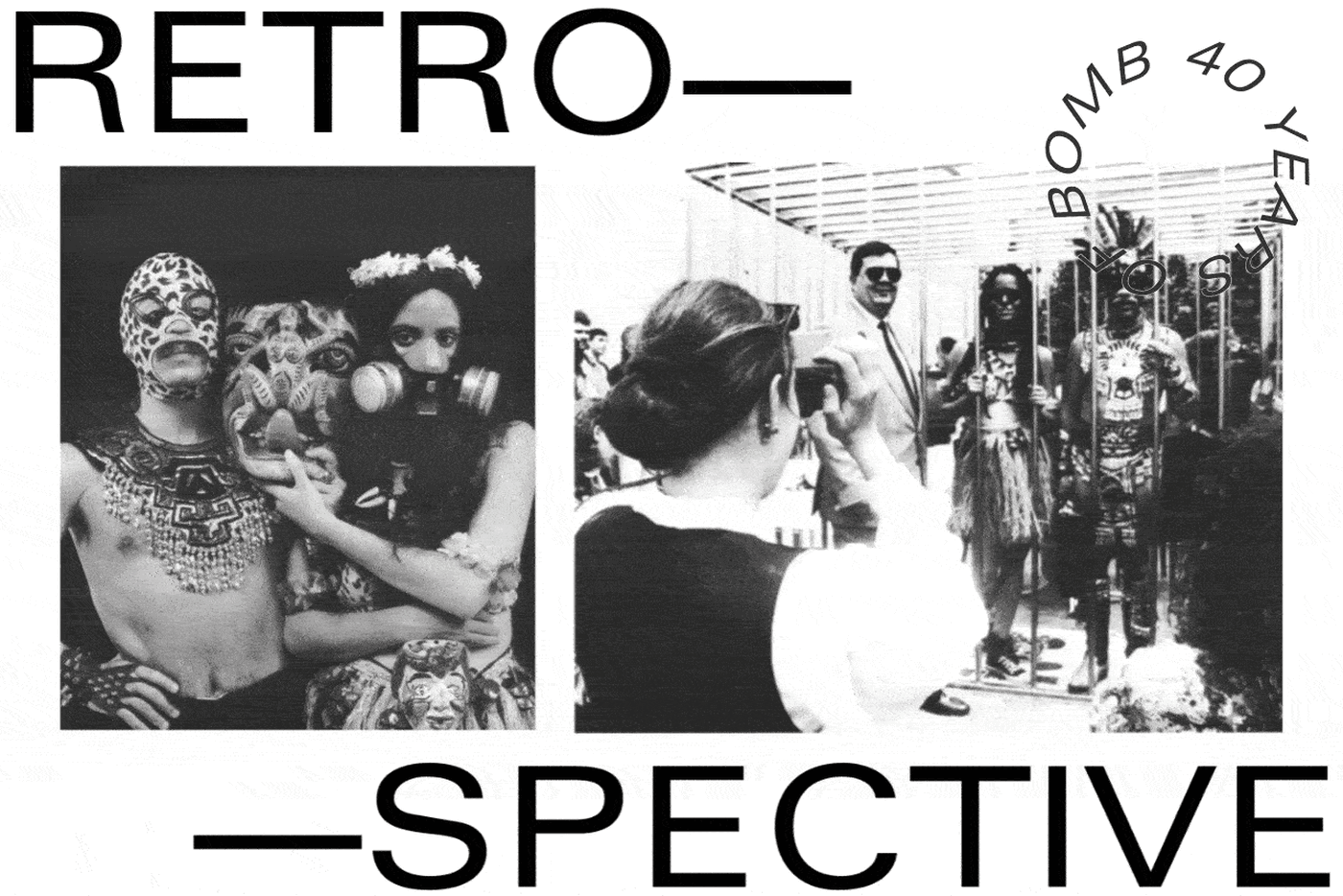 I will never be let out of the cage. I am asked at least once a week about my performance as a caged Amerindian. My teenage son told me last year that his classmates found pictures of me on the internet and were shocked to find that someone at their school had a mother who had dressed up in a grass skirt and danced in a cage. Neither I nor Guillermo Gómez-Peña knew when we embarked on that adventure that we would have to live with its residue for decades. But once we started, we realized that we had struck a nerve.
Here is what I consider to be the good, the bad, and the ugly aspects of living with my past life as an ethnographic oddity. First, the good: I found many allies around the world that became friends. Getting the performance approved at natural history museums was very challenging. Scholars, curators, activists, and politicians, the majority of whom were people of color, pressured institutions to let us in. Indigenous activists in the United States and Australia understood our intentions, and they were gracious guides regarding how to treat their cultural histories. I will always be grateful to them. It has been particularly rewarding to learn of younger Indigenous artists from South America and the South Pacific who have been inspired by the performance to elaborate their own investigations into how their peoples have been displayed in Europe and North America. Finally, the research I conducted on the ethnographic display led me to colonial archives and offbeat photo collections, and out of that came my sustained interest in teasing new meanings out of historical documents.
Unfortunately, bad things also happened. The reviews of the work were dismissive. Jan Avgikos was able to say in Artforum that when she saw the performance she didn't want to think about cultural genocide, she just wanted to fantasize about how nice my body was. Those were the days! I was not invited to present any artwork in New York City for eight years. It has become convenient for those who seek to contain the implications of a culturally diverse artworld to limit any mention of my three decades of creative endeavors to that one performance, as if to suggest that I am incapable of producing anything else of interest.
In the 1990s, art historians felt no obligation to take the performance seriously, and many still don't. I've sat at more than one job interview in which male art stars on the committee look at me disdainfully and let me know that as far as they are concerned what I do is not art. It took a decade of traveling around giving lectures at universities with a video documentary in hand to prove that I wasn't just making up stories about white people's fantasies about "the primitive." But my mad adventure with Gómez-Peña showed me that beyond all the flowery rhetoric about appreciation for diversity there is still an infinite capacity for self-delusion and denial among the high and mighty.
Coco Fusco and Guillermo Gómez-Peña were interviewed by Anna Johnson in BOMB 42 (Winter 1993). Read it here.
Coco Fusco is an interdisciplinary artist and writer. She is a recipient of numerous awards, including a Guggenheim fellowship, an American Academy of Arts and Letters Award, a Fulbright fellowship, and a Herb Alpert Award in the Arts. Fusco's performances and videos have been presented in the 56th Venice Biennale, Frieze Special Projects, Basel Unlimited, two Whitney Biennials (2008 and 1993), and several other international exhibitions. Her works are in the permanent collections of the Museum of Modern Art, Walker Art Center, Centre Pompidou, Imperial War Museum, and the Museum of Contemporary Art of Barcelona. She is the author of Dangerous Moves: Performance and Politics in Cuba (2015). She is represented by Alexander Gray Associates in New York. She is a Professor of Art at Cooper Union.