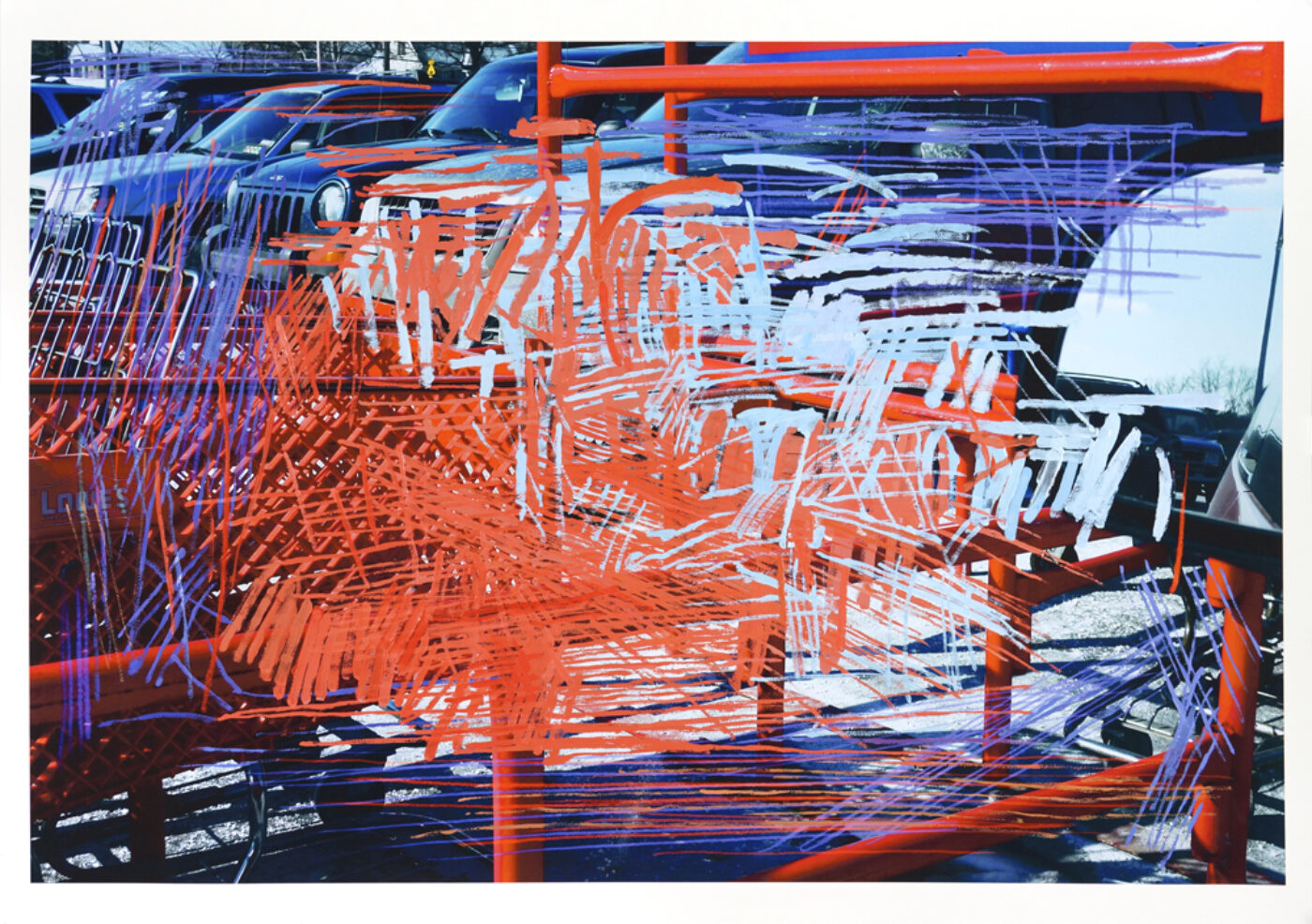 Contrary to the zeitgeist, Posen chose not to abandon the materiality of paint and illusions of space, a decision based upon a commitment to his training as a painter and questions of representation raised by the Vietnam War. At the time of the war, Posen had considerable doubts about communication, raised by the violence and politics of Vietnam and how these were mediated by and veiled in broadcast and print. This realization sparked a new direction for Posen and his decisive turn from any attempts to meld with Pop or Minimalism. He began a series of Photorealist paintings of covered boxes he described to me as having "a space projecting out into the viewers' space," in which the illusionistic folds of the cloth "would somehow be behind the plane of the painting." He then added another layer of drawing over the relief-like spaces by incorporating trompe l'oeil fabric vectors, which he likened to the lines of Fred Sandback, and which further described, or in some cases obscured, the space underneath. His project was clearly taking on the complexity of communication and its layers of concealment. The seemingly protruding boxed constructions would soon give way to his use of painted photographs as backgrounds for his trompe l'oeil fabric drawings. Posen discusses one of these paintings, Boundary, 1978 in the video below and shows how he arrived at his compositions through maquettes in the case of In/Out.
Access and memory are two words that come to mind when viewing Posen's work. His initial question of communication in turn became one of recognition. How does the viewer comprehend recognizable space through added layers of concealment? This comprehension is all about access to the recognizable ground which, when visually obstructed, relies upon memory and intuition to complete the picture. Posen feels his work "asks for recall." In this way, the viewing of Posen's work is more like a situation and so another word that comes to mind in thinking of his work is engagement. He continues to carry his early questions of communication into two current bodies of work based on digital photography, one dealing with paint on inkjets and the other a solely photographic project. The former's process deals with the tension of working over a printed image and the larger issue of finding a place to put paint which Posen shares below.
In Posen's other digital print project, the images are left untouched by the artist's hand but not his editorial eye. Two photographs are selected and mounted together in a kind of diptych—what Posen calls his "paired photographs." The process is ongoing, as the artist gathers images that inspire him throughout his travels around his rural Pennsylvania studio. The process is also open-ended, as some images may not be pulled from his hard drive until a partner image is found. The matchmaking here is determined upon formal parallels between two images and the emotional register surrounding them. Posen feels the series works, "not linearly as in narrative, but as layered imagery that together enhance one another—that they have an emotional center, like a clustering, a constellation within themselves." The side-by-side format within the pairs brings to mind that of vintage stereoscope cards whose like images, when merged, create the illusion of depth. But when presented with two disparate images from Posen's series it is an emotional, not optical, depth that is experienced by the viewer. Through the years, the strategies may have changed but the game is still the same for Posen: how one accesses meaning in the languages of paint and photography via memory.
Richard J. Goldstein is BOMB's Archive Editor and a painter.