Bomb on the Inside: Urban China by David Goodman
Benjamin Godsill, curatorial associate of the New Museum, talks about the Urban China exhibition he curated.

Discover MFA Programs in Art and Writing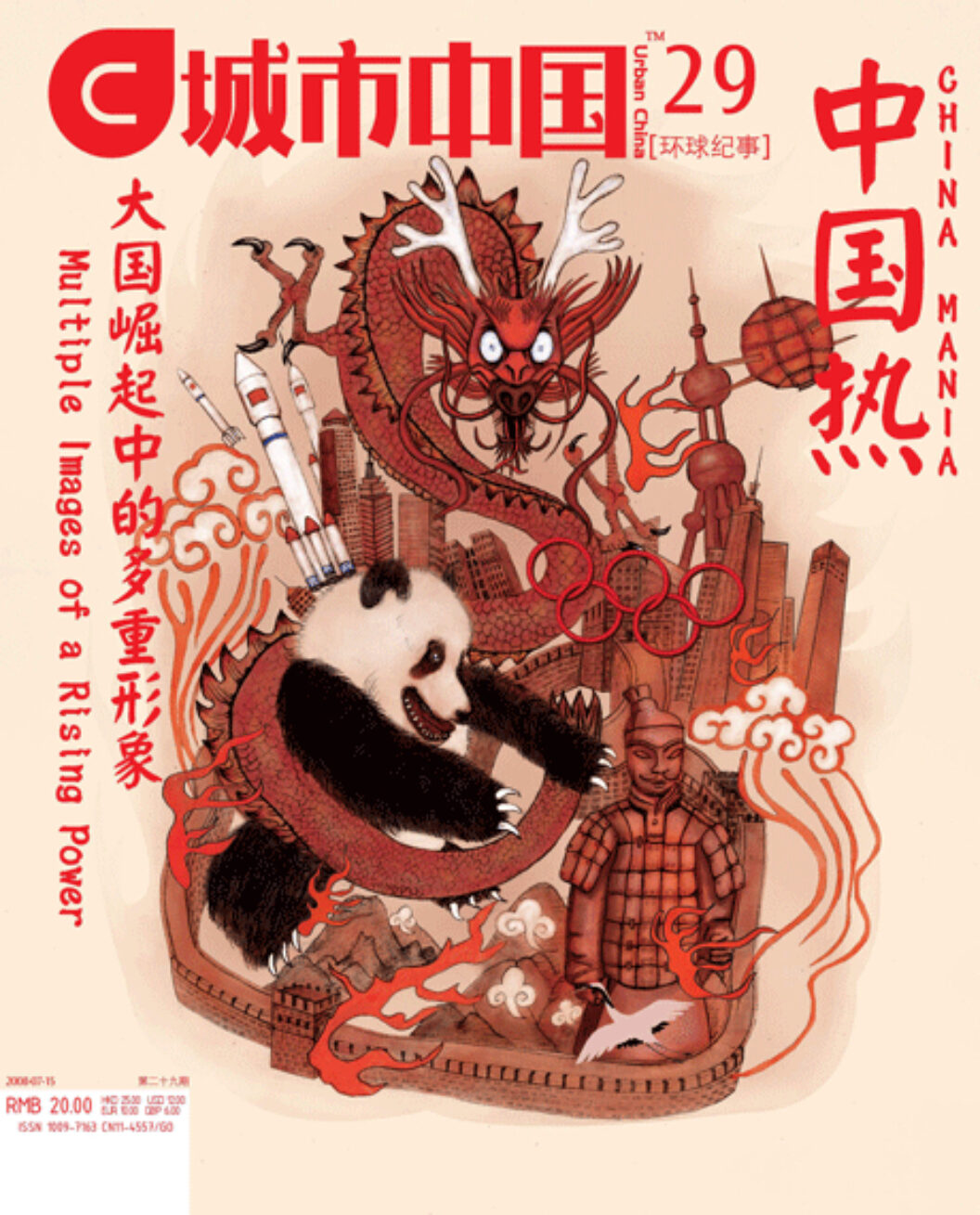 I recently spoke with Benjamin Godsill, a curatorial associate at the New Museum, about Urban China: Informal Cities, the show he curated that's on display in the lobby gallery of the New Museum in New York City. The exhibition's multilayered approach showcases the graphic stylings and energetic research of the young and dynamic publication Urban China, which since 2005 has been constantly capturing China's "warp-speed" evolution.
Benjamin Godsill The really interesting thing for me is that Urban China is studying China, and they're using this research to help understand the most rapid urbanization in human history. But more than that, the things they pluck out and the way they go about finding these interesting data points is equally applicable to what's right outside the New Museum's doors. That's why we chose to have the Urban China exhibition on the ground floor level, because all this graphic analysis leaks right out into the street. So you walk down Prince Street and approach the exhibition. I wanted this to be personified, not to be just about the Other. While it's technically all about China, the lessons that Urban China is teaching us in their research practices and the ways they find to represent very complex streams of data are equally applicable to our daily lives. I mean, I would say that the first time I met Jun, (Jiang Jun editor of Urban China), we walked around …
David Goodman When did you meet him?
BG Last summer, right after the Olympics—after we had maybe an eight month to a year-long dialogue over Skype and email. Just like when I go into an artist's studio—because I mostly work with visual artists in my curatorial practice—I had the same experience where I couldn't look at the world in the same way after spending time with him. Fundamentally, it shifted my perception of the cities I have walked around in in China. And then, when I came back to New York, he similarly shifted the way that I navigate these streets.
DG I had a conversation with a friend, recently, who does fashion production in China. And he said that the development is so rapid, that each time he goes, he can't find his way around. In this exhibition you really grasp the energy of development. It makes you feel as if people are the only context of the city, not the buildings.
BG Exactly! And you know what, specifically when I talk about the exhibition's wallpaper, it's all about pulling imagery from all the past issues of Urban China, and showing the commonality throughout all of them. Oftentimes you have informalism in China, which is a way that people take the material goods that are available to them. It's just what the world has given them, and what their needs are—they find ways to mesh those two together to recreate their world and the objects they use physically and ideologically. And here in terms of cities, even though they're totally chaotic and constantly changing, the way that they're planned and set up and have been for thousands of years is not in the daily people's control. Neither is it in our control here, but it is really very hierarchical there. Especially old cities like Beijing, they're set up on a gate system, and they're a highly controlled movement of people and goods that have nothing to do with Communism per se, just with the way that they have structured their cities. People are constantly remaking their lives by remaking the city, just in how they choose to live their lives and navigate their city. In the same way that everyone, no matter where they live, makes a mental map of their surroundings based upon their needs and desires and responsibilities. It's your own idiosyncratic map.
DG Even looking at all the different construction that happened for the Olympics, it was beyond belief.
BG Things happen so fast there.
DG But what about craft and quality of craft? How does that—
BG It doesn't exist.
DG It doesn't exist … That's interesting because quality of craft is an important historic element for China.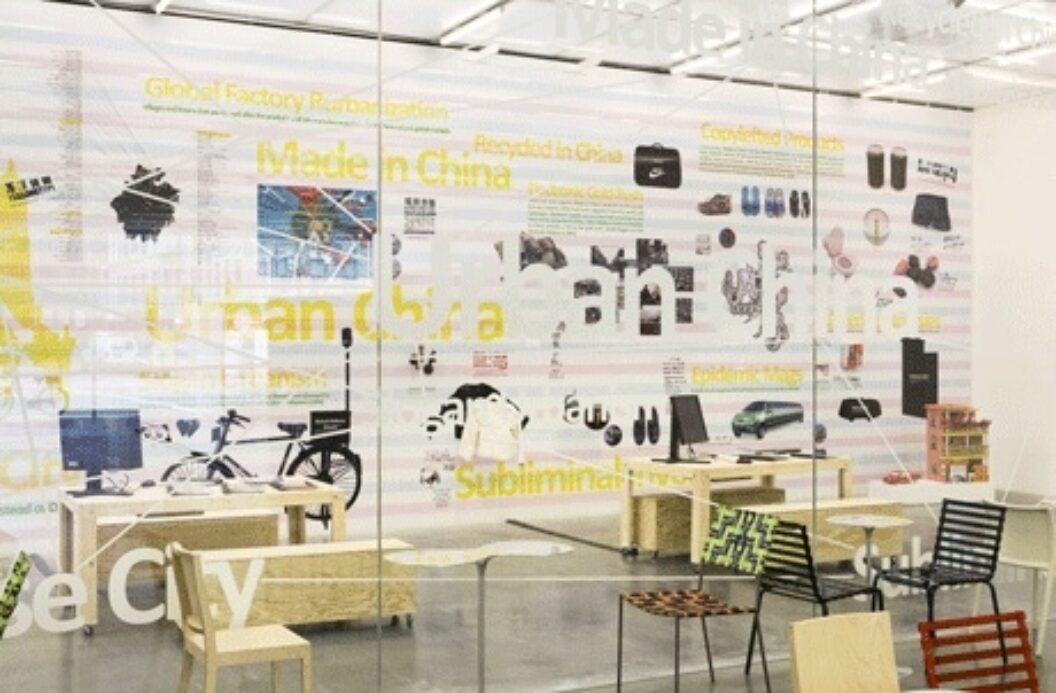 BG You know, I just want to talk about these tables that were designed by Joshua Edwards who's one of our installation managers. He has a background in fine custom furniture, so, for him, the tables are really sloppy. It drove him nuts that I asked him to keep it really rough to keep within the theme. He both designed and built the tables, and Jun couldn't wrap his mind around this because China is such a Fordist society. Each person has very specific task. What a part of the exhibition refers to is that there are whole villages that are known for specific products. In one, they just copy Western styles of art.
DG Right. I've read about that!
BG And it's not that one person paints the whole painting. Some people can only paint the background of Van Gogh and nothing else. Then someone else comes in and does the sunflower in the foreground.
DG Is that a more beautiful part of the city, you think? Just because things are being painted, and "art" is being created there?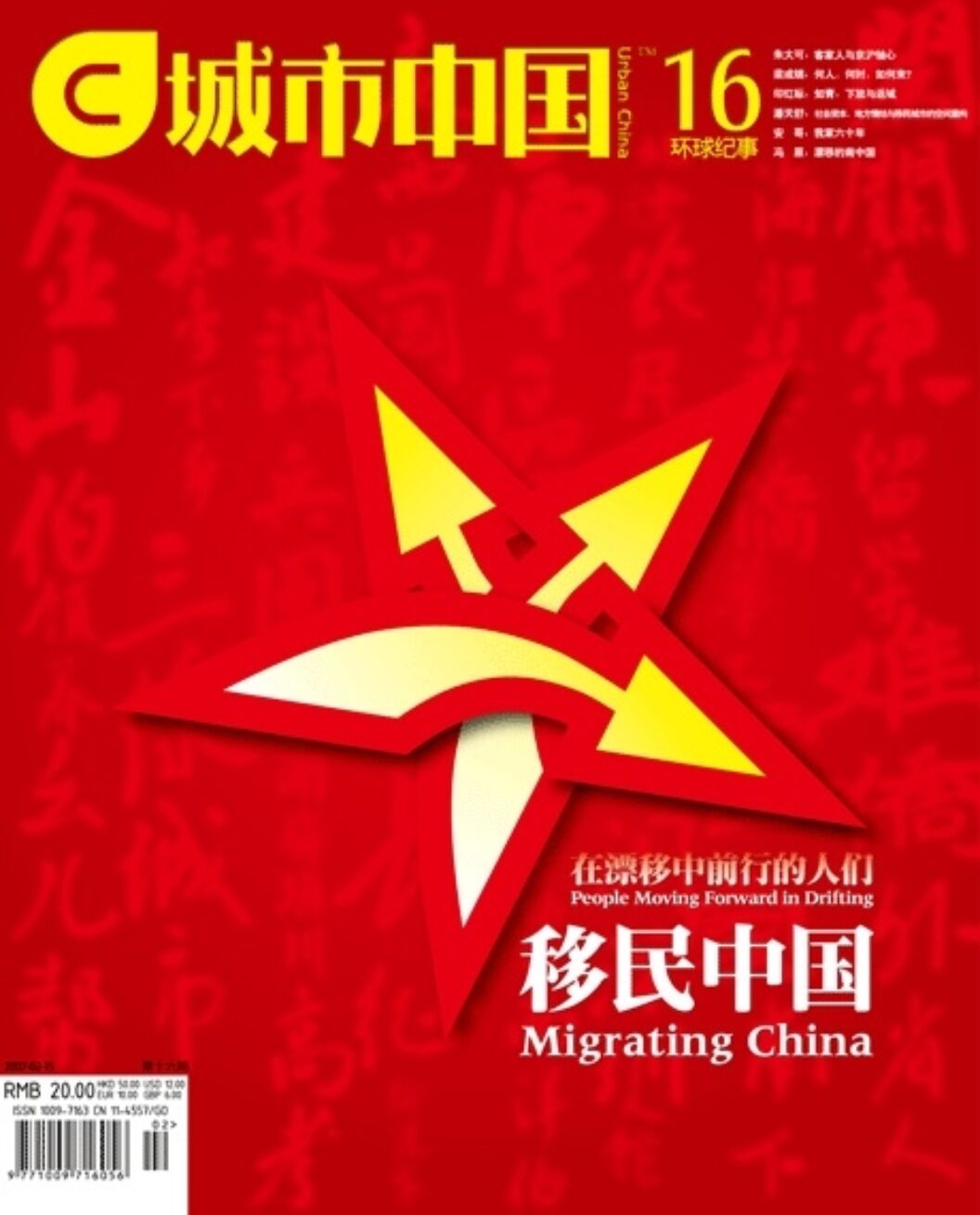 BG Well, I find it dystopian in such an intense way.
DG You said before that you normally go to artists' studios and that this isn't your main focus, but—
BG No, I'm not an architectural critic or graphic designer …
DG Maybe that's why you're involved on this level, because you are finding different textures that you often see in visual art. How has this affected your thoughts about your curatorial practices?
BG I've always had this open-ended notion of what I'm looking at and looking for. I come from a background of doing new media projects, so I've always understood that information and how it's organized. Notions of the archive are really important, especially to younger contemporary artists who've grown up surrounded by so much information and have had to build ways to organize it, archive it , and find the correct search term to access the information from their daily lives. Right now, I'm interested in the notion of dying mediums. I'm a big fan of the newspaper, but it's an untenable thing, and over time artists have always worked with newspapers in their collage elements, or created art on newspapers, or printed their own artist newspapers. There's a long history of engaging information in that way. There's painting and using newspaper as an element, or pulling elements out and making them your own. I'm really interested in that format, and growing out of that I'm interested in artists' practices that deal with notions of information in terms of "truth," in terms of veracity. And it's something that Richard Flood, chief curator, has been working on. And I'm interested in working with him and exploring that.
DG Why do you think you're keyed into the idea of truth?
BG Well, just because it's an interesting thing how we all build our own truth these days. I mean, it comes out of an '80s postmodern thing, but it's now a little different. Yes, there are multiple truths, but still, in order to be politically effective, we actually have to decide if there is truth. There is, and it's black and white—it isn't all gray. But, I also like the idea of falsehood, I mean …
DG Right, of course, because both are fun and poignant. I think that having an unformulated idea does that: it keeps you open to interpret new work within the same "heading." So, what goes through you mind when you're thinking of collecting those ideas? When you're going through and trying to "curate" the idea, is it similar a novelist pulling together all the characters of the story?
BG Yeah, but with a lot more freedom, because our story doesn't have to be a narrative. We're responsible for making sure those characters exist, but the way the characters develop are outside of our control. Where as a novelist is completely responsible for that character's development and how that character evolves over time and that character staying true to him or herself. So, I like the analogy to a degree, but I like fractured stories. I learn a lot from stories that don't have a beginning, middle, and end. That's why I've tended not to work at collecting institutions. At this stage of my career, the notion of creating a linear history sort of scares me.
DG Well, it feels more confining, less creative.
BG Exactly. It's more that I try to find projects, and trying to find more, especially in the financial situation the world and art markets are in, I'm more interested in acting as a producer and making more commissioned series. This is a very '90s thing to say, but I see the museum as site of productivity just as much as its a site of display. That may tread too much into the museum as "laboratory," but I'm really interested in being able to work with artists and help them produce projects.
DG The museum as "catalyst."
BG Yeah, exactly! More of a diagram than a historical show, a gorgeous historical show, of works in newspaper. Beautiful paintings on newspaper, like Bob Gober newspaper stacks: very tight, beautiful, dry. And overlaid on that we can have some research laboratories, say The Center for Land Use Interpretation, and people who believe that their practice is research of the world. They all can be in the same space. We can have, you know, Willy Daredy doing a TV interview—he's an Irish artist, working with documentary and truth, something like that. I'm just thinking out loud …
DG That's totally fine.
BG Out of my head, it can be multiple layers. It doesn't have to be one thing or another. And I think that's something the New Museum's physical space, the architecture, lends itself too. It's super flexible. It can take a lot. It can take almost an overbearing amount of material.
DG So, in this exhibit, is there something that completely floored you, that you were surprised by and unaware of until now?
BG Yeah. This I didn't know about. It's the Three Gorges Dam. Do you know about it?
DG No, I don't.
BG It's a huge, massive, hydro-electric project, which basically supplies 10% of all the electricity needed in China. It involves the Shangzhi River, and an old village—hundreds or thousands of years old. Once they put the dam in, the village became part of the reservoir. So the Chinese government built a brand new Western-styled apartment complexes higher up on the banks of the river to house the displaced people. The people from the village gathered old roofing material, and placed and built a mini-city that's now a remnant or a "ghost" of the old city, on the top.
DG How did they come together to do this? Was it a collective idea?
BG No, I don't think so. I think it was a totally organic desire to hold on to old ways. Some of these houses go back several generations; they wanted to hold on to that. And some of it is just practical, "well we have all this free building material—let's have a penthouse." So that absolutely blows me away.
The exhibition Urban China: Informal Cities is curated by Benjamin Godsill, Curatorial Associate, New Museum, and is a part of the Three M Project; a series organized by the New Museum, New York; the Museum of Contemporary Art, Chicago; and the Hammer Museum, Los Angeles, to commission, organize, and co-present new works of art.
BOMB On The Inside is a conversation series created by David Goodman that engages artists, curators, gallerists, and visionaries to reveal the dynamism and power of creative thought. This piece was edited with the help of Richard J. Goldstein.