On October 1, millions of people in Toronto ventured outside their homes to experience the 6th annual Nuit Blanche. Rebecca Melnyk spoke to the curators about the multi-city event and the role of public art.

Discover MFA Programs in Art and Writing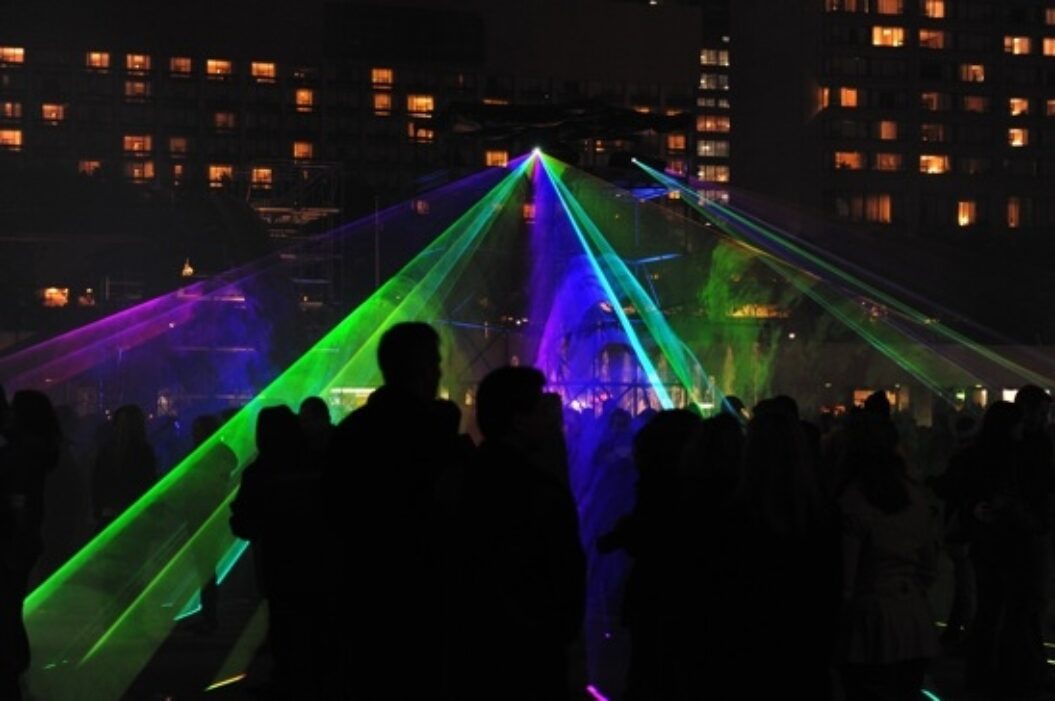 On October 1, millions of people in Toronto ventured outside their homes to experience the 6th annual Nuit Blanche, an all-night art event that originated in Paris. Families, tourists, students, artists, and even those with a skeptical eye toward contemporary art engaged with large commissioned conceptual installations and smaller independent exhibits that, together, culminated in a celebration of art in public spaces.
According to Julian Sleath, the programming director for this and other major cultural events, Nuit Blanche "is the only all-night event in the City of Toronto specifically focused on the contemporary visual art scene. The hope is that by using the urban setting, participants will question their relationship to once familiar surroundings, to each other and to their experience of contemporary art." And curiosity flourished in such exhibits as Raymond Boisjoly's "the sense of reckoning," an installation that took the form of electronic road signs and stressed the ability of the potential for text to produce experience, as fragments of language flashed quickly on signs normally used for cautioning and blocking off the public. The piece required a heightened attention as viewers attempted to form coherent words from the jumble, and in the process, re-engage with language. As Sleath says, "like Carsten Holler's "Test Site" in the Tate Modern, Nuit Blanche ends up 'using people as raw material.'"
Nicholas Brown, Candice Hopkins, and Shirley Madill were the three curators for this year's 6th annual Nuit Blanche, each curating a particular city zone. I spoke with the three about how this major art event connected to the public, the reception of conceptual art, the challenges in producing a large scale art event, and their hopes for what the public experienced.
Rebecca Melnyk What do you hope the public walked away at the end of the evening?
Nicholas Brown I hope audiences walked away with a greater sense of entitlement to physically and psychologically inhabit the financial district on their own terms. We had a tremendous opportunity to collectively recall the events of the G20, which took place just over a year ago, as the Occupy Wall Street protests continue to unfold. But it was also important to myself and to many of the artists in our exhibition that the works not prescribe a specific reading or outcome. I hope the public left empowered, and still a bit nonplussed about their experiences. Frustration, even outright hostility is expected and totally welcome. Down the road, I would hope that people discover a sense of déjà vu next time they find themselves in the financial district late at night.
Shirley Madill I would hope they gained a new perspective on the public spaces and the city in which they live, and will begin to pay closer attention to the magic in these spaces that they would otherwise perhaps not see. In the light of current events—of economic protest in New York and now in Canada and around the world, I think that this year's Nuit Blanche was intuitive and in sync in the political and social arena that was ideal for art in the public arena. The artists' transformation of architecture and public space in my zone brought attention to the meaning of such places in one's urban living.
Candice Hopkins I wouldn't say that there is a specific thing that the public will remember from Zone A, but perhaps more the transformative potential of small moments. For example, one of the most successful works of the night was perhaps the most simple, one entitled "Limelight" by the collective Sans Facon. This work produced a spotlight on the city street by replacing the soft lights of two street lamps with the sharp focus of theatre lights. The light transformed the space, and the public immediately took on the role of performer. These were not only individual performances but, in some cases, collaborations. People created impromptu human pyramids, danced together, improvised short skits, all the while cheering each other on. It was the kind of wild abandon and extreme interaction that I think characterized the night.
RM Why are these interactive exhibits so valuable?
SM I am a fan of Christopher Dewdney and his book Acquainted with the Night: Excursions Through the World After Dark, and for one night in a great city, artists transform the urban environment into an event that thousands of people attend and experience. In Zone B, such installations as "The Heart Machine," were simply not possible without a team of people participating and, hopefully, achieved a sense of "communication through teamwork." And because my area is so technology-based, it brings to attention an awareness of the social implications of this need. The relationship between technology and social space was better understood through interactivity that was also social and communal. I don't feel that any exhibits changed their intended idea or course, but I did find that that the works existed more powerfully through the kind of audience interaction which was also evident in the Zones that Candice and Nicolas curated.
NB I'm skeptical of works that set out explicit terms of engagement. Jeremy Jansen and Niall McLelland's" "Barricades" appear to be self-contained sculptures—they don't solicit or direct physical interaction. The stacks of plywood, walls of caution tape, and pinwheel composed of inverted and toppled police barricades had no apparent purpose; they appeared as ironically formalist sculptures—depurposed tools of control presented as a gesture of friendly solidarity with the people of Toronto. But, within minutes of the event's opening at 7 P.M., people had already climbed atop the plywood stacks, posing for pictures, bodies protruding from the caution tape. Play, rather than protest or vandalism, overwhelmed and undermined the stated intention of the works, re-charting the terms of interaction. The ironic emblem of what I'm describing came when security was forced to place steel barriers around the plywood stacks, putting the lie to the artists' utopian project statement!
CH There are other ways to experience art beyond just passively looking.
NB I see the works as sites of encounter, rather than riddles to be decoded. Many of the works simply couldn't have existed without a massive audience full of diverse and divergent interests and reasons for being there. A heckling crowd drew unscripted responses from Tibi Tibi Neuspiel and Geoffrey Pugen, the artists performing as Bjorn Borg and John McEnroe in "The Tie-Break," a reenactment of the infamous 1980 Wimbledon match; in Iain Forsyth & Jane Pollard's apocalyptic installation "Soon," crowds ran amok, trying to avoid the roving spotlights which would alternately fix on unsuspecting individuals and avoid others who sought attention. Equally incredible was seeing the same work in the wee hours of the frigid, rainy morning. Solitary individuals wandered deliriously through the fog as enthusiasm gave way to more sinister implications.
RM What inspired you to select these specific concepts for your zones?
CH My zone, Restaging the Encounter, used performance and reenactment as a means of mining historical moments, some with a political intent as a means to elevate the social potential of urban space. On one hand, I saw the exhibition as an opportunity to highlight things about the city and its past, and on the other, I saw performance as a genre that had great potential but was underutilized in past events which have tended to focus on light, projection, and technology.
SM The Future of the Present combines three main interests I have had over the past decade—public art/public space, technology and new media-based works and architecture. Zone B and Nuit Blanche was a perfect vehicle for these artists, their work and the passion I have had. The assimilation of technology into everyday life has become so ubiquitous that it can, at times, be taken as unremarkable and for granted. Recent developments show its cultural impact as society shifts. New media and technology play a role in expanding contemporary art in various media—architecture, light, design, robotics, allowing new sources of reflection. Seeing technology everyday and working in the arts brought this to my attention. ?
NB When I began to tour what would be my zone, in the summer of 2010, it was being prepared for the G20. The meetings were being held at the core of the exhibition area. In my preparatory photos, buildings, public sculptures and monuments were boarded up and entire sections of the area were walled off. The financial district became a kind of paranoid art installation where previously hidden boundaries were made explicit and used as justification for illegal searches and arrests; a law was later revealed to be fiction, as the chief of police and various politicians traded blame. These mass arrests, beatings and incarcerations, which were comprehensively rejected by the courts, became a pretext for my thinking about public participation in the financial district. I wanted to begin with the question "do we belong here?" given the nature of the exhibition as an event produced by the city which, is to say, the local government. The title of my exhibition in Zone C, You had to go looking for it, invokes both the official mandate of the event and the concerns surrounding it. It's an invitation to explore, to take ownership of public space, to make of the exhibition what you will. This is why we go to Nuit Blanche, and it's not unique to this project, but I identify. On the other hand, it borrows from a pervasive sentiment following the mass arrests and breaches of human rights that took place during the G20. For every story that emerged, highlighting these events, there came with it a populist backlash that placed blame, demanding to know what any sane person was doing in the midst of the chaos. Regardless of whether you were a protester or a resident of the areas affected by mass arrests and violence, the logic went that "you had to go looking for it."
CH I was also compelled to respond to the way that Toronto changed as a result of last year's G20 which saw an environment of fear and paranoia, on behalf of bureaucrats, overtake the city which led to many documented instances of police brutality and use of excessive force. This led me to think more about the city and the urban environment as a site for revolutionary change, protest, and resistance. The themes in Zone A emerged from the artworks themselves and from those that I was considering. As a curator, I tend to take my inspiration from particular artworks or certain shared themes that emerge and formulate an exhibition from that point.
RM It seems your individual zones deeply influenced one another's.
SM I think this year's Nuit Blanche had more crossovers than any previous one. Although mine was not "protest-driven," our zones share the element of social messaging, social, cultural and political questions through the work. There is a performative emphasis in all zones.
CH In the beginning we also tried to co-organize a large roving project, but this idea had to be put aside because of the artists' schedules. The G20 weighed quite heavily on my mind, as did ideas of reenactment, as Shirley mentioned, looking specifically to performance works. In the end, there were some rather poignant cross-overs—the spotlights used in "Limelight" turned into powerful searchlights in Shirley's zone, with the installation "Soon"; the "Barricades" would have been a beautiful collaboration with Althea Thauberger's project, "The Police Station."
NB I like to think of my exhibition working in tandem with Candice's. Her proposal to capture the moment where the "political becomes poetic" was an influence, and we, along with the artists in our exhibitions, shared similar strategies of allegory, reenactment and invocation.
RM Have you noticed more of an interest in Toronto to conceptual art over these past six years of Nuit Blanche?
SM Absolutely. Attendance has increased, and it is well known by people who don't usually attend art galleries. Putting art on the streets negates the intimidation often associated with art galleries. Whether they know it is conceptual or not, they do tune in to the idea?.
CH Somehow, and perhaps this is because of the extreme public nature of the event, people were all the more willing to interpret works, critique, assist each other, and provide feedback than ever before. What I am not sure about is whether these 12-hour audiences translate into regular gallery and museum viewers.
NB This is one of the on-going tensions with the event. Toronto, unlike New York and London, doesn't enjoy an engagement or awareness of contemporary art on a mass level. Nuit Blanchefits awkwardly within this situation because the majority of the audience doesn't identify with the contemporary art system. The organizers are under a lot of pressure by the multitude of individuals and communities in Toronto to hand over the reigns of programming, but they continue to demonstrate their commitment to contemporary art by nominating curators through an advisory committee made up of members of Toronto's art community, providing relative carte blanche when it comes to artists and concepts. I'm not convinced that this is the best way to generate interest because it often feels forced. Audiences report not "getting" the work, similar reactions to what we see in public institutions, but on a much more intense level. There is an approach to interactivity that isn't prescriptive—embracing the tensions that unfold between a potentially skeptical audience and an exhibition that advances challenging forms and ideas.
CH One indicator of the night's success, however, is the ever-growing audience. It began at about 450,000 viewers and is now at just under a million.
RM Is there any greater reception for the commissioning of art, either in galleries or within the city?
CH Actually, from what I understand from speaking with City organizers, the event hasn't yet produced a significant difference in reception for other arts venues. Audience numbers have increased quite dramatically recently at both the Art Gallery of Ontario and the Royal Ontario Museum, but this increase is largely because of major renovations that both institutions have undertaken in the last few years, not because of Nuit Blanche.
NB If nothing else, Nuit Blanche is a good PR tool for museums and galleries, many of whom see more audiences in a single night than they do the rest of the year.
RM Were there any particular challenges in organizing the installations?
SM The main challenges are the unknown factors—getting the space, the weather, the public. Nevertheless, I am so impressed with the City of Toronto staff; they go through hoops to make it all happen and troubleshoot a great deal for the entire year before the event.
CH You are working with venues that do not typically host art; some are incredibly open and willing collaborators, others see it simply as a way to make funds, and some will have nothing to do with the event. The flip side is the ability to work in such unusual places—an art deco chapel, a science building, a city park, even in the middle of one of Toronto's busiest streets. You are also under an extreme time crunch. In many cases, we did not gain entry to our exhibition spaces until 48 hours, or less, before the start of Nuit Blanche. Despite careful planning, this time constraint places a great deal of pressure on artists and on the organizers. It also means that you have to consider and plan for any number of last minute glitches since there is no opportunity to do a dry run.
NB Among the biggest challenges was navigating the role of the producer, whose objectives and pressures were often directly at odds with those of myself and the artists. It would be unfair for me to speak for the organizers, but I will point out that they are responsible to a variety of stakeholders among them: a local government whose mayor and executive are avowedly hostile to the arts, the public whose tax dollars fund a great portion of the event, and dozens of corporate sponsors, including a major bank as title sponsor. There persists an unresolved tension between the spoken and unspoken influence of these stakeholders on the process, and since Nuit Blanche's inception, this has always been the fundamental challenge.
One fact that arises is undeniable: art can never be pigeonholed and must remain accessible to the public, whether explicitly placed on the street or available to schools and communities of all classes and cultures. In addition, whether or not the social cross-overs this year among the zones was a coincidence, it remains true that art is inseparable from social and political platforms. In fact, it operates as a fuel and inspiration to understand how barriers, whether physical or symbolic, are an opportunity to protest and transform.
Nicholas Brown is a Toronto-based independent curator and co-director of Hunter and Cook Projects. From 2008-2010 he was the curator of Red Bull 381 Projects, where he introduced a program of leading contemporary art and a model for arts patronage that was unprecedented in Canada. He maintains an independent practice that encompasses writing, curating, and project development. Nicholas was an organizer of Reverse Pedagogy II, a nomadic art school that took place during the 53rd Annual Venice Biennale in 2009. Nicholas has written for Fillip, Hunter and Cook, and C Magazine.
Candice Hopkins is the Elizabeth Simonfay Curatorial Resident, Indigenous Art, at the National Gallery of Canada and former director and curator of exhibitions at the Western Front, Vancouver. She has an MA from the Center for Curatorial Studies, Bard College, New York, where she was awarded the Ramapo Curatorial Prize. Her writing has been published by MIT Press, BlackDog Publishing, Revolver, New York University, among others. She has lectured at venues including Witte de With, Tate Modern, Dakar Biennale and Tate Britain.
Shirley Madrill is Executive Director at the Kitchener-Waterloo Art Gallery. She has worked in the field of contemporary art in various capacities at the Winnipeg Art Gallery, Art Gallery of Hamilton, Art Gallery of Greater Victoria, and Rodman Hall Art Centre. Recent curatorial projects include David Hoffos: Scenes from the House Dream which won an OAAG Award in 2010 for the publication and Burtynsky Factories. She also won the 2007 OAAG Award for the exhibition Sublime Embrace: Experiencing consciousness in contemporary art.
Rebecca Melnyk is a writer who recently moved from New York to Toronto.