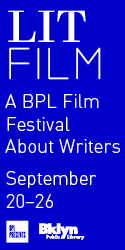 Tompkins Square Park, NYC, July 17, 2008
BOMB Magazine celebrating the publication of BOMB #104 and its all-new pull-out literary supplement, First Proof with Park Lit, one of NYC's best annual summer reading series. The event was held in Tompkins Square Park and featured readings by BOMB #104 contributors Patrick Dacey, Sally Dawidoff, Gary Indiana, and Fiona Maazel.
Patrick Dacey's work has appeared in The Washington Square Review, Avery, Faultline, and the Smithsonian magazine, among other publications.
Sally Dawidoff is a poet whose work has appeared in American Journal of Nursing, Ploughshares, Barrow Street, and other journals.
Gary Indiana is the author of several novels and works of nonfiction. His second collection of essays, Utopia's Debris, will be published by Basic Books in November, followed by his new novel, The Shanghai Gesture, by Two Dollar Radio next spring.
Fiona Maazel's first novel, Last Last Chance, was published by Farrar, Strauss & Giroux in March.