BOMB 39th Anniversary Gala & Art Auction
Unique performances and art auction from BOMB contributors.
The 39th Anniversary Gala & Art Auction will be available to stream until 10/9.


Discover MFA Programs in Art and Writing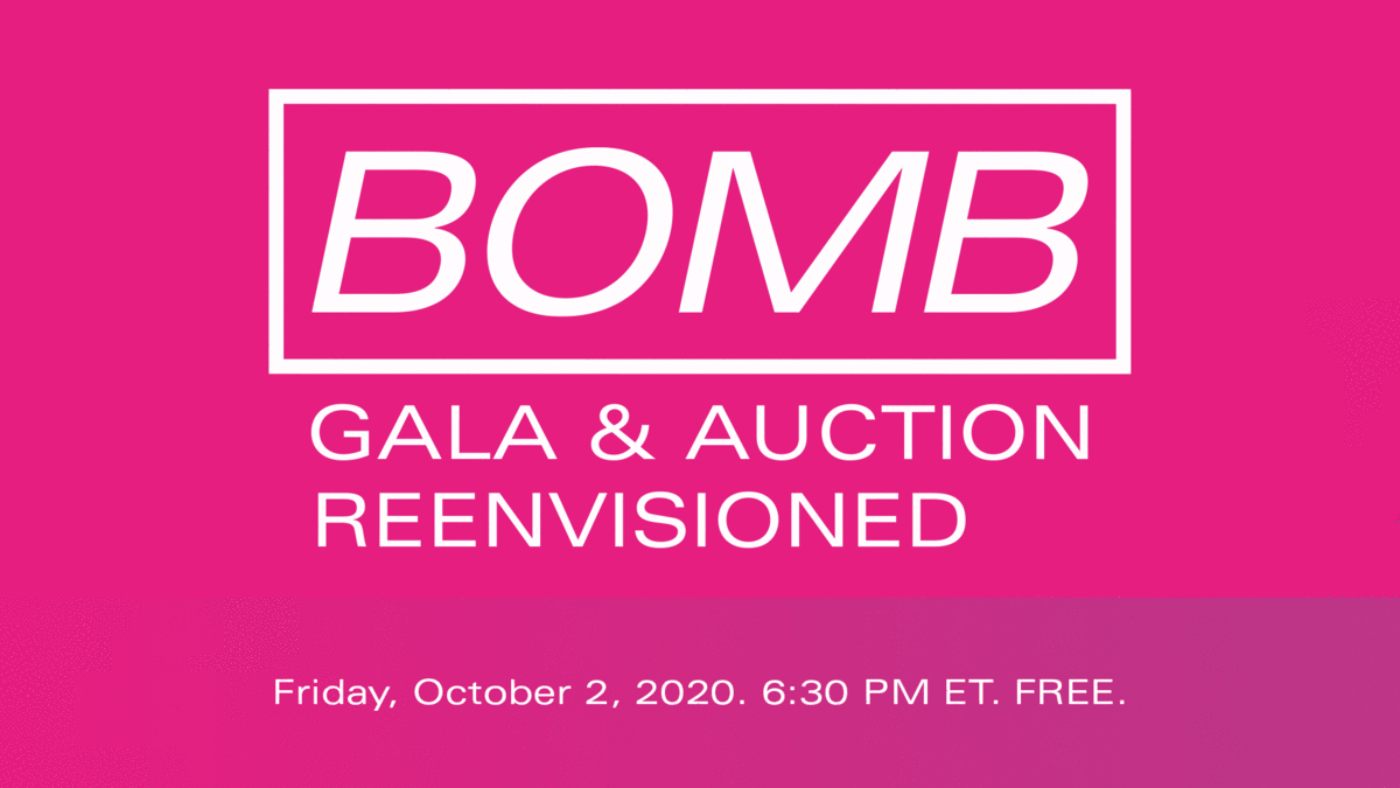 Do not miss this incredible line-up of performances by BOMB contributors past and present.
Honoring: Rachel Harrison, Henry Taylor, and Lawrence Weiner
Toasters: Kathy Halbreich, Deana Lawson, and Jessica Morgan
Appearances and Performances by: Eric Bogosian, Dynasty Handbag, Saidiya Hartman, Rowan Ricardo Phillips, Claudia Rankine, Deborah Eisenberg & Wallace Shawn, Jim Shepard, and Rufus Wainwright
Special Guests: Katherine Bernhardt, Linda Goode Bryant, Mónica de la Torre, Jonathan Lethem, Dindga McCannon, Lee Quiñones, Kenny Scharf, and Frederic Tuten
Salute: Ugochukwu-Smooth C. Nzewi, Steven & Lisa Tananbaum Curator, Department of Painting and Sculpture, The Museum of Modern Art
Saluter: Meleko Mokgosi
Co-Chairs: Carol Greene, Marian Goodman, Rachel Lee Hovnanian, and Shaun Caley Regen

Honorary Chairs: Branden Jacobs-Jenkins, Daniel Kehlmann, Susan & Glenn Lowry, Ugo Rondinone, Nancy Spector, Elisabeth Sussman, and Netta Yerushalmy
Trustees: Cary Brown-Epstein, Rosemary Carroll, Jennifer Clifford Danner, Robert Dowling, Natalie Frank, Melinda Hackett, David Humphrey, Rachel Lee Hovnanian, Heather M. Johnson, Jeremy Larner, Adam McEwen, Sally Ann Page, Betsy Sussler, and Lybess Sweezy
Watch the gala here.
BOMB Magazine x Artsy present BOMB Gala & Auction – Reenvisioned: Benefit Auction 2020 featuring works by artists including Marina Abramović, Katherine Bernhardt, Cecily Brown, Nicole Eisenman, Kenny Scharf, Charline von Heyl, and Carrie Mae Weems.

Bidding on the auction is open exclusively on Artsy and will close on October 5 at 5:00 PM ET.