BOMBlog's Rachel Reese talks with some of the founders and co-directors of Philadelphia's Bodega, an artist-run exhibition and performance space in operation since 2010. Together they discuss the Philadelphia art community and Bodega's role, as well as Bodega's most recent exhibition Wax Apple.

Discover MFA Programs in Art and Writing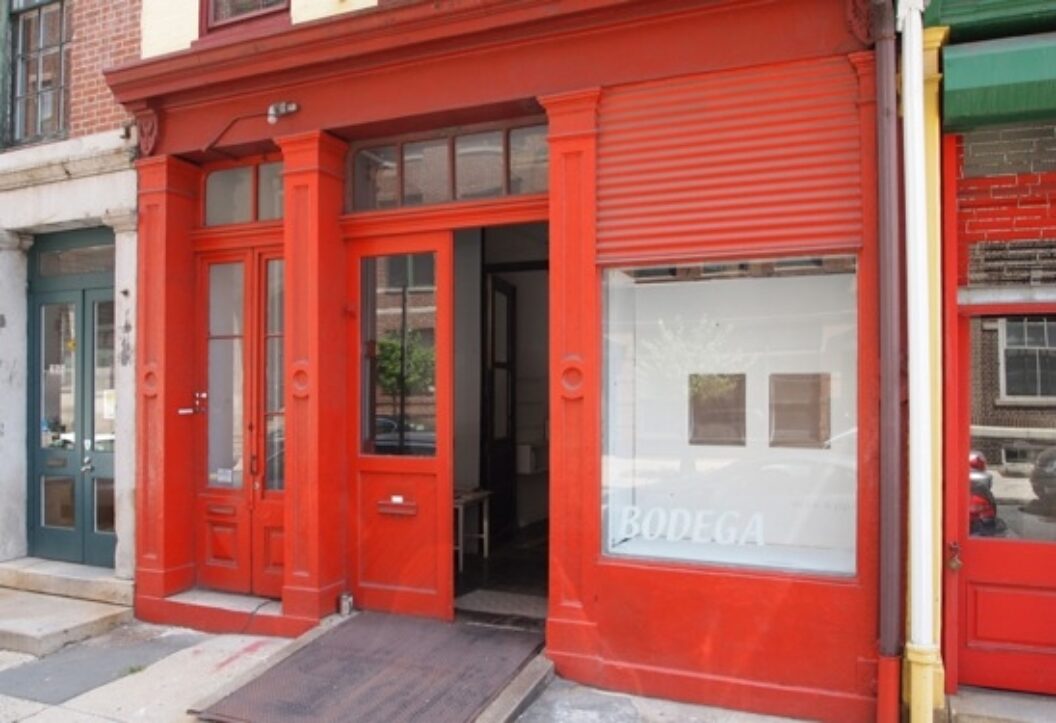 When my husband and I moved to Philadelphia (now one year ago), I began to follow an exhibition space named Bodega operated by five young and ambitious artists—Elyse Derosia, Ariela Kuh, Lydia Okrent, James Pettengill, and Eric Veit—that began exhibitions around the time of our move. Having successfully survived a huge milestone, one full year of operations, I recently had the opportunity to sit and talk with the Bodega founders in depth about their exhibition programming and future goals.
RACHEL REESECan you tell me about Bodega? How many members are there and how did you meet? What was the impetus to get together and start the gallery?
BODEGA There are five of us and we all know each other from having gone to Hampshire College together. We moved to Philadelphia after graduating, though not all at the same time. Lydia had been here for three years, Eric, Elyse, and Ariela for two, James for one before we started it. The possibility of starting a space seemed very tangible and interesting to us because space is pretty affordable in this city. Philadelphia has a bunch of non-commercial or collective or "alternative" art spaces, and we wanted to add to that culture but also expand it and reinterpret it in a new way. We're not a collective and we're definitely not driven by commercial concerns. Creating a place for performance was also a big part of the desire to start the space.
RR I learned that the Bodega space was used in the '70s as a performance venue named Etage. What have you learned of its history and has it informed your current performative programming at all? Your inaugural event was honorarily named Etage.
BO We called that event Etage because it seemed to make sense to call upon the history of a place when beginning something new and creating a new line of history. The space used to be a black box theatre in the '70s and we actually don't know too much about what they did there other than what some of our neighbors have told us. They referred to those events as "Happenings" which we always liked. When we had our first event last summer, a guy came by in the afternoon before the event was going to start and introduced himself as the "man behind Etage." He was a little pissed that we were using "his name" for an event, as if we were using his notoriety to make money or something. Once we explained our intentions to call it Etage merely as an homage and that we knew relatively nothing about the '70s incarnation of the space, he became much more friendly.
RR Since my own recent move from New York to Philly last year, I've noticed a very self-aware relationship that Philadelphians have with New York. Perhaps it's the close proximity geographically, or perhaps its something larger, more self-preserving. Was there a conscious choice to start your space in Philadelphia over New York, and have you had the Philadelphia vs. New York conversation?
BO Philadelphia was the city that we all found ourselves living in! If we all had been living in New York we maybe wouldn't have decided to start such a project, but in a smaller art scene each voice has more gravity. Part of our mission is about giving people the freedom to experiment and this city really enables that. We definitely depend on Philadelphia's proximity to New York and we feel like we participate in its culture but this city is so much more relaxed.
RR I agree, Philadelphia is much more relaxed! Hopefully not to its creative detriment; I think there is something necessary about urgency and consequences that New York constantly throws in your face. But ultimately there is much more cheap space here in Philly which opens up opportunities for smaller spaces, such as Bodega, to exist and have a sizable impact on the community.
Do you feel there is a specific mission to your programming? With five members, how do you coordinate the exhibitions? What's the division of labor?
BO We run Bodega in a way that gives the artists that we work with an opportunity to make new work, to experiment and take risks, to make site-specific work and to collaborate. That said, we view ourselves as facilitators in addition to being curators. Each project is different and there's a lot of freedom in the way they evolve. Because we run Bodega as a temporally and geographically specific place, a large part of our programming is developed to reflect that specificity; to promote performance and material work. We exist in a specific place in time and we try to be true to the medium of our existence.
RR Medium of your existence?
BO Right, the fact that we are a physical space. If we were running a website we would be showing a lot of digital and web-based work, and if we were running a printed publication we would be able to show still images and text, but since were running a space with a geographical location, we develop our programming for physical space, showing material work and performance. We all do everything collaboratively: if someone has an idea, we talk about it and talk about what will work, what won't, and what to do next. With every exhibition, we are all involved in some capacity, and although we all have areas of strength, none of us have specific roles or titles, we are all co-directors.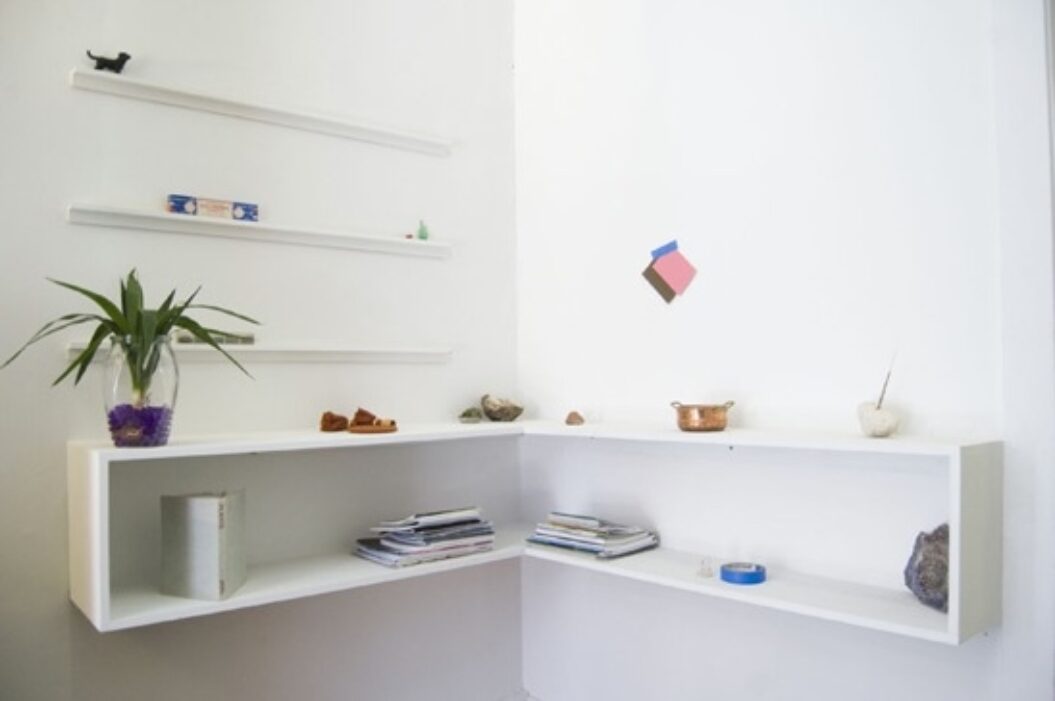 RR Something that I think is unique to the experience at Bodega is the viewing library, a small front section of your gallery devoted to small publications. How do you select the publications on view, and does it rotate frequently? Also, can you tell me about Bodega Press?
BO We select books in the library to compliment each show we put on. Sometimes the library is very sparse and will showcase only a few books, other times we fill it with everything we own. This past April we did a show called Soft Smoke Rises in Gay Rings Above the Roof in which four artists worked collaboratively on an installation in our space. They arranged images and objects in the library in addition to our collection of printed matter. The books were used as objects and the objects were positioned in ways that implied close reading as one reads a book.
Bodega Press is our own publishing venture. We have put out a few things in conjunction with shows we did in the winter and spring of this year, and are currently working on projects independent of other programming we are having. Our focus right now is on making reasonably priced short-run artist books. Ideas become valuable in part through their availability and distribution and Bodega Press for us is a way of reaching a larger audience than may be able to visit us in Philadelphia.
RR Let's talk about your most recent show, Wax Apple. First, where did the title originate? A wax apple implies artificiality, perhaps that "thing-ness" with formal prop-like qualities which you discuss in the press release, "investigations [that] place the work somewhere between production, product, and reception."
Was there a seminal work in this exhibition that started this conversation, or did the selection of works occur more organically? It appears that much of the work starts with a photographic process or online practice (specifically Sam Falls', Ben Schumachers', and Kate Steciw's work) that the artists involved are thinking on the relationship between photography and physical objects, with an awareness to how their work will photograph or document.
BO Yes, that's a big part of it. We actually thought of the title near the end of putting the show together. We wanted something that had both a poetic sound and important meaning, so yes, the implied artificiality and the internal rhyme made it a good title for us. Much of the work in the show is about how these artists allow somewhat traditional-looking art objects to transcend their materiality and have lives in other forms of existence. Fruit is such a classical subject of artistic representation that a title that describes the artifice of such a subject was perfect. The show didn't really start with any one piece but developed around the complicated way we experience images and art objects in contemporary life. The artists in this show all have interesting relationships with the way their work is produced, displayed, documented, and seen.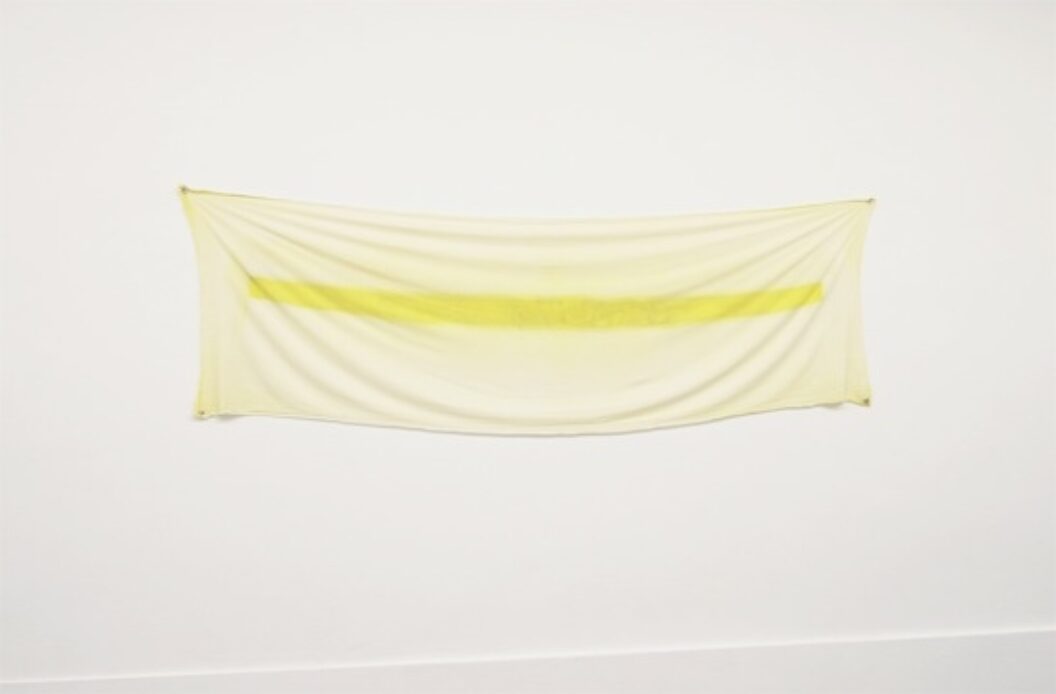 Sam Falls' work in the show, Untitled (Golden Yellow, Val Verde, CA), is a hand-dyed cloth that he placed a board over and left in the sun to fade. Formally, the piece looks as if it has more to do with minimalist and abstract art from the '60s than with contemporary photography, but it is actually the very definition of a photograph. A "light-drawing." The piece is in a way the documentation of a very long performance; at the same time it is a formal object that can be visually consumed without any back-story.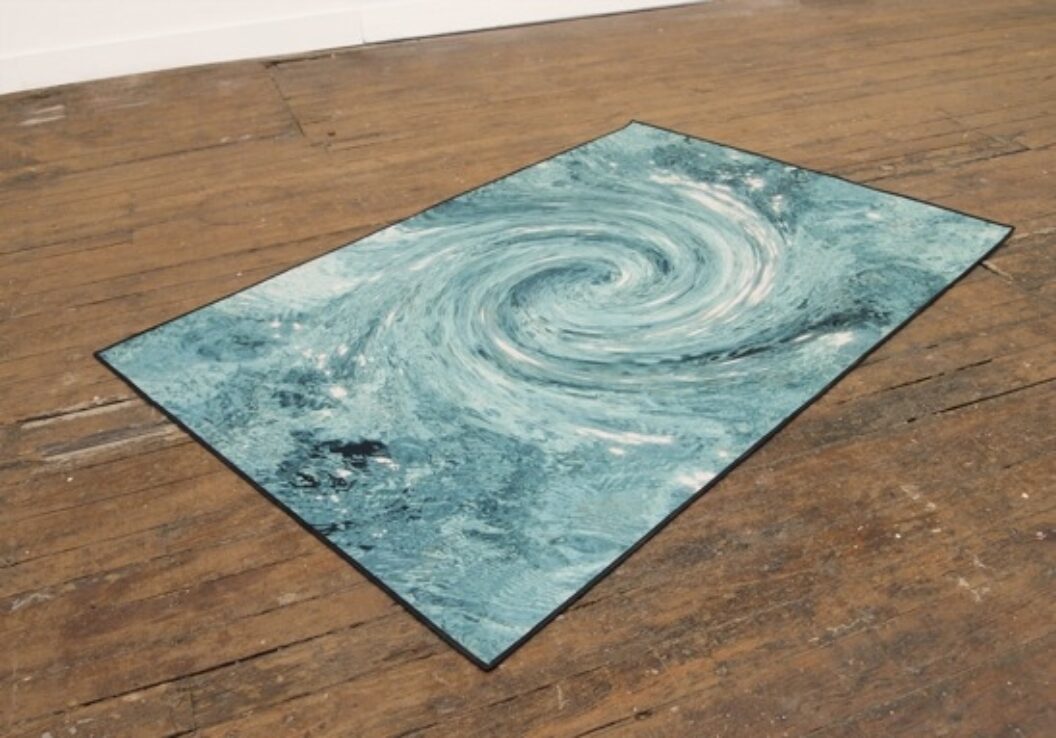 One of Kate Steciw's works in the show is a rug titled Portal/Photo Rug. It is an image of a pool of water that she digitally manipulated to swirl like a vortex. Although water can swirl that way in real life, in the rug, its the flat image of the water that actually swirls.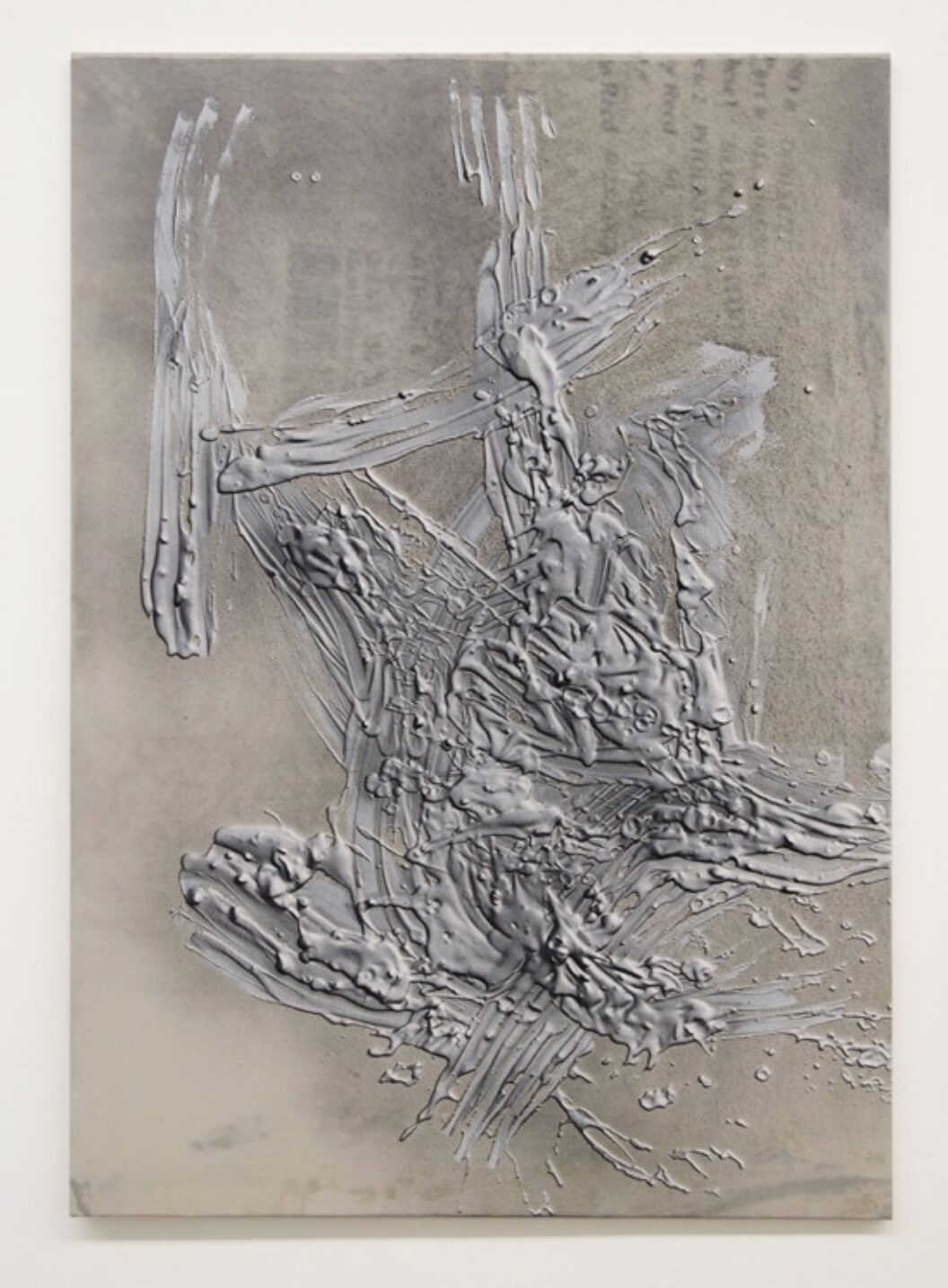 Ben Schumacher's BLOCK.PARTITION is a canvas that looks like a splatter of paint subjected to a bas-relief effect in photoshop. He actually made it by smearing plaster on it with his hands and then spraying enamel over it at an oblique angle to create the effect of a shadow. Both his and Steciw's pieces are direct comments on how we encounter art in our real and virtual lives.
RR Someone was discussing the recent institutionalization of artist-run/project spaces with me recently—the trend to provide full press releases, checklists, websites, reviews, etc. Do you feel like this is a valid conversation to have, and where, if at all, do you feel Bodega falls within this matrix?
BO Hmmmm, that's a good question. I think that it is definitely a conversation to have, an important thing to think about for sure. I think that for us, we want to provide information when we feel it is necessary. We write press releases and provide other forms of printed matter because it's an effective tool that helps frame the work that we show. The fact that a space is artist-run does not mean that it should only have one job to do, namely provide objects with a new physical context to be seen. The entirety of how one experiences a space is important to us: web, Facebook, Twitter, Tumblr are all part of this.
RR Is there an exhibition from this past year that stands out as being particularly successful? I know you mentioned previously that a lot of your programming requires the artists to react site specifically to your space. Your first show was very physical in nature …
BO Right, part of our mission is to promote work that is not commercially driven so we run Bodega to be as artist-friendly as we can. To mention again the show we did this last April—it was interesting for us because it collected people who do not normally work together and brought them together to work collaboratively in the space to install the show. Each artist created individual pieces, but there were a number of smaller groupings that were entirely collaborative and mimicked the whole show's complicated authorship. The best shows for us are always the ones that react specifically to our space.
The first exhibition that we did, like flex / like flex, was a two person collaborative sculptural installation between Strauss Bourque-LaFrance and Emily Rooney. Yes, it was very physical in nature! Lots of reference to the unique architecture of the space, it was a response to the task bestowed upon the artist to both add and edit, to respond to her surroundings. There is a finite amount of matter in the universe and all we are ever doing is reshaping it.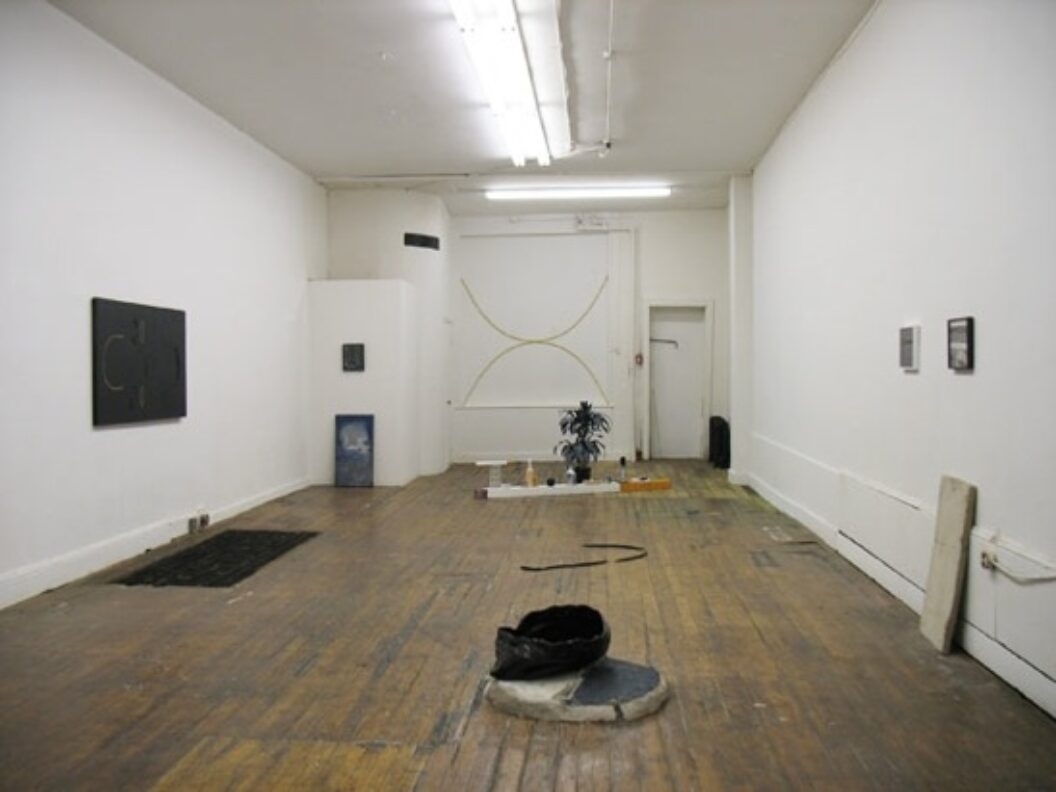 RR Can you tell me about your upcoming September show?
BO Earlier this year we asked three artists to make a work and share it with an artist of their choosing. We then asked the artists chosen by the original three to make a piece in relation to the piece they were shown. When they had completed their piece they would then chose a new person to share with. We had the process continue until there was a chain of five linked pieces. So in September we will have a show of fifteen pieces—three different groups of five people. We didn't want to in any way control the form or content of the pieces that were created, but instead focus on the way information and influence travels from person to person. It is also partly interesting to us because it's a backwards way to curate a show. All the curatorial decisions are cumulative, with the original curatorial decision simply about a person not about a work. In a way it is really a grouping of many small commissions. When we started it, we referred to it as a chain mail project, but that's really not a good name for it, its more like an visual version of telephone.
RR I'm intrigued, artistic telephone! It's interesting the way that networks and communities are set up between fellow artists, however social, professional, organic or forced those connections may be.
Bodega's mission is to be equally committed to exhibitions and performances. Are you thinking about ways to curate or create dialogue around performance or performative events rather than simply hosting them? You mentioned that Philly is sometimes seen as an alternative audience to NYC viewers, so in that way there is a freeness to explore and investigate through curation.
BO Well a part of our curatorial style is to invite people to do new work they may not have an opportunity to do elsewhere. We don't host performances in the sense that we rent our space out to events we have no part of. Right now we're in the early stages of planning a kind of performance residency for early 2012 with Jen Rosenblit. She will be bringing a performance to Bodega that she will have just recently performed for the first time in New York. She told us that she realized she only really begins to understand a work after it has been performed and seen, so she is going to use her time at Bodega to digest the piece through new performances, re-performances, workshops, casual conversations and lectures.
RR So, what do you foresee as the future landscape of Bodega?
BO Its kind of hard to know what we will be doing in the future. We like to run Bodega with a semi-open calendar, being able to organize our programming based on what is interesting to us at the moment. So I guess the short answer is, "We don't know."
Bodega is an artist run exhibition and performance space founded in 2010 by Elyse Derosia, Ariela Kuh, Lydia Okrent, James Pettengill, and Eric Veit.
Rachel Reese produces a free quarterly publication of artists' writings called Possible Press concurrently with Possible Projects, a storefront exhibition space in Philadelphia. She is currently Assistant Director at Fleisher/Ollman Gallery in Philadelphia.