Blurring the Lines between Public and Private: Salman Toor Interviewed by Cassie Packard
Paintings that write new figures into art history.

Discover MFA Programs in Art and Writing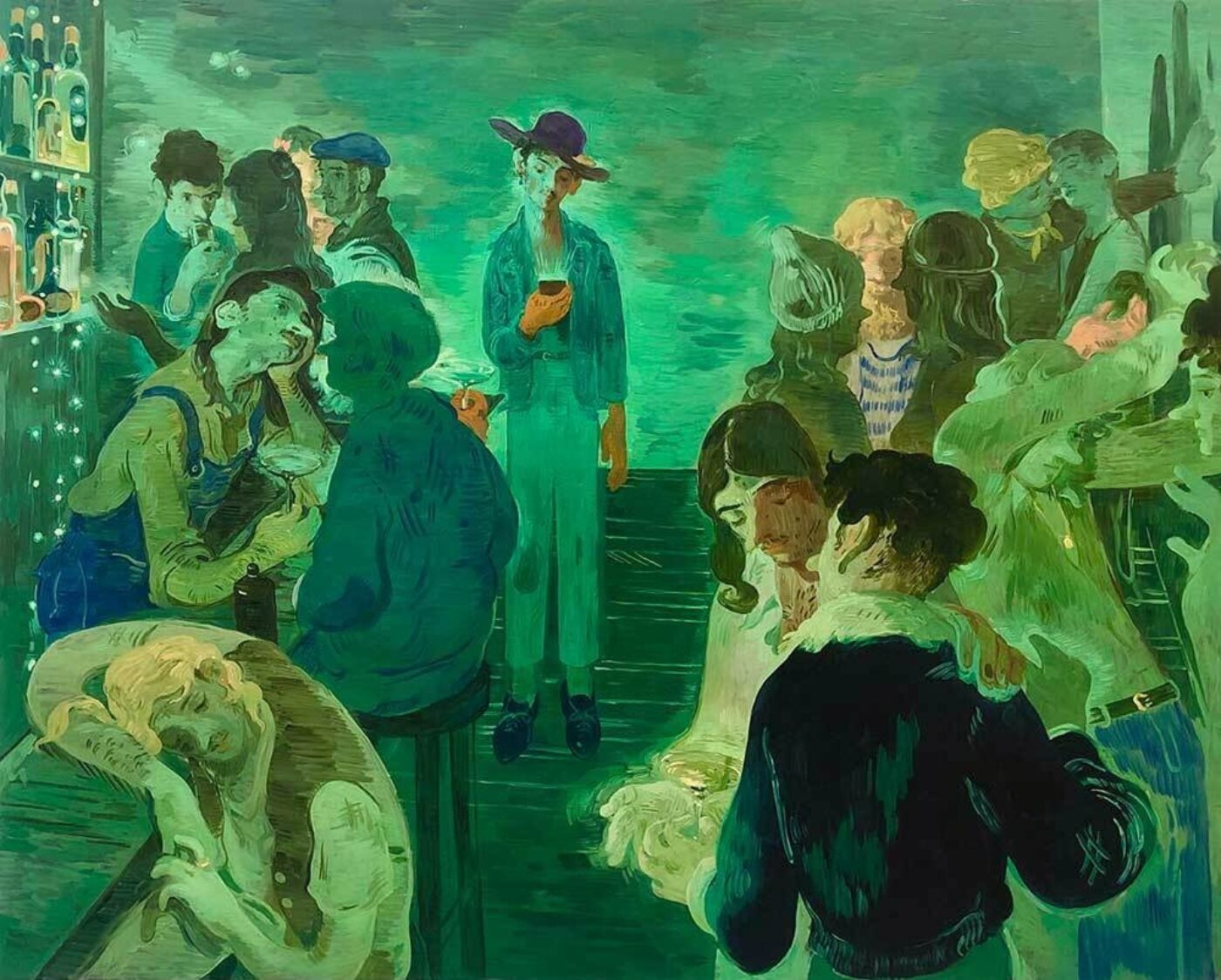 With a caustic palette and sketchy facture, Pakistani-born, Brooklyn-based artist Salman Toor paints queer Brown men into the picture. Fluidly drawing upon Western and South Asian canons alike, Toor's narrative paintings portray marginalized subjects who have traditionally been excluded from art historical representation as they live out the urban bohemian experience with all of its pleasures and internal contradictions. The dapper men inhabiting his paintings flirt and fête their way through gay bars and house parties or enjoy wine and takeout in downtown apartments, their impassive faces lit by the glow of the smartphones and laptops that incessantly connect and alienate them. Toor is currently being honored with his first major institutional solo show, Salman Toor: How Will I Know, at the Whitney Museum of American Art; group shows at home and abroad will follow.
—Cassie Packard
Cassie Packard What initially drew you to art, and to figurative painting more specifically?
Salman Toor I started drawing early as a kid, maybe around six. I was making images of women, sometimes copying them from my mother's fashion magazines. I was drawn to the lines of their makeup, the graceful lines of their eyes and their bodies. I was a sissy boy, often bullied at school and policed everywhere else. The drawings were a way of inhabiting and feeling the empowerment of these women that I drew.
As an adult I paint figures to enhance my context as a queer man living between cultures. I use figurative imagery to mythologize my life, define my relationship to power, but also to laugh at myself and have fun.
CP You grew up in Lahore, Pakistan, and moved to the US to study art in college. How was that transition for you?
ST Dreadful. I was kind of speechless for a year, sauntering around like a zombie and soaking in the mundane goings-on of a college town in Ohio, forty minutes from Columbus, with one gas station and one mall, only accessible by road, miles away from campus. My roommate was a huge, white American boy, finally free of his parents, going to frat parties, having sex on the top bunk, skipping class, smoking grass. I strained to understand his American slang.
Surprisingly, at university there were some people from my high school in Lahore; the university seemed to be particularly generous to South Asians. I stuck to them like glue for the first year. Then I discovered the dreadlocked, blue-haired art kids on campus. I moved into a hippie commune with some of them. I really liked their long hair (I was growing mine too) and gentleness, along with the constant figure-drawing classes we did together. That was kind of the beginning of my American life. I was happy.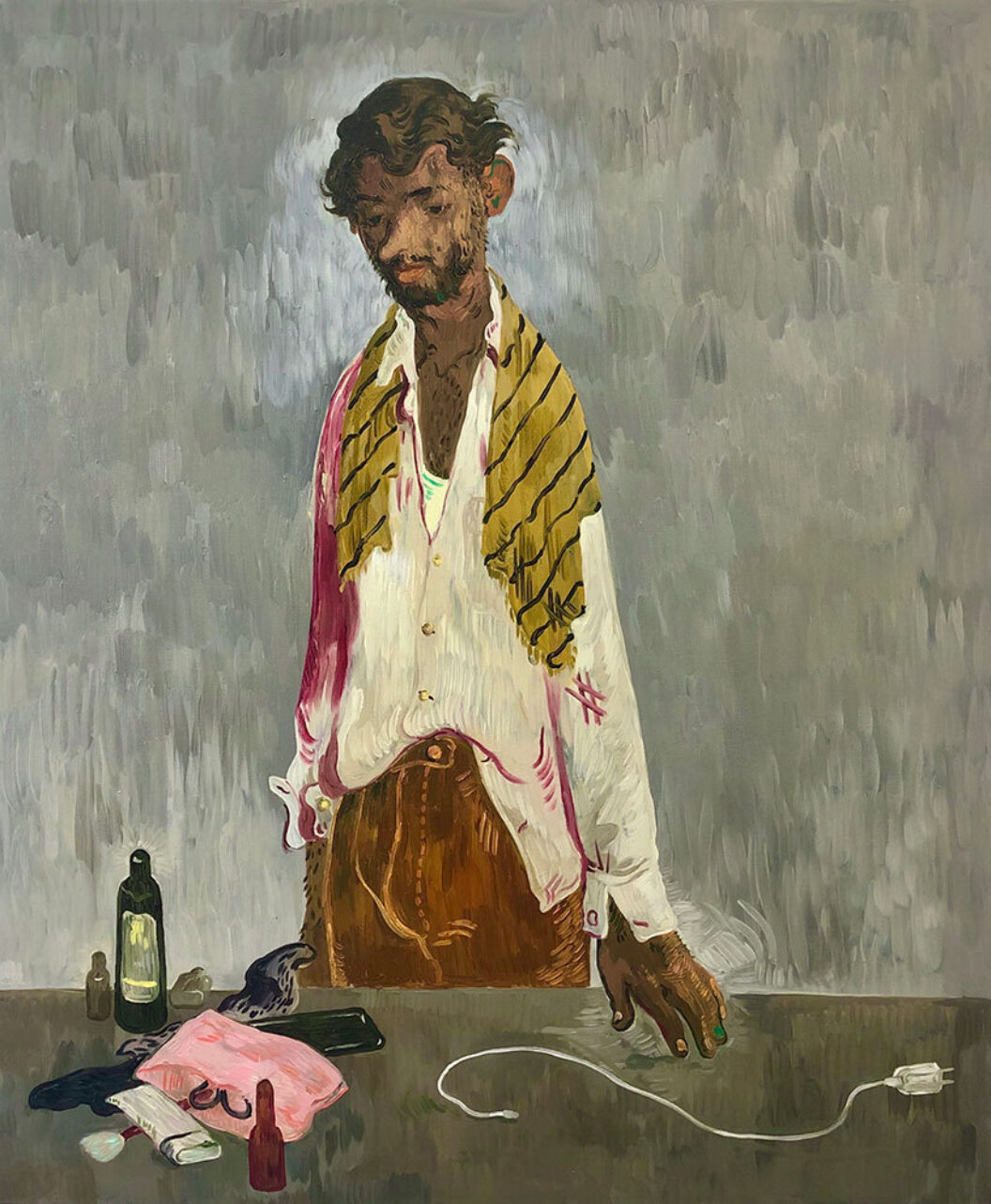 CP I'm curious as to how your lived experience within, and between, Pakistan and the US manifests in your work. I see some of your paintings as being located in "in-between" spaces, like an airport customs line or the threshold of a doorway, and I wonder whether those scenes might be rooted in a diasporic experience.
ST I attempt to think about my experience in Lahore and in New York City seamlessly and see how that works in a painting or a series of paintings next to each other. For me, the in-between spaces are metaphorical/allegorical spaces of bureaucracy and suspicion. They can take on the feeling of an inner psychic space of some of the characters. They are certainly rooted in the diasporic experience and in the idea that you may not belong anywhere while thinking that you belong in multiple places. To present yourself on the cusp of another world is to be seen. It's a powerful and lasting experience that doesn't end with the encounters in these transitory spaces.
CP You frequently depict queer Brown men with slender, somewhat androgynous bodies. What is your relationship with these characters, and what does their visibility mean to you?
ST I like these seemingly undernourished and hairy bodies of color inhabiting familiar, bourgeois, urban, interior spaces. I see these boys or men as well-educated, creative types discovering what it means to live an artist's life in New York City and in the thick of changing ideas about race, immigration, and foreignness, and also what it means to be American. Sometimes they can look like lifestyle images. They are also fantasies about myself and my community. It's incredibly empowering to share the comedy and disquiet of these narratives with Americans, and the world.
CP Western art historical motifs recur in your work: Renaissance tropes like the tondo and triptych, Impressionism's off-kilter perspectives and flattened planes, and Rococo frilliness and camp. Why do you choose to incorporate the classical elements that you do? Where do you locate yourself in relation to those legacies?
ST Art history has formed my imaginary map of the world, conquests, migrations, ideas of civilization, foreignness, and fashion. I like seeing the thread of the past in the present.
I grew up looking at a mix of images from Indian and European art history: images of Mughal princes and fakirs next to contemporary (and very badly painted) faux-folk paintings of pretty peasant women in tight tops and large nose rings carrying clay water jars on their heads, and cheap framed prints of Thomas Gainsborough's or Peter Lely's portraits of Mrs.-so-and-so. These images became part of my nostalgia for my childhood, but also a space of escape and fantasy during my years growing up.
In my art history classes at college in Ohio I learned about the grimy peasants in David Teniers and Bruegel, the dark-skinned servants in Dutch genre paintings, the steely refinement of an Anthony van Dyck subject, the sordid nightlife of Impressionist Paris. Within these were ways of looking at the relationship between the rich and the poor, ways of portraying foreignness, race, power, dignity, exoticism, difference. By continuing to paint, I feel I'm constantly redefining my relationship to this material that I never get tired of.
I see myself as part of a multiethnic generation of painters in the US who are taking on art history to update, critique, and tweak it, to write ourselves into its rich story.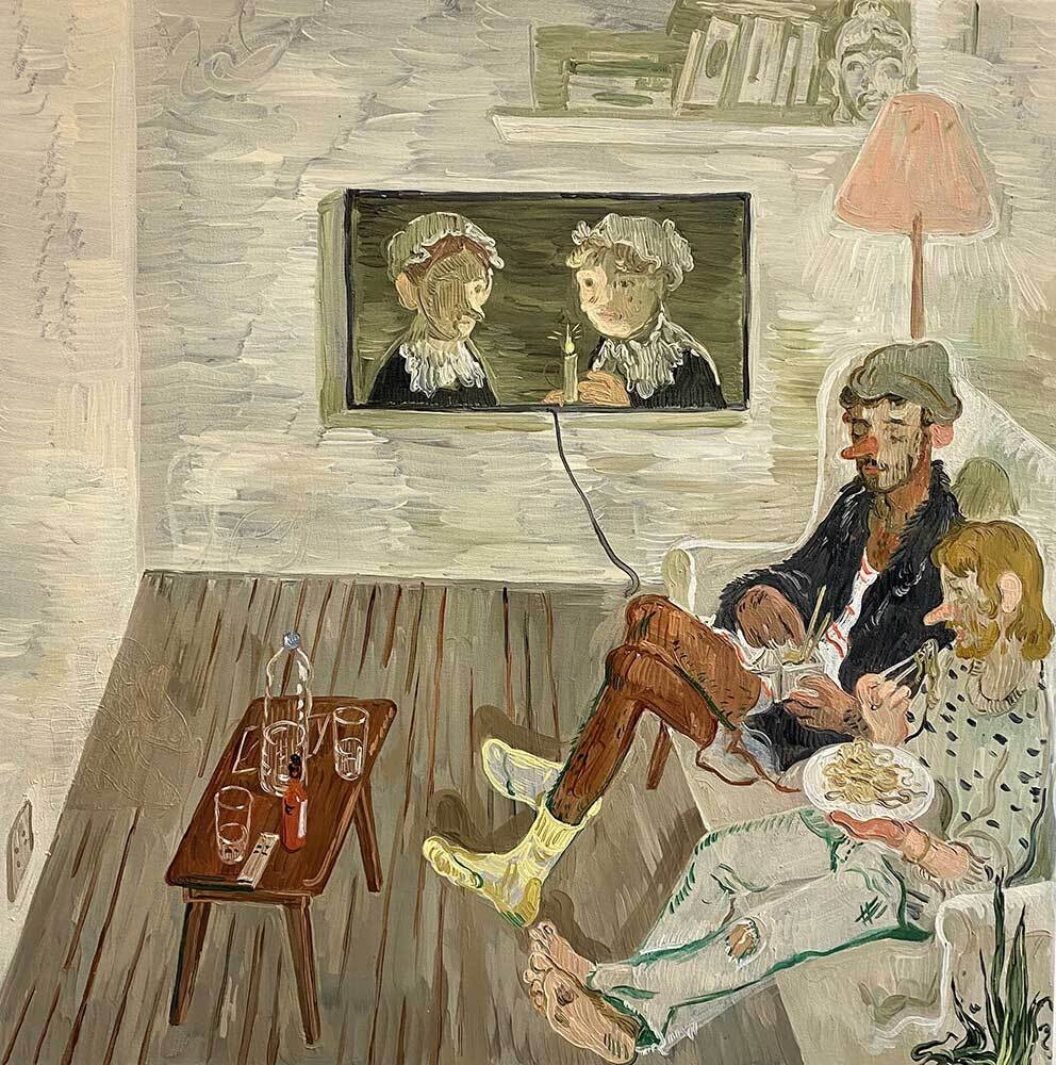 CP There are so many costuming details in your paintings—gold necklaces, leather boots, button-lined vests, colorful pants with visible seams, even Flemish cavalier hats. I was particularly struck by the sartorial play in your painting Takeout (2019) which features two figures in modern clothing watching bonnet-clad women on TV. What is the role of fashion in your oeuvre?
ST I try to create the fashion in the paintings intuitively. I like painting stitches and seams, waistcoats, pleats, sneakers, and pointy shoes. Sometimes I paint my own clothes, or clothes I'd like to have, and sometimes I'm remembering accessories and cuts from historical paintings, such as the tilt of a hat, a Cuban heel, a shawl, a choker, a pearl. I use these freely.
In Takeout I attempted to show these period-drama queens immersed in an old classic like Pride and Prejudice, Cranford, or Middlemarch on their Smart TV. I wanted to blur the past and present in this little living room. There is a Buddhist bust, stacks of books, Chinese takeout, hot sauce, the pastiche of modern life, with these fabulous consumers in the middle.
CP In your work, cell phones often crop up at bars and parties. These images pose interesting questions about the relationship between public and private spaces. And in instances such as the painting of a man taking a nude selfie, the question becomes one of queer public and private spaces.
ST I enjoy that technology blurs the line between public and private. Lonely in a room full of people, over-connected but all alone in a silent apartment, drinking up the screen intimately with a friend or lover in a dark bar. I'm excited by the cell phone as a source of intimate light. It's the light in which people read, look—together or alone—with that resting face. In these moments they have the intimacy of one of Vermeer's letter readers.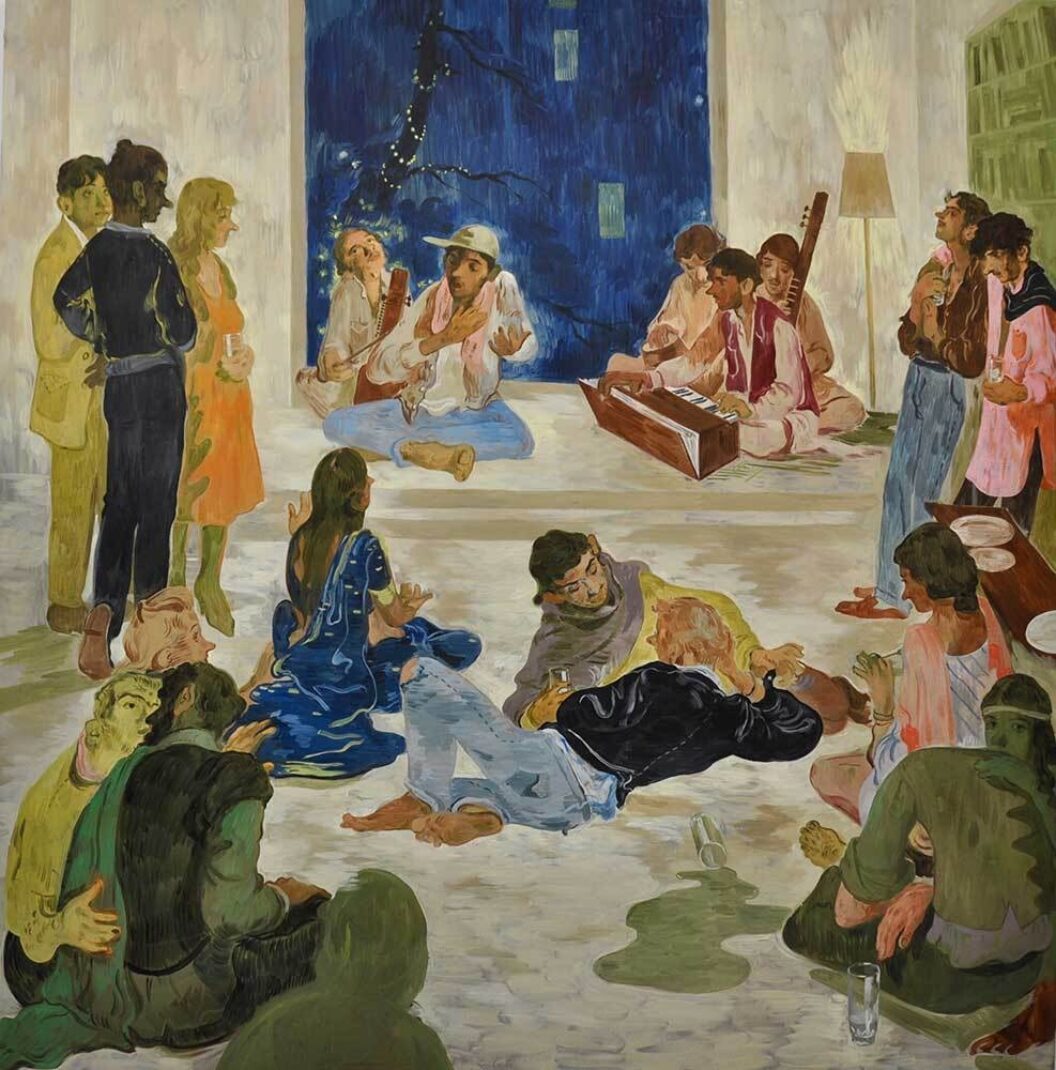 CP Many of your paintings are suffused with a distinctive green hue. Does the color have symbolic significance to you or conjure up any associations?
ST I chose green for aesthetic reasons. There is something nocturnal about it, like night vision. It's inviting and glamorous, but it has connotations of poisonous gases and potions. But most importantly, I like that it's not a sentimental color.
CP What's on the horizon for you?
ST Europe!
Salman Toor: How Will I Know is on view at the Whitney Museum of American Art until April 4.
Cassie Packard is a writer and cultural critic with bylines at publications including Artforum, frieze, Los Angeles Review of Books, and VICE, and is a contributing writer at Hyperallergic. She was previously a Researcher at Hauser & Wirth in New York City.