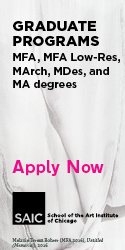 Long river, long, long,
green, green, green,
the different shades of green
splattered by the red and black
of a few sargento birds.
Suddenly a blue envelopes you,
a transparent blue,
and soon an explosion of colors and chaos:
reds, yellows, exploding blue
and Bluefields is there.
Moving, singing to you,
surrounding you
in a magic
that no other blue could have.
Translated from the Spanish by Charles Tarzian.
María Gallo is the head of the Painting and Art Office of the People's Cultural Houses at the National Directorate in Managua.
Originally published in
Cindy Sherman, Dario Fo, Bruce Weber, Lisa Fonssagrives-Penn, and Raymond Voinquel.