Black Lives Matter Support Resources and Links
A list of resources, petitions, organizations, and mutual aid funds that support the Black Lives Matter movement.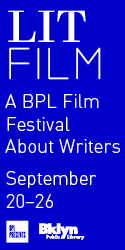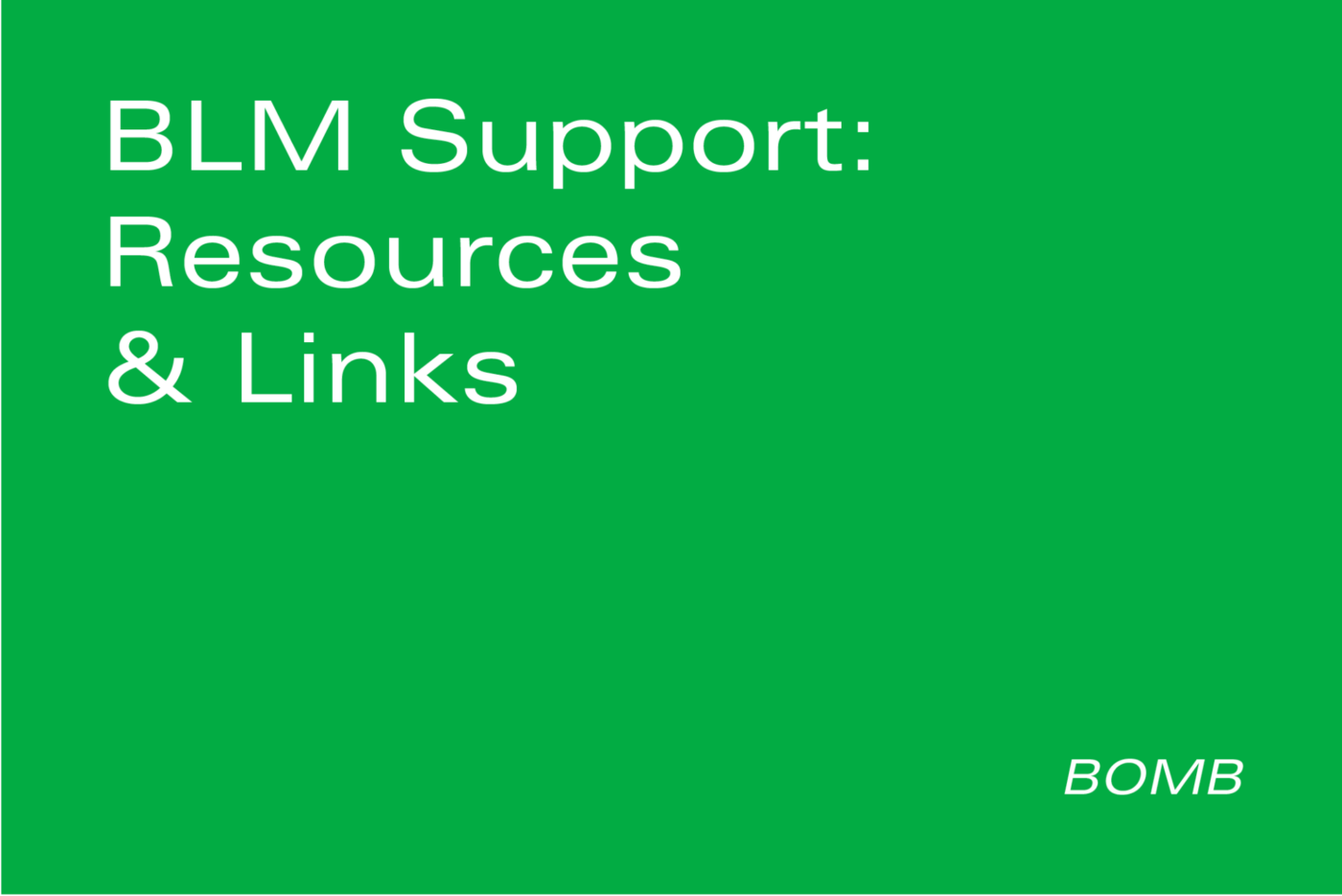 BOMB stands with the #BlackLivesMatter movement. As an institution, we are examining how to broaden our collective understanding of the steps needed to confront inequity, exploitation, and white supremacy.
We acknowledge our responsibility to combat systems of injustice and racism within our own spaces and wherever we encounter them—not just in this moment, but as an active, ongoing initiative.
We encourage you to join us in supporting the organizations that are doing this vital work year-round. Below is a list of growing resources, funds, petitions, protest information, and more.
As a means of taking action, please support grassroots organizations, and champion the voices of the movement.


We know there are many extensive lists circulating, and by no means is this one complete. Please send any additions or suggestions to libby@bombsite.com.
Petitions
This petition is to "demand the officers who killed George Floyd are charged with murder." So far, the petition has garnered more than 4,000,000 signatures. You can also sign by texting "Floyd" to 55156.
This petition demands that charges be filed against the officers involved in the murder of Breonna Taylor.
Tell Congress to protect Black-owned businesses

This petition urges Congress to pass legislation to protect Black-owned businesses during the COVID-19 pandemic.
Help get Justice for Ahmaud Arbery
Each signature added will send a letter to officials who have the power to make a difference in this case.
This petition would punish police for shooting unarmed citizens.

Mandatory Life Sentence for Police Brutality
This petition calls for every police officer who abuses their power to kill innocent members of the community to be sentenced to life in jail.
Fire Michael J Reynolds from the NYPD
Michael Reynolds broke into the house of unarmed Black people in Nashville, then assaulted them and called them racial slurs. He is still employed by the NYPD. This petition calls for the NYPD to fire him.
This petition calls for the ban of rubber bullets by policemen while trying to control crowds of protestors.
President Biden: End the 1033 Program
Demilitarize the police. Demilitarize our schools. Demilitarize our communities. Stop aiding and abetting the state-sanctioned violence against Black people — #End1033
Sign the petition to bring the officers who killed Elijah McClain to justice.
Sign this petition to help get justice for Daunte Wright.
Justice for Gregory Johnson Jr.
Sign this petition to help get justice for Gregory Johnson Jr.
Chicago police should be charged for killing 13-year-old Adam Toledo
Sign this petition to support charging Chicago police officers who killed Adam Toledo with murder.
Demand Justice for Casey Christian Goodson Jr.
Sign this petition to help get justice for Casey Christian Goodson Jr.
Sign this petition to help get justice for 16-year-old Ma'Khia Bryant.
National Racial Justice Organizations
The ACLU Racial Justice Program aims to preserve and extend constitutionally guaranteed rights to people who have historically been denied their rights on the basis of race.
Black Lives Matter Foundation, Inc., is a global organization in the US, UK, and Canada whose mission is to eradicate white supremacy and build local power to intervene in violence inflicted on Black communities by the state and vigilantes.
Campaign Zero is a comprehensive platform of research-based policy solutions to end police brutality in America.
Through litigation, advocacy, and public education, LDF seeks structural changes to expand democracy, eliminate disparities, and achieve racial justice in a society that fulfills the promise of equality for all Americans.
Community Justice Exchange's National Bail Fund Network
An ongoing directory made up of over sixty community bail and bond funds across the country.
A decentralized, educational 501(c)(3) non-profit media organization of artists and journalists dedicated to exposing root causes of dynamic social and environmental issues through amplifying stories and exploring sustainable alternatives in today's globalized world.
Protests
To find centralized information and updates on protests in NYC visit @JusticeforGeorgenyc. Check NYC Protest Updates 2021 on Twitter for updates on NYC protests throughout the day.
Follow @thestonewallprotests on Instagram.
Check @inthistogether_la on Instagram for daily protest schedules.
For information on protests in other cities, it is recommended that you visit the Black Lives Matter chapter pages for your location on social media.
Follow Minnesota Protests on Facebook for one easy place to find protests/gatherings in the Twin Cities.
Black Lives Matter Los Angeles
For more information about Black Lives Matter Chapters across the country, visit https://blacklivesmatter.com/. If your city does not have a Black Lives Matter Chapter, try searching for "protests near [your location]" on Twitter and on the "Events" tab on Facebook.
Click here to read some more tips on how to find protests near you and be in the loop about work being done on the ground.
Know your rights before protesting
A short guide to read before protesting to ensure you know your rights.

How to prepare for a protest:

Make sure to wear sunglasses/eye covers, face covering mask, strong and mobile clothing, good walking shoes, and a small bag/backpack.
Do NOT wear makeup on eyes or lips. Do not wear contact lenses. Makeup or oil-based products like lotions can serve as irritants when the dispersion measures used by the police stick to them. Contact lenses will make tear gas or pepper spray much worse.
To shield your identity wear shapeless clothes with no logos and wear hair up.
Bring water for drinking and tear gas, cash/change, an ID, bandages/first aid supplies, earplugs, and hand sanitizer.
If you need to seek medical help, avoid telling healthcare providers you were at a protest. Insurance plans can deny coverage for participation in "Civil Unrest or Riots."
Do NOT bring jewelry, a cell phone without first turning off face/touch ID, and anything you don't want to be arrested with.
As an ally at the protests, make sure to follow the lead of Black leaders during the rally. Do NOT escalate situations or riot or loot just to do it.
Write down emergency contacts somewhere on your body (a good place are the forearms).
A video showing how to aid someone who has been teargassed.
How to make a balaclava mask with a T-shirt
Information on how to create a mask using a T-shirt to avoid being recognized and to protect others from being infected with the coronavirus.
A protest guide with in-depth tips on how to act at protests, what to do when you get home, and more.
Wendy's Subway Risograph Printing
Free 1-color Risograph printing for organizers and protestors. Send your files to info@wendyssubway.com and they will print them for you.
Numbers to call in case of unlawful arrests at protests
310-313-3700 — Los Angeles
210-227-1515 — San Antonia Texas
804-291-8520 — Richmond, Virginia
783-346-6322 — New York
612-444-2654 — Minneapolis
404-689-1519 — Atlanta
484-758-0388 — Philadelphia
502-705-0081 — Louisville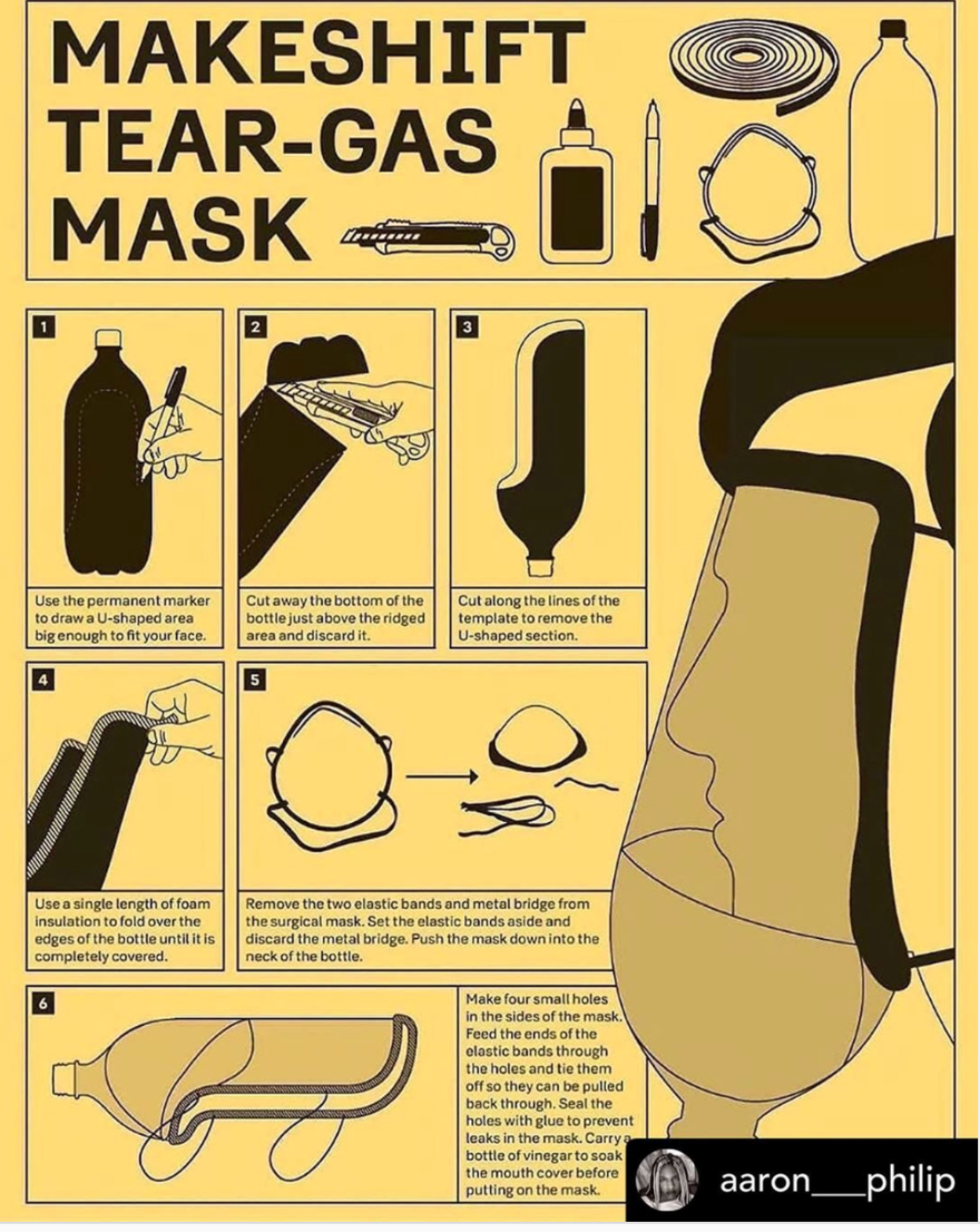 Black-Owned Business & Ways to Support the Community
Black Lives Matter "Ways You Can Help"

A BLM-created list of ways to get involved including texts or calls, donations to victims, protestors, and Black-owned businesses, and a resource for how to donate with no money.
Black-Owned Restaurants to Support
A list of Black-owned restaurants and pop-ups in New York.
A global crowd-sourced map of Black-owned bookstores across the US.
A resource to discover and support Black-owned businesses in Brooklyn.
An organization that gathers Black communities through the arts.
Brooklyn Anti-Gentrification Network
A people of color-led, mass-based coalition of tenants, homeowners, block associations, anti-police brutality groups, legal and grassroots organizations working together to end the rampant gentrification and displacement of low- to middle-income residents of Brooklyn.
A Black-led, membership-based organization of primarily low-to-moderate income Central Brooklyn residents dedicated to building power and pursuing self-determination in Bedford-Stuyvesant and Crown Heights by nurturing local leadership, waging campaigns, and winning concrete improvements in people's lives.
Discover the perfect present, crafted and curated by creative Black sellers.
Noname Book Club's List of Black-Owned Bookstores
A growing directory of Black-owned bookstores across the United States and the world, curated by Noname Book Club.
Uncommon Goods is curating a growing assortment of goods created by Black-owned businesses and independent makers.
Trippin Guide to Black-Owned Businesses in New York
Trippin is an independent platform that connects travel, culture, and creativity like never before. This list of black-owned businesses in New York is a result of collaboration across our global community and is by no means exhaustive. There are so many more incredible businesses out there and we welcome all suggestions. We have also listed some local initiatives for you to donate to if you can.
Mutual Aid Networks
Mutual aid networks are a new way to approach resource distribution. They can range from food to shelter to healthcare to money. People contribute their money, skills, or time to certain communities or families directly.
Donate To The Family Of Elijah McClain
Elijah Mccain was harshly arrested for doing nothing but wearing a mask in public. He was injected with ketamine which caused him to go into cardiac arrest and die.
Donate to The Family of Daunte Wright
Daunte Wright was murdered by Brooklyn Center Police on 4/11. He leaves behind the mother of his child, Chyna, and his soon to be 2 year-old-son, Daunte Jr.
Donate to Daunte Wright's Funeral Costs and the Future Care of Daunte JR.
A fund set up by Daunte Wright's aunt Kelly to take the burden off Wright's grieving family.
Donate to Gregory Johnson Jr.'s family
A fund to help cover legal and living costs for Gregory Johnson Jr.'s family.
Learn how to Support Minnesota Protesters who are Currently Being Detained
Jail Support Mutual-Aid. This Instagram post by @perkutan explains in detail how you can directly send commissary money to Minnesota protesters who are currently being detained on 36-hour holds.
Mutual Aid to support Black Women in Brooklyn Center, Minnesota
Send money to the @thestonewallprotests via cashapp. Members of this group are currently on the ground in Brooklyn Center, using donations to buy baby products, household necessities, and feminine hygiene products for Black Women who live in the area.

NYC Mutual Aid
A group of neighbors working together to provide non-emergency assistance including grocery shopping, prescription pick up, medical transportation, errands, dog walking, and more to vulnerable members of the Astoria community.
A mutual aid network of over 3,000 people from across Bed-Stuy who crowdsource donations and use them to provide no-contact grocery deliveries for vulnerable members of the Bed-Stuy community.
Boreum Hill/Downtown Brooklyn Neighborhood Services
During this pandemic, it's going to take all of us coming together to get through this. That includes supporting each other with services and support. More than ever we need to turn to our neighbors for assistance because it truly does 'take a village.'
Please complete this form if you are looking for assistance or want to provide support for neighbors.
A group for those in Bushwick who need help or want to help during this COVID-19 pandemic. Feel free to post your needs or availability, or share via private message. To be added to our volunteer list, fill out this form. To request assistance, fill out this form.
A mutual aid group connecting neighbors with delivery and drop-off of items like groceries and supplies, child and elder care resources, over-the-counter medications, and other essential items.
Kensington/Windsor Terrace Mutual Aid
Mutual aid means that we all help each other. Anyone can request OR offer help and the same people can do both. We are NOT a charity — we pool resources and support each others' needs, together. Our goal is to help our community cope with the physical, mental, emotional, and economic needs created by the COVID-19 crisis, and beyond.
Mutual Aid NYC is a multi-racial network of people and groups building support systems for people in the New York area during the COVID-19 pandemic and beyond.
A group for those in Greenpoint and Williamsburg who need help or want to help during this COVID-19 pandemic. Feel free to post your needs or availability, or reach out via private message. Direct requests can be made here. Please fill out this form or email northbrooklynmutualaid@gmail.com to be added to a database of volunteers for the greater North Brooklyn area.
Silent Partners provides monthly $1,000 to Black Brooklyn-based artists and Movement workers. The grants are administered by a group of Black panelists using funds provided by anonymous white partners who are otherwise removed from the process.
*Currently accepting applications for April 2021*
A mutual aid group situated in South Brooklyn with over 400 volunteers supporting neighbors in Sunset Park, Bay Ridge, and surrounding areas.
A mutual aid fund that provides Black transgender women in New Jersey and New York with the funds to pay for car services to travel to their destinations safely.
Resources For Black Transgender/LGBTQIA+ People
Support Black Trans Women Fund
A fund for the community of Black trans women who live in Atlanta and are sex workers or homeless.
Based on the funds from individual donations, The Okra Project pays Black transgender chefs to go into the homes of other Black trans people and cook them meals.
Trans Women of Color Collective
This fund aids transgender women of color with any basic necessities that they might need, such as food, carfare, clothing, hygiene products, and more.
This organization helps Black trans people pay bail and also does outreach to educate the public on the issue of transgender incarceration.
This organization raises money to help Black transgender people pay rent and for gender-affirming surgeries.
*all of the above resources in this section are pulled from the Vice article "Donate to These Orgs to Support Black Trans People."

The Nina Pop Mental Health Recovery Fund

Created by The Okra Project, this fund raises money to pay for one-time mental health therapy sessions for Black trans women, transfeminine people, and/or Black folks with licensed Black women therapists.

*This Fund is not currently accepting contributions.*

The Tony McDade Mental Health Recovery Fund
Created by The Okra Project, this fund raises money to pay for one-time mental health therapy sessions for Black trans men, transmasculine people, and/or Black folks who identify as trans* with licensed Black male therapists.
*This Fund is not currently accepting contributions.*

This organization provides support for Black Transgender Men through mentoring, access to resources, and financial assistance.
The Marsha P. Johnson Institute
This organization organizes, advocates, and creates an "intentional community" to support the rights of Black transgender people.
Black Queer and Intersectional Collective
A grassroots community organization in Central Ohio that strives to aid with the liberation of Black LGBTQIA+ people through community organizing, education, and the creation of spaces to uplift voices.

Black LGBTQIA + Migrant program
Housed by the Transgender Law Center, "BLMP" provides cash assistance to Black LGBTQ+ migrants and first-generation people who are facing difficulties with the impact of COVID-19.
A black trans-led collaborative that works in Atlanta to address systemic inequalities, especially concerning the criminal legal system.
A group of transgender, gender variant, and intersex people who are inside and outside of prisons, jails, and detention centers and who strive to fight against human rights abuses, imprisonment, police violence, racism, poverty, and societal pressures.
A Black-led, Trans-led LGBTQ Center based on the South Side of Chicago.
A funding initiative founded to support trans justice groups run by and for trans people.
Organizations
A list of Black-led racial justice organizations and key movement supporters compiled by leadership from the Movement for Black Lives.
Black Organizing for Leadership and Dignity
BOLD (Black Organizing for Leadership and Dignity) is a national Leadership Training Program designed to help rebuild Black (African-American, Caribbean, African, Afro-Latino) social justice infrastructure in order to organize Black communities more effectively and re-center Black leadership in the U.S. social justice movement.
Full-service Black direct action collective.
An organization dedicated to stopping the AIDS epidemic in Black communities.
A racial justice organization committed to strengthening Black America's political voice and to empowering Black Americans and allies to make government more responsive to the concerns of Black Americans and to bring about positive political and social change for everyone.
Equality for Flatbush (E4F) is a Black/POC-led, grassroots organization that does police accountability, affordable housing, and anti-gentrification/anti-displacement organizing in Flatbush, East Flatbush, and Brooklyn-wide. Founded in June of 2013, Equality for Flatbush is a Black Lives Matter group that believes in the abolition of the police, ICE, and prisons.
Decolonize This Place (DTP) is an action-oriented movement and decolonial formation in NYC that consists of over thirty collaborators, including grassroots groups and art collectives that seek to resist, unsettle, and reclaim the city. The organizing and action bring together many strands of analysis and traditions of resistance: Indigenous insurgence, black liberation, free Palestine, free Puerto Rico, the struggles of workers and debtors, de-gentrification, migrant justice, dismantling patriarchy, and more.
A grassroots organization based in Los Angeles that fights for the dignity and power of incarcerated people, their families, and communities.

Freedom Inc. engages low- to no-income communities of color in Dane County, WI, and works to end violence against people of color, women, those that non-traditionally gender identify, and youth.
The Reparations for Black People Fund
An organization that collects monthly donations from non-Black people to redistribute to Black people and organizations in need.
Take Back the Bronx is an anti-capitalist collective guided by an anti-colonial, feminist, and queer perspective that centers the black, brown, indigenous & immigrant peoples of the Bronx.
Why Accountability is a Black, female-led grassroots community organization committed to the fight against police brutality and racial injustice since the chokehold death of Eric Garner.
Bail Funds
A link that makes it very easy to simultaneously donate to 38 community bail funds.
The National Bail Out Collective
A Black-led and Black-centered collective of abolitionist organizers, lawyers, and activists who focus on ending pretrial detention and ultimately mass incarceration. A statement from their website: "In response to the COVID-19 global pandemic, we are bailing out Black mamas and caregivers now through May, to ensure our people are alive, well, and safe for Mother's Day and beyond."
Brooklyn Community Bail Fund has paid bail for >5,000 presumptively innocent New Yorkers. They are committed to challenging existing structures in the criminal legal systems that disproportionately target low-income communities of color.
The Bronx Freedom Fund pays cash bail in New York City for thousands of low-income New Yorks incarcerated before trial.
The Louisville Community Bail Fund
The Louisville Community Bail Fund bails people out and also lends financial support after the initial release.
The Minnesota Freedom Fund pays criminal bail and immigration bonds for those who cannot afford to.
Emergency Numbers
Community-based alternatives to police in your city.
Mental and Medical Help
A document filled with various resources.
Brooklyn COVID-19 Response Fund
Provides resources for vulnerable members of the Brooklyn community, with special attention to communities of color.
COVID-19/At-Home Mental Health Resource List
A document with resources for mental health during COVID-19.
A toolkit for dealing with anxiety during COVID-19.
An organization with online mental health resources.
Black Virtual Therapist Network
A collective focused on the mental health and healing of Black communities.
A place for Black women to find therapists.
A place for Black men to find therapists.

A therapy fund for Black women and girls.
A list of racial equity resources for healthcare, education, and communities, compiled by Fast Online Masters.
Legal Resources
POC law firm in Washington, DC.
POC law firm in NYC.
POC law firm in Atlanta.
POC law firm in Houston.
POC law firm in Chicago.
POC lawyer in Boston.
The Law Offices of Jamiel J. Peterson

POC law firm in Kansas City.

POC law firm in Denver.
POC law firm in Oakland.
POC law firm in Charlotte.
POC Law firm in Memphis.
Last Updated: April 26, 2021

Please send any additions or suggestions to libby@bombsite.com