Black President: The Art and Legacy of Fela Anikulapo Kuti, New Museum of Contemporary Art by Snigdha Koirala

Discover MFA Programs in Art and Writing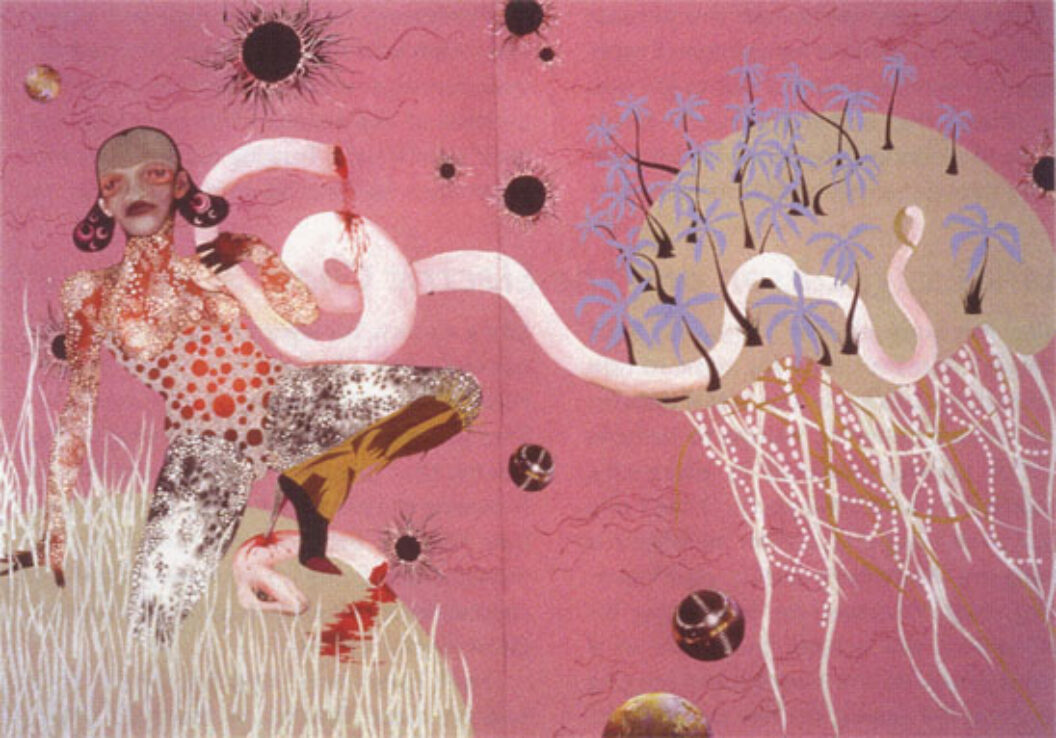 Fela Kuti, composer, musician, dissident, candidate for Nigerian presidency, and the father of Afro-beat, has been compared to Bob Marley and Bob Dylan for his musical innovation and political voice. Unlike them, however, his reputation has not spread beyond the orbit of his genre. Only this summer, six years after his death, is Fela getting his dues in a multimedia exhibition that attests to his dynamism within and beyond Afro-beat, with footage of him in performance and audio clips of his music, as well as highly charged tributes in paint, dance, and sculpture by 34 international artists.
Although each of the pieces emerges out of an anti-colonialist sensibility, their nuanced differences are obfuscated by the absence of a thematic organization to the show. Guest curator Trevor Schoonmaker explains that he intended to facilitate a "fluid" viewing experience rather than create political narrative, but this strategy seems to divest the artworks of the dialogue that could have struck up among them. Thus the total effect is a joyful celebration of the icon without the political energy that defined him.
For instance, several works concerned with Fela's controversial sexual mythology were dispersed across the exhibition. Moyo Okediji's paintings turn to Yoruba symbology to reject Eurocentric judgments on Fela's behavior as misogynistic, depicting multiple snails (the vagina) and serpents (the phallus) writhing together. More complex is Sokari Douglas Camp's cowrie shell-decorated kinetic sculpture of one of Fela's dancers, which posits female sexuality as indispensable to his performances, suggesting that he was as dependent on them as they became on him; at the same time, the AIDS sign on the dancer's forehead cautions against the promiscuity that accompanied such relationships. Wangechi Mutu's diptych of an intrusive phallus mutilated by Fela's mother honors her feminism while commenting on her son's behavior. Turning to his own lyrics, Fela may have retorted in total disavowal of all things colonial, puritanical and authoritarian, "I no be gentleman at all."
Black President is on view through September 28.
Originally published in
Featuring interviews with Sol Lewitt, Vera Lutter and Peter Wollen, Rikki Ducornet and Laura Mullen, Edward St. Aubyn and Patrick McGrath & Maria Aitken, Jon Robin Baitz and Stephen Gaghan, Gina Gershon and Dave Stewart, EL-P and Matthew Shipp, and Suzanne Farrell.