Black Passages: Curtis Talwst Santiago Interviewed by Ayasha Guerin
Layering histories and identity.

Discover MFA Programs in Art and Writing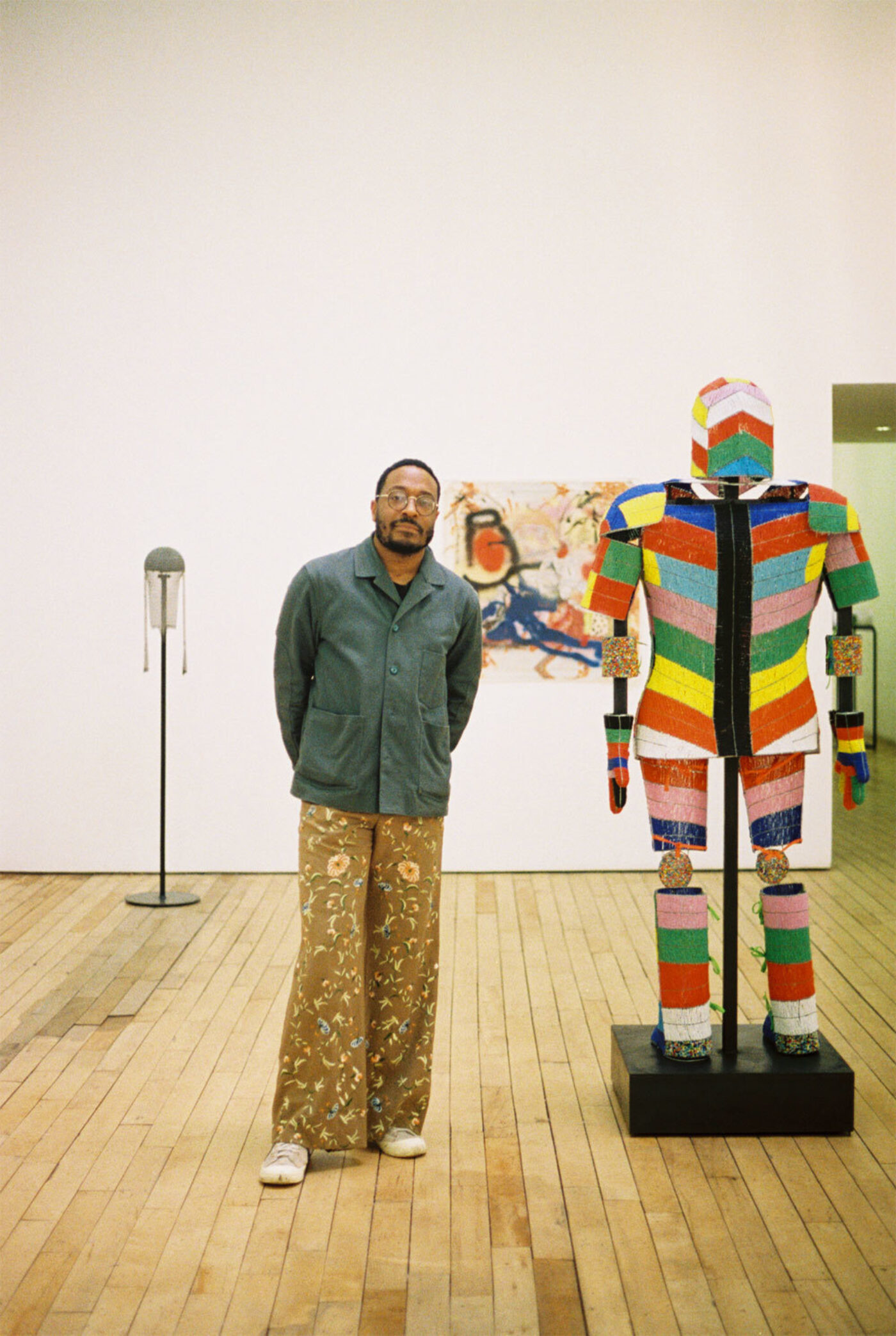 At the opening of Curtis Talwst Santiago's current exhibition, By Sea, an excited crowd snapped photographs of a chainmail do-rag, a beaded set of armor, and an "ancestor rock." On the walls, scenes of figures on canvas with sprayed red faces stood out. I met with the artist a few weeks later to discuss his process of making work inspired by diaspora, ancestry, and genetic imaginaries in Lisbon, Portugal.
—Ayasha Guerin 
Ayasha Guerin When we met in 2016, you were doing a residency at Pioneer Works, developing your Infinity series—miniature social scenes constructed inside jewelry boxes. 
Curtis Talwst Santiago That's right.
AG These are some of the first pieces we encounter upon visiting your current show, too. Back then, you were making tableaus of protest scenes and forced migrations. Can you tell me a bit about the scenes that you depict in this latest series of boxes? I know this show has been inspired by the imagery of an African knight.
CTS The series was initially focused on the identity of the black knight, but it became more and more about other things as I got deeper into making the work, and was able to view the painting that inspired the show's direction. The dioramas are of mythology, ancestry; there's a black Venus. The idea I'm playing with is genetic imagination. If there's genetic memory, I thought, and if we can hold trauma, then why can't we also hold the ideas and imaginings of ancestors? I'm not American, but as a person of color living here, this work offered me a way to get out of America, to explore this imagination and move away from all the trauma art I was making as a reaction to what seemed like weekly police killings. When you met me, I was coming to the tail end of making a particular style of protest imagery, and I felt making that work was necessary. But I have since changed my ideas on what political art and activist art is.
AG Can you tell me about your first encounter with the painting that inspired the show?
CTS I had seen this painting—Chafariz d'el Rey in the Alfama District (View of a Square with the Kings Fountain in Lisbon) (ca. 1570–80), depicting an African knight riding out of a town square in Lisbon—on a Tumblr site run by Kimberly Drew. When you see it digitally, you tend to just focus on the knight. You can't pick up the subtle details of the painting. Through serendipity or divine timing, I went to Portugal, and early on in my stay, while at dinner with new friends, I found myself at a table with someone whose family owned that painting.
AG Wow, that's lucky.
CTS So I got to see the painting, and it wasn't as I'd imagined. In the middle-left side of the painting there is a black man being clubbed in the head. In the mob, an African woman's legs are being pulled open. It wasn't this image of the Portuguese, and Jews, and Moors all interacting peacefully; there was a lot of violence. You realize that Portugal had a history with Africans prior to slavery, and so it began to shift the story. I also felt a synergy between me and the knight, with me being in the art world and having to ride through scenarios where I wonder when I will be in a position to really do something, because right now I'm not. And what does really doing something mean on a global scale? For me, now it's become very immediate, very local. I overheard a teacher on the train last night, angry that her six-year-old student had dis-identified as black. I'm trying to get away from this trap of language—you know, black is beautiful. But it's also a label we did not give ourselves.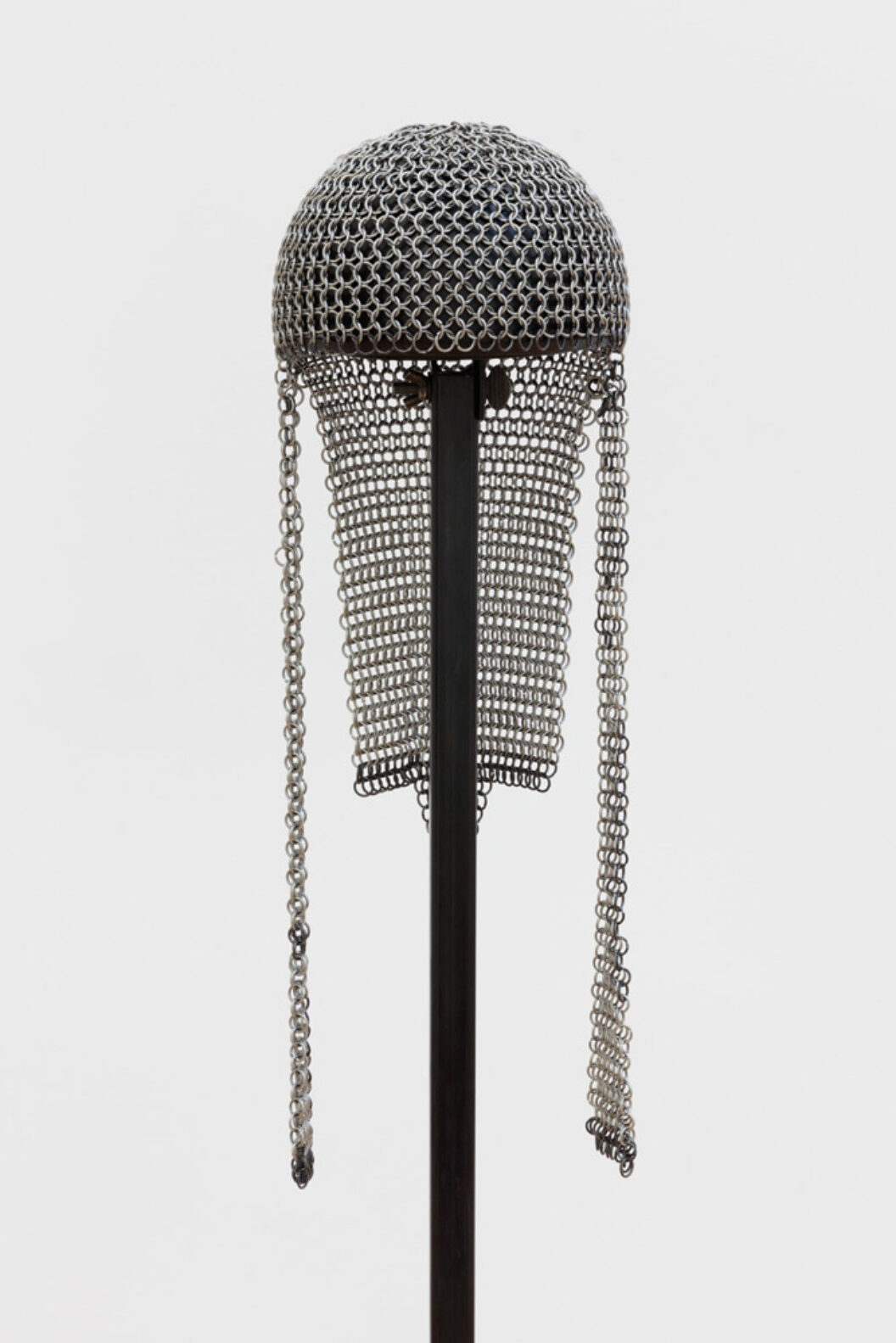 AG You made this series in Portugal. Was there a different relationship to blackness that you felt there?
CTS Definitely. I also recognize the privilege I walk with. I was being brought to homes of people who had fought in Angola, but were sitting there with me, a person of Afro-Caribbean descent, and showing me such kindness and love as a stranger, making food for me and leaving it at my studio door. There was this one man who asked me to help bring his older wife out of the house; I remember him turning, and crying, and hugging me. I would step into situations with all the trauma and expectation that a person was going to treat me with hatred, with all these assumptions. Then I thought, "What if I can shift my reality by how I approach situations?" I remember my mom saying "skinfolk isn't necessarily your kinfolk." She learned that when she moved from Trinidad to Fort McMurray, Alberta, in 1969, where she encountered crazy racism. But she also encountered tremendous acts of kindness, and so she was like, "Wait, people are people."
AG I love how this work reinserts a story of black experience into a traditionally whitewashed Renaissance context. It makes one think about all those black passages across the Mediterranean sea that have been happening for thousands of years.
CTS Prior to the transatlantic slave trade.
AG Exactly. Or the ongoing refugee crises in the Mediterranean. Did you do any historical research when you were preparing for this show?
CTS I intentionally veered way from that, because I wanted the imagination to do a lot of the lifting. In Lisbon, I went and sat in ruins. I looked at the foundation of a building and recognized it as Moorish, so the African history is there; but then there are Roman columns on top of these Moorish bases, so there's this idea of cultural layers. Almost like, finding out that my great grandfather was a white, French guy, married to my great grandmother. I don't want this work to be all based on research. Because a lot of history that I'm finding through research has been altered! So why can I not alter? Discovering that certain string instruments, the way we eat food, the aqueducts were all brought from Africa, so this idea of everything being "European"—well, not really! The cultural foundations for a lot of these things are coming from elsewhere. There are some things that just merge because we're human beings, and we're supposed to share information.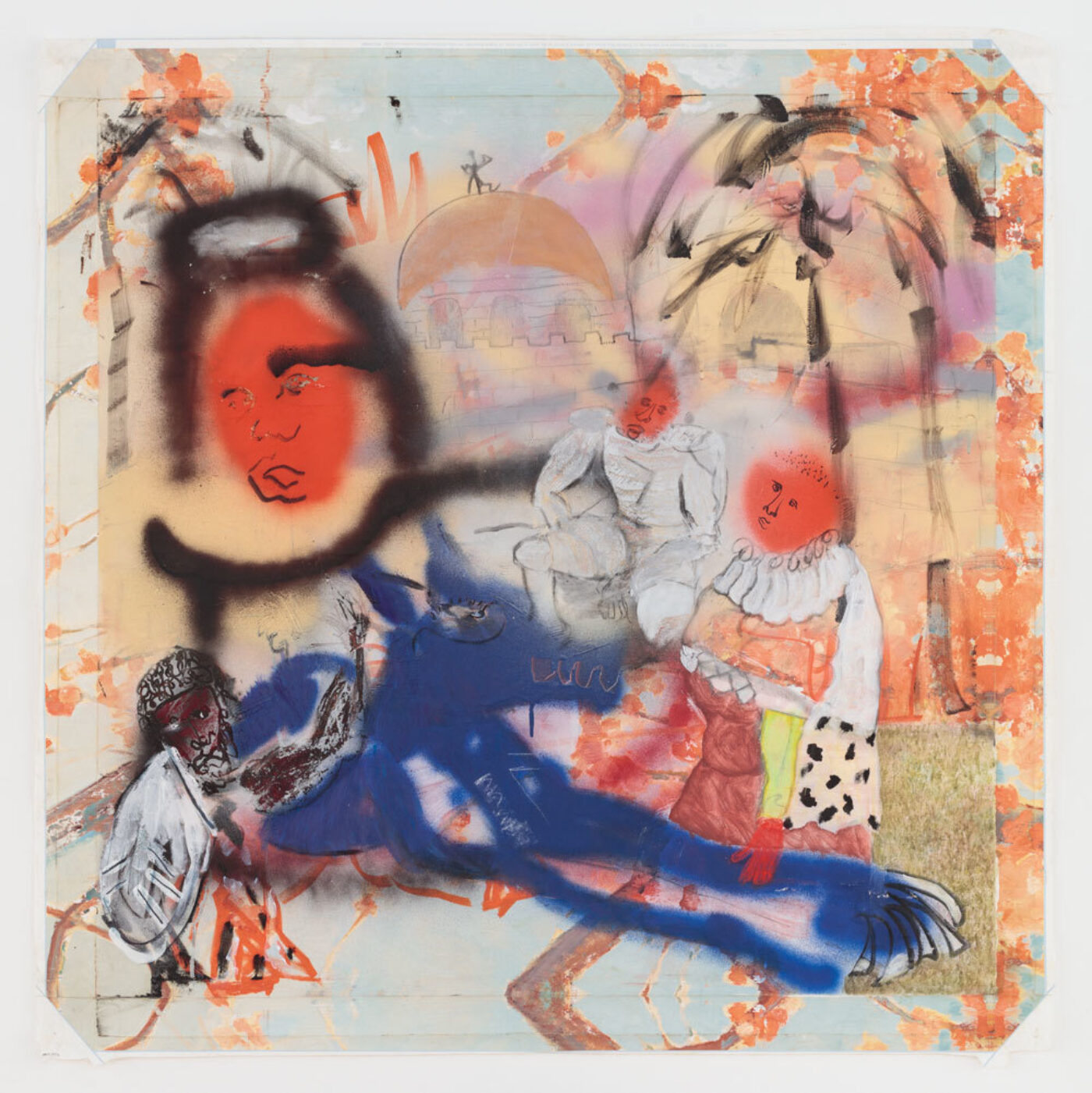 AG As Caribbean Americans, many of us don't have answers to questions of where we're from and to whom we are related, beyond a few generations. Sometimes I talk with friends about how this positionality is sort of a blessing and a curse, because our not knowing allows us a much larger imagination of who "we" are. The question of relation gets extended to a sort of planetary scale of potential bonds. Édouard Glissant, the French-Martinican writer, wrote a lot about the nuanced "multiplicity" of our identities, and he wrote about it as a resilient strength of our ancestral uprootings. I feel I can sense this in how you're thinking about ancestry in your work.
CTS Absolutely. That's what I'm pushing toward. I don't only want to know my African roots, because that's not the complete story, and for me to be a complete person I have to imagine the whole picture. I'm tired of living in this trauma of thinking that my life only began in the Caribbean or in North America at the time of slavery.
AG At the same time, there are very particular cultural influences that come out of that plantation-era context. For example, you were telling me about seeing your family in Trinidad, at J'ouvert, their faces painted red with mud, and now these red faces have become one of the central thematics of your show.
CTS Right, yes.
AG And so you're bringing this Afro-creolized, Caribbean tradition across another sea, across the Atlantic, to your Lisbon paintings. That's pretty interesting. Can you tell me a little bit more about the faces in your latest works, and why ancestry takes on this color red?
CTS It's the moment that I go to Trinidad for the first time. I'm about seven or eight, and J'ouvert celebration is happening, and I'm seeing the clay being applied to my family members' faces. I remember the way the sun was coming up, shining red on their faces. The moment felt electric, it felt illuminated. In my mind, their faces were like these red light bulbs, and again, it was the first time I had made that connection of "I am from these people." Prior to that, in Canada, I was not surrounded by relatives, only immediate family. I had a moment in the studio one night where I sprayed this red circle, and all that memory and feeling came back. I realized that this is my chorus; this is my ad-lib; this is the moment I can keep coming back to and expand upon. When I discovered that red, it felt like it will be important and fruitful for me to dive into this. And it just started to grow from that.
Curtis Talwst Santiago: By Sea is on view at Rachel Uffner Gallery until June 24.
Ayasha Guerin is an artist, writer, and scholar based in Brooklyn, NY. She is currently a PhD Candidate of American Studies at New York University and a Fellow of Urban Practice at the Urban Democracy Lab.