Black Line, Mixed Signals, and Île d'Ouessant by Jordan Cronk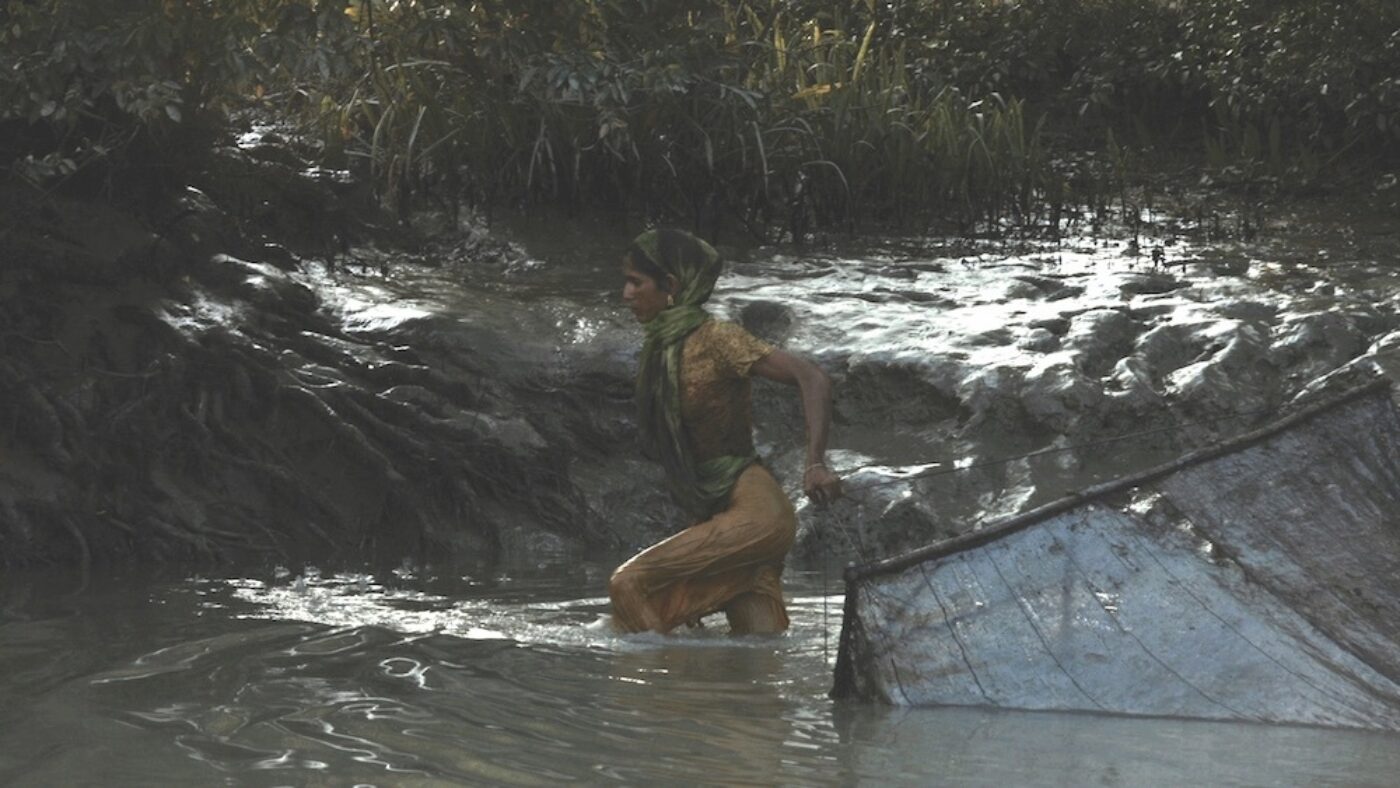 From Andrei Tarkovsky to Lucrecia Martel, Peter Hutton to Nathaniel Dorsky, entire aesthetic philosophies, genres, and approaches to filmmaking have been rooted in the elements. Water, a reliable source of on-screen drama, is perhaps the most familiar of these phenomena: What would noir be without rainfall, romance without a heart-stirring deluge, mystery without fog? Apart from such associations—or perhaps complicating them, evoking alternate resonances—are three short films from the 2018 festival circuit that forge ecological, allegorical, and formal relationships with river, sea, and sky.
Directed, shot, produced, and edited by Francesca Scalisi and Mark Olexa, Black Line (2017) is a deceptively complex work of ethnographic nonfiction. The ten-minute film, a prize winner at the Reykjavík International Film Festival, largely comprises one extended tracking shot. At the edge of the Sundarban forests of southern Bangladesh, the camera follows a local fisherwoman waist-deep in the murk of the Shela River as she pulls a large net downstream. Her surroundings rustle with trilling birds and insects, then a siren blares and a loudspeaker announces: "Don't drink from the river." It's visibly contaminated; in December 2014, a tanker truck spilled 92,000 gallons of oil here, a catastrophe the local government mostly ignores. As the woman passes a village, scrubbing at the sludge on her hands, we hear the call to prayer, and troubling sights come into focus: without aid, locals, risking their health, remove heaps of scum and tarry branches by hand. Positioned at a distance and navigating with restraint, the filmmakers, both outsiders, offer testament.
In a quite different register, Courtney Stephens's Mixed Signals (2018) is an odd game of symbolic equivalences between the female body and that of an oceangoing vessel. Eerie and at times humorous (the intertitles are punctuated with foghorn blasts), it combines a rather awkward medical examination video with 16 mm footage of an industrial freighter. Inspired by Hannah Weiner's 1982 chapbook Code Poems, the deadpan voiceover in Stephens's film draws from the language of maritime signal manuals. "Will you make the land tonight? Have you men enough? … I was plundered by a pirate." Innuendos abound as these nautical distress calls and status inquiries are heard in the deep recesses of the ship, or as the male doctor swabs the female patient's arm, asking "Can you feel this?" Deftly compounding these conceits and bringing them in and out of phase, Stephens creates a palpable undertow, pulling us away from any single interpretation.
A less tricky but equally rigorous reflection, David Dudouit's Île d'Ouessant (2018) takes the seascape itself as a subject of aesthetic inquiry. Completed posthumously by the late filmmaker's colleagues at the French film lab L'Abominable, the film is a sequence of stunning single-frame exposures shot on the Atlantic island of Ushant. The resultant montage presents sweeping, accelerated views of the site's features. Water suffuses the atmosphere: heavy mist shrouding a lighthouse, cloud cover on hillsides, rippling currents coursing across the surface of the sea. Where Black Line and Mixed Signals employ discrete structures and acute stylistic devices to explore larger themes, Île d'Ouessant's formal and discursive virtues are one and the same. Without a word, Dudouit's film reminds us the elements can just as often—and as powerfully—speak for themselves.
Jordan Cronk is a film critic and programmer based in Los Angeles. He runs the Acropolis Cinema screening series and is codirector of the Locarno in Los Angeles film festival.
Originally published in
Our winter issue is dedicated to this planet's greatest resource: water. With contributions from Saskatchewan and the American Southwest to Iceland and Northern Europe, an array of voices are brought together here—artists and writers investigating water as site, sustenance, and symbol, along with those expressing alarm and calling for intervention.
---
Featuring interviews with Lauren Bon, Oscar Tuazon, Jaque Fragua, Brad Kahlhamer, Ruth Cuthand, Janaina Tschäpe, Jessica Grindstaff, Tomoko Sauvage, Cecilia Vicuña, and Alicia Kopf, as well as writing by Laura van den Berg, Natalie Diaz, Stefan Helmreich, and more.