Bitter Is the Truth: Tarek Lakhrissi Interviewed by Laura Brown
Film, performance, and sculpture that imagine exorcism as liberation.

Discover MFA Programs in Art and Writing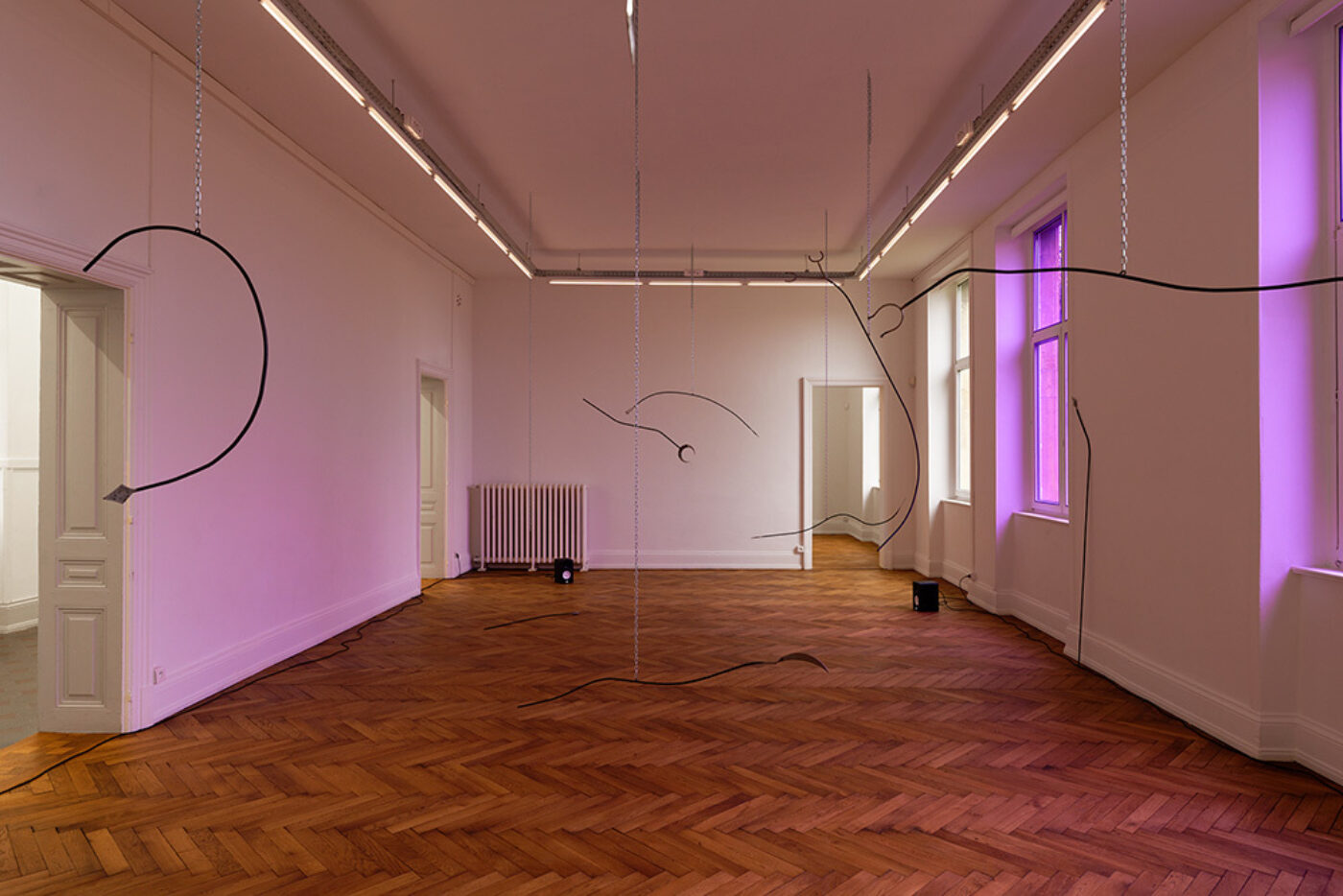 I first met Tarek Lakhrissi some months ago in the northeast of France where the border meets Germany and Switzerland. He had covered the windows of a room in purple film and suspended a series of spear-shaped objects from its ceiling. It was a quiet threat to anyone walking through. The installation was filled by ambient, cinematic music composed from the soundtracks to Buffy the Vampire Slayer and Xena: Warrior Princess. This was shown as part of a larger, two-year research project initiated by CRAC Alsace into the work of Monique Wittig, who was born nearby.
Lakhrissi has long adopted futuristic strains of imagination. His work deals intimately with the codification of language onto human subjects. Fiction and cinema tend to be central to this process. Lakhrissi's thirteen-minute, sci-fi tale Out of the Blue (2019) is currently part of the 22nd Biennale of Sydney. As the world changes, the main character recites, "Bitter is the truth, you will have to get used to it …"
—Laura Brown
Laura BrownWhat have you been working on recently?
Tarek LakhrissiI've mostly been writing and reading. I wanted to write a text in the form of a manifesto. It's based on this question of refusal as a way to think about art. I've been wondering how I can defend myself and how to find the space to be offensive. What different weapons can you use to protect yourself? I'm trying to be more in confrontation and to have more space for conversations. It's hard to always put love in the middle of complicated conversations, and it's important to be ready for the apocalypse.
LB What prompted this manifesto?
TL It started maybe four or five years ago. I had this conversation with a lover. He was talking about going to this camp with other queer folks, Asian American folks like him, to start building weapons to defend themselves from transmisogyny, racism, homophobia, sexism. I remember thinking, "What the fuck? That's so real." I'm one hundred per cent for it. I had this image of queer folks being in the forest, armed and ready.
There's this amazing book called Se défendre by French writer Elsa Dorlin. She talks about witches and also slaves—all the different ways that minorities started to defend themselves. This also connects with my installation at CRAC Alsace, Unfinished Sentence (2019). It was an attempt to create weapons that are failing weapons, that are threatening but also beautiful. And when Elfi Turpin told me about Monique Wittig's book Les Guérillères, I was like, "Oh, my god, are you serious?" Each piece started to connect with the other.
LB How did you go about designing the spears?
TL I started really simply by sketching out different spears like a teenager bored in the classroom. And then I started researching medieval weapons and also weapons from Africa from different tribes. I was also thinking of the spikes on weather vanes that you see on top of churches, which turn to give direction. With the space in mind, it became obvious that the spears would be hanging.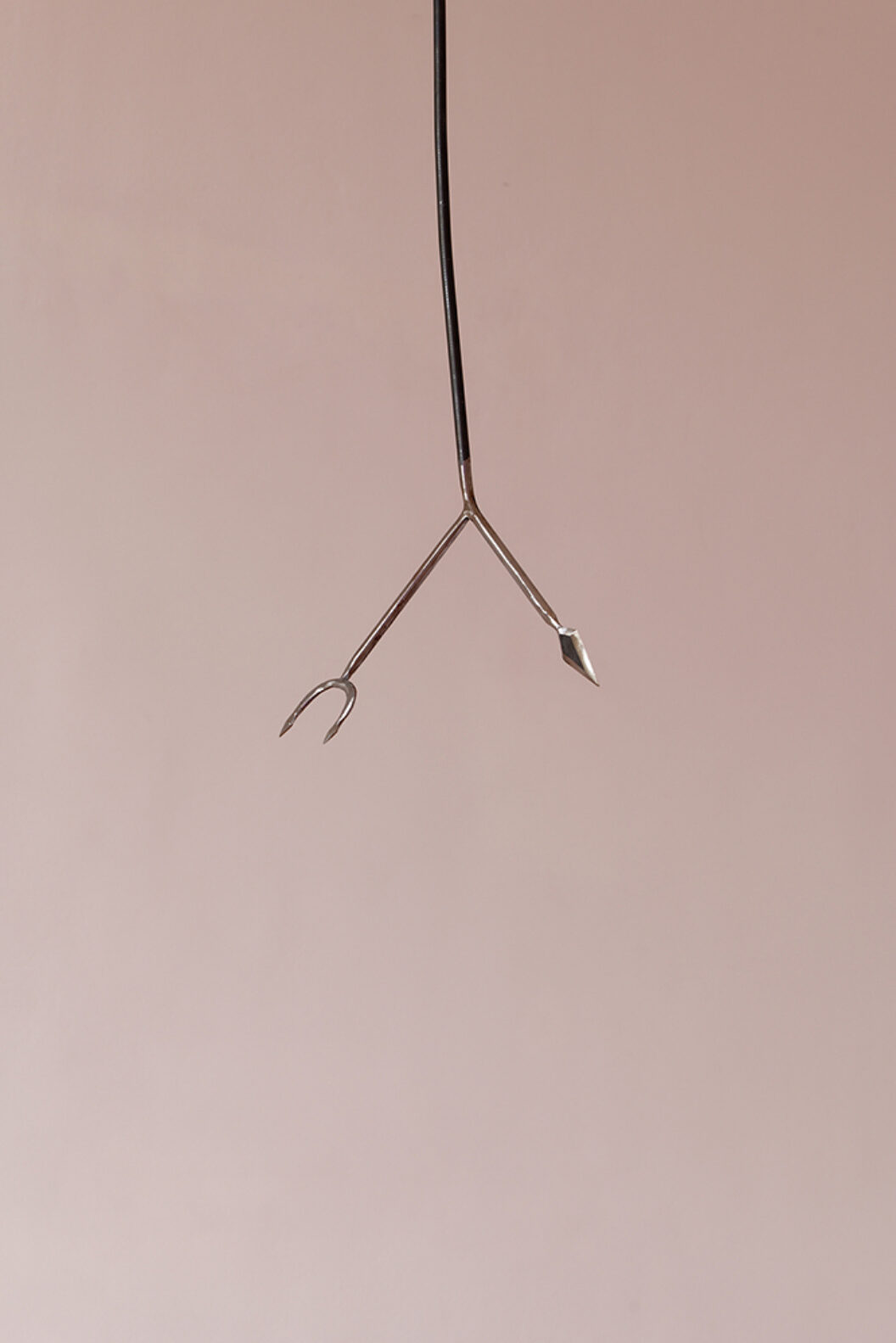 LBTell me about the performance that I missed.
TL It was part of this installation. It was very romantic. It was a fusion in three modes of different things I wanted to do and a feeling I wanted to create. The first part was mostly improvised dance movements with the spears. I was trying to connect with them in a very intense way, trying to find a relationship that could be hypnotic. And with the music sped up, finding moments of trance. I didn't expect it, but it was so emotional. I felt that there were very powerful presences in the space. I was wearing a wig, perhaps also as a way to inhabit a spirit. It could have been Monique's spirit but also maybe another warrior; we don't know. But it also gave this super emo tone.
LB A return to emo!
TL Exactly. In France, there's this new trend among Arab teens influenced by this very emo rap group named PNL. The young guys have long, straightened hair. It's very melancholic, very self-reflective. It's also very political. There's this attitude of: we're not like you; we're savages; fuck you! Which speaks a lot to me. In the second part of the performance I sang a PNL song called "La misère est si belle." It's like Lana Del Rey's "Pretty When You Cry." It's actually the same exact song in a way, although her version is less political.
In the third part I asked that if someone was fluent in English could they come and join me. Right before the performance I'd written a text called "Potential Threat," which I read and asked someone to translate live. It's about death, basically. It was important that somebody else was saying it. Another voice, another body. There was also a soundtrack, which gave a very cinematic experience, as if it was a voiceover. I think that triggered something special in the space. People in the audience were crying!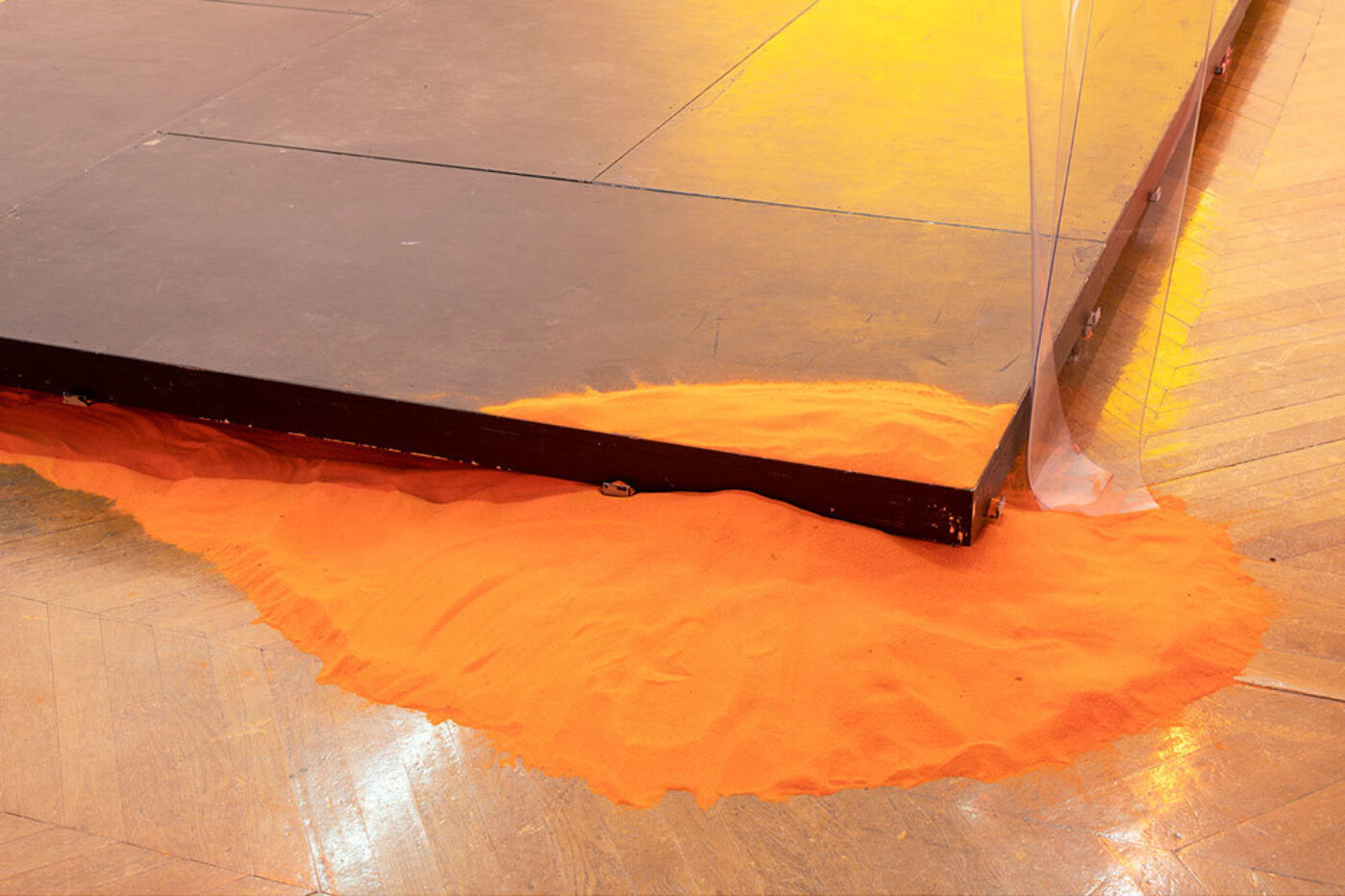 LBWow. What are you showing in Sydney?
TL It's my sci-fi movie called Out of the Blue, which is based on this question of the threshold. At first it was influenced by the suburbs in France where I'm from. It's a space where I feel like everything is possible. Just the way that people walk and interact in the streets, how people present themselves. I feel much more safe and comfortable there than in the center of Paris.
I was also very focused on José Esteban Muñoz's writing about the threshold. He talks about photographer Kevin McCarty's images of the Chameleon Club. It's two clubs in a mall in Ohio. If you open the door and go in, there's a punk club; then you open another door, and there is this corridor to a gay club behind it. Muñoz wrote that between the two there is a threshold. A space where there is utopia and possibility. This idea shaped a lot of my practice.
LB And the first time you installed Out of the Blue, the title of the show was Caméléon Club.
TL Yes. There was a really bright orange color everywhere that gave a kind of spaceship mode, but it also looked like a club, a very corny club. The space felt like it was in another world with orange light like an eternal sunrise and orange sand. And then Out of the Blue was installed in a small room with typical cinema seats.
The main character goes to the cinema and falls asleep. When they wake up someone's telling them: "The UFOs are here and they're kidnapping all the big CEOs …" There is this popular theory in France of Le Grand Replacement: this fear that we as blacks and Arabs will be the majority in the future. That we will take all the power. I wanted to make a movie about this joke and about the possibility of existing in the future, because we are not welcome in the future, just as we are not welcome in the present or in the past.
I had a lot of fun doing this movie. In the final scene, a character, who happens to be the "chosen one," instead of giving a big show of triumph delivers a beautiful poem. In the end, the only feeling that lasts is melancholy. I feel there's a need to restore melancholy as a way to understand our behaviors, our choices. Melancholy is so important and so creative to me. It stems from my childhood in banlieue. It's the basis of my work and how I feel in the world.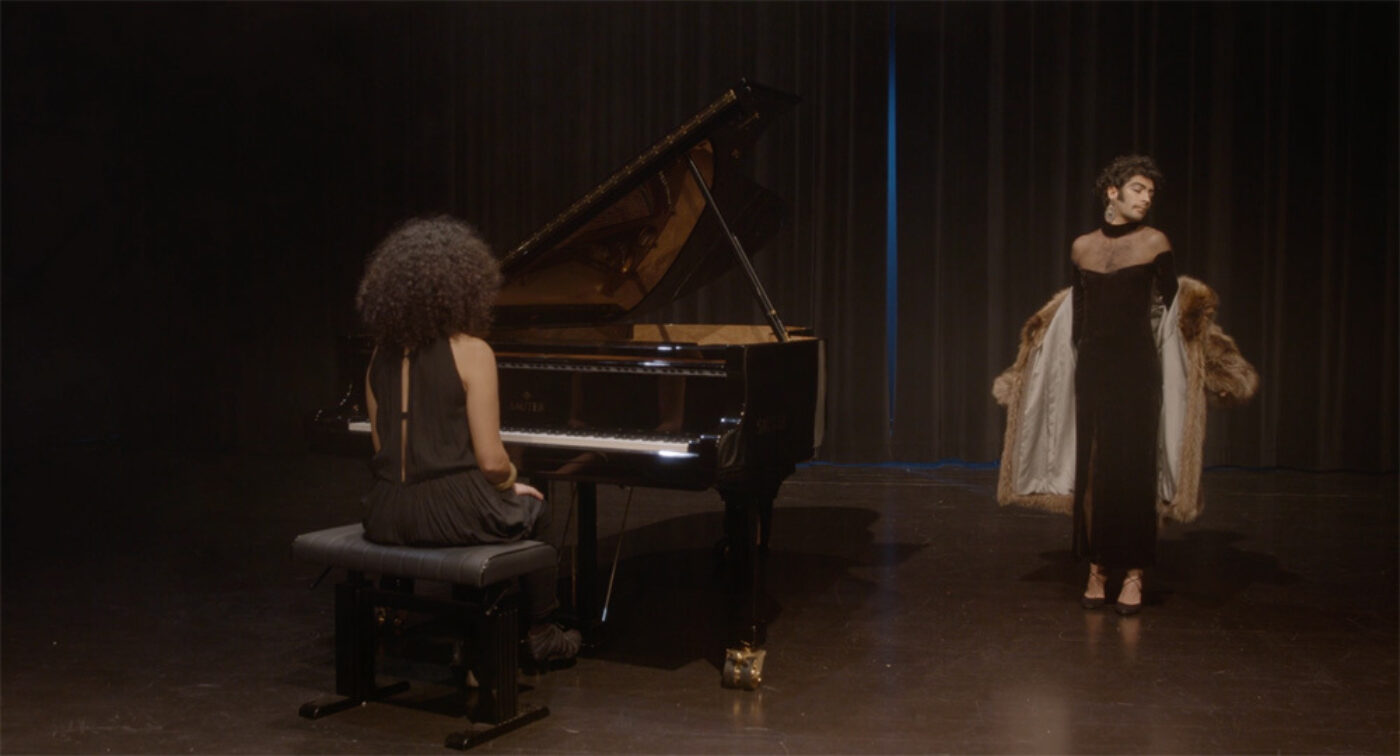 LB What comes after Out of the Blue?
TL I'm currently working on the second part of the film. It's not very clear yet. I'd like to think about a possible way out of the apocalypse: the end of the world as a possible moment of exorcism or liberation for queers and people of color. My current research is inspired by different modalities of "fantasy." Afro-Fabulations: The Queer Drama of Black Life by Tavia Nyong'o is a very powerful book that echoes a lot of Muñoz's work.
LB This reminds me of a phrase that appears in a photograph of yours: "exorcise the language of domination."
TL It's exorcism as a performative practice. I was always intimidated by the power present in language. It was a kind of survival process: understanding how to speak well, how to be very elegant, how to be careful and be polite. Now I'm thinking about the reverse. I'm in this new process of lying. Lying as an act of refusal or escape. For me, lying is a political act. It's a collective practice.
Tarek Lakhrissi's work can be seen at the 22nd Biennale of Sydney on view in Sydney, Australia, until June 8.
Laura Brown is a writer, editor, and curator living in New York.