Folk and sci-fi coexist in Bishi's live performance of Albion Voice.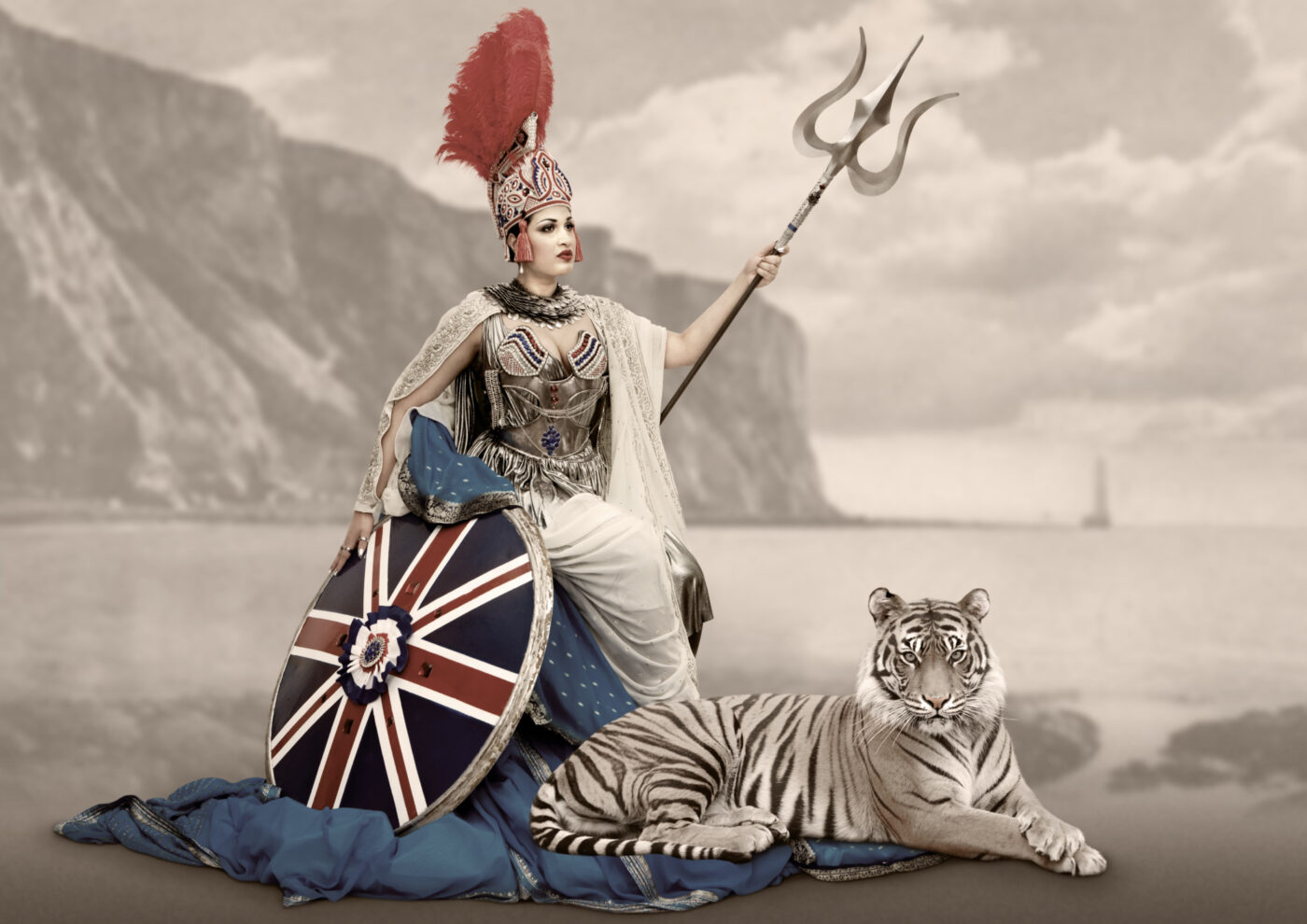 I met Bishi at a very crowded after-party for the composer Michael Nyman; we were in a hotel basement in London and there was a mood of summery potential hovering in the atmosphere. And suddenly, in walks this creature of extreme glamour and beauty; we've been friends since that night. Bishi is obsessive, thorough, and fun—a winning combination. Her interest in pop mediums exists through a fundamental understanding of the experimental, avant-garde, performing arts traditions of many centuries. I live for her.
Nico Muhly Where are you?
Bishnu Priya I am in a café in Shoreditch called Dishoom!
NM So, what we're going to do is we're going to talk for fifteen minutes about basic shit that you know I know the answer to but … you know. (laughter) I'm going to start with the weird stuff, and then we'll get to the basic stuff.
BP Ok, cool.
NM So the first thing I'm going to ask you is: I was listening to your music and watching your videos earlier and it feels like sometimes you take problematic elements of something—for example CCTV or these slightly racist 19th century sort of Raj things—and turn them into the focus of the work. I'm wondering what you think about that?
BP Well, that's completely true! I guess I'd say I'm a troublemaker, do you know what I mean? 
NM I do! (laughter)
BP So yes, I think that's completely correct. You know that, as much as I am inspired by the avant-garde and by different schools of music, I like things to be relatable on a populist level, and I find that a lot of music is devoid of any meaning.
NM So the outward facing element of the music is meant to be relatable, meaning for pop?
BP Absolutely.
NM So for Albion Voice, what's the guiding principal behind the live show? How did you transform the album into the live experience? 
BP Well I've been working with interactive projections for a while, I guess I have always been really influenced by Laurie Anderson's work for Grace Jones—and also I had remembered reading about a futurist artist called Valentine De Saint-Point who was noted to be one of the first performance artists to use interactive projections, or whatever they were in 1911 or whenever—
NM Right, it was like an over-head projector with puppets or something!
BP Yeah, I also love the work that Trisha Brown did. I saw an amazing piece she did where she had dried ice and a load of things projected over dried ice and I've always been obsessed with that element of bringing music, visual art, and performance together, and I kind of got bored of just doing a live band thing, so I started to develop all of that. 
NM It's an interesting decision to make it into a one-woman show, because the album is so thick.
BP Yeah. If I had the money I would love to do it with musicians.
NM Going back to what you said about this populist impulse—it's so expensive to do anything with more than one person!
BP I mean yeah, hello! Yeah, girl!
NM (laughter) Its interesting because it seems like what you have is a very portable version of your album.
BP Definitely, but it's still more of an installation to put this stuff up. There's actually a really amazing artist—I believe she's based in San Francisco—called Pod Blotz and it's just, well google her, it's insane what she's doing with projectors and different set pieces. It looks really self-contained, but these things are more like installations which, once you put them up, make sense to run for a few nights.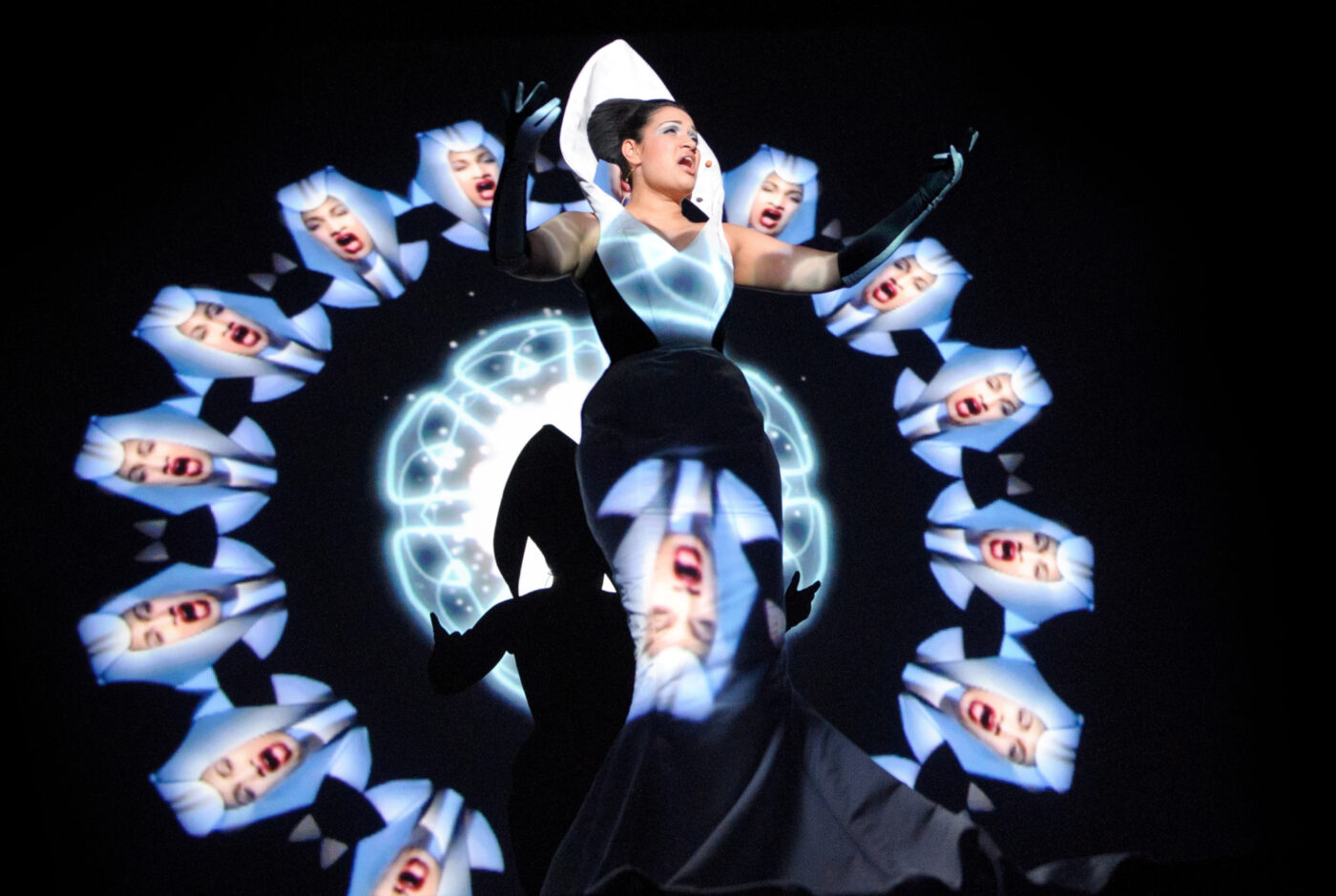 NM Right it's a big process. It's more of a pain in the ass to dismantle!
BP Yeah!
NM I guess the question I've always been interested in asking you is what's the relationship between "trained virtuosity" in work and—not improvised—but things that come a lot more quickly or naturally?
BP In terms of what?
NM Well, I feel like in the album your voice goes between very stylized or learned and something that's as natural as speaking. What I like is that it feels like they co-exist. 
BP Well I think that was one of the main themes of the album, this idea of how do we make these things, things that really battle with each other—how do we make them exist? Just by doing both of them and essentially not really caring all that much. How do you make essentially a folk-y album with something that's so sci-fi and futuristic. Just ignore the supposed battle between the two poles, just go with what they both are.
NM Right, that's it exactly, I love that they co-exist, and it's not even next to one another, it's on top of one another. 
Now let's go to the sort of boring thing. Practically what is this show? How long is it, what are we looking at? (laughter)
BP Okay. Well Albion Voice Live is a one-woman, seventy-minute show in which I perform my album from start to finish with interactive projections. Each of the films was commissioned and made by a different artist and each of the filmmakers really went into the meaning of the song. Everyone wants to research my influences or what I'm saying. A lot of the lyrics are based in poetry—obviously "Dia Ti Maria" was based on words from John Milton's Paradise Lost,—and I used some words from Alastair Crowley. Obviously, I grew up learning Tagore's music because my mum is an expert in the music of Tagore so I ended up doing one of his songs as a duet and that's just a really lovely thing for me, to reflect on her influence. My mother curated the first ever festival dedicated to Indian Classical music with Burendra Shankar, who was Ravi Shankar's cousin, so I grew up with all of those people, and that music has been a huge influence on my life.
NM Of course, so it's very personal in as much as the references are tangible for you. It's not just abstract.
BP Exactly.
Bishi performs music from Albion Voice at The Kitchen on May 16th.
Nico Muhly is an American contemporary classical music composer and arranger, currently based in New York City.