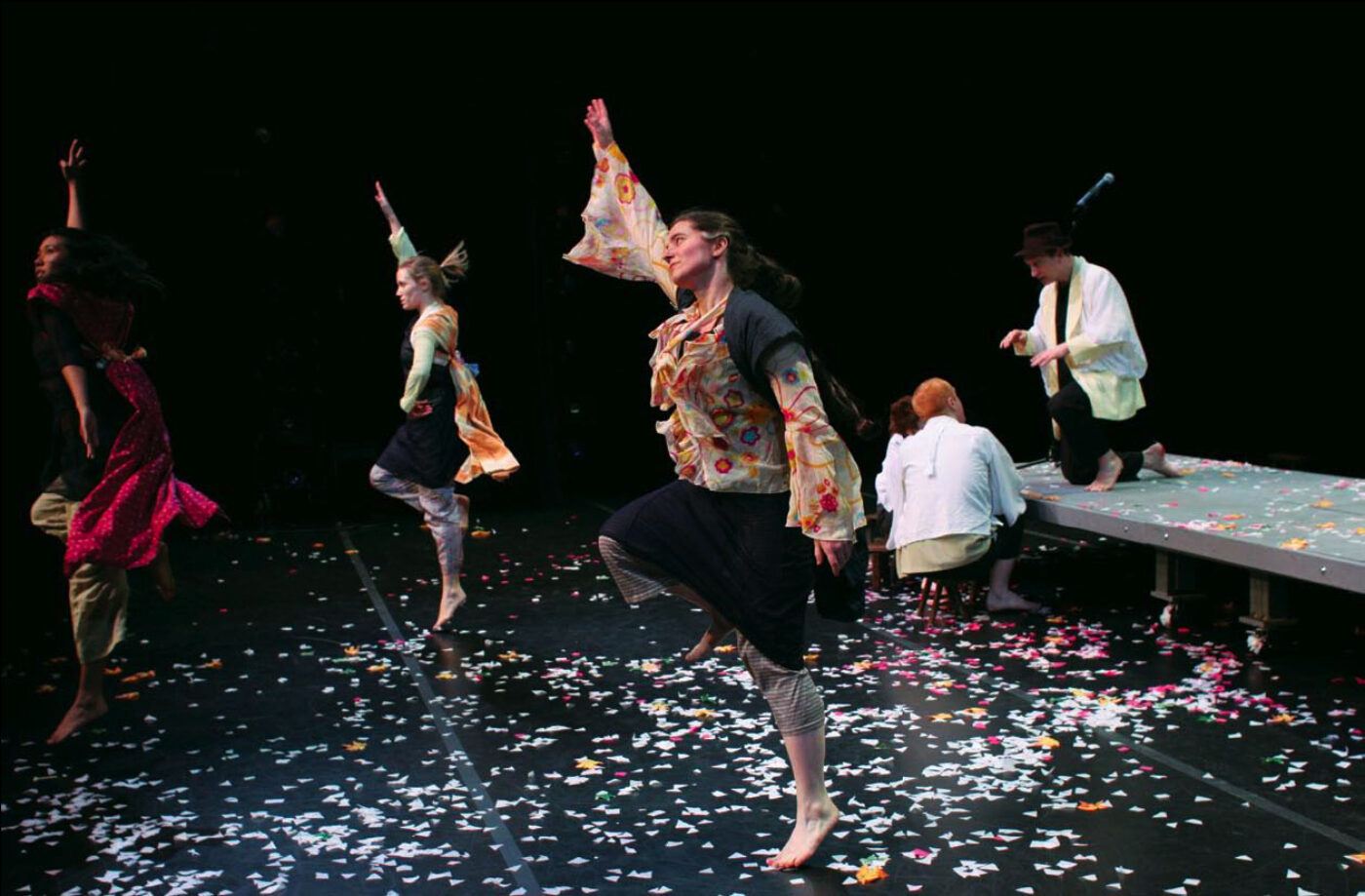 I first met Annie-B Parson and Paul Lazar in the late 1980s at BACA Downtown, a now-defunct Brooklyn arts center. They were performing and directing as part of Irondale theater, and I was performing a monologue, and what they were doing seemed like what I was doing except there were other people in their piece. In 1991, when they broke off from Irondale and founded Big Dance Theater, I was lucky enough to be one of the players in their first show, The Gag, which we performed at Dance Theater Workshop. Before the actual show there were rehearsals, and during those rehearsals, which went on for almost a year, I got a taste of how they worked: slowly, and improvisationally, with layer upon layer of meaning folded into the piece as we added, subtracted, and played with the constantly evolving material. Unfortunately I'm not a dancer, and so that first time was also the last time I performed with them. They went on to create a number of dance/theater pieces, including A Simple Heart (1999), Another Telepathic Thing (2000), Shunkin (2001), and Plan B (2004). Along the way they worked with singers (Cynthia Hopkins) and writers (Mac Wellman and Len Jenkin), creating a body of work that is intellectually challenging and emotionally engaging. Often a story, and more often a number of thematically related stories, is acted out on stage, and the dancing serves as both a diversion and a link, creating a unified experience from the many disparate elements.
For over 15 years Big Dance Theater has successfully straddled the line between the theater world and the dance world. Parson won a Guggenheim Fellowship this year, and Lazar has been in numerous movies (Jonathan Demme's Silence of the Lambs and Married to the Mob, as well as Bong Joon-Ho's recent film The Host ). Their newest work, The Other Here, originally commissioned by The Japan Society in New York City, is being performed at Dance Theater Workshop this September. Based on short stories (including "The Carp") by the Japanese novelist Masuji Ibuse (1898–1993) and on transcripts of life-insurance sales seminars, it features performances by some of Parson and Lazar's students at NYU's Experimental Theater Wing, and by Molly Hickok, their longtime collaborator.
The first part of the interview was conducted via email with both Parson and Lazar, but we began to think that it might be easier to meet and just talk. A few weeks later I met with Annie-B at her house in Brooklyn. Occasionally the phone would ring and once her son, who was practicing bass guitar downstairs, came into the room. Because we were having some problems with the digital recorder, most of what we said was lost. In fact, all of it was lost until we got the machine to work.
John Haskell So you didn't come from a theater background.
Annie-B ParsonNo. I didn't even know that plays had directors! I knew a lot about George Balanchine and Merce Cunningham and dance things, but not theater.
JH How did you start doing theater?
AP In 1983 I was hired by a theater company, Irondale, to choreograph a dance for them. I went in as a choreographer and I left many years later as co-director.
JH Is that where you met Paul?
AP Yes, Paul and Molly [Hickok]. I was lucky to start working with Paul and Molly in 1983, and we've been working together continuously ever since.
JH You went in, took over, and stole their best talent from them?
AP Well, no, I came in—I was asked to help with the dances, and I was also doing sound design for them. So I worked side by side with their director, and then, when I left, Molly and Paul left too. We made our own group, Big Dance, starting in about 1990. It was a formative time. The collaboration between the three of us remains at the core of Big Dance's aesthetic.
JH It's interesting that you did sound design because sound and music seem integral to what you do. The audio from your new work, The Other Here, would be great to just listen to.
AP Sound has always been important in dance—music and dance are sisters—but theater directors use sound and music a lot less, except for set changes! In the 1980s, I was creating sound scores for entire plays. I'd have about 40 cassettes lined up and I'd be playing them during the show. It was really old-fashioned. You could hear me popping them in and out of the cassette players. I guess that became part of the score.
JH You had 40 cassettes of music for each show?
AP At least. I used sound to express ideas I found in the texts. For example, Irondale did this hilarious Gogol play, The Inspector General, about a stranger who comes to a town. Nobody knows, but they think he might be the inspector general so he becomes the Inspector General. It's this fantastic comedy about identity, and brotherhood—the town comes together around this figure. Around the time I first read the play, I came across a record of a Russian men's choir singing "Swanee River" and I used it as the play's ending. That was the first time I remember going deep into the culture of the material musically, and finding a bridge from that culture to my own. The fact that they were singing an American spiritual in Russian meant something to me. I wasn't trying to locate it in a theatrical or historical context, but musically, and in its core it seemed right for a Gogol play done in New York. It was funny and sad at the same time. So I made a dance to that piece of music. That mixing of cultures and centuries through music and dance started with that find—at the Performing Arts Library at Lincoln Center. From then on, whenever I had a text to work on for a play, I would go there and listen. I understand text best by looking for its music. It's an entry point. For instance, much later, I was co-directing a play by Odon von Horvath and I found some Bavarian music that spoke to von Horvath's idiosyncratic, colloquial language. The Library has a great record collection, and until recently they had record players on the ground floor—they don't anymore—but you could just put on headphones and listen. It was a way of meditating on the text through music. Lots of what I found sent me to all sorts of places, dance-wise. I began to use both dance and musical folk materials, with text that wouldn't necessarily, for most people, bring up folk images.
JH I'm trying to think of other Big Dance pieces in which sound or music—
AP Well, our newest piece. It's definitely that same muscle. We sing and dance to Okinawan pop music from the '70s, like Shoukichi Kina and Rinken Band, in order to tell some Japanese stories from the '20s. I liked how these far-flung sources mixed and resonated.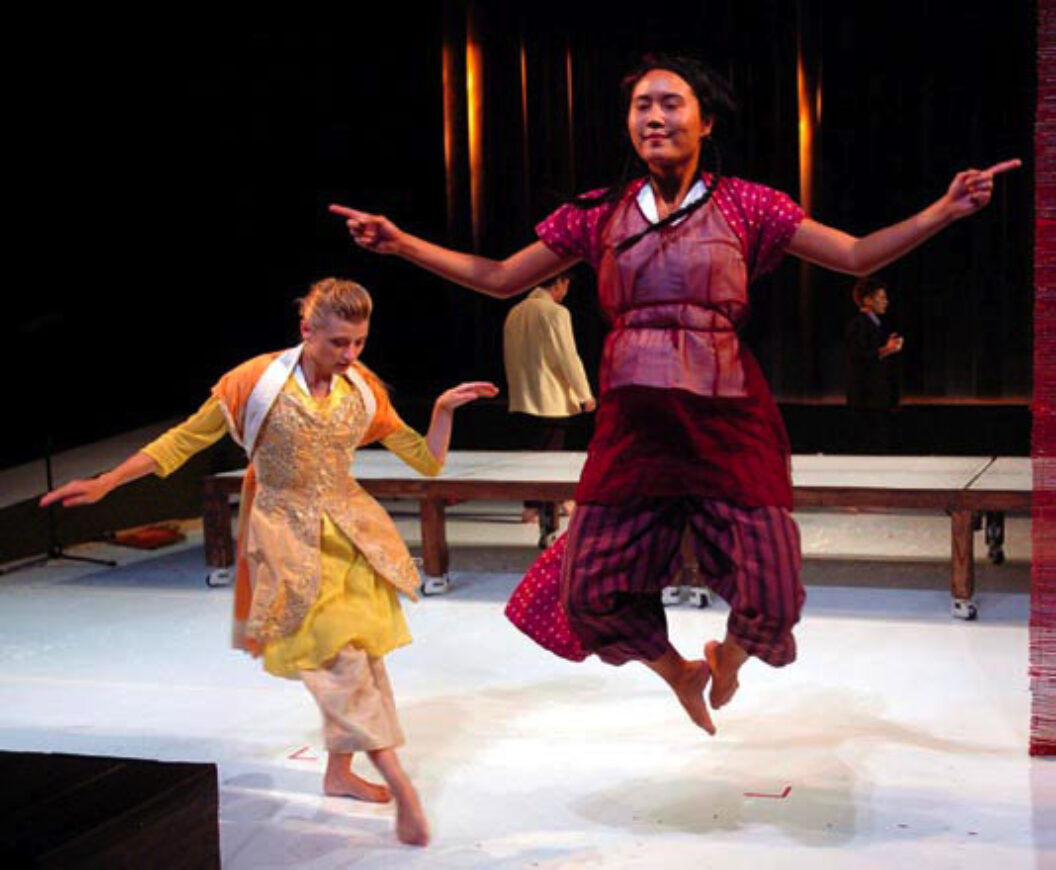 JH Excuse me, but what is Okinawa, anyway?
AP It's an island about a two-hour flight from Japan, closer to Taiwan, but now part of Japan. It has its own very precious culture called Ryuku culture, which may be closer to Chinese and Polynesian culture than Japanese. Culturally, Okinawans have their own drumming styles, dances, rhythms, and songs. In fact they really don't look much like—
JH The people?
AP The dances. And the people don't look Japanese either.
JH How did the Okinawan music get into The Other Here?
AP My own ignorance, basically. I'd been a fan of Okinawan pop music, and I'd been following it for a number of years. It's gripping music with a bit of a sigh in it, with one foot in traditional folk and one in Western pop. I was working with it in little bits on different pieces, and when I saw that we had a Japanese commission, I started to think, Wow, maybe we can really get into the Okinawa thing and sing it live, because we hadn't done that.
JH The language is …
AP Japanese with Okinawan dialect. I learned later that mixing these materials is a little like doing a Tennessee Williams play to Hawaiian music.
JH For them. But not for us.
AP Right. The Japanese may wonder why you would take a Japanese story and put Okinawan music with it. It's a really weird mix.
JH But for us it works because it's all foreign.
AP Or we don't know enough to think about it. The fun part is, in the end, it seems to work for them too because the Japanese really love Okinawan pop music as well. And from what I gleaned, the reason they love it is for its authenticity, even though it's tinged with a Western pop sensibility. It's still rooted in a tradition that hasn't, in their opinion, been ruined by technology. So they look to it the way we would look to, say, Appalachian music. Even though it's not theirs, they feel some ownership. And nostalgia. Shoukichi Kina is so popular in Japan I believe he is an elected member of their government.
JH So you've got the Okinawan pop music, the Japanese text from Ibuse, and then…
AP Then there's the traditional Okinawan folk dancing.
JH And where'd that come from?
AP While I was interested in looking at the roots of Okinawan pop music, I don't really like Okinawan traditional music. It's not that I don't like it. I don't respond to it. I didn't want to use it. But I was curious to see their traditional dances. I looked at tapes of some very well-preserved Okinawan dances. These dances are treasures that they care for and cherish. Seemingly simpler, homelier, less urbane, and less refined than Japanese dance. And ravishingly beautiful and natural.
JH Are those the dances in The Other Here?
AP We do dance some traditional Okinawan dances, but we've jumped off of them into our own thing too. We may be doing the movement we learned, but the way we're dancing is very different and the music we dance to is different because it's pop. In others, we have rethought the movement itself.
JH Didn't you study with Okinawan dance masters? Who were they and how did you find them?
AP Everybody in the group studied a bit, but Molly Hickok studied the most. She was the keeper of the movement. Our teacher was Dr. Sachiyo Ito, whom we found through the Japan Society. Paul even took a few classes. He also taught himself, and then the entire company, a wonderful old Okinawan folk dance off of a tape.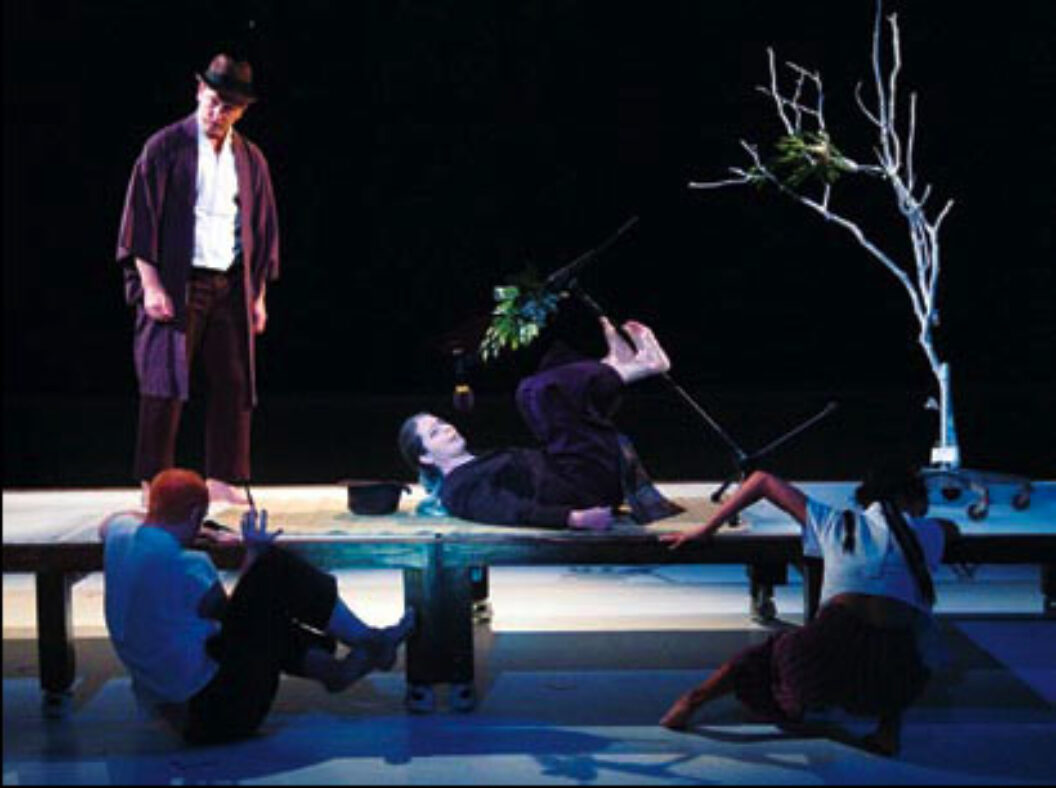 JH We should probably mention that Paul, in addition to being your collaborator, is your husband. I know you have interests that get into the work (the Okinawan dance, for one) and Paul has his own interests. In your last piece, Plan B, which had to do with Richard Nixon, I assume it was Paul who had that interest, and I assume that the insurance salesmen part of The Other Here is also from Paul.
AP In the past, a lot of the "found texts," like the audition tapes in Another Telepathic Thing and the Nixon Oval Office tapes in Plan B, came from Paul's intuitive and imaginative reading and research, but this particular text actually didn't. Molly found it. I had wanted to work with inspirational speeches. I've been fascinated by inspirational speakers because they mix authenticity with salesmanship. There's this fuzzy border between salesman and believer, something almost evangelical. In blurry borders I see opportunity, so I got excited. I was talking with Molly about this, and soon after she found a treasure trove of material from a life insurance conference, including a book by a famous life insurance salesman, Mehdi Fakhardazeh. An expert salesman. We all were fascinated by his mix of humane passion and successful salesmanship.
JH These people were more teachers, though, than salesmen?
AP You could say that. They perform at huge conferences and, yes, they're teachers in a sense. So we made a character from these salesmen, these tapes and conference texts. We winnowed down piles of text to make a character who sells life insurance. We're not writers, so we had to borrow.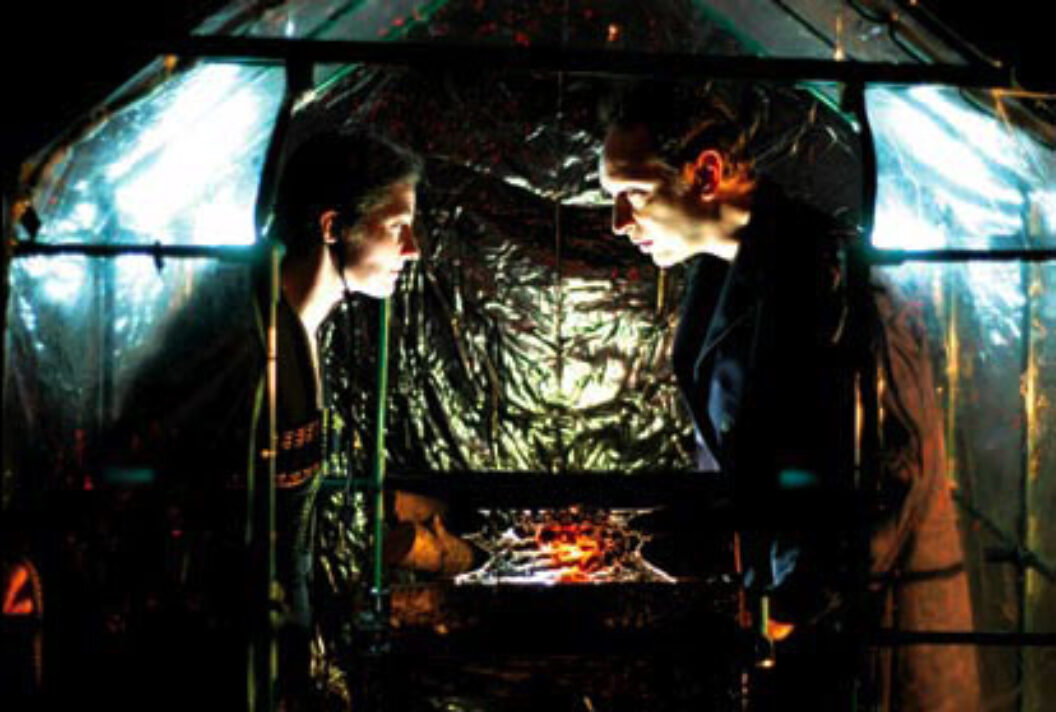 JH So there's text from Ibuse stories, text from life insurance seminars, and what else?
AP I don't want to be confusing, but there's also some Chekhov. Ibuse reminded us of Chekhov in his sense of regret and nostalgia and self-reflection. We were thrilled, but not surprised to learn, when we were having tea with Ibuse's nephew in Japan, that Ibuse loved Chekhov. We're always trying to be transparent when we work, trying to understand from our own perspective. We're tourists in a sense to Chekhov, and to folk dance, and to Japan. We'll always try to remain in this observing, learning stance; we like to bring that out. You try to think, How do I relate to this? Where am I in this? When I read the Ibuse, I thought, This is like Chekhov. And there were places, as we were constructing our own piece, these empty spots in the text, where we were trying to bring out certain feelings or ideas. So I would read Chekhov and we would borrow text from him. At times he sounded so much like Ibuse and it would just slide in and fit. It was sort of magical. Our play was becoming a lot about friendship, and Chekhov's plays talk about regret and friendship. So we would borrow chunks of text and play with them. It was hard at times, like squeezing into a tight dress, but in the end we found bridges.
JH Where does that desire come from, to incorporate interweaving stories in your work?
AP There's no mission, no message in the pieces. I suppose we like people to experience many, many elements simultaneously, and when those elements are in harmony, a work becomes something new, aesthetically or intellectually, or both.
JH So how do you do that weaving?
AP In, out, in, out, in, out! Just kidding. We often start with a pile of sources that we find exhilarating in some way: Dances from folk traditions, costumes we think are beautiful (a kimono gathered up in back like a ponytail with a big flower clip), text (both found text and classic stories), props that have beauty or inventiveness (an electric fireplace), music that stimulates movement or is complex or daunting or emotional (Stravinsky or Tuvan throat singers or the Russians singing "Swanee River"). Then over many months we manipulate these materials and see what happens when they are put side by side. Sometimes there's a visual or rhythmic connection, or a connection of ideas, or sometimes just a resonance that we find provocative. We start to sew these together like a quilt, finding motifs that could be gestural, or words that are repeated, or ideas that we reiterate—and through a choreographic sense of craft we splice things together along the way. This sounds formulaic, but I'm trying to render into words a process that when working with a large group is intuitive.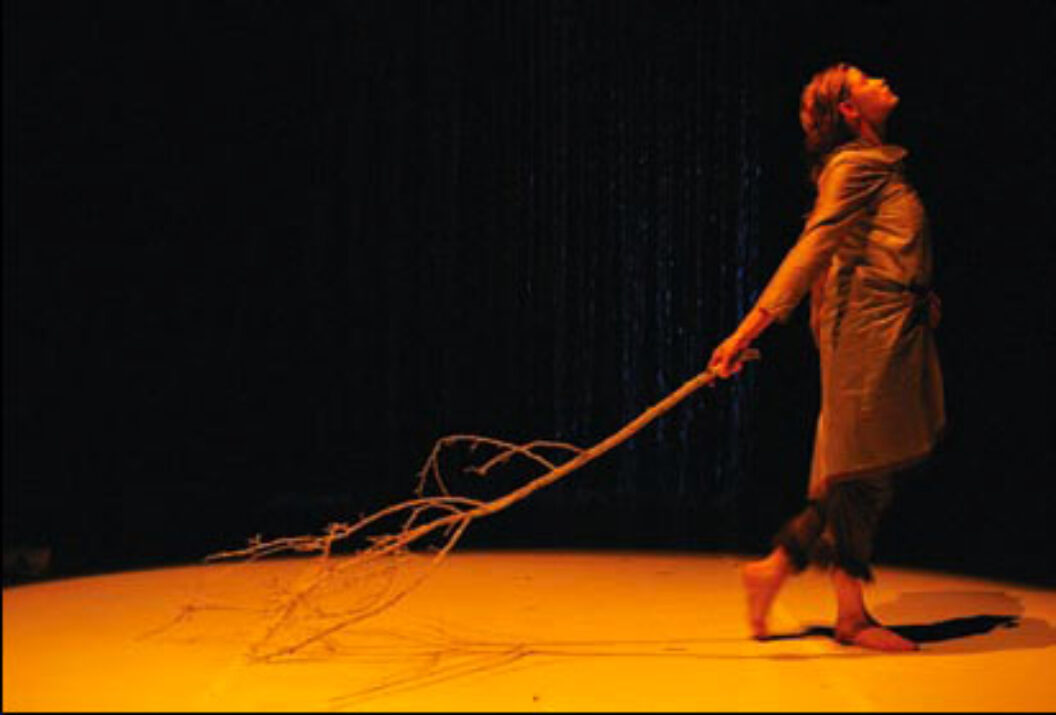 JH In all your work there's a strong sense of a story moving forward. How does narrative fit into the picture?
AP It's a bit of a devil, particularly for a dance person. I stink at narrative; I am even slow to understand narrative in simple movies. In our case, narrative is the skeleton upon which the dances, songs, and visual elements hang. Or is it the other way around? In the case of The Other Here, The Japan Society commissioned us, and we combined two stories by Ibuse. One is the story of an overbearing master and his lazy servant. The other is the story of a young man whose beloved friend gave him a burdensome gift—a carp—and it wasn't until his friend died that he came to value the gift. We made them one narrative, and the narrative began to grow as we added more elements, but we did our best to reflect the sparse nature of Ibuse's writing.
JH How does an actual script—if there is a script—evolve?
AP A script is our way of keeping track of a rather messy process. An outside person videotapes and serves as a secretary to our collage making. In the interstices of this "collage" are the places of "becoming," where the possibilities of surprise and chaos exist.
JH In The Other Here the dancing corresponds to the narrative, and yet it's very different, like getting glimpses of a hidden world behind the story. How does the dancing relate to the narrative?
AP The dancing can relate kinesthetically, or it can simply propel the narrative along; it may highlight relationships, or move characters into new moods or spaces in the room. Dancing has the possibility of being a luminous, protean, and versatile element, and an element of the subconscious—if you get out of the way—and just dance. Brecht said that if a play hits a dull point, add a song or a dance. So sometimes we use dance simply as a dynamic element.
JH Do you have a philosophy of dance?
AP Dance is the sacred object. It is pure expression. It tells you more about who the performer is than acting or singing can. There is no hiding in a great dance-performer. Without dance on stage you lack kinesthetic audience response. It is deadly dull for me on both a physical and emotional level to see a piece without dancing of any kind. Because dance comes from our bodies it is central to who we are. I find it non-realistic, or unreal, to have a piece of theater that doesn't include dance.
JH Some of the dancers in The Other Here are students of yours. What are your thoughts about casting?
AP We don't cast, we gather. We gather together people we find interesting. We don't audition because there's nothing to audition. Before we begin the process of making a piece there are no roles. I look for expressive people I find fascinating to watch. We make the piece around them.
JH When you performed The Other Here at the Japan Society, the main singer was using a cane because of an injury, but it made perfect sense for her character. Often things occur in your work that couldn't have been planned and yet somehow fit. How does this serendipity happen?
AP A good rehearsal is when you are able to pay attention and cull from the things that you didn't plan to focus on, and try to mold them into the "sculpture" you are making. It takes a lot of craft to align with the synchronicity of the universe, and still keep things moving along on stage! I certainly haven't mastered that craft, but it's part of my challenge to find moments outside our preconceived "plan" and weave them into the piece. It appears that life isn't just one theme, one conversation, one climax, one way of behaving. It's when many, many things are happening simultaneously, when you have many stimuli—crises and dullnesses at once. When characters begin to act in unexpected ways, don't they become more truly who they are? And that character who hurt her foot: her foot had healed, but we kept the cane.
JH One beautiful moment in The Other Here is when a large fish is dumped into what seems like a basket of water, and we see the slowly swimming fish, or a video image of the fish, projected onto the basket. Do you have a favorite moment in the piece?
AP The world is too loud, and in an effort to express that world, our work is loud as well, and it talks too much. So I like the moment in The Other Here when the whole cast drinks tea silently. Silence is a theatrical tool.
JH The way you work, taking bits from here and there, you always have an intellectual collage, things relating to each other, and there are also emotional aspects to your work. Does that come from the way you relate to the primary sources?
AP I'm conflicted about putting overt emotion into my work. I come from a rather postmodern dance tradition, with such grandparents as Cunningham and an array of brilliant choreographers who left behind the intense emotionalism of their predecessors, like Martha Graham. In the middle of the twentieth century, there was a huge swing away from emotion in dance; for them a jump is a jump and turn is a turn and it doesn't symbolize anything. It just is.
JH You're talking about Merce Cunningham, Yvonne Rainer—
AP Trisha Brown, Lucinda Childs … When I was a young choreographer and theater-maker, those were the people I was watching and learning from. There's a strong sense among those choreographers that emotion comes through the back door. It's not central to the work, but comes into the viewer's body on its own, rather than as an implant. In fact many years ago Yvonne Rainer famously said, "No to moving, no to being moved."
JH Emotionally speaking?
AP Emotionally speaking, although I think she's punning.
JH And so does emotion come in the back door?
AP I hope so. As a viewer I can get very emotional about some very cold work because I feel it in my … art heart. I have feelings around craftsmanship and artistry. So our work has been very emotional at times, but I wouldn't say it's always around narrative, or that it works to achieve an emotional state.
JH But in a play, in your plays, there's the dancing and the narrative. How do you get that emotion to appear?
AP It's that carefulness around emotion that is probably manifested in the work. As a director I certainly don't ask for emotional performances, but if I wait around long enough, the stuff stews and the work can get very emotional. The Simple Heart is a work we did based on the Flaubert story, and people cried when they watched it. People said, "That was one of the saddest pieces I've ever seen." If they'd seen it during its first performances, they wouldn't have felt much. I hate watching work that's pushed, or that strains after emotion, that begs the audience to feel something, but for us, over time, the movement informed the performers in such a way that it became an emotional piece. And I can find form emotional as well.
JH That story was very emotional. A woman whose one solace in life is a parrot, and then the parrot is gone.
AP It was a challenge from George Sand: Flaubert tried to write something that would make her cry. The funny thing is that he's so dry, that to read it, the emotion is not expressed anywhere in the actual words. There are no adjectives. He's not working it. It's only over time that it gets to you. When we performed it, and the performers got inside the story, it was a lot like reading something over and over again; it affects you more as you know it better. After doing it many times, over the course of years, it became emotional. But it wasn't something we talked about. Something happens on stage with live performers that's different from what happens in a book. The stage has different demands. I feel I need to encourage what I see happening. It's going to grow or it's going to change, or maybe it's going to fail. But if it feels real … You let it go because that's the way it's going.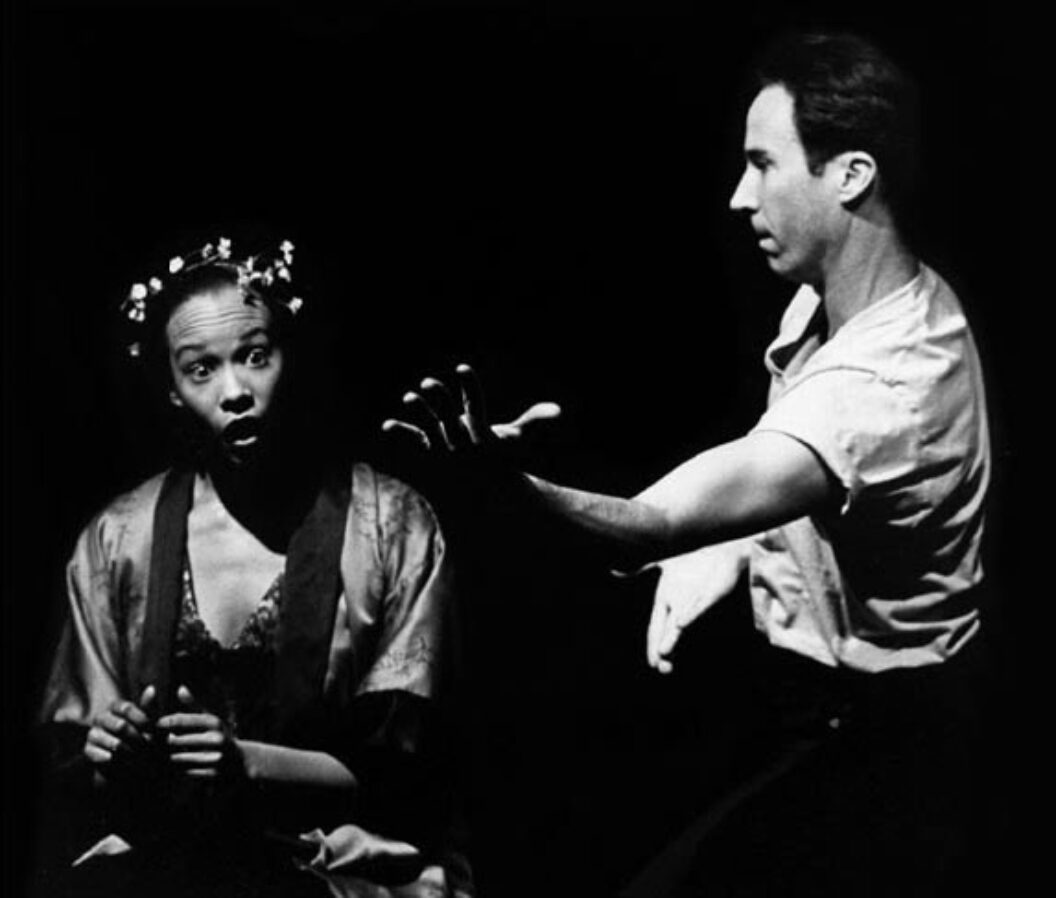 JH Lately I've been thinking about emotionality in art. In what I'm writing now, something seems slightly dead to me, and I'm thinking about a way to—
AP Give it emotion?
JH Or narrative. Some kind of kick.
AP The first scene in your novel American Purgatorio, when the guy's standing in the gas station and realizes that his wife has disappeared, is extremely emotional. You got that right—a perfect note.
JH I'm having trouble with that now, re-finding that.
AP Maybe you have to access the thing underneath. Because underneath that character, I got this sense of a person who was unhinged. You have to access that. Find the character breathing fast. (Though I can't believe I am saying this because I work on character from the outside, from the external.)
JH But things aren't always so intense.
AP No.
JH There's more of an undercurrent in The Other Here, of regret, the way Paul's character relates to his servant. He's brusque, but there's a sadness behind his facade. You people this play with stereotypical characters who become real through their relationships with each other and with the world. And even though that world is made up of seemingly unrelated things, there's an emotional core. It's a Chekhovian regret.
AP Yes. There's a sense of loss and regret, and certainly a sense of something gone wrong. The protagonist is preoccupied with the past, and people around him are saying, "Don't live in the past, live in the present," that push and pull, of past and present, aging, it all has emotional value. In the downtown world of theater and dance, feelings that grow from narrative are often looked down upon. And then in the uptown, straight theater world, if you don't have a very strong emotional through-line, something is wrong. To me emotion is an element, like motion, line, shape, narrative, and rhythm, But in straight theater emotion is the driver, and it can be overused.
JH And often it's not real or honest. I don't know my dance, but, say, with Balanchine, it's very classical, but the emotion there—
AP It's the art heart again. I have cried in Balanchine's neoclassical ballets, which are famously dry—they are his great modernist formal ballets, but my emotion there is around craftsmanship and artistry. Many years later, at the end of his life, he made a few pieces that I can say are emotional in their subject matter, again about regret and old age, like Davidsbundlertanze. I didn't weep watching those, but I respect them.
JH I'm getting what you mean when you talk about the art heart. I saw a Cassavetes movie—it was Shadows, I think—years ago, up at Lincoln Center. Afterward I was walking through Central Park and I felt like crying. Maybe I did cry, not because of what happened in the movie, which was probably very emotional, but just the beauty of the movie, or the honesty, what you call the art heart.
AP When I see something constructed brilliantly, it's emotional; that's what I mean by my art heart. And when you make things, you have a lot of emotion around the making of them.
JH There has to be a passion driving the thinking forward, to carry me along. In fiction, say, I remember Pip in Great Expectations, and his thinking about Joe Gagarry at the forge, or Chekhov and the lady with the lapdog. It's not just the sadness but something that works the art heart and the other heart too, something that reminds us of our humanness.
AP I like emotional work. It's just that there's so little emotional work that's real. You're trafficking in the novel and I'm trafficking in the performative world. They have different challenges, but it seems to me the failing of most directing now is that there's been an imagination lobotomy. I'll go see a play and there's no imagination; I don't hear an artist's voice in the work. It's just very workmanlike, or hell-bent on chasing the story and making us feel something, or learn something. I can get a little strung out, a little pressured, by watching that kind of work. But if I read a book or see a play and I feel real feelings, it's miraculous. Because that's what people do all day long and the play has conjured that in me. Conversely, in dance now, I often see work that is afraid of emotion, that can become old as well. As Paul says, it seems that you have to trick yourself out of accepting "givens"—those of people whose work you love, and the givens found within your own work.
Originally published in
Featuring interviews with Marine Hugonnier and Manon De Boer, Peter Doig and Chris Ofili, Richard Pare, David Malouf, Junot Diaz, Isaac Julien, R. Stevie Moore, Annie-B Parson and Paul Lazar, and Winter Miller.