Between Then and Now: on Kara Walker and Ta-Nehisi Coates by Rabia Ashfaque
Reminding us of what should never have been forgotten

Discover MFA Programs in Art and Writing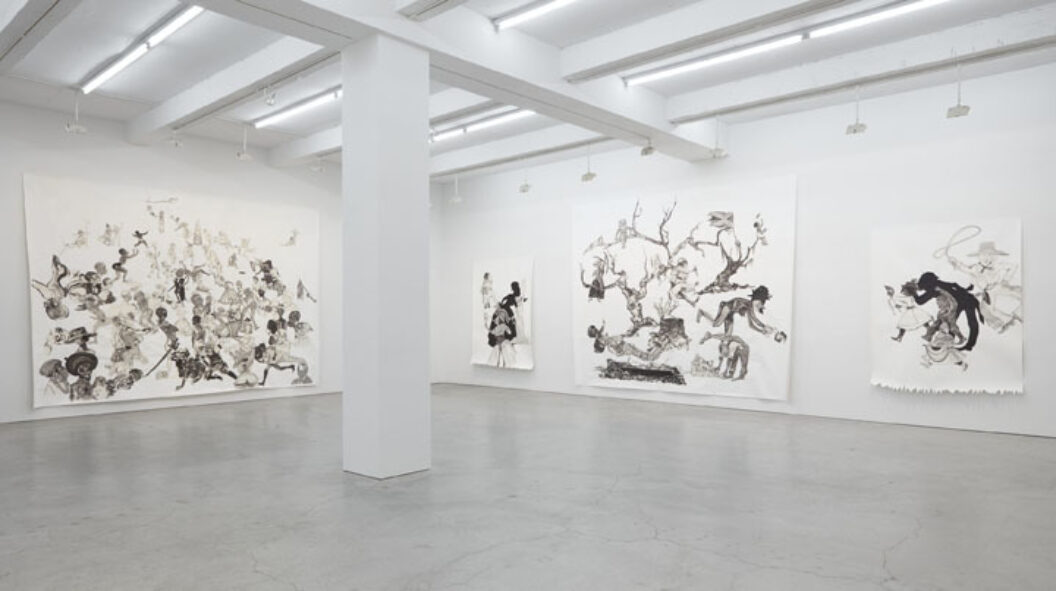 "White supremacy has always had a perverse sexual tint," Ta-Nehisi Coates declares in his essay "The First White President," published in the October 2017 issue of The Atlantic. Coates's words, which offer a bracing assessment of America's perturbing present in relationship with its contentious past, are in perfect sync with Kara Walker's current exhibition, floridly titled Sikkema Jenkins and Co. Is Compelled to Present the Most Astounding and Important Painting Show of the Fall Art Show Viewing Season! The grotesque images she creates with Sumi ink, charcoal, and watercolor depict the ugly reality of an America that both Walker and Coates see clearly: a fractured, bigoted society haunted by a past it dare not accept, collapsing under the burden of its own stubborn blindness.
That Coates and Walker chose this moment to take on the thorny issue of race in America is neither unusual to the time nor to their practices. Coates has dedicated his career to writing about race relations, especially in the context of African American identity, while Walker has been making art on the subject, with a focused lens on violence and sexuality, from the start. Both have continued with a forcefulness that has been criticized as often as lauded, especially with their recent works. But these criticisms frequently stop short of getting at the heart of their work and what makes it so relevant to this era: the acute failure of a liberal ideology of equality and tolerance. Both Coates and Walker make urgent attempts to revive specific narratives from a bleak part of history that never fully ended and feels amplified in current times.
To see an African American man become President of the United States was to start believing that perhaps the country had finally arrived in a post-race era. Or so it seemed in mistaking representation for a deeper acceptance, and capitalism for progress. Then came the reign of President Trump and his right-wing appointees looking to upend almost everything that was achieved during Barack Obama's tenure. In his essay, Coates outlines a clear trend of white dominance in American history that continued to simmer just beneath the surface of Obama's tenure. However, while his predecessors had exercised the power of their whiteness implicitly, Coates writes, Trump is "a president who, more than any other, has made the awful inheritance explicit." The successful revival of white supremacy as a negation of Obama's legacy makes Trump not only the first white president of this country—someone who campaigned and won the 2016 presidency based on his commitment to whiteness—but also the most dangerous one, Coates concludes.
The works in Walker's current exhibition transition from her more usual stark, black-and-white silhouetted forms to paintings and drawings. The Pool Party of Sardanapalus (after Delacroix, Kienholz) (all works 2017) references Eugène Delacroix's controversial painting The Death of Sardanapalus (1827) depicting the fable of the fanatical seventh-century Assyrian king who sets his world on fire in the service of his self-indulgence. While Delacroix's work was considered shockingly inappropriate at the time, Walker's version, making us aware of our own overindulgence and indifference to carnage and violence, does not seem at all out of place. A Piece of Furniture for Jean Leon Gerome shows the looming figure of a dark, naked woman who seems to be washing a fair, naked woman's back. While the menial task at hand, as well as the standing of the former and sitting of the latter, depicts a straightforward narrative of submission of the dark to the fair, shadows swirling in the background hint at much more. A nod to Jean-Léon Gérôme's painting Truth Coming Out of Her Well (1896)—the image of a naked woman stepping out of a well, warning of the political suppression of the "naked" truth—Walker's work references the past yet again to show how present it is, and how alive its threats are.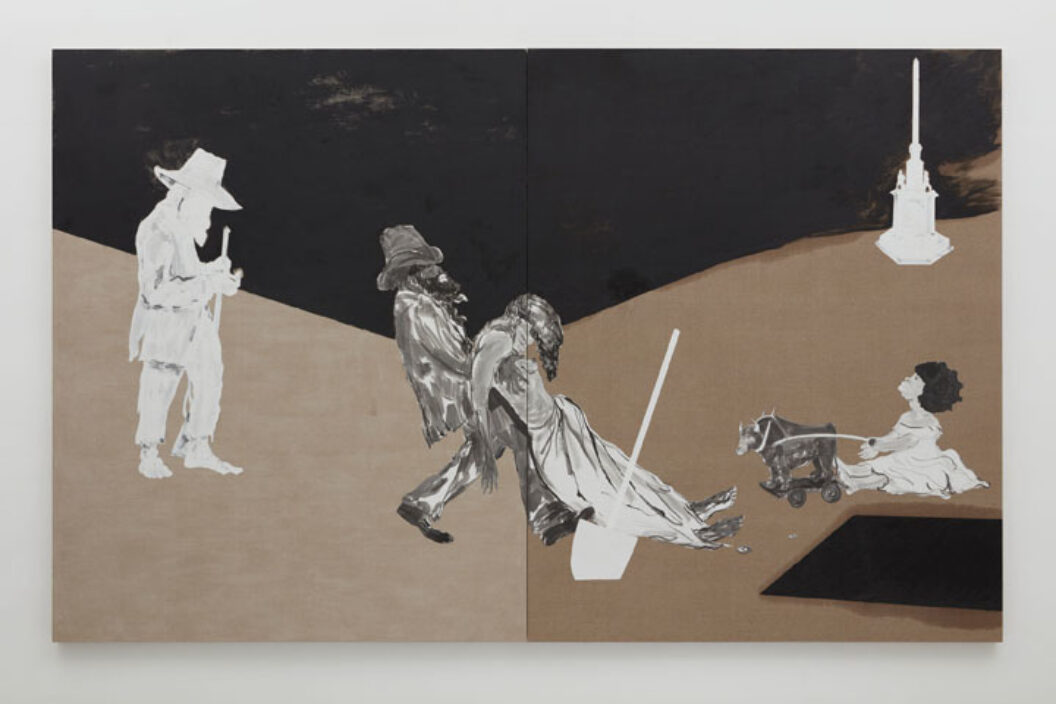 Walker's works are not problematic in their shock value or attention-grabbing perversion, as some would have it. The compelling imagery—a black woman's corpse being defiled by two white men in Initiates with a Desecrated Body, cadavers of poor people being dug out of their graves and supplied for dissection to medical students in The (Private) Memorial Garden of Grandison Harris, a white man aiming to lasso a black family for sport in A Spectacle—is woven from the fabric of a history that in reality is far more devastating than Walker's brutalized figures could ever convey. Her graphic images remind us of what we repeatedly forget: that we are living within, and not outside of, a shameful history. This idea bears down with redoubled force in her latest offerings and their violent exchange between the past and the present that leaves mangled bodies in its wake.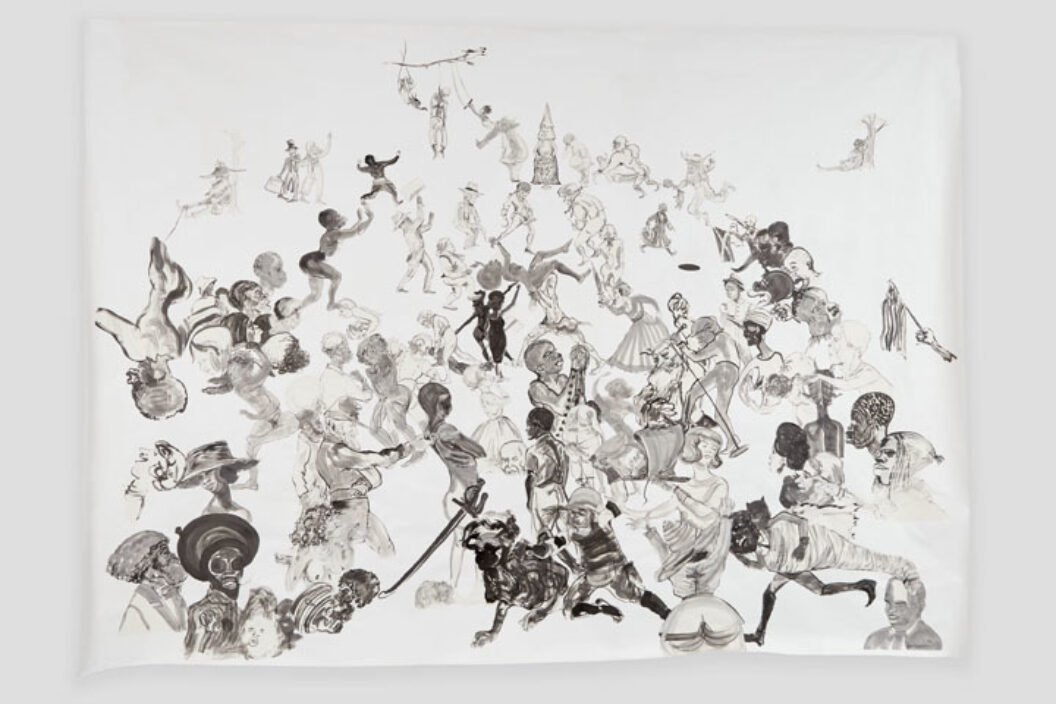 Christ's Entry into Journalism is the showstopper, both in terms of visual and contextual complexity. A collage of images from past and present—Martin Luther King Jr. and Trump, Trayvon Martin, and the KKK, dark-skinned women being groped by light-skinned men, a Confederate flag, a hanging corpse—all of these come together in a work titled after Jesus's triumphant entry into Jerusalem (and, as other critics have pointed out, James Ensor's Christ's Entry into Brussels in 1889 [1888]). That was a peaceful event; this is a violent one. That was a moment which identified the coming of a savior. This is a moment that reeks of ethical failures on all fronts, from the revival of white supremacy to our complacency that allowed it to happen. Like Coates, Walker warns us of a new king, and it is not a savior. Its name is destruction, and it feels more powerful than ever.
Sikkema Jenkins and Co. Is Compelled to Present the Most Astounding and Important Painting Show of the all Art Show Viewing Season! is on view at Sikkema Jenkins & Co. until October 14, 2017.
Rabia Ashfaque has been exploring new ways to write about aesthetics and politics for several years. Born and raised in Karachi, Pakistan, she currently lives in New York.