Between Fragility and Strength: Barbara Earl Thomas Interviewed by Emily Zimmerman
Portraits intended to inspire.

Discover MFA Programs in Art and Writing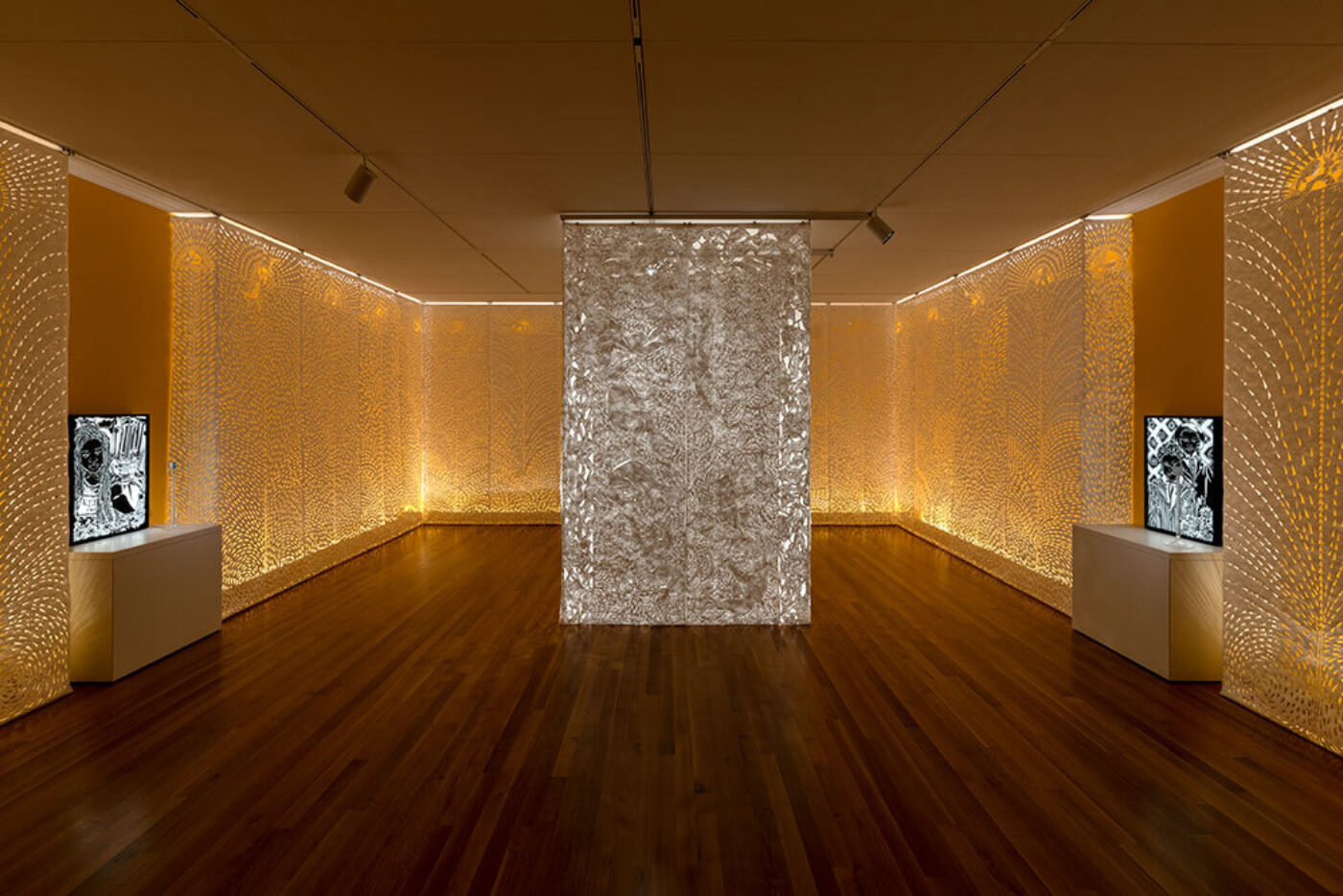 Barbara Earl Thomas: The Geography of Innocence at the Seattle Art Museum unfolds in two parts: a long colonnade of ten layered, composite portraits; and a luminous, exquisitely detailed, immersive installation of cut Tyvek, light, and glass entitled Falling: Bodies in the Matrix (2017). A visual storyteller for over forty years, Thomas creates powerful narratives that address systemic racism, gun violence, history, literature, and climate change in paint, printmaking, glass, paper, and Tyvek. The Geography of Innocence brings together Thomas's most recent work charting an enduring terrain of community and symbols.
—Emily Zimmerman
Emily Zimmerman The exhibition finds balance between timeless archetypes and portraits of specific individuals in a community. Could you talk about the exhibition as a meditation on a social fabric?
Barbara Earl Thomas The first portraits I cut were of two young boys I'd seen online. I was drawn to their open faces. I'd been following the Don't Shoot Campaign in Chicago aimed at quelling the violence in neighborhoods and schools. Kids and families rallied holding signs saying, "Don't shoot. I want to grow up." I was struck. What a thing for a child to have to consider! And I thought, "We're always talking about what we don't want; why don't we talk about what we do want." I made a list of words and finally decided on the word "Grace." From there I turned my attention for my series to the young people in my community who are not famous and not commemorated as a result of getting shot or otherwise brutalized. The children here represent the futures we want to give to humanity, ones we guard because they offer the best hope for all of us. Take, for example, my child in True North (2020), who I call True North Nate. He is a family friend, pictured here as a child; all grown up now, he works in food justice. He is a master gardener and runs a number of community gardens for the city. He found his true north and thus has given so much to the community and culture in his quiet way. I commemorate that he was not taken from us because he was at the wrong place at the wrong time. This is the small thing I celebrate!
EZ The installation is radiant. Could you talk about its arc of development?
BET There was a period when I was making these jewel-like egg tempera paintings with light-filled illusionary spaces. At some point I needed the space to become three-dimensional. I've always been a builder, and my first attempt with paper construction came in 2016 with my Heaven's on Fire exhibit at the Bainbridge Island Museum of Art. In The Geography of Innocence at the Seattle Art Museum I expand on the idea of the illuminated, hand-built space. Light is visual music, and it guides the viewer through the space. The walls are lit from the bottom up, and the luminaria in the middle is lit from the top down. The outside walls are warm, whereas the luminaria light is cool—it creates its own atmosphere, a contemplative space.
When people enter the exhibition and pass through the colonnade of the portraits, I want them to leave the external world behind, to be open to surprise and hence disarmed. Museums are full of history, and people come armed with expectations about what they're going to see; and of course right now everyone sees imagery of shootings, marches, political unrest, not to mention the plague—all caught on video. This idea of disarming my viewer is key to my process. In order to really see, one's expectations need to be interrupted. I situate my vision in the big arc of time and human spirit, not the present journalistic moment.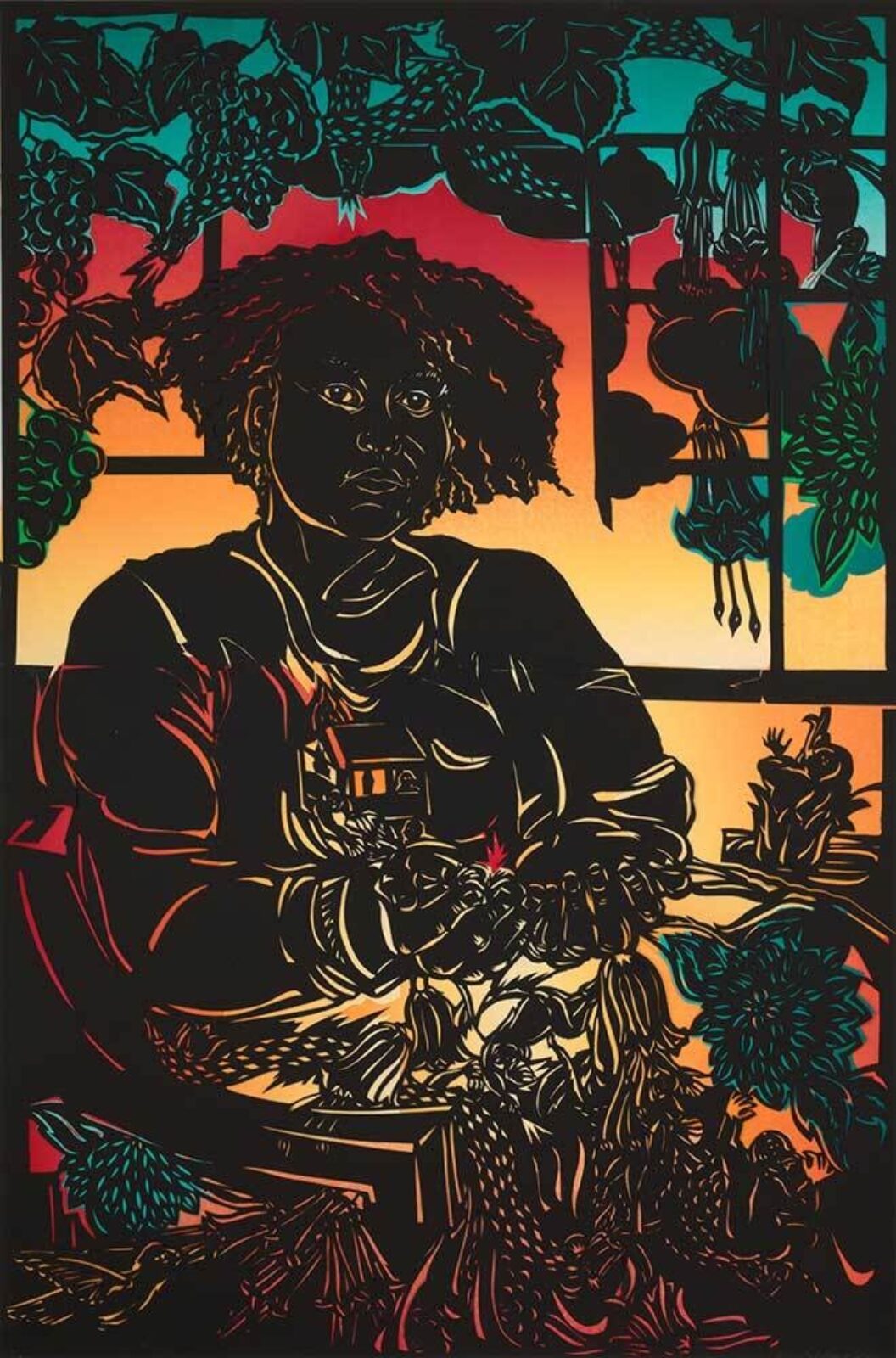 EZ I was wondering if you could talk about some of the imagery in the installation Falling: Bodies in the Matrix, in particular the snake and bird motifs.
BET It's a twelve-foot luminaria with a scrim-like wall as framework holding my imagery. Scallops filled with triangles are the net that hold bodies falling as if through space. The snake is, of course, a very biblical, ancient kind of shape. It creates an idea of danger. I couple it with hummingbirds, beetles, bees—things eating and being eaten. All of a sudden you see this is the way life is: we're always living between the snake and the hummingbird. Life is fragile, but it's also fortified with people who can battle through all kinds of adversity and survive, or one small thing like a virus can knock us out and it's over. We live between fragility and strength. That we are here at all is a miracle taken too much for granted.
I had a residency in the mid-1990s at the Morgan Library, and I got to sit with all these sixteenth-century illuminated manuscripts. In the middle of the page, there are all the things that are happening right at that moment. But in the border, there is all of this subtext and all of the things that are happening outside of the main action. So, that shape is a very ancient but very recognizable kind of format—the illuminated manuscript with the border on the side and the story in the middle. Inside of the cut room are my installation's niches. These are backlit portraits on glass accompanied by candelabra. The shape is familiar; the child's face illuminated is not.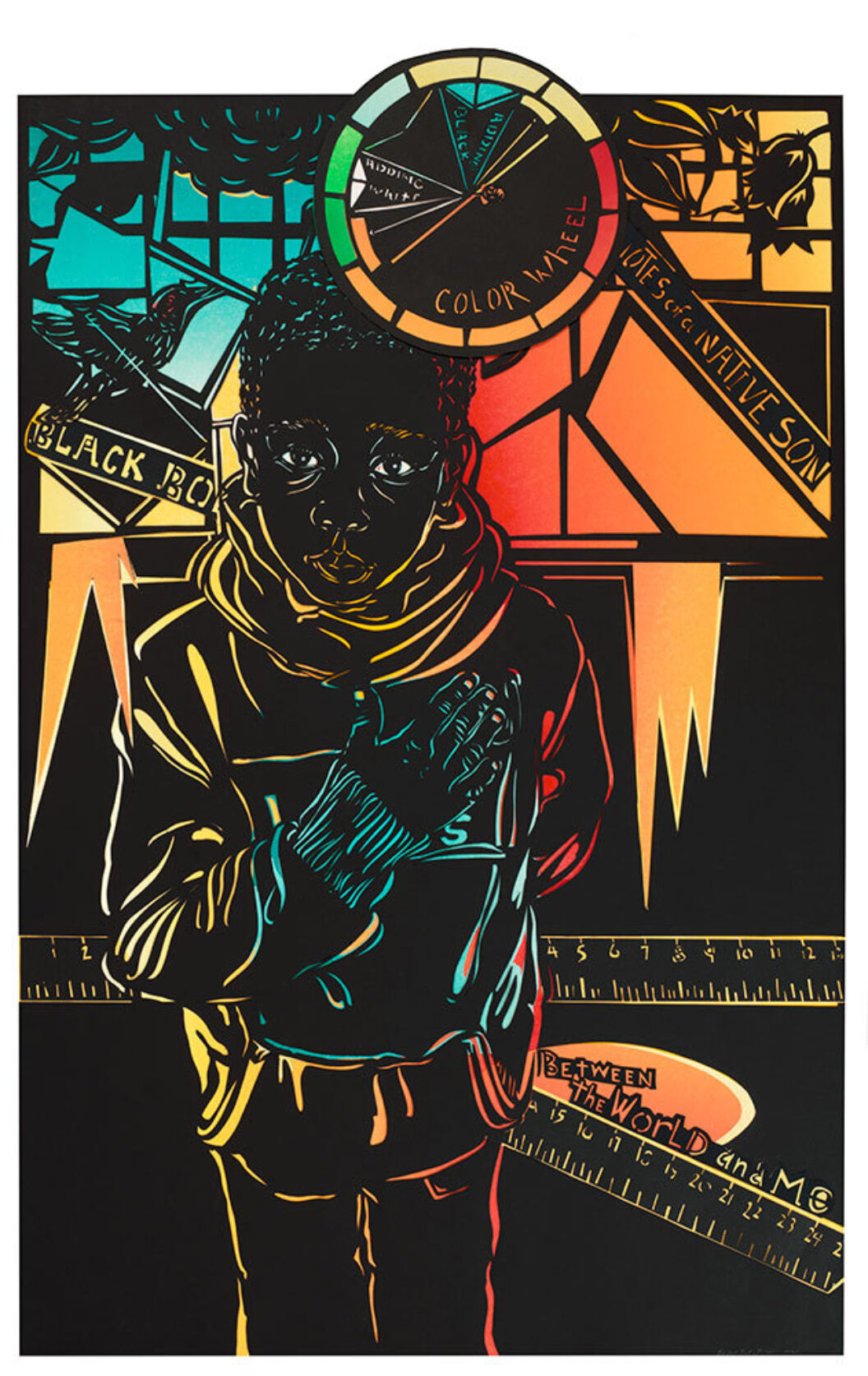 EZ As I was walking through the installation, I was thinking about the architecture of churches. I love the idea that it's a page made architectural. The combination of word and image has always played an important role in your work. I was hoping you could guide us through some of the text in the exhibition.
BET I'm a book person. For me, cutting a shape creates an image, and words create images. It's another way to give viewers an entryway into the narrative and clues for how the narrative might be their own story.
When I was working on Color Wheel (2020), I had to decide how I was going to make the shape of words work in my composition. I had cut three book shapes, the first of which was Richard Wright's Black Boy. I had the whole books with the authors' names. At the last minute, I took the authors' names off and left the titles. For people who know what these titles refer to, this image will look different to them. For people who don't know, they'll think, "Well, isn't that an interesting phrase to say, 'Between the world and me'?" And it will read differently to them. I wanted to tell the story of the life of a Black boy through book titles. You start with Black Boy, then Notes of a Native Son, and then Between the World and Me. Richard Wright, James Baldwin, and Ta-Nehisi Coates—there you have the whole story of what it means to be a Black child in our culture.
A child with a color wheel above his head is a pivotal piece. My model for this is Levi, my cousin's grandson. He had such an inviting face. I said, "Levi, come over here; I want you to do something for me." And he looked up and without question said, "Okay." There was something so trusting and compliant in his response, and I wanted to capture that in my image of him. Above his head, there was a color wheel, just as if it had been staged. You know how the color wheel works: when you mix opposite colors, you create density, shadow, and prismatic depth. And then, it said add white for the tint, then add black. It seemed like a perfect metaphor just given to me. So I took it!
I did a piece with Elisheba Johnson's little boy called Wonder Boy (2020). His grandfather is Charles Johnson, the amazing writer. In the back of his image you'll find Charles Johnson's book titles, such as Dreamer, the story of Martin Luther King. The piece's title, Wonder Boy, is a book that Elisheba and Charles have written about a young Black boy who loves science. In this image, Wonder Boy holds a book from the day he got his first library card. Deep seeing requires you spend time with the piece to see all those things in there. For people who don't know, they just see something beautiful with all this color and this little boy with a bag that says, "I read." That was my little jab at this idea that said that Black people don't read.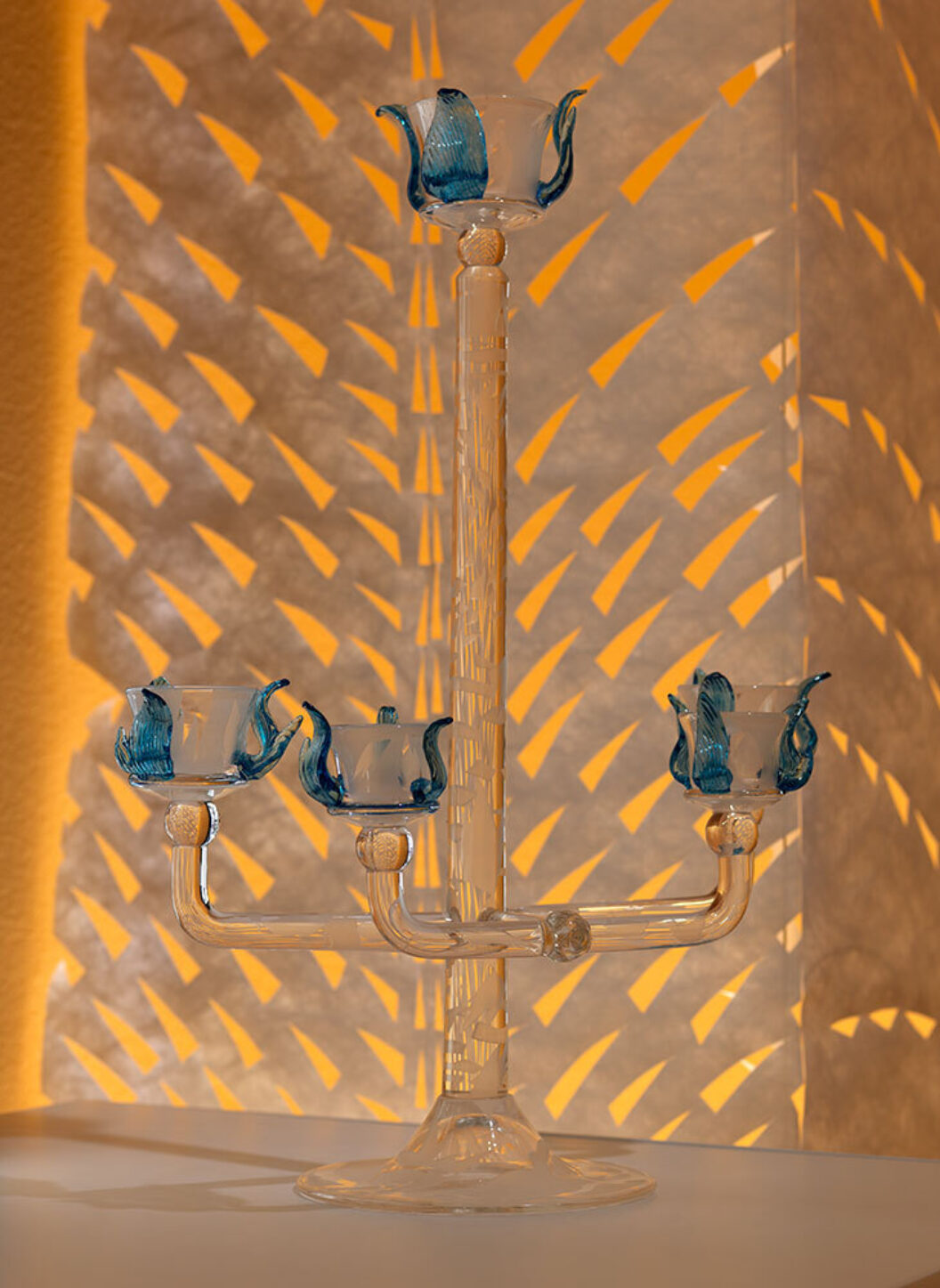 EZ One of the other things that struck me was the long engagement and patient viewing your exhibition encourages. In the colonnade of portraits, every portrait is so detailed and includes so many layers. Each piece feels like a geography in of itself. I was wondering if you could talk about a few of the new formal aspects in some of those portraits.
BET Well, this is the first time I've done those particular kinds of paper cuts. I developed it for this telling. I've done white Tyvek paper cuts for a long time, but I decided when I was going to do these portraits that I needed gradients of color so that I could actually literally move the viewer's eye around with color. I wanted to create the sense of light within the piece. When people see them, especially if they haven't seen them in person, they're not sure if they're glass, some kind of painting, or a scratched black coating. I went to my printer and had her create a series of color splits. I selected colors that went from very dark to the lightest warm neutral in a series of reds, blues, and greens. They become my pigment.
I create the basic composition in black and put the color underneath my open cuts. I'd move the color until it's just where I need it to be in order to take the eye from very dark to very light. The light might be moving from one point to another in the background, but over in the corner I might have it going in another direction. I would reverse the light so that there's an impression that maybe the light behind the piece is moving.
By the time I got to the last pieces, I was cutting away quite a bit of the black. The reveal became more dramatic. The eye moves around the visual terrain, re-seeing what is familiar and finding something new in the landscape. With each attempt to re-see there is a chance to experiences an old notion in a new way, for instance, to see the face of the dark child in an unguarded moment, not in fear but curiosity and delight. In this new world I create in paper and light I must be so convincing that people are willing to suspend their resistance and walk through the threshold with me. Any misstep on my part and people get stuck. If I don't believe it, they're not going to believe it.
EZ I was wondering if you could talk about Book of Cures (2019) and the idea of healing as it comes into that space.
BET The original title was Book of Cures and Curses, and I decided to drop the curses because the Book of Cures is more open, and that in fact we all have some possibility for being part of the cure.
Elisheba Johnson is the model for the Book of Cures. She is a community leader and artist; and like many of my models she is a friend, and it's been such an honor and opportunity to work with people who are active in my life, in my work. This exhibit is about being human, and I hope it is expansive enough for those who enter to find their own story. Their experience completes what I've done—in ways I will never know.
Barbara Earl Thomas: The Geography of Innocence is on view at the Seattle Art Museum until November 14.
Emily Zimmerman is Director + Curator of the Jacob Lawrence Gallery at the University of Washington, and the founding editor of MONDAY.