Between a Laugh and a Yelp: Robert Feintuch Interviewed by Albert Godetzky
Painting at the tattered ends of masculinity.

Discover MFA Programs in Art and Writing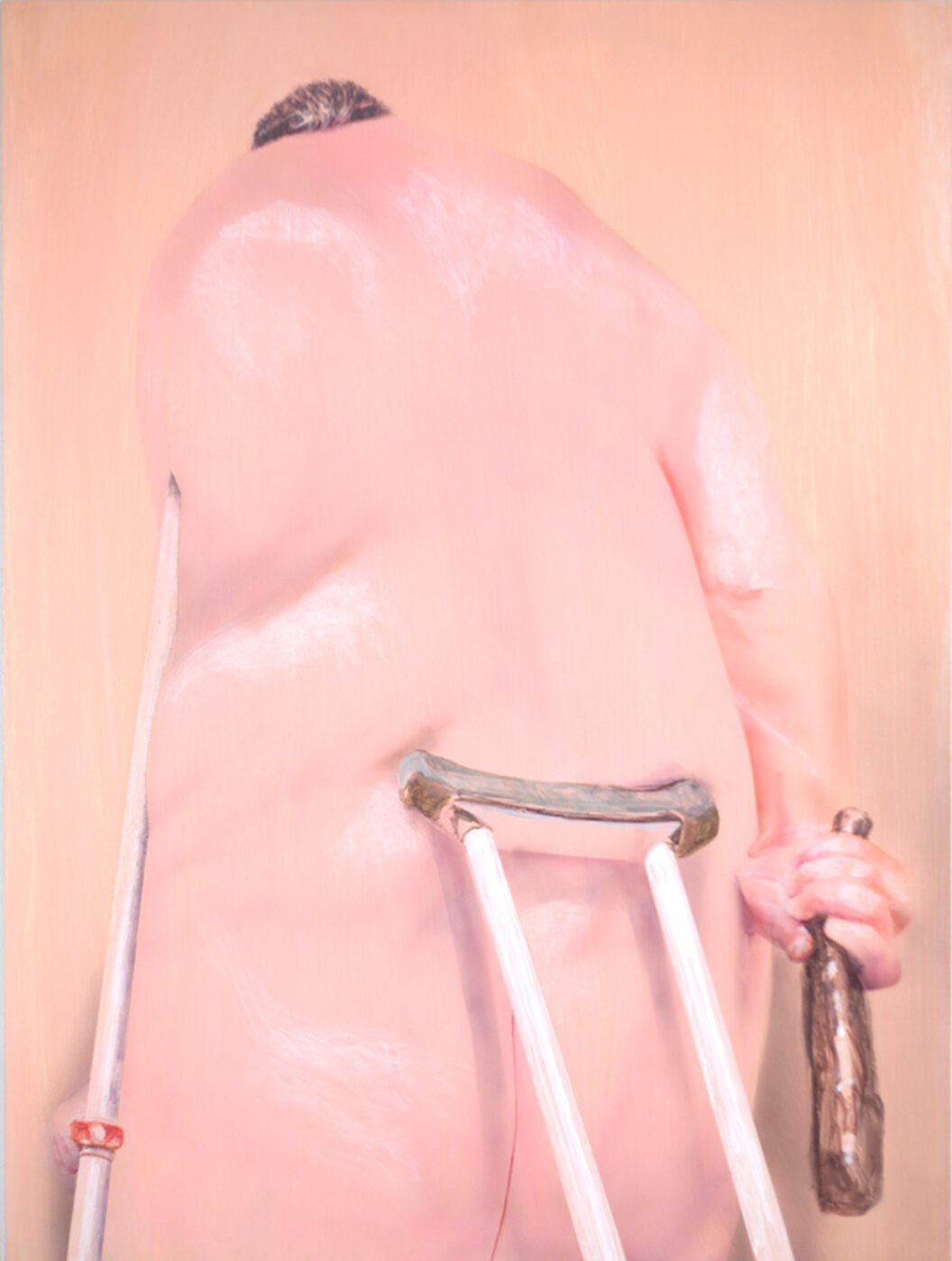 For the past three decades Robert Feintuch's work has grappled with the male figure, using his own body to explore the comedies of masculinity, presumptions of power, and fallibility—as much his own as those of the human. The history of painting is never far from his mind; our chance meeting several years ago occurred when I overheard Robert and his wife, the sculptor Rona Pondick, heatedly discussing a sixteenth-century German altarpiece. We have been friends ever since. For this conversation, we caught up to discuss Feintuch's exhibition of recent paintings at Thomas Brambilla Gallery in Bergamo, Italy, and talked about our shared art historical interests, travel and desire, naturalism and caricature, seduction and horror, mistakes, and painting as a craft.
—Albert Godetzky
Albert Godetzky We've been looking at this painting, Bartholomeus Spranger's gender-bending Hercules and Omphale (ca. 1585), where the brawny hero is captive to a nubile queen and is forced to don her clothes and engage in spinning thread.
Robert Feintuch It's hard to imagine that Hercules's club wasn't thought of as a phallus. I love the way Omphale holds it as if it's projecting out of the painting and she's menacing the viewer. And Hercules threading the needle; I know role reversal is part of the story, but isn't that filled with conscious double entendres about penetration and jokes about size? It's difficult to believe it's not.
AG Very likely. At least in the Netherlands there were a lot of euphemisms for the penis. You know, Hendrick Goltzius's print The Great Hercules (1589) is in a way ironic because he's such an overtly masculine body, but his manhood is quite feeble. So it can play on that expectation of what a "man" should be. What appeals to you about the Hercules figure?
RF Shortly after I began working with the club I saw the Farnese Hercules in Naples. Goltzius used it in a print, seen from below and behind. Hercules is this monumental figure casually leaning on his club and showing off his steroidy body. That club literally supports the sculpture. I thought it would be funny—and somehow more accurate—if my Hercules was held up by a crutch. My Hercules is actually feeble! Historically, I think powerful figures invoked Hercules as a protective figure, and I remember, when I came up with the crutch, thinking about both political decline and my own. I loved it when a critic in Germany called the club in Fat Hercules (2011) "flaccid."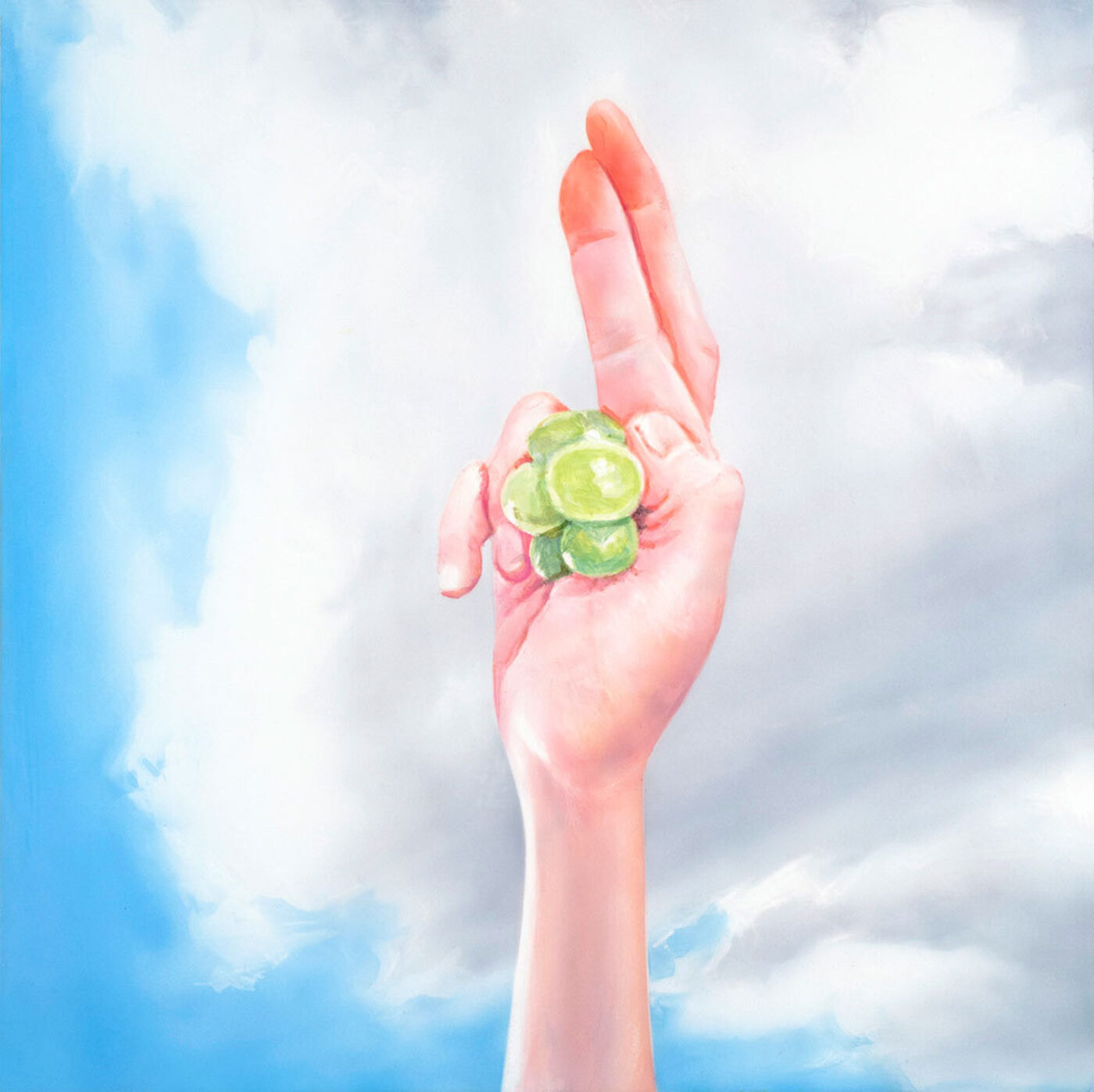 AG There's that comical aspect to your work. How do you approach humor?
RF For me, laughter is a good coping device. Laughing at things can undercut them in a lot of ways. Parody has its limitations, but it can also be powerful. I like the kind of humor that's somewhere between a laugh and a yelp. There's both accuracy about the world and darkness there, but there's also the beginning of a way to deal with it.
AG The club is one of several recurring objects in your work. How do you think about the objects in your paintings?
RF As I use objects across time, they accumulate meanings. The second time I use an object I am usually a little more conscious about it. I'm not saying all the meanings I have in my head are there for viewers, and I never have one clear idea about what I want to say, but I love it when people interpret the work and want to tell me what they see.
Early on I put a club in my hand in a sort of self-portrait called Cro-Magnon (2006). I needed a model, so I went to a novelty shop and bought a rubber club. It had a hole at the end so that it squeaked when you squeezed it. I thought that made it even more phallic and funny. I came to think of it as a sign of both aggression and defense—more in psychological terms than physical. I remember thinking about my own primitive impulses and desires. I'm not proud of some of them, but I think those drives and our defenses against them—for better and for worse—are who we are.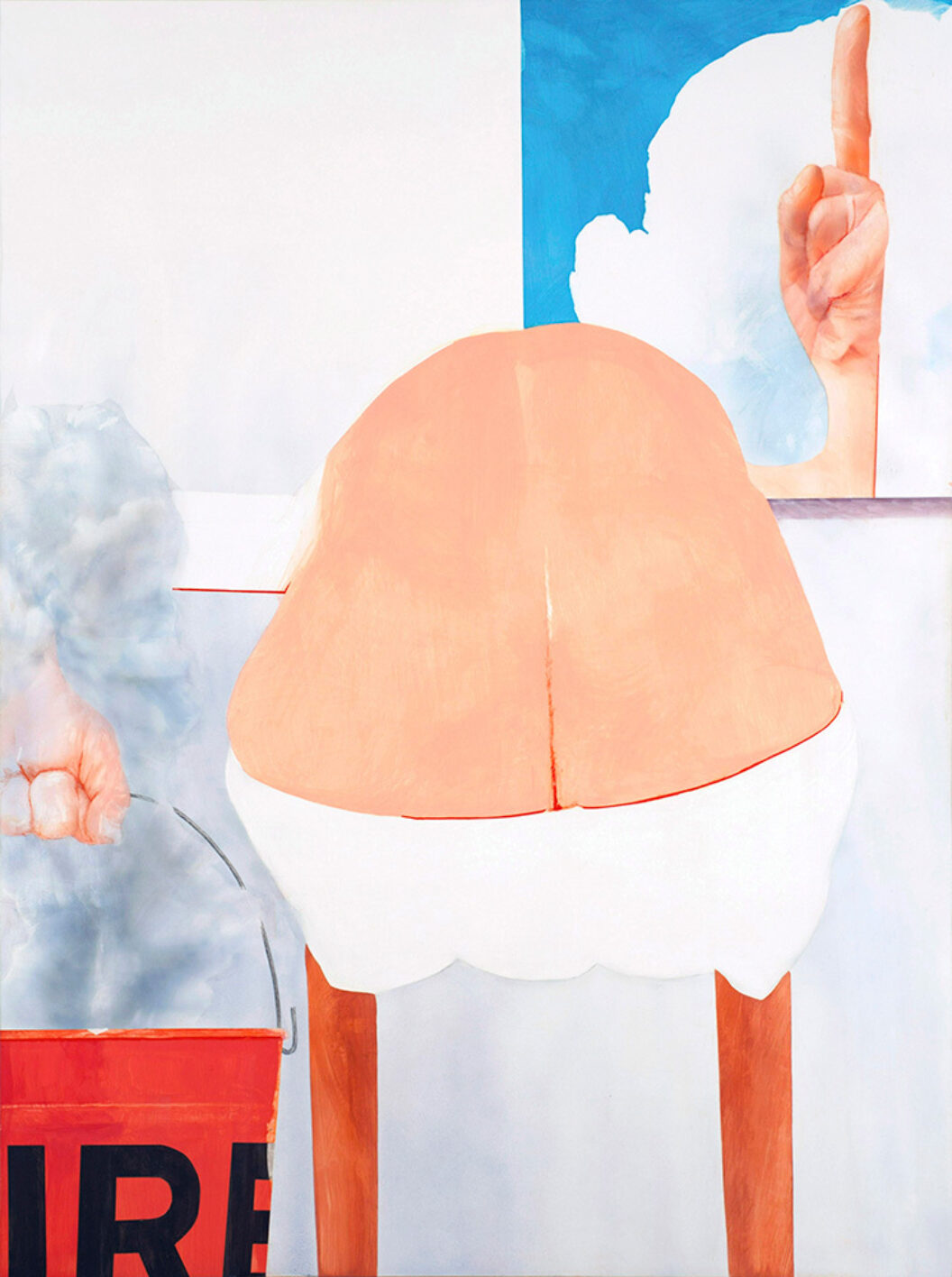 AG When I visited your studio recently I saw that you'd returned to the fire bucket after about twenty-five years. Can we talk about that bucket?
RF I went back to the fire bucket about four years ago, partly in response to the political situation. I've always liked that the buckets say FIRE in a flat, declarative way, because fire carries the implication of passion. But the bucket is also an extinguisher. And years ago I saw that if I turned the bucket it says IRE, which I like very much.
I've also made a bunch of paintings using my hand in positions freighted with long histories: hands dangling or clutching grapes, and others with my finger up in a pose that had to do with instruction or argumentation. Sometimes I combine them. Over the course of history there have to be thousands of paintings of guys with their fingers up. In Fire with Fire (2019), I'm bowing down, or cowering, in front of Pontiff (2019–20), another painting I was working on. For me, there's something parodic about how that finger up in the air speaks to power and the preaching and moralism of our own time. There's a common phrase here: We talk about fighting fire with fire, so I put smoke coming out of the bucket.
AG And, again, we're seeing the figure from behind. You mostly paint your figures seen from behind. We've talked before about Patricia Rubin's book, Seen from Behind: Perspectives on the Male Body and Renaissance Art (2018), as very helpful for thinking about the different desires and meanings around masculinity and power that seeing the male nude from behind evokes. The absence of clothing on your figures is another thing I've been wondering about. Apart from boxer shorts or trousers dropped around legs, there's almost nothing in terms of sartorial presence. Where does that come from?
RF It happened across time. Years ago, the first life-sized figure I painted was a suit of armor seen from behind. I'd done research drawing from the armor collection at the Met and looking at photos. I loved it when I found an image of a suit of armor with the ass covered in shiny metal and bolted in. That didn't seem like a very effective system of defense. What was it defending against? Against sex? How did you shit? Seeing those things as ridiculous—functionally and psychologically—was important to me. So, yes, I was thinking about masculinity, with the armor as stereotypically masculine and an assertion of power. I'm not saying I was above it. I saw myself participating in it. But I was also laughing at it.
Then I decided to make a more overt self-portrait. So I stepped out of the armor. In Himself (1997), I took the same pose as those armor paintings. That's the first time I painted myself nude, life-sized. I put a bright red fire bucket in my hand, maybe to protect myself and compensate for the loss of the armor? Several months into working on that portrait, I dripped paint on the ass. The first time I used underwear was to cover that spill, and then I added the dropped pants. I have painted a lot of nudes across the years, but the underwear has shown up again recently.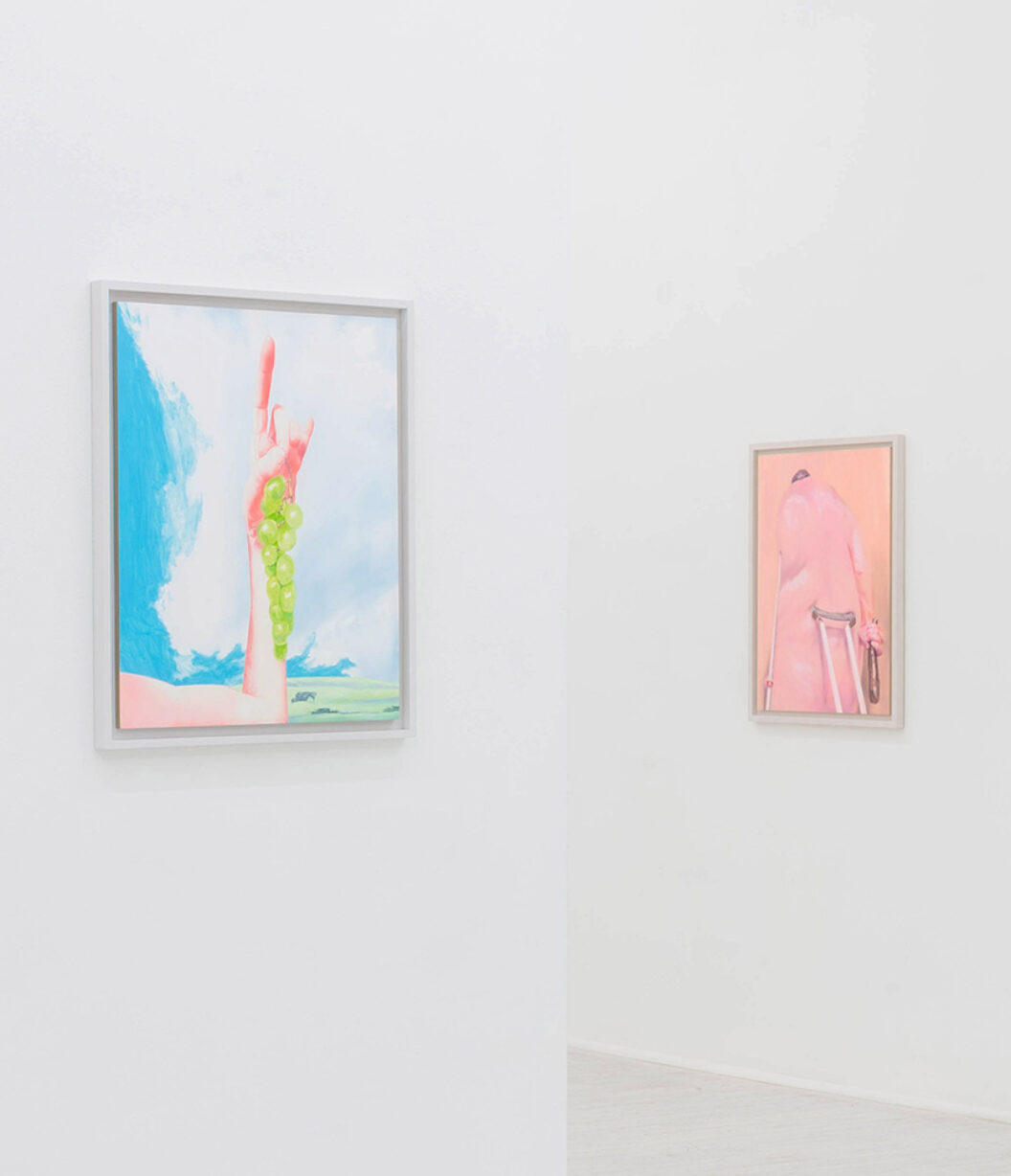 AG How did you manage to install the exhibition in Italy given the pandemic?
RF I couldn't travel and had never seen Thomas's space, so we installed together on WhatsApp. We've had a lot of contact, but we have never met in the flesh! He had an idea that we tried together. It's thematic, with paintings grouped by subject. The gallery made a PDF that's a kind of condensed history of about twenty-five years of my work, and that made some themes I work with more apparent—even to me.
AG And there's a grouping of Hercules paintings in the show, a grouping that brings those themes of masculinity, vulnerability, and parody to the surface.
RF We hung Fat Hercules close to three smaller Hercules paintings. I'm interested in the ways they connect. You talked about noticing the sizes and positions of the clubs, the crutches, and several other differences between them. I like how the meanings of the paintings can be changed or amplified by what they're next to. A lot of doubts and contradictory feelings and thoughts come up. For me, that's all really central to being human. And wanting to laugh at stuff, but also wanting to believe it. Wanting to be strong. Being weak. It's very human.
Robert Feintuch: Selected Paintings 2010–2018 is on view at Thomas Brambilla Gallery in Bergamo, Italy, until April 24.
Albert Godetzky is an art historian whose research concentrates on northern European art of the early modern period. He is Associate Lecturer at the Courtauld Institute, London, and guest curator at the Munich Kunsthalle, where he is preparing an exhibition on Polish Symbolism (2022).