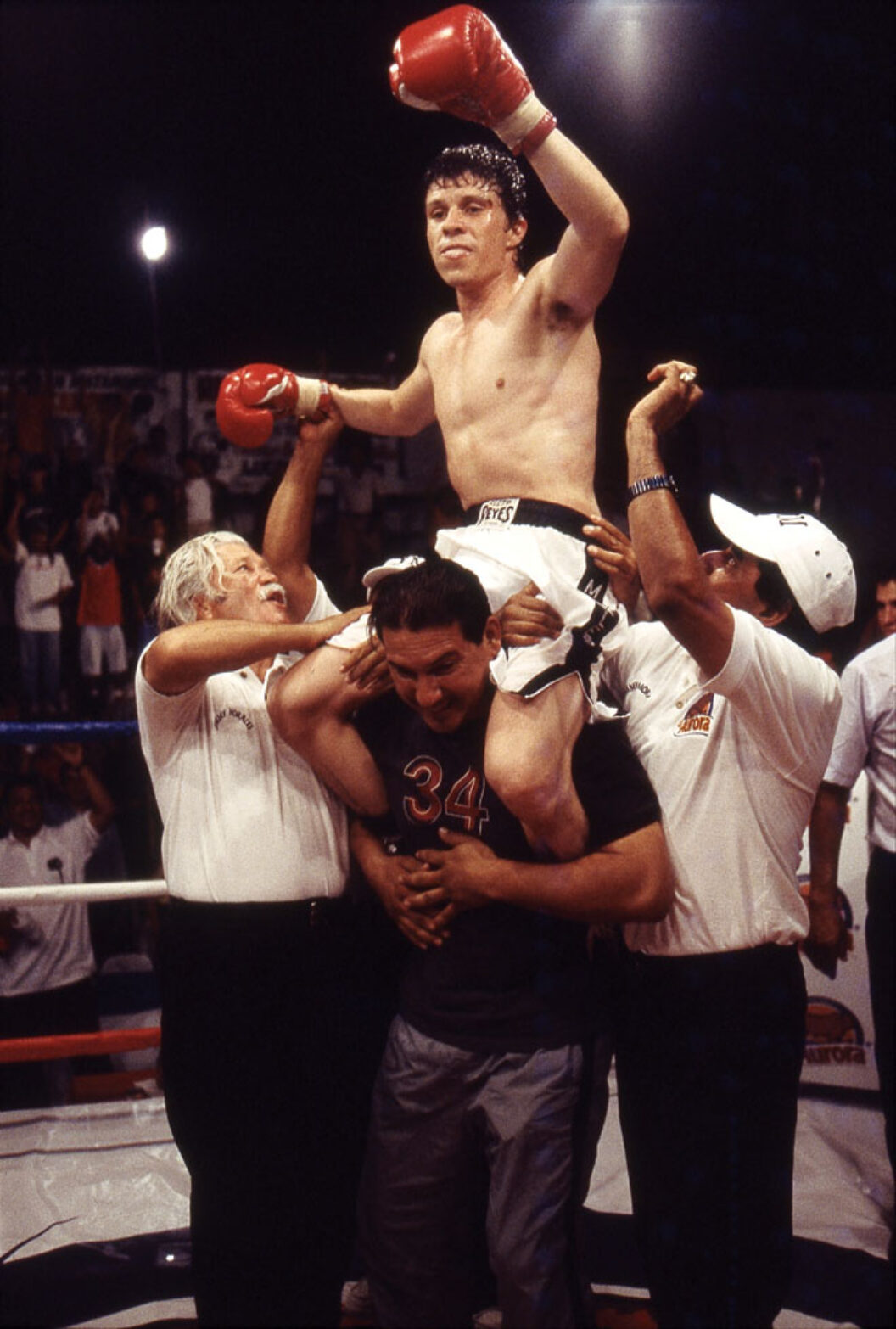 Beto Gómez is an outsider. Not an easy condition in Mexican cinema, considering that until very recently nearly all of the country's film production was centralized in Mexico City, and the only people making films, or at least getting their films released, were the ones with access to the traditional channels. As Mexico's political and social landscape has drastically changed in the past years, production of cinema has also democratized. Beyond the internationally known names of Alfonso Cuarón, Alejandro González Iñárritu, and Paco del Toro, a new generation of filmmakers is rapidly transforming the way in which Mexicans see and represent their own country on the big screen.
Born in Culiacán and having lived in numerous cities internationally, Gómez found his own way in Spain in order to make films in Mexico. Raising the funds for a film in Mexico, as in the rest of the world, is not an easy task. Yet Gómez has been able to make four feature films in eight years: El agujero (The Hole, 1997), El sueño del Caimán (Caiman's Dream, 2001), Puños rosas (Pink Punch, 2004), and more recently, Hasta el último trago … corazón (2005). Each of these films comes from a different source of funding, from the savings of Gómez's friends to Mexico's largest television network.
In contrast to better-known contemporary Mexican filmmakers, Gómez has established a direct link with the richness and tradition of Mexican popular cinema and has created an open dialogue with it. Yet at the same time he questions and subverts some of the traditional notions of what had long been considered integral to Mexican cultural identity, such as the role of the macho . Take for instance the plot for Puños rosas : a love story of a gunman and a boxer set in the border town of Matamoros.
Gómez didn't have much of a formal training in filmmaking, nor was he an avid follower of the European art-house cinema; he sees his work as more of an artisan than an artist. He grew up watching American westerns and Mexican popular cinema and in this sense, Steve McQueen and the Almada Brothers are organic to his films' local landscape. Yet the downside of being an outsider is that even though Gómez's films have fared well in some international film festivals, his work has been scarcely recognized in Mexico.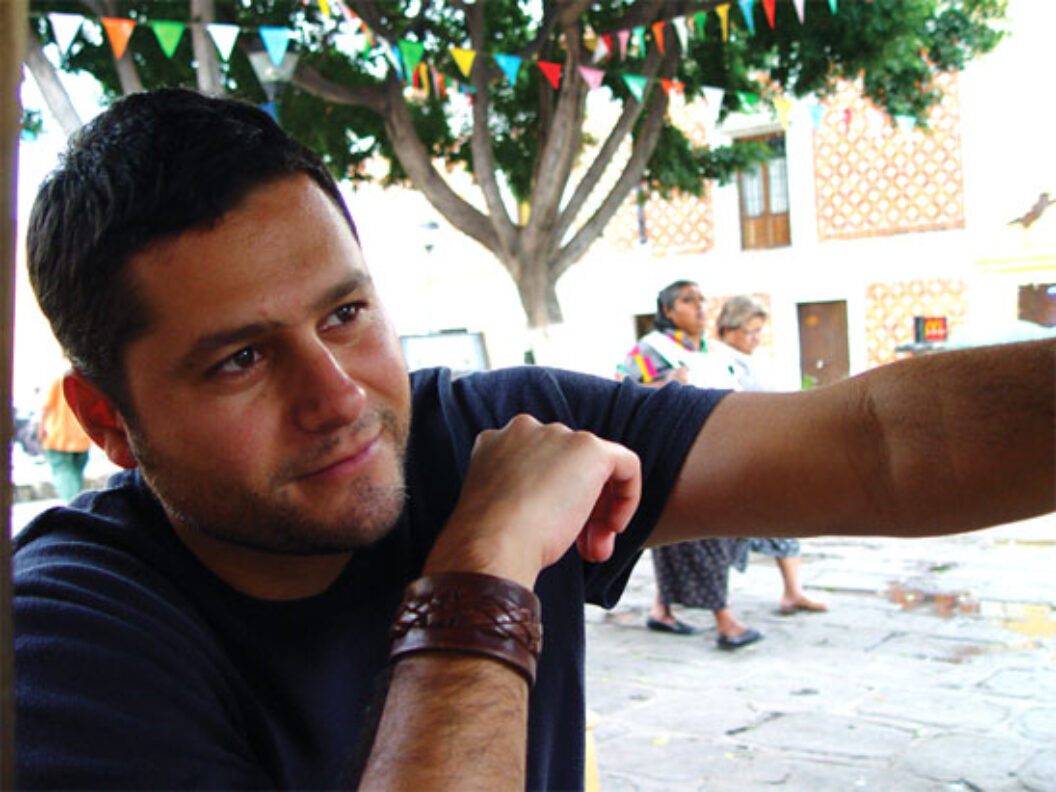 Carlos A. Gutiérrez You began your film career in 1997, which coincidentally is the year with the lowest number of productions in the history of Mexican cinema. In this sense, I'm really curious—it's been eight years and you've already made four feature films. You're one of the few contemporary Mexican filmmakers who have been able to have such continuity in their career. How have you found a way to make your films?
Beto Gómez My very first film was a product of my own ignorance and my own ingenuity, along with the fact that I'm very passionate and stubborn. I thought making a film was just about grabbing a camera and shooting. I guess that's what happened with El agujero. I'm not like other directors, who either went to film school or were true cinephiles. I didn't really have that background. Quite the opposite. I think that the fact of going through different experiences in life made me a good observer. The fact that I lived in many places, went to many schools, experienced many things, somehow gave me a unique vision. The fact that my father is an agronomist and that my parents were very young when I was born made them look for better standards of living in different places. That upbringing has deeply influenced me.
CG In which cities have you lived so far?
BG Let's see—Culiacán, Mexico City, Irapuato, Celaya, Matamoros, Boston, New York, Vancouver … Guadalajara and Madrid.
CG You studied communication in Guadalajara. Were you thinking about filmmaking back then?
BG No, not really. For me it was basically the easiest college degree I could get for my father. My father is a hardworking person. He comes from a humble family, and I think he's been very successful in his own way. He helped my sisters and me prepare ourselves as much as possible. As for me, I was never a good student, but after I was able to finish high school and under my family's pressure I enrolled in college and opted to study communication. It was mostly because the prettiest girls were there—although I have to say since I was a little kid I liked drawing and comics, and I used to pretend that I was inside the radio, and I had been trying to play in rock bands, so it was always related somehow to the arts even if I wasn't fully aware of it.
CG What led you to study film in Vancouver?
BG I had a girlfriend at college. It was very complicated relationship … . Anyway, she was a dedicated cinephile; at least she liked films that broke the mold. After we broke up she started going out with this guy who worked in television, and somehow I thought that by studying film I would get her attention again. It was a silly motive. But I had a good experience at this film school, even though it was a very short one.
CG How did you end up in Madrid?
BG From Vancouver I went back to Guadalajara and it was the worst time in my life. I didn't know what I was going to do with my life; I was not good with relationships; I was not good at anything. I went to jail for silly things, and it got to the point that my family called a halt. One day, I was drinking at a bar in Guadalajara and next to me there was this Basque guy who was upset because he had bought an airplane ticket to go to his town's local festivities, but was not going to be able to travel. We became friends that night and he told me, "Take my plane ticket and go." I had never traveled to Europe, but overnight I found myself traveling to Spain with no money and not knowing anyone there. In Madrid I started looking for a job. There was a job opening as a DJ, and I lied in order to get hired. By the third day they had noticed I was not a DJ, but since they liked me they let me be a waiter at the same place. I was making very little money. I finally ended up working at a restaurant owned by [singer/composer] Joaquín Sabina. Since I didn't have a work permit, they could only offer me room and board in exchange for my work. The funny thing is that I started getting very good tips, so I was able to earn some money there.
CG How did you get connected with film in Spain?
BG At the restaurant I became friends with some of the regulars, a group of musicians and artists, and they would invite me to their concerts, art openings, and film screenings. That was the case with Elías Querejeta, a film producer who was looking for an intern at the time. I didn't really have the profile they were looking for, as I didn't know how to use the computer, nor I was very good with other languages, but I lied once again. The very first day they realized I didn't know how to use the computer, so I ended up walking their dog and organizing their video collection. That's where I started seeing a lot of films. In their collection they had films by Carlos Saura, Luis Buñuel, Montxo Armendáriz … a cinema I had never seen.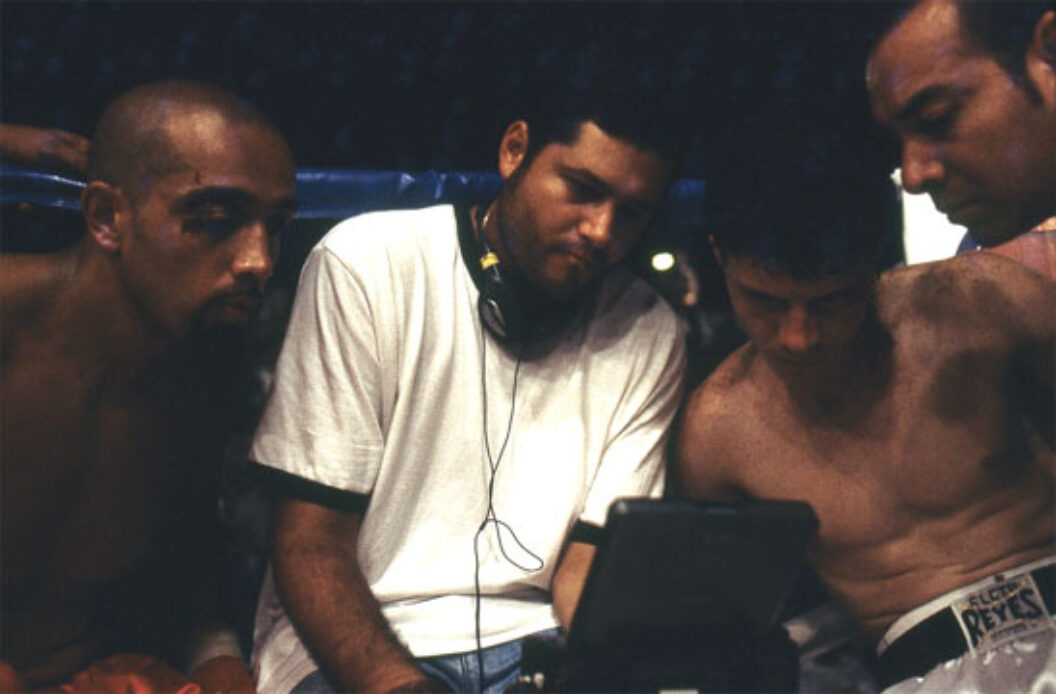 CG I'm curious, what movies did you watch while growing up?
BG My father liked b-movies a lot. He also liked westerns and war movies: Charles Bronson, Clint Eastwood, Sergio Leone, John Wayne. I was very personally very impressed by Steve McQueen in The Getaway. We saw a lot of American cinema. Living on the border, the first thing we would do right after crossing to the U.S. was get a burger and then go to the movies. I perfectly remember the first movie I ever saw—
CG What was it?
BG The Jungle Book. I was very young when I saw it, and I was really impressed and excited by it. My father always enjoys telling that story. That film also shaped my view on life, when Baloo the Bear sings that life is going to provide you with everything and that the most important thing is to have fun and celebrate. Being from the state of Sinaloa, I also watched many movies starring Pedro Infante, and my mother being from the state of Chihuahua, I saw many [Germán Valdés] Tin Tán movies. He was a local legend. Everybody in Ciudad Juárez had an anecdote about meeting him in person.
CG And how about the movies directed by the Almada Brothers and all of those border b-movies? I can see the intertextuality of those films in Puños rosas.
BG I saw those films when I lived in Matamoros. The parents of some of my friends were involved with the mafia, and I would watch those films on my friends' VCRs or at the movie theater. Those stories were somehow pretty close to reality. I remember the story of a famous mafioso who was wounded in a shootout, and shortly after they released a movie about it.
CG What was the process you went through to make your first film?
BG One day, when I was living in Spain, I went to see Tim Burton's Ed Wood and that film inspired me tremendously: it opened my eyes and made me realize I wanted to do that. I wanted to rent a camera, go back to Mexico and make El agujero. With that idea in mind, I created this pseudo-production company called Dejarme Disfrutar [let me enjoy]; that was the best name I could think of for it. It wasn't really a production company, but rather the mechanism to gather the little money I had in order to fly back to Mexico and make the film. We didn't even have a screenplay, but we wanted to find our own Mexican Bela Lugosi. And that was Roberto Cobo. He had made a big impression on me with his work on Buñuel's Los Olvidados. That is one of the films that is always with me. Anyway, our main objective became to find Roberto Cobo, and from there we began crafting the film. Through El agujero I was somehow able to exorcize some of own my personal demons. If the film offers any moral, that is to fight for your dreams and hold them, hold them through the end of the round. That film talks about this kind of character that I'm very interested in, losers that have resisted being losers.
CG Where did you get the money to finance the film?
BG I was able to save some money in Spain, and there I had a good friend who became one of the film's producers by selling his van for the film. I also got money from some friends in Matamoros. One of them also sold his truck, so he became the co-producer. Before leaving for Mexico to make the film, I told my Spanish friends about my plans, and they thought it was funny—they didn't believe me. Anyway, we went back to Mexico with a lot of naïveté and little money. We went to Mexico City to find people for the production team, and we had a tough time, but the film was made in a week. As soon as we wrapped up the production I took the film cans to Spain, where I did the post-production. I asked my friend Nacho Ruiz Capillas for help. He is one of the greatest editors in Spain; he now works with filmmakers like Amenábar, Fernando León, Medem. He saw the material, and I remember he told me it was shit. I convinced him to help me in his spare time and he did it. The music was made by some other friends of mine. After we were done even I was surprised by the results.
CG El agujero is about a man who returns to his hometown after many years abroad. I see some resemblance with your own life.
BG Yes, I guess El Pachuco's character, played by Roberto Cobo, who returns to his hometown after 30 years as a drunken old man, without having fulfilled his dreams, has some autobiographical aspects. The great irony of the character is that the day of his return turns out to be his last day alive, precisely on the celebration of the Day of the Dead.
CG The film premiered at the San Sebastián Film Festival.
BG My producer being Basque, his audacity was to submit the film to San Sebastián Film Festival, and to our surprise the film got accepted. And then suddenly the intern who was the dog walker had a film at San Sebastián. The film had a good reception, and I remember perfectly being there at the screening with Alex de la Iglesia and Javier Bardem, as they were fans of Roberto Cobo. Roberto, who at the time was practically forgotten in Mexico, received a celebrity treatment at the festival. Roberto was very, very excited. I remember that moment very fondly. At the dinner party there were people lined up to get their photo taken with him, including Willem Dafoe. Roberto didn't really know who all these celebrities were, and he didn't really care. He asked us, "Who is this cute blond guy?" and we were trying to tell him that it was the actor from Platoon, but he was already trying to flirt with him. After San Sebastián, El agujero went on to participate in several film festivals.
CG Did the film have a theatrical release in Spain?
BG Yes, it had a very limited release there, as it didn't have a massive appeal. It became sort of a cult film.
CG But it was never released in Mexico.
BG No, and actually the Mexican official delegation at San Sebastián pretty much ignored me. They would even deny knowing me. "We don't know this young guy." "Who the hell knows where he comes from?" "That is not Mexican cinema." I was never approached by any of them.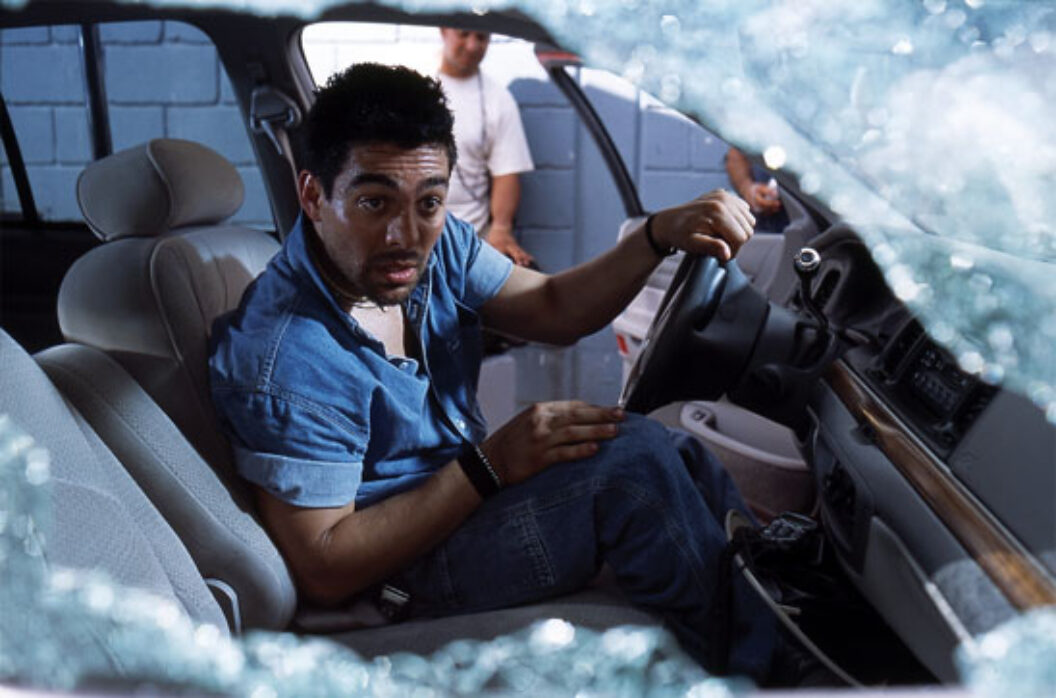 CG You have been an outsider in Mexican cinema. Has that helped or hindered you?
BG Well, actually I don't think it has helped me much. The only advantage is that in some way or another I've been able to tell the stories I've wanted to. There was a time that I tried through those institutional channels; I submitted a script for possible production support but I was totally rejected. In this sense, Mexico can be very cannibalistic and hard.
CG Do you still consider yourself an outsider?
BG I guess so. Whenever I get the chance to hang out with filmmakers, I realize I don't have much in common with them, in their lifestyle or in the way they relate to film. I feel very different from them. My best friends are not related to film at all.
CG Was it easier for you to put together El sueño del Caimán?
BG I had a similar experience. After the success of El agujero, I had some Spanish producers interested in my project, including El Deseo [Pedro Almódovar's production company]. However, I started to get impatient, as some producers wanted to make big changes to the script, and the project got delayed. At the end we had to start from scratch. I decided again to go back to Mexico to make the film. But this time we had no money at all. The producer of my first film had serious financial problems. Anyway, even though I had nothing to work with, I felt I was ready, and I left for Guadalajara. It was really hard to make this film. The people who ended up working on it were people who truly believed in the project. However, five days before we started shooting, I still didn't have any money. I was fortunate to meet this tequila entrepreneur who told me, "Beto, this is not the film. Your next film is the one that's going to leave an important mark in your career." "But in order to make my next film I have to make this one," I replied. He said, "You're right," and he agreed to put money into the project in exchange for product placement for his tequila in the film. Thus he became the most important investor in the film. The total budget for the film was $50,000.
CG How did you get Francisco Rabal to participate in this film?
BG Well, we left the shooting in Spain for last. Paco Rabal was very ill at that time.
CG Was this his last film?
BG It was. I went to see him with a bottle of tequila and some Mexican wrestling magazines. I basically needed someone for the role of this old man who would get shot and fall. His first reaction was to tell me that he would even pay money not to act anymore. I told him that for the role I just needed him to be in his underwear carrying a rifle and then the character dies. "Are you sure that's the only thing you need me to do?" Yes, positive. "Well, I think that's a good ending," and he accepted. The only request he had was that his wife, Asunción, could also play a role in the film, and I was more than happy. Even though he had a very small role in the film and we were not friends, he made me feel very special. I will never forget that. When he found out that the film was accepted at San Sebastián, he got very excited. But he died some days later.
CG Roberto Espejo plays central and very similar roles in El sueño del Caimán and Puños rosas. Somehow he's become an emblematic figure in your films. How did you get to work with him?
BG I had a funny experience with him. Roberto went to the casting and he got cast in a small role, as a policeman. As the production came closer, many of the cast abandoned the production. The woman who was going to play Tía Carmela left the production, and Roberto came up to me saying he liked the role a lot. I didn't know he had a drag show. I was incredulous at the beginning, but because of the time pressure I ended up accepting, and we had to change the script for him. I then discovered a great actor. He had been presenting a cabaret act in gay clubs for 20 years.
CG In your films you walk the fine line between homoeroticism and homophobia. Some of your characters from El sueño could be read as homoerotic.
BG Yes, my friends have asked me why I've followed that road, and I don't really know. When I was a kid I had a gay friend who was good at fighting, and he would defend me from older kids. I was very fond of him, but I never saw him again. Throughout my life, I've been drawn to those kinds of characters, but also in a country like Mexico, homosexuality has been condemned, and I find that to be very hypocritical, a double standard. Mexican men after two or three drinks are practically kissing each other. Actually, El sueño was well received among the gay community, I don't know why, maybe by reading into the love story between Tía Carmela and Caimán.
CG Puños rosas had a much larger budget in comparison with your previous films. How was that experience for you?
BG El sueño was low-budget, black-and-white, with a limited release, and after making it I wanted to do something different, start again from scratch. With Puños rosas, I wanted to take on the border and do something like a taco western. I was also interested in creating a love story, or the attraction between two characters coming from two opposite worlds, in this case a gunman and an embalmer. The easy way out would be to see them kiss and portray a more sexual story. I wanted to leave it open to interpretation instead. And that's what happened. Many people saw the film and thought the two main characters were just good friends, and days later they would come back to me to tell me, "I've been thinking about your film, and your characters are fags, aren't they?" Although at the same time some people were upset that it wasn't so obvious.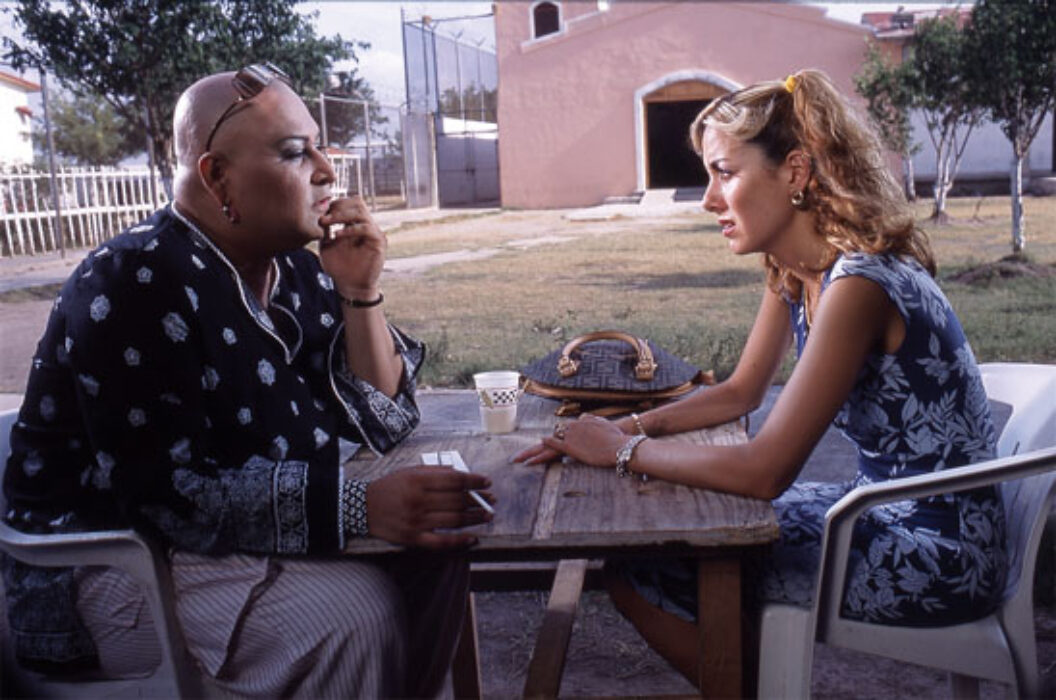 CG Puños rosas was theatrically released in Mexico last January, and this whole year the headlines have been full of violence taking place in the Mexican border towns. Was it dangerous for you to film in Matamoros, and how do you see what's going on in these towns?
BG Shooting in Matamoros meant going back to my roots, and some of my childhood friends ended up working with the mafia. So on one hand it was hard for me to approach them with a project like this, but on the other hand I've always been very honest and needed their support. In this case it was not financial support but help shooting the film in Matamoros, in the jail, in the streets. At the time you could tell that a war between the drug cartels was looming. Nevertheless, the local people were supportive of the project, as I was telling them that I didn't want to talk about the shootouts, but rather about the difficulty of pulling out a gun, pointing at someone with it and killing a person. I wanted to show the human side of a gunman looking for redemption, who wants to change his life but unfortunately won't succeed. That got them excited, as they could relate, and despite the film's gay subtext they decided to support the film. I knew it was going to be a difficult film, but I wanted to make it. I feel this film will be revisited and revalued in the future.
CG What gets little attention is the fact that for many years, due to the centralization of its production, Mexican cinema was dominated by the view of Mexico City. In this sense your films feel very fresh.
BG I've always said that people could like my films or not, but what I portray is real. Sometimes people come to me and don't believe the shootouts, but reality is much harsher than people think, and we're now seeing that in the press. I opted to portray a not-so-powerful mafioso—he's just a gunman who steals cars—and the other character is not a great boxer; his fights are almost street fights. They're truly the people living on a razor's edge. The real mafia in Mexico dresses up in suits; they are the executives, the entrepreneurs who are really behind the game, but they're not the ones in the front line. I was interested in telling the story along those lines. The film had a strong impact in the north of the county but didn't find its audience in central or southern Mexico.
CG Was it a distribution problem?
BG I don't know. I've never been an expert in distribution. I think Puños rosas was harmed by the fact that it starred some popular actors, so in this sense some people thought it would be a really bad movie or a comedy, when that wasn't the case. Anyway, I'm happy with the work of the actors.
CG Was the casting an imposition from the producers?
BG No, actually not. I get asked that a lot. Having lived abroad for some years I was not familiar with Adal Ramones's work, but when I watched him on TV, as he is short and from the north of the country, I could picture Alvarito's character.
CG Your most recent film, the feature documentary Hasta el último trago … corazón is a more straightforward work, more simple. How did you come up with this project?
BG It was born of fun and inspiration. I never had an album of Mexican music at home, but some fellow documentary filmmakers and I always talked about how interesting it would be to show some aspects of Mexican music, as there were some female singers with very peculiar stories. One day at a bar I brought the idea out, and my friends asked why didn't I do it. I then realized I should. After Puños I was so burned out, so I needed a fun project. I wanted to meet all of those women, and I was particularly interested in how these women in a country like Mexico were able to find their own particular style, how they had been able to overcome the obstacles. For example, for me Chavela Vargas is like Tom Waits—the way alcohol is able to destroy a voice and make it so beautiful. La Negra Graciana, how such a simple woman can play harp so amazingly. Chayito Valdez, in a wheelchair—and now lately in a coma—the pioneer of corridos. Each one of them attracted my attention, and I admire their passion, their struggle, their simplicity and their determination.
CG How did you choose the featured singers?
BG I chose them based on their personality. Some of them are very well known, others not, but all of them are truly authentic, and they also have a sort of magic touch. While making the documentary I thought it would only be shown on TV; I never imagined it would go to film festivals. We're now making a 35mm copy. It's a very simple documentary, very artisan. We worked with no script, as the singers themselves were leading the way.
CG What project are you currently working on?
BG Its working title is Salvar al soldado Pérez (Saving Private Perez). I think this will be my most mature project to date, and it will gather some of what I've done in my previous films. It will be an irreverent story, harsh, daring, and it will have humor. I've heard recently here in Matamoros some terrible stories from friends of people they know who ended up in Iraq, and some of them have died or disappeared, most of them Mexican illegal immigrants in the US I see Soldado Pérez as a humanist Wild Bunch. The film is neither about soldiers nor the homeland, as Saving Private Ryan was. My characters are, once again, antiheroes, mafiosos, that under the pledge of a Mexican mother go to Iraq to find her disappeared son.
—Carlos A. Gutiérrez is cofounder an codirector of Cinema Tropical, a New York-based nonprofit organization dedicated to the promotion and distribution of Latin American cinema in the US. As a guest curator, he has presented his film/video series at numerous cultural institutions, including the Guggenheim Museum, Yerba Buena Center for the Arts, Museo Tamayo, and Museo de Arte Moderno de Bogotá.
Originally published in
Featuring interviews with Plastilina Mosh, Andy Palacio and Christopher Cozier, Pedro Reyes, Francisco Goldman, Pablo Vargas Lugo and Ruben Gallo, Carlos Brillembourg, Julieta Campos, Jose Castillo, Julieta Campos, Daniel Sada, Jose Luis Rivas, and Beto Gomez.