"My work is so much about breaking that cycle of trauma, abuse, violence, and disturbance. It brings it out into the open so we can have a dialogue."
Artist and filmmaker Beth B came into her own in the downtown New York arts scene of the early '80s, creating large-scale installations and Super-8 films. Since then, she has released numerous documentaries and features for screen and television. Her non-fiction feature, Exposed, premiered in the Panorama section at the 2013 Berlin Film Festival, and her most recent film, Call Her Applebroog, chronicles the life and work of her mother—renowned visual artist Ida Applebroog. It premiered at MOMA's Doc Fortnight in February 2016. Voyeur, an installation of her videos, photography, and sculpture, opens at Howl! Happening in New York on February 18, 2017. I've known Beth since the late 1970s, when we helped co-found the radical artist's collective Colab.
Beth B I've made over thirty films, some of them shorts, some features, some hour-long docs. I did eight-hour docs for television, then came back to independent filmmaking. I continue to move from one genre to another in film because the most important thing is the subject matter. I figure out what form it's going to take afterward. I approach studio art in much the same way, looking to the idea to dictate the medium. Sometimes the work is thematic and an installation may take on various mediums, like this exhibition at HOWL! Arts. I'm showing sculpture, photography, video, and publishing a book—Nudes. The show dislocates the concept of voyeurism, which has been described as a psychosexual disorder. But look at the world today. We're living at a time when boundaries surrounding privacy are questioned everyday, and so the show challenges the convention of this secret vantage point, allowing the viewer to choose their engagement.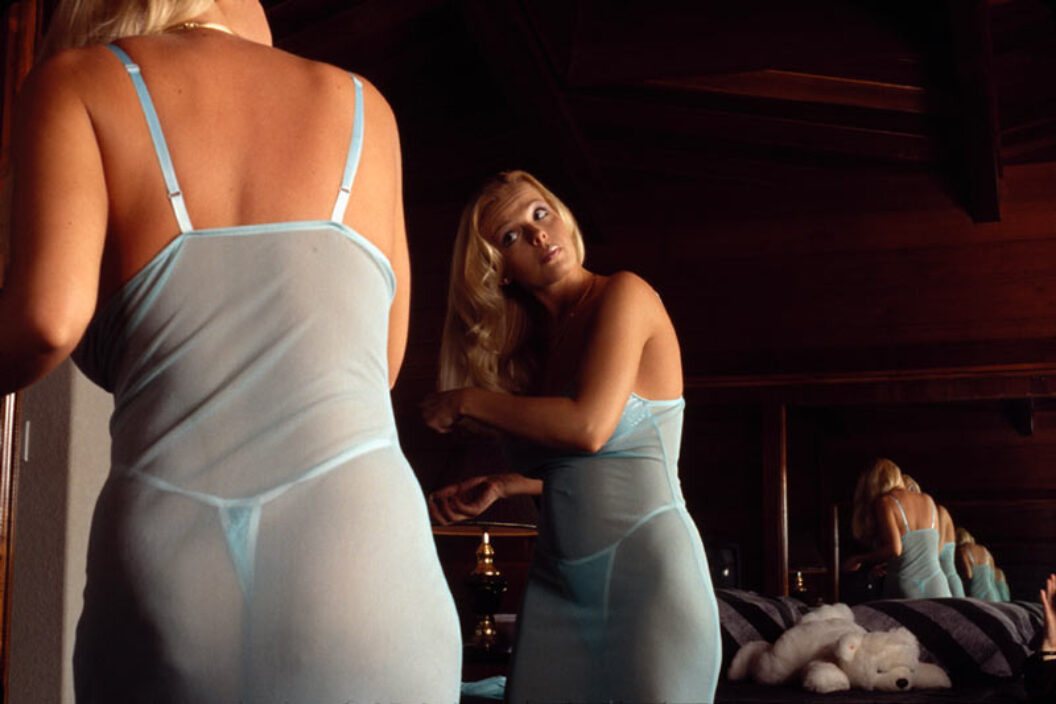 Coleen Fitzgibbon Let's back up a bit. How did you start making films?
BB The first film I ever made was while I was still going to SVA in New York. It was called The Raw & the Cooked—a short experimental film that showed at the OK Harris Gallery. It actually originated as a performance that subsequently took the form of a Super-8 film. I also made another short in which I interviewed people about what made them feel sexual. Then, in 1976, I started working as a phone girl at a house of prostitution in New York City and created an installation at Artists Space with audio recordings I surreptitiously made while I worked there. The installation was called House and also the inspiration for my longer format film, G-MAN. I'm sort of amazed because this thread regarding sexuality is found in many of my works. But that was 1975–76, and then what evolved was the extraordinary scene of the late '70s, where people started working between disciplines and moving away from specialization. Even though I'd gone to art school, film interested me more and more. I felt like you could get away from the preciousness of the white cube and the structuralism that was in much of the art being shown. The experience of film seemed more egalitarian, and that appealed to me.
At that point, I was extremely frustrated and angry with the lack of possibilities, the exclusiveness of the spaces and audiences, the whole mode of expression. In a way, I was rebelling against the establishment—and thus the conventional forms of showing art. Film seemed like a wonderful way to take all the things I was interested in—music, sound, picture—and manifest them together. Showing the films in a rock'n'roll club took it even further into another realm, a different context. It was a time of reinvention, and it's funny because I've come full circle. Someone who inspired me was Lydia Lunch, a force to contend with. I've known her since she was eighteen and now, forty years later, I'm making a feature documentary film about her! She's still as vital and edgy, waging her war on the establishment, as so many of us were—and some still are. It has to do with this sense of idealism—that we could actually instigate change. It was a time of radicalization. Independent filmmaking in the 1990s got harder, and my ideals were a bit shattered as the funding from Europe dried up.
CF Wasn't Two Small Bodies funded by German television?
BB Yeah, and that was the last narrative feature film I made. Independent filmmaking was co-opted by the studios. Suddenly Hollywood was making "independent film," and that's not where I wanted to go. For me, it's always been about stories that touch me personally, stories that haven't been told. It was about trying to challenge myself with a sense of discovery in both cinema and my own life. It's been interesting with my most recent film, Call Her Applebroog, because I've reclaimed some of my childhood. These memories were stunted because they were terribly painful. Making the film over fifteen years with Ida opened me up, enabled me to look at the past through the eyes of an adult. It really started out as just being there, loving to film her, and wanting to document her work. But she hated to be on camera! She wouldn't talk. But then EGG, the Arts Show, asked me to do a short piece with her, and by virtue of doing that interview, things opened up in a different way.
CF Is that first interview in this film?
BB It is. I use a short clip and some wonderful B-roll. She's painting with a very large brush. It's an expansive painting of aging women who are nude. There's another wonderful painting up at the Met right now—of Marilyn Monroe, of what she would look like today if she'd lived this long. Ida has a great line in the film: "When we think of beauty, we think of youth, but what do we think about beauty and aging? We don't have an answer for that." There's questioning implicit in her work.
I'm still twenty-seven years younger than her, but I was watching my mother age as the film was made, which was profound and disturbing at the same time. But I didn't know this was a long-form project, and didn't realize this until Documenta in 2013. The problem was that by being her daughter, I was an insider. I had no grasp on the guts of the film—the catharsis that Ida had to go through to become an artist. That's exactly what she did not want to talk about. There were so many times when I tried, and she told me to turn the camera off. I knew about a moment, when I was fourteen in 1969, when she was hospitalized for depression. Prior to that, my strongest memories were of sitting beside her bed, with her rather catatonic. We didn't know what the trouble was. "Oh, she's got a bad back, a bad neck?" Nobody talked about mental illness in those days; it was shameful.
So, the material most important to get were the writings, her journals. They attested to Ida's state of mind at that time. She wrote about the disturbance, the depression, and being hospitalized, but she wouldn't share that with me. She kept saying, "Oh, you have hours of material, you could make five films." And I said, "I am missing the crucial part, which is how you became an artist. What you had to go through to be an independent person and claim yourself, claim your life as an artist."
She finally started to look into those journals and say, "Maybe these are what I'm going to do for Documenta." And, she did. She blew up the pages of these very private writings, and exposed this material that had been secret. They were in boxes free for anyone to take. People could go through them, read, and take them away. It was like saying, "Here, take a part of me." And that's what many of my own films are about—this act of voicing the unheard, seeing the unseen. It has a cathartic effect on others because it creates a dialogue.
I'd say Ida and I have a strange, unspoken dialogue—a symbiosis that goes beyond mother and daughter, because we're also colleagues and best friends. We came to New York the same year, 1974, both of us to become artists. She was forty-five and I was nineteen. Oddly enough, sometimes our ideas cross over in the most unexpected and uncanny ways. In 1995 I started photographing women's vaginas, ultra close up. I'd had my own vagina and other vaginas in my time, and loved them, but never realized how different each was—how gorgeous, organic, and abstract. It really brought back a certain innocence to a part of the body which is so exploited, always seen through the male gaze. I thought, Well, we're going to see it through the female gaze now, my gaze.
But what's interesting is that years later, in 2008, Ida called and said, "Beth, come over here." She showed me all these vagina drawings she had done in 1969, after her hospitalization. I knew nothing about them and she had forgotten them. They were just languishing in her basement. We looked at each other like, "Oh my god, this is bizarrely telepathic, frightening." So then she created The Vagina House, also known as the exhibition, MonaLisa.
What's so fascinating is her expression, and that her adventure or venture into this private place of her own body was very different from my own. Women of our mother's generation grew up with so much disallowed. They weren't allowed their own name. I remember seeing a newspaper clipping of when she was still in Chicago, making jewelry, and she won first place in an art show. She was identified as "Mrs. Gideon Horowitz." There's no identification of her as an individual, as though she's chattel. So, when you grow up with your identity being not just stunted but basically removed, taken away, I imagine the struggle to reclaim it would have been overwhelming. She made 168 drawings of her vagina, I guess, as a way of claiming herself.
It's been different for our generation, but I remember times when I would be with a male and how people would greet us. The men would shake hands, but not even acknowledge us women standing there. I was so furious! How can women not be acknowledged, even as human beings?
CF Ida goes on to say that she never talked back then. I would guess that having children, you in particular being so out there, helped her learn how to speak. You have never minced words, Beth. Here's this very quiet woman with this very outspoken daughter. That must have been a good influence on you both.
BB She said the other day, "When we came to New York, I would watch you. You were balls out, like, 'Nothing is going to stop me.' I would go, 'Go, Beth, go' because I couldn't do that, be in the world in that way." For me, it was survival. My father was very aggressive, loud, outspoken, and my mother was inaudible. As a child, I was always battling my father, but in some ways, I took that outspoken part of him.
Sometimes when I've shown Call Her Applebroog, people have asked, "Why isn't your father in it more?" It's because it's about my mother, her career and struggles. Also, the film ended up being about our relationship, about two women who have struggled in different ways and had extraordinarily different approaches to life, yet tackled similarly difficult subject matter.
CF Your films deal with power struggles—over and between men, women, class, etc. All these different kinds of pressure that can occur. You did a film where you took war veterans and their sons and daughters back to Vietnam.
BB Breathe In, Breathe Out.
CF You also did one with juvenile sex offenders.
BB Voices Unheard.
CF That's a really heavy film, and very intimate.
BB It's all exploring. They're all parts of myself, and that's what I never really understood until Two Small Bodies. Every film I've made is like this, even harking back to G-Man, which was very much about my experience and feeling of liberation when I worked at a house of prostitution. I was answering phones, acting as the Madame. It was extraordinary seeing that women could inhabit and explore these very different roles, then hearing the perspective of men who wanted to pay for sex. I was only nineteen at the time, so what an education! There were so many dominatrices. It was a whole world and way of thinking that opened up to me.
My films do explore power relationships, which I think relates to different versions of intergenerational trauma. We carry it on from one generation to the next. My work is so much about breaking that cycle of trauma, abuse, violence, and disturbance. It brings it out into the open so we can have a dialogue. Then we stop protecting others—our parents, ourselves—because there's no reason.
CF Freud was right!
BB Exactly. If we start talking about it, then we start making connections and it stops being so scary. If you can relieve that sense of fear and isolation, then there's a place for healing. In the late '70s and early '80s, you and I and a whole group of Colab people were dealing with political and social issues that nobody was talking about. By virtue of bringing it to light, we can learn tolerance.
Especially with Exposed, I was like, "Woah, these people are so brave, so extraordinary. They're using their bodies to express things that are internally very painful. After doing television for eight years, I had to go back to the clubs, underground, back to my roots. I saw all these performances, where Karen Finley, Holly Hughes, or Mapplethorpe left off in terms of uncensored concepts of performance and visualization.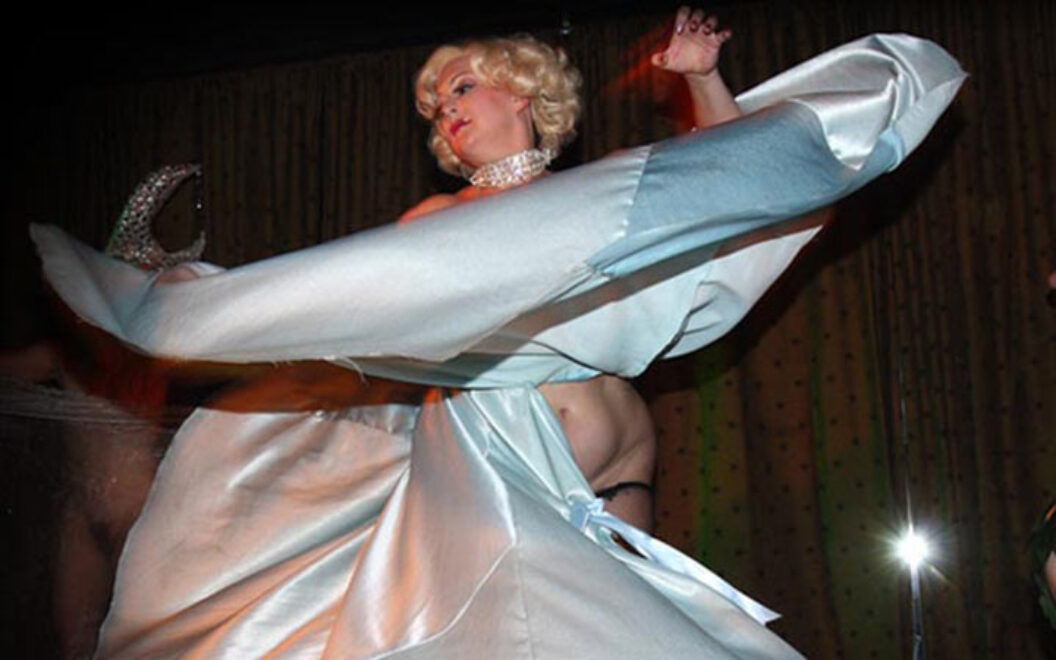 CF And sexuality.
BB Absolutely. When the NEA snapped their doors shut on anything with any kind of explicit sexual content, there was no funding and no way to do this kind of performance. But the performers in Exposed were so brilliant. They were putting performance art into a new context—with the vehicle of burlesque, doing it as entertainment. And the most extraordinary ones were dealing with tough shit. They were coming out on stage, like Matt Fraser, who is disabled, and putting it in our face, saying, "If I can deal with it, how about you deal with it? If I can love myself, how about you love yourself?"
Rosewood, from Exposed, has this great line. She says, "After you see the same thing fifteen times, it's not so shocking anymore." Meanwhile, she's dancing with these giant breasts and a penis hanging out, all in the persona of a Hassidic Rabbi. Put it on the screen for fifteen or twenty seconds and it's not shocking anymore. Just by virtue of keeping these secrets, keeping things hidden, we become a party to repression. So, let's celebrate that which is different within each of us, and hopefully come to a place of liberation.
CF Do you have a new project you're working on?
BB I'm developing a scripted series called Free Fall. It's about two young girls who fall away from their insane, abusive homes and into the underground of their small town, all set in the late '70s. I'm also working on that Lydia Lunch project that I mentioned earlier, and developing a film about women in prison. There's quite a history there.
Beth B's "Voyeur" will be on view from February 18–March 16, 2017 at HOWL! Happening in New York City. "Illumination: Spotlighting the Culture of Violence Against Women," a panel discussion with Beth B and others, will take place on February 23 at 7pm. And Lydia Lunch and Birdthrower will perform on March 4 at 7pm. All events at HOWL!
Coleen Fitzgibbon is an artist and filmmaker of over forty experimental and documentary works (including Jonathan Silver: Infidel in the Studio, Land of Nod, and Internal System) shown at TIFF, Viennale, MOMA, New Museum, Musee d'Art Moderne de la Ville, among other venues. She was co-producer of John Lurie's Fishing with John series, as well as of Mark Rappaport's videos, and is an occasional contributor to BOMB.