Berlin Calling: Alexis Knowlton by Mary Jones
This June Alexis Knowlton spoke at The Drawing Center's colloquium on the "Power of Art." Her topic was "S.L.A.T.", Super Lame Art Thematization; calling attention to the corruption of the artist's intention in the presence of evil middlemen.

Discover MFA Programs in Art and Writing
Alexis Knowlton graduated from RISD in 2004 and Yale in 2008, and moved to Berlin right away. This June she spoke at The Drawing Center's colloquium on the "Power of Art." Her topic was "S.L.A.T.", Super Lame Art Thematization; calling attention to the corruption of the artist's intention in the presence of evil middlemen. In July she gave the performance Becca at Exhibition, a project space in NYC. I spoke to Alexis in Berlin via gchat. She's in an internet cafe where it's now midnight.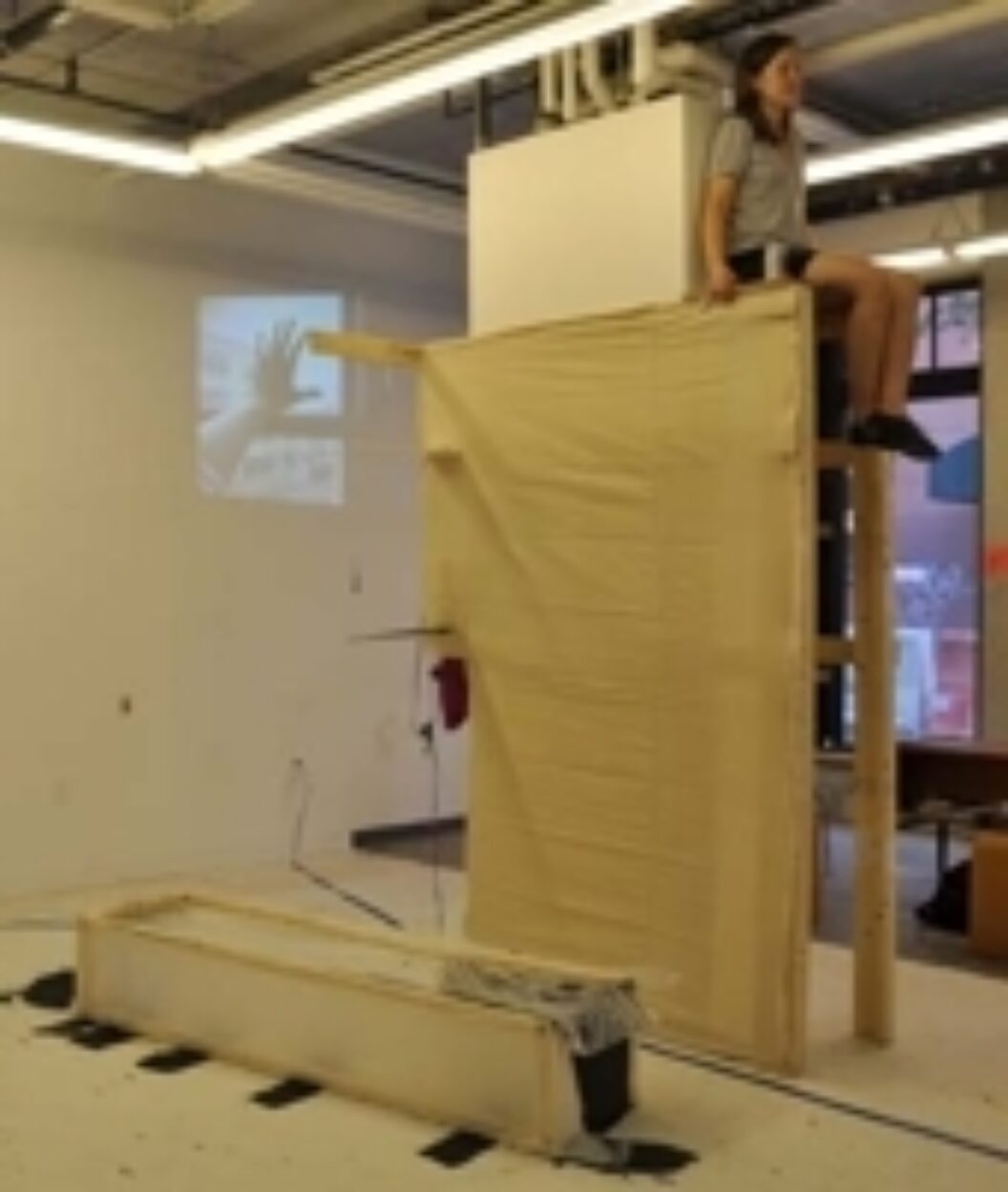 Alexis Knowlton's "Becca."
Mary Jones Hi! Am I doing it? Next I'll be using emoticons!
Alexis Knowlton ha ha
MJ Where are you?
AK This hole-in-the-wall 'Tele Internetcafe', right next to the old Berlin Wall actually on the border of Neukolln, West Berlin and Treptow, formerly East Berlin. Neukölln is a growing artists neighborhood that is known as the Turkish neighborhood… and this place is right on the corner from my new dream apt. with no internet… with Franzi Jordan my new roommate who speaks German with me on Wednesdays and Saturdays, or should I say Mittwochs und Samstags.
Neukölln is also filled with dollar stores and hookah smoking restaurants, if that sets the scene. The last time I was here while we were chatting the person working here gave me an unsolicited back massage! Yikes…
MJ You didn't tell me that! What was your route to Berlin?
AK Well, I was raised in Salt Lake City, which is a unique place culturally, but that is an understatement. I went to the East Coast for the first time to RISD, I was in the Rome Program there during my junior year and this gave me an idea of what Europe could be like. I moved to San Francisco after I graduated and worked in an art library at San Francisco Art Institute where I was in charge of circulation and assigning overdue fines. After San Francisco I went to Yale's painting program and then headed to Berlin the summer after.
MJ Salt Lake City! How do you think that's influenced you as an artist?
AK Before, you mentioned Jessica Stockholder work having a domestic quality, like a '50s housewife gone mad. I think that's the alternative reality every female artist has—that they could have become a mad housewife—growing up in Salt Lake City gave me this kind of alternative reality like I can always imagine who I could have become there. I think it nurtured a sense of ramshackleness or humor in my work, and probably a kind of childlike or irrational positive-ness that is totally mirrored in the climate the Mormons create (my grandfather was a polygamist and had 4 wives and 62 children…, my grandmother had 18 herself!! fyi) I didn't grow up Mormon however, this is another long story.
MJ Your work IS often comical, but like comedy, it has an edge. It suggests that things could get out of control very easily. Do you think you work with an undertone of chaos, or rage? For some reason I thought of punk rock music.
AK I have to admit that I am no connoisseur of punk rock music, but I think loss of control is a big motivating factor in making art work, maybe as a part of art-making as a kind of productive play… as a painter I love the times when I feel something when I'm painting, like a kind of rush—also this idea that we paint not to make more knowledge but in many ways to undermine the heaps of knowledge that we have surrounding us, or to find a kind of idea space that is yet unknown. Bataille uses the term non-knowledge and I've latched onto this term quite a bit, especially in the "nk" (non-knowledge) rocket paintings.
MJ Is moving to Berlin part of courting the unpredictable?
AK Yes, I probably did that subconsciously, I think my life has some serious security breeches… like the internet cafe massage from the last interview for example…security breaches, not breeches, haha!
MJ How do you support yourself in Berlin? I hear the recession has hit hard there.
AK When I first got here I was living off of a prize I received upon leaving Yale, which I am very grateful for. Then as that tapered, I've done many odd jobs, art installation, art writing, editing, cleaning, gluing aluminum foil to walls…
Currently, I paint walls at a hotel, and I also clean there. As I get a bit older I realize how flexible and scrappy one must be to make a life in art.
MJ Is the job market different for men and women? Or is it a pretty equal opportunity employment situation?
AK It's very true that as I look for jobs I think about gender a lot. I would like to do more jobs that involve building and carrying things around etc. because it pays more, but it's not always easy as a woman to convince people you can do hard labor. Berlin's motto is "Poor but Sexy"… many people here have been through a lot of change… but a lot of people here are imported like me, its a funny mix. Also the young people here are much more able to live off of the government's help in hard times…
MJ Every year as you know, students consider moving to Berlin, and of course many do. What advice would you give them?
AK I would tell them all to come to Berlin. I would tell them to save some money, learn some German, find a sublet, and get ready to feel helpless and uncomfortable at times but empowered and free at others. I would tell them to get a prescription of Prozac for winter, because Germans hate this and the winter is very depressing (just kidding). I would tell them that this is a good place for making art and having an art practice, and that there are lots of interesting people here. I think you can't go wrong as an artist if you have others around you that you grow with and who push you in significant ways. I came here from school knowing that community was what I was looking for, and here in Berlin it's been easy to find. Building a community is a slow process, as is making work about the place where you are. You have to get to know the people and the place well enough to have relationships that have any integrity.
MJ I feel like relationships are central to the purpose of your art. Do you agree?
AK Yes, I'm interested in the way that art functions as a means of bringing people together and creating groups. I have an ongoing interest in the frontiers of relational aesthetics. It's certainly a genre of its own with its own signs and its own history, but for artists it's forged a way of making a practice that is outside the studio more and thinking more about social responsibility, the art world, and this word "community."
MJ In your recent NYC performance, Becca, you both honored and caricatured your friendship with your former roommate from RISD. You created a tension that things could get out of control, and kept this edge going. You didn't push her too hard with the questions, or do a big theatrical gestalt confrontation, but you kept her physically uncomfortable and literally on display the whole time. I thought it also seemed possessive of her.
AK I decided that in Exhibition, a project space run by five very interesting and dynamic artists in their own right, I would have an opportunity do something that had to do with relationships. I thought since I go stay with my friend Becca Baldwin and use her room as HQ when I go to NYC it would be nice to do a portrait of her. But I knew that it was actually a portrait of me in a sneaky way. So for the show, she was the subject, on a high chair. She painted on the paintings, but I also showed pictures of me touching her stuff in her room when she was gone, and I also left her stranded on this high chair during the show…
MJ Why were the questions for Becca on the wooden blocks? Why did you throw them towards her pedestal?
AK I wanted our conversation to grow more aggressive to show that although she was the star of the show, I had sort of just used her to build the show, and that because she is my best friend it was all OK. No one except Becca would be such a good sport to me. This is friendship.
MJ I also noticed that you asked her many questions about her abilities to make and carry heavy things. Since our last chat, I can't help but wonder if you had day jobs on your mind? Is this an important part of Becca's job as an art assistant?
AK I think I was trying to objectify her a bit also to point to the funny place of authorship, in both the show Becca and her everyday life as an artist's assistant…. also to make her seem useful and do a funny kind of advertising for her…
MJ Did the performance bring you two closer together?
AK It actually did bring us closer together, and I think it also reminded us of the root of our friendship, which is a kind of creative mentality and dark humor.
I do miss her, but I'm so glad Becca happened.
Alexis Knowlton's website is painteaters.com. Her lecture at The Drawing Center can be heard at http://www.drawingcenter.org/events_public_01.cfm (afternoon session part 2).
Post Impressions is a conversation series conducted by Mary Jones. She is an artist living in NYC and an adjunct professor at RISD and School of Visual Arts.