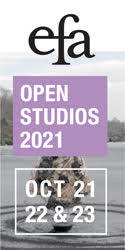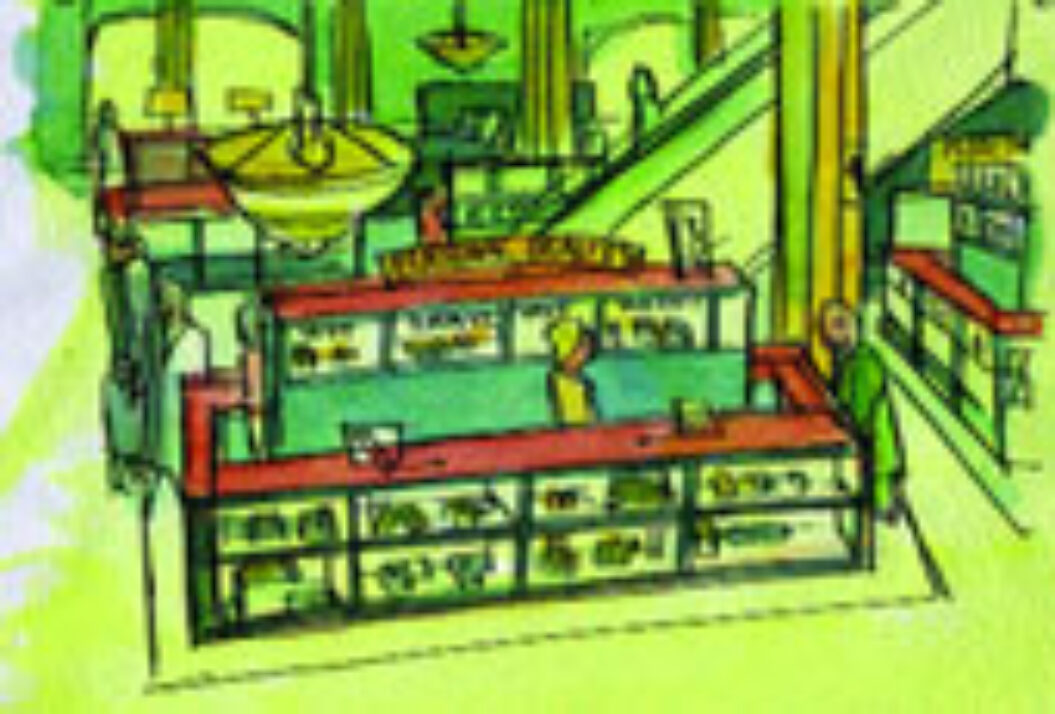 Ben Katchor is a recorder of vanished and vanishing places, a poet of the vast metropolis of New York. He notices, crucially, what others walk by, fail to see and generally disregard—a man living in the mosaic while seeing its details. The creator of, among other mysterious and intriguing stories and comedic strips—Julius Knipl, Real-Estate Photographer (Little, Brown, 1996); The Jew of New York (Pantheon, 1998); and The Beauty Supply District (Pantheon, 2000), another Knipl collection—Katchor has been admiringly described by novelist Michael Chabon as an "archaeologist of outmoded technologies and abandoned past times, a fellow playing a kind of involuted Borgesian game with the entire notion of nostalgia itself."
I first met Ben Katchor almost 10 years ago in SoHo at a reading of one of my books. A gentle, very soft-spoken fellow then in his mid-40s, he had the look of a French actor with a sort of pageboy's face: tidy, kept, highly alert. He has been doing comic strips for years for The Forward, a Jewish newspaper, and Metropolis magazine, while also providing illustrations and drawings for the New Yorker. Katchor made a productive sally in the direction of the theater in 1999 with his Obie-winning "comic-book opera" The Carbon Copy Building, and has recently revisited the stage with The Slug Bearers of Kayrol Island, a full-length sung-through love story and fable of commercial man.
"My father, whose main language was Yiddish, was born in 1895—he came over from Poland in the 1920s. He often read us, me and my sister, jokes, stories, short pieces from the Freiheit. He was a literary leftist," Katchor recently told me when we were discussing this interview. "My mother, who also played the piano, read to us at night. Peter Pan. The Arabian Nights. Things like that. I grew up in Brooklyn, listened to a lot of pop music, read a lot." Readers of Katchor who follow his weekly and monthly offerings in the papers and magazines eagerly await every new graphic novel of his with passionate interest in the characters he delineates in that sober pen-and-ink wash of his: strange and gently surreal creatures—hucksters, butter-and-egg men, latter-day Kabbalists, merchants, bus riders and pilgrims of the Absolute, people who smell and savor the city in ways few but the observant Katchor, in both a solid and yet transcendental way, are able to see.
Alexander Theroux Tell me about your newest project.
Ben Katchor It's a sung-through pop music theater show, The Slug Bearers of Kayrol Island. The music is by Mark Mulcahy; I wrote the text, designed the projected scenery and directed. It's about the lead weights placed inside small appliances to augment their perceived heft. On a factory island in the Far East, these small weights are handled by a group of underpaid workers. An aficionado of the poetry of instructional manuals—
AT What exactly is the "poetry of instruction manuals"?
BK The translations, usually from Chinese and Japanese, are often fascinating. Some show "exploded drawings" illustrating how to operate machines. Anyway, he organizes an expedition to Kayrol Island for the purpose of introducing the workers to this form of poetry. One reviewer described it as a cross between Das Kapital and The Umbrellas of Cherbourg.
AT And The Caucasian Chalk Circle, with the love story, for I also found it very Brechtian. I'm thinking mainly about the Marxist underpinnings of the story. Do you think of it as Marxist? I'm also thinking of the Verfremdungseffekt of the production, the de-theatricalizing of the stage: the actors sing all their lines, and the set stays pretty empty except for your drawings that are projected onto huge screens. Is the Verfremdungseffekt something you wanted to achieve?
BK I know Brecht mainly from his music theater collaborations with Kurt Weill, Paul Dessau and Hanns Eisler. The picture-reciter at the beginning of Threepenny Opera is the proto-comic strip experience. I had this ancient tradition in mind when I thought about how the combination of pictures and live singers would work—or even someone reading a child a picture book. And so although a sung-through musical is very theatrical, the blatant juxtaposition of drawings and real people forces the viewer to participate in the construction of a fictive world in the way that a three-dimensional stage set doesn't. The story, incidentally, tries to reconcile the trend toward immateriality in the commercial world—digital reproduction, miniaturization, et cetera—and the fact that we're physical beings.
AT You have marvelous versatility. Graphic novels. Magazine illustrations. Radio shows. I positively love your Cardboard Valise and have read about 70 episodes. Are you predominantly a short story writer, however? I am thinking here of things like "The Printer's Disease." Superb! Then there was The Carbon Copy Building, the 1999 "comic-book opera" based on your urban vision. Was that a success?
BK Like the popcorn industry, the economics of comic-strip or picture-story writing require that one produce a lot of material. I do a weekly and monthly strip, plus other work. At the moment, working in theater is a great diversion from working in print. The Carbon Copy Building was successful in that it traveled to four venues, won an Obie, had a cast recording made and may be revived in the near future. I don't know how to compare strips to prose forms. A single drawing adds a degree of concrete specificity to a story that can't be achieved in the longest novel.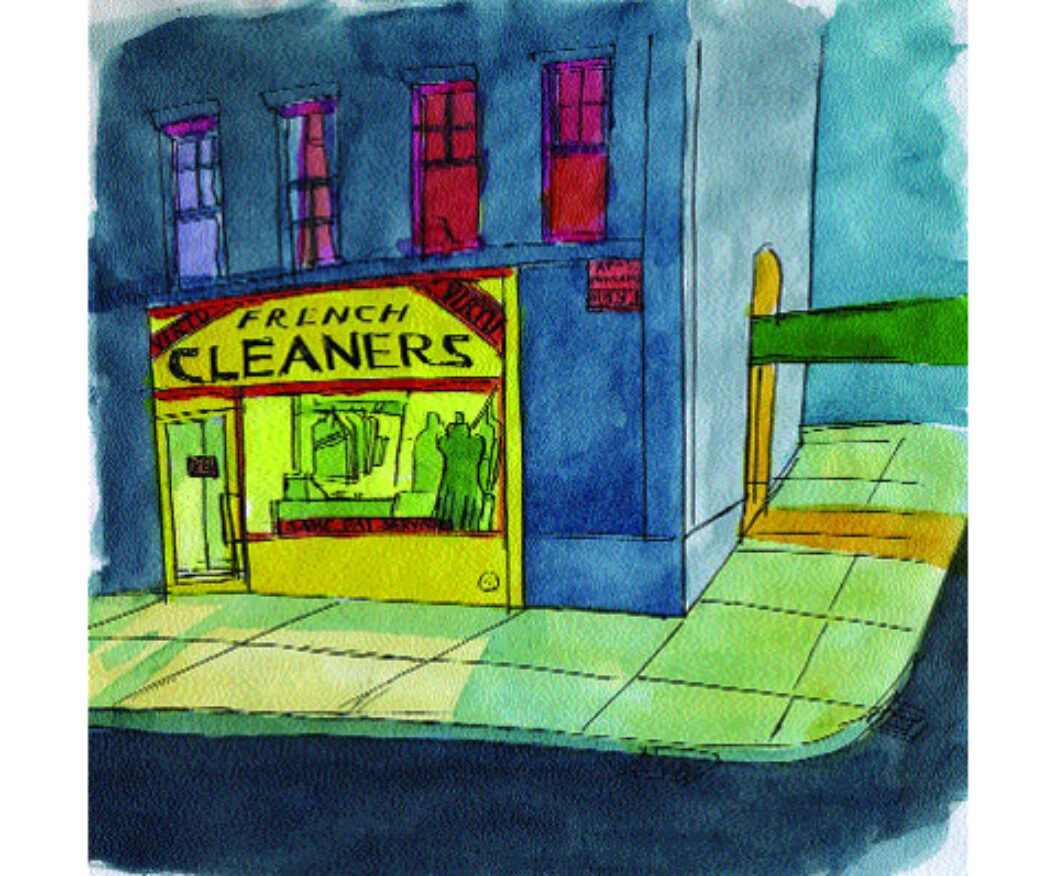 AT An exhibition of your work was up on September 11, 2001, at the Jewish Museum. That was all New York work, right? Strips from The Pleasures of Urban Decay, Julius Knipl: Real Estate Photographer, The Jew of New York.
BK Yes, the show opened on September 9. I lived for many years on John Street, two blocks from the World Trade Center, and so I had the experience of seeing a part of my old neighborhood destroyed. There was a Border's bookstore, a very good newsstand and a branch of Fine & Shapiro's Delicatessen in the WTC complex.
AT But what did that destruction mean to you? New York is your capital city; it's so much a part of your life as well as your drawings.
BK I thought that a city as accepting of different worldviews was somehow immune to such sectarian wrath. For New York to be subjected to acts of terrorism means that it has been rejoined to the Old World in the worst possible way.
AT You record a lot of the misadventures that take place in New York, with both realism and nostalgia. If nostalgia is the memorialized past, what about the reality that we had to face on September 11 and are still facing?
BK My first reaction was to leave the city for a while, because I felt it wasn't a safe place to be. The New Yorker remade its issue from scratch that week and I was asked to do a drawing from memory of the WTC as I remembered it. So instead of leaving the city, as common sense dictated, I found myself at my drawing table trying to reconstruct the building and plaza from memory. I try to imagine what it would take to disrupt my working habits and life.
AT J. Hoberman in the New York Times said that your work, what I believe you call "picture stories," has the quality of a "facade put up to conceal the ruins of some fantastic scheme." Would you accept the term magic realism for your work?
BK The culture described in many of my strips does feel like a facade, or a stage magician's attempt to distract an audience from some other reality. It's a version of a city like New York, but not New York. Places and people are invented for the value of their name (Playtzer Avenue and Domby Fecol, the internationally renowned hair tamer), just for the purpose of a single strip, and then cease to exist; cultural institutions are invented that have no reality beyond a bit of signage: The Institute of Husky Boy Research and others. So I'm a stage-magic realist.
AT Is that "other reality," deep down, a negative one? You show glimpses into New York City's underbelly. I'm thinking of Luc Sante's Low Life: Lures and Snares of Old New York, Herbert Asbury of Gangs of New York. Mayhew of London. What is a city but a Babel? Does Ben Katchor ever go to the country?
BK I once did an old Knipl strip about a cottage-cheese salesman who never saw a cow.
AT (laughter) You're not anti-pastoral then, like Woody Allen and Ed Koch?
BK I suppose if I worked in nature in some way, I'd feel more of a purpose in it. My father had a chicken farm/hotel before I was born, and so if things had gone differently I would have been brought up on a farm. I heard a lot about farm life from him. Anyway, Mayhew was thought of as a sociologist; I'm not. I love to read his work.
AT What role does nostalgia play in your practice?
BK I work in a room built in the early 1900s. A large part of New York dates from that period or earlier, and so my concern with the past is mainly as a setting for contemporary events. My life is set in the functioning ruins of an older city. I have no yearning to live in the past. Most attempts at re-creating the past in fiction are marred by sentimentality. I love modernist architecture and living people.
AT But you like to sort through the accoutrements of the past. You do it in a comic way. You can go on about boxes of tinsel found in old factories, shoe leathers. You comment on what man gathers to sell, to look at, to hoard. To me you could have been a Heinrich Schliemann, who discovered Troy, or a Lord Carnarvon, who opened King Tut's tomb. Don't you have a sentimental love—a yearning for—urban artifacts? Aren't archaeologists among the most sentimental people?
BK I love the past because I can see things and people with an objectivity that's impossible while they're still in front of me. But in a city it's sometimes just a matter of weeks or months—that's all it takes for something to acquire a period look.
AT Julius Knipl: Real Estate Photographer appeared in 1996, followed four years later by Beauty Supply District, which also deals with Knipl's adventures. Is your "vanished" Manhattan, noirish and wistfully sad, harder and harder to find these days?
BK No. The layers of history I see walking the streets of Manhattan are deep enough so that there's always a stratum that feels like it's about to disappear. Attempts at making New York into a museum city are miserable failures. Most historic preservation destroys the character of a building and neighborhood in the name of saving a piece of architecture.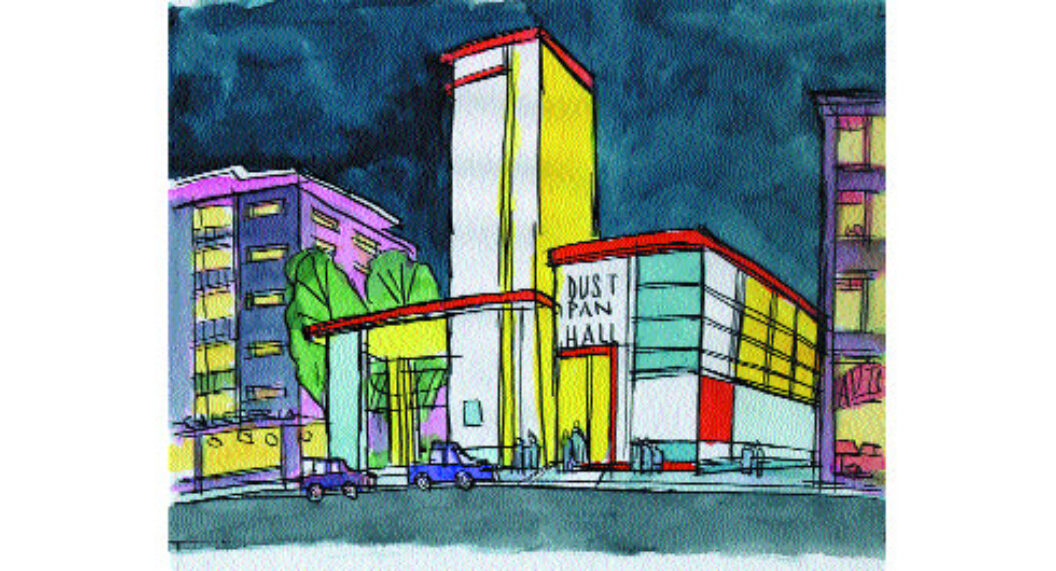 AT There are about 8,000 New Yorks that have disappeared. What has disappeared that you lament? Do you have a favorite area of New York?
BK I used to love to walk around the Garment District, the Fur District, the 30s around Seventh and Eighth Avenues. I have to tell you, most of New York City is in my memory. There are many New Yorks. A funny thing happens when you live in a city: everyone knows a somewhat different city—different social worlds, experiences, restaurants. The landmarks are the same, but everything else is different.
AT Would you ever move to Akron, or Montpelier, or Prague? What can you say about your love affair with this city?
BK I don't know those cities, but I could live in Paris, London or Berlin very happily. When you reach the age at which a city becomes filled more with memories than with new experiences, it may be time to leave.
AT You're a serious thinker, and I have always felt that you write as well as you draw. Does one ever tend to dominate the other? Which gives you the biggest thrill?
BK My strips begin with a written script. It's easier for me to write than draw—it's less of an investment of time and I can do it lying on my back. Once I begin drawing, the text is altered to function alongside the image. I see what can be better expressed with a concrete image. The abstract words take their proper place in the spectrum of meaning.
AT Edward Gorey always started with the text too. Was he an influence? If not, who was? Were you influenced by film at all?
BK As a child I came across some early Gorey books in the book department of A&S, a department store in downtown Brooklyn. I was already reading comic books, but knew immediately that this was a deeper, more nuanced world of picture-stories, but since I didn't know where to find other work like it, I reluctantly went back to comic books. Also early on, I saw the American-language editions of Tintin — a Continental B-movie in strip form was a revelation to me. The stories in the contemporary comics I bought always disappointed me; it was the drawing that excited me. It was my first exposure to the traditions of Western figure drawing: Ditko, Kirby, Wood, Severin. As a child, I liked monster and adventure films, but to this day, there's something about the literal analysis of motion in film that bores me.
AT Don't you work mostly at night?
BK Yes. I used to write in bed, working on the early Knipls.
AT Your work is, among other things, a celebration of signs, labels, flyers, commercial advertisements—"exported tinsel," "beaver hats," "Jerusalem Powders," et cetera. Small shops. Chancy enterprises. Little people turning a penny in warehouses stacked with things like hair curlers, imported sardines, barrettes. (In the work of what other writer would someone have in his desk "a haggadah in the Iroquois language"?) Does the statement "The Jewish religion is commerce" always have to register as anti-Semitic?
BK The so-called religious experience seems to me spurred by poverty and commercial, or worldly, failure. So, in a sense, the world of mysticism is a substitute for commerce. Jewish mysticism may have more clearly worked out this alternative world through numerology, et cetera, but the impulse to invent a value system beyond the material world seems to be part of all religions. Except for this interview, everything is commerce.
AT Isn't commerce rather a substitute for mysticism? Is commerce redemptive? Your characters, I notice, all work—plan, scheme, conspire with the main part of themselves to, as they say, make a living.
BK Julius Knipl doesn't really work; he just waits around, like photographers do. He's killing time. Getting ready to work, maybe. I modeled him on men who adopted the clothing of their fathers, stepping into an earlier persona.

AT What was it like to be raised in Brooklyn by Communist Yiddishist parents? Does the theme of loneliness, which some insist is the essential theme of your work, speak personally to your own life?
BK My father, who ended up in real estate, was interested in leftist politics. He read the Yiddish-language Communist newspaper The Freiheit, but from my point of view, as a child, his interest in Socialism, communalism, et cetera, was a hobby—nothing he ever worked out in his life. My mother had no interest in politics. Her hobby was the study of religion. My father had nothing to do with organized Jewish religion and so, only in that area was I separated from my childhood friends who were forced to have a religious education. My neighborhood in Brooklyn was an urban paradise: The Brooklyn Museum, the Botanical Gardens and Prospect Park were my playgrounds. My early fascinations. Walking around by myself. Gardens. Hothouses. Egyptian art.
AT Are you political in any way, shape or form?
BK I hate the simplistic world of political cartooning. I can only approach social and economic questions through the back door of fiction. I try to remember to vote, but my real political interests are worked out in dreams. One dream is of walking the streets of Stockholm very late at night and not feeling a sense of danger. Another dream is of Palestinian suicide bombings in Crown Heights, Brooklyn.
AT I tend to hear Klezmer music—"a way of rekindling the energy of a lost Yiddish culture," you once defined it—when I read your work. Didn't you once do a show for musical theater called The Coin-Return Explorers' League? Was it a comedy of street people?
BK The Coin-Return Explorers' League was a projected sequel to The Carbon Copy Building. It refers to a well-endowed club on Park Manure Avenue whose members believe that coin-return slots on telephones and vending machines can serve as an entry point into a world of adventure.
AT You love the whole idea of arcades. Slots, games, booths. Novelty shops, of a sort. Your strips—
BK They're like a magic act, like balls and cones.
AT What are the "pleasures of urban decay" exactly? I mean, are you fascinated by what is disappearing from the scene as a sort of trope?
BK The pleasures derived indirectly from the suffering of other city dwellers. The pleasure of the functioning ruin. A building on its last legs. A backed-up sewer. A failing restaurant. Picturesque forms of criminal activity. I'm fascinated by watching people disappear from the scene, as much as watching the scene change around me.
AT The Jew of New York, which many say is your masterpiece, is replete with fake documents, outré pamphlets, odd script, facsimile handbills. It's a very odd book, a cross between a Zionist parable and a Victorian novel. Are you at bottom just a crackpot historian like John Aubrey?
BK Yes, The Jew of New York is the fever dream of an amateur historian.
AT Who, what, do you read to consequence?
BK The Discovery of the Unconscious by Henri R. Ellenberger, The Laws of Kashrus by Rabbi Binyomin Frost, Funeral Customs the World Over by Habenstein and Lamers.
AT What is Kashrus?
BK Jewish dietary laws. I'm researching dairy restaurants and wanted to get an idea of the contemporary Orthodox view of these matters.
AT Edward Gorey memorized almost all of W. H. Auden. Do you read poetry? What were your fascinations in college? Fiction, nonfiction, biography?
BK I'm not filled with memories of great writer's voices. The concision of poetry frightens me. In college I read a lot about the history of art and art theory, but mainly I looked at a lot of drawings and paintings. Now I mostly read nonfiction and the unintentional prose-poetry of catalogs and phone books—also Nabokov and William James.
AT I still have difficulty getting used to your color drawings in the New Yorker, as I tend to associate you with a black-and-white world, your wonderful Julius Knipl-period pen-and-ink washes that, weirdly, remind me of old movies like Anna Christie. Dark. Back alleys. The use of slang. Wooden rooms. The give-and-take over a table and a bottle. Garbo. Marie Dressler. Bickford. They were Katchorians!
BK The illustration in the New Yorker serves a partly decorative purpose—that's why they ask for color. The text is in black and white.
AT Color. Black and white. Romance. Realism. I think that might describe your work, in a sense— "romantic realism." The streets that Julius Knipl walks are identifiable, his city is real, but the aura of the fantastical, the eerie, is always there. Raskolnikov's St. Petersburg, the world in which he revolves, is real. Up in his rooms, however, he could be on the planet Pluto.
BK I try to avoid "interesting" subjects, "the picturesque."
AT Does the sanitization of old Times Square, very much your stage-set, bother you?
BK The new Times Square is already going under. Like the great theater development schemes of the Shubert Syndicate, these corporate infusions of money are necessary every 80 years or so to keep the physical structures intact. New public vices will arise to replace the porno theaters and novelty shops of my childhood.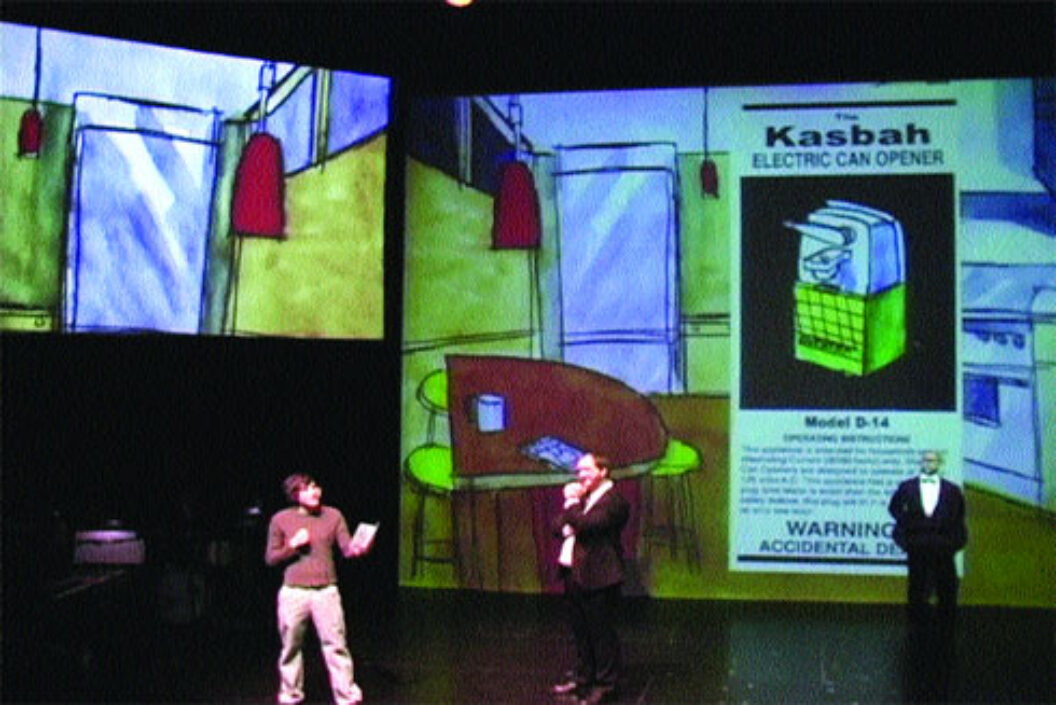 AT You still draw for newspapers like The Forward and Metropolis magazine. Does serialization force you to focus, to produce, as it did Charles Dickens?
BK My weekly strip "Hotel & Farm" is syndicated in The Forward and a half-dozen other weekly papers. My monthly strip on the back page of Metropolis magazine continues. And, yes, it is a great excuse to produce a lot of work.
AT Slug Bearers of Kayrol Island included, don't forget—Broadway here we come!
BK I don't know about that. We got a great review in the Village Voice by Ed Park, though. My interest in theater is that it was the first place where words and pictures, so to speak, were brought together. Like comics. Each panel is a stage. I'm thinking too of the Victorian world and all those toy theaters.
AT What a great idea to mount that play. The staging was incredible. Where did you come up with the format? What worked best and what didn't work in it for you? What kind of polishing would it need if it were going to Broadway?
BK As I said, it's the old picture-reciter using an LCD projector. I'd like a few more weeks of rehearsal to make the acting and staging more precise. The lighting could be more focused, the cues smoother, the transitions between images less abrupt. Unlike a film, it can get better.
AT What illustrators do you like?
BK I like Peter Blegvad, who wrote and drew Leviathan in the London Independent for several years. He's a great writer, draughtsman and musician.
AT The graphic novel is suddenly a big new genre. Whole sections of bookstores are given over to it. Joe Sacco, Chris Ware, Daniel Clowes, Spain Rodriguez. Are you part of this explosion? Do you keep up with it?
BK The split between writers and draughtspeople seems to have momentarily closed. All writers should make pictures and all painters should write. There was an explosion 10 years ago with RAW and Penguin Books; the current visibility is a powerful aftershock. All of the people you mention have been working for many years.
AT Is a new graphic novel in the offing?
BK The collection Cardboard Valise is the next book I'm putting together. It's a collection of interconnected weekly strips about travel.
AT Do you still collect old newspaper weights? Or did I dream that up? I ask only because I have been saving two or three of them for you for several years.
BK I have only one miniature newspaper/magazine-stand weight. I'm not a collector of weights, but would like to see the ones you have.
AT My mistake. So you don't collect anything? Not posters? Telephone pole insulators?
BK I used to collect matchbox labels.
AT Do you mean from England, the labels on those tiny wooden boxes of lucifers?
BK Yes. They were made all over the world. My favorite are from India.
AT You're sitting in an old Horn & Hardart in New York City. I think the last one over on Sixth Avenue closed in 1966. What do you order? What are you reading?
BK My favorite dish at Horn & Hardart was franks and beans served in a small brown casserole. In a copy of The Daily Mirror, dated several weeks before my birth, I enjoy reading "Our Boarding House" and studying the names of racehorses.
—Alexander Theroux is a novelist, essayist, playwright, and poet based in West Barnstable, Massachusetts. Best known for his highly praised book Darconville's Cat (Doubleday, 1981), Theroux is the author of two poetry collections—History is Made at Night (Aralia Press, 1992) and The Lollipop Trollops and Other Poems (Dalkey Archive Press, 1992)—and a collection of essays, Theroux Metaphrastes: An Essay on Literature (David Godine, 1975). Theroux has taught at Harvard, Massachusetts Institute of Technology, Yale, and the University of Virginia.
Originally published in
Featuring interviews with Olafur Eliasson, Ellen Phelan, Percival Everett, Francisco Goldman and Esther Allen, Ben Katchor and Alexaner Theroux, Jorgen Leth and Ann Mette Lundtofte, Michael Bell, and Mauricio Kagel.