Before They Are Forgotten: Carlito Dalceggio Interviewed
A painter opens his studio.

Discover MFA Programs in Art and Writing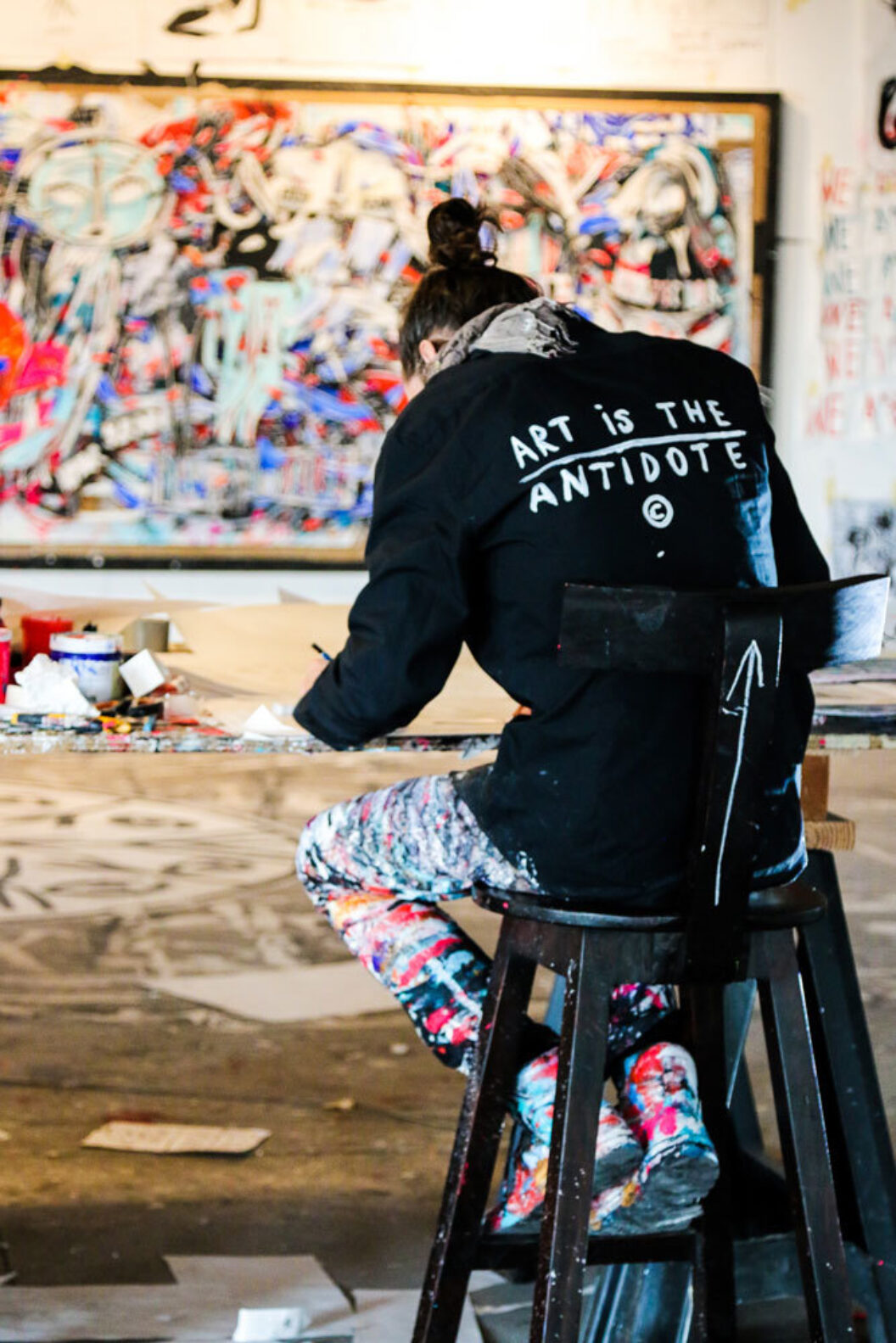 I first met Carlito Dalceggio at the Istanbul Music House opening in 2010. He was in front of the crowd in a white suit, dark hair in a bun, dancing from one end of the stage to the other with brushes in both hands. He painted a vast totem on a blank canvas. Faces erupted from the corners, and intertwined legs and sharp flowers rose from the center, perfectly symmetrical. He became a friend soon after that. I've seen his themes, even his colors, change over the years. A few things remain the same. I recently visited him at Mana Contemporary in Jersey City, New Jersey, where he has a studio space that until June 15 is open to the public on Saturdays, via guided tours Tuesdays to Fridays, and by appointment.
—Mina Hamedi 
Mina Hamedi Walk me around a bit and tell me how you started here at Mana Contemporary.
Carlito Dalceggio Every one of my studios has a different name. When we were offered this place, it was a great gift, through Bruna Gomez, my girlfriend who is also my producer. I called the studio Ritual Flesh, which gives it a whole direction. With any new studio I move into, I feel I have to give it a name. Since we have such a big space, we decided one area is the more creative, dirty, production site, and the other area is more like my museum-gallery installation site. We do a lot of multimedia, and experiment with visual projections on sculptures and puppets. The first piece I made is a version of Guernica (1937) called Tongues of War, Arrows of Peace. Guernica is a very important piece in my life because when I saw it live in the museum, I just cried. It is one of the reasons why I am an artist. Over the years, I've probably made fifty of my own versions of Guernica. This is my first one in New York. There is also a piece called Meditation on Calligraphy for Peace, because I believe that I am searching for a new alphabet of universal symbols that don't exist, but that might borrow a bit from every culture so that everybody would understand and could communicate. We could achieve a kind of universal peace. At least within art.
MH Yes, I've noticed recently, since I've known you for a while, that you're really focusing on the Native American story here and the events surrounding Standing Rock and the Dakota Access Pipeline.
CD The new series that I'm working on is called We Must Find a Name for Them Before They Are Forgotten. It's a vision I had about Standing Rock. These crazy dreams. We didn't have the wisdom, the sense, or the knowledge to give back the land to the Native Americans. This painting will include video mapping, which will be seventy minutes. Your friend Arkin Allen (Turkish, Montreal-based DJ) is doing the soundtrack, with some of my poetry. Another person is doing the video mapping, and actually I have an animation table here at Mana. The video mapping will be a landscape, twenty-four hours in the life of this nation. Water, the sunrise, the shadows, the landscape. You see the black snake, the oil, is there and crossing and looping? Like a vein.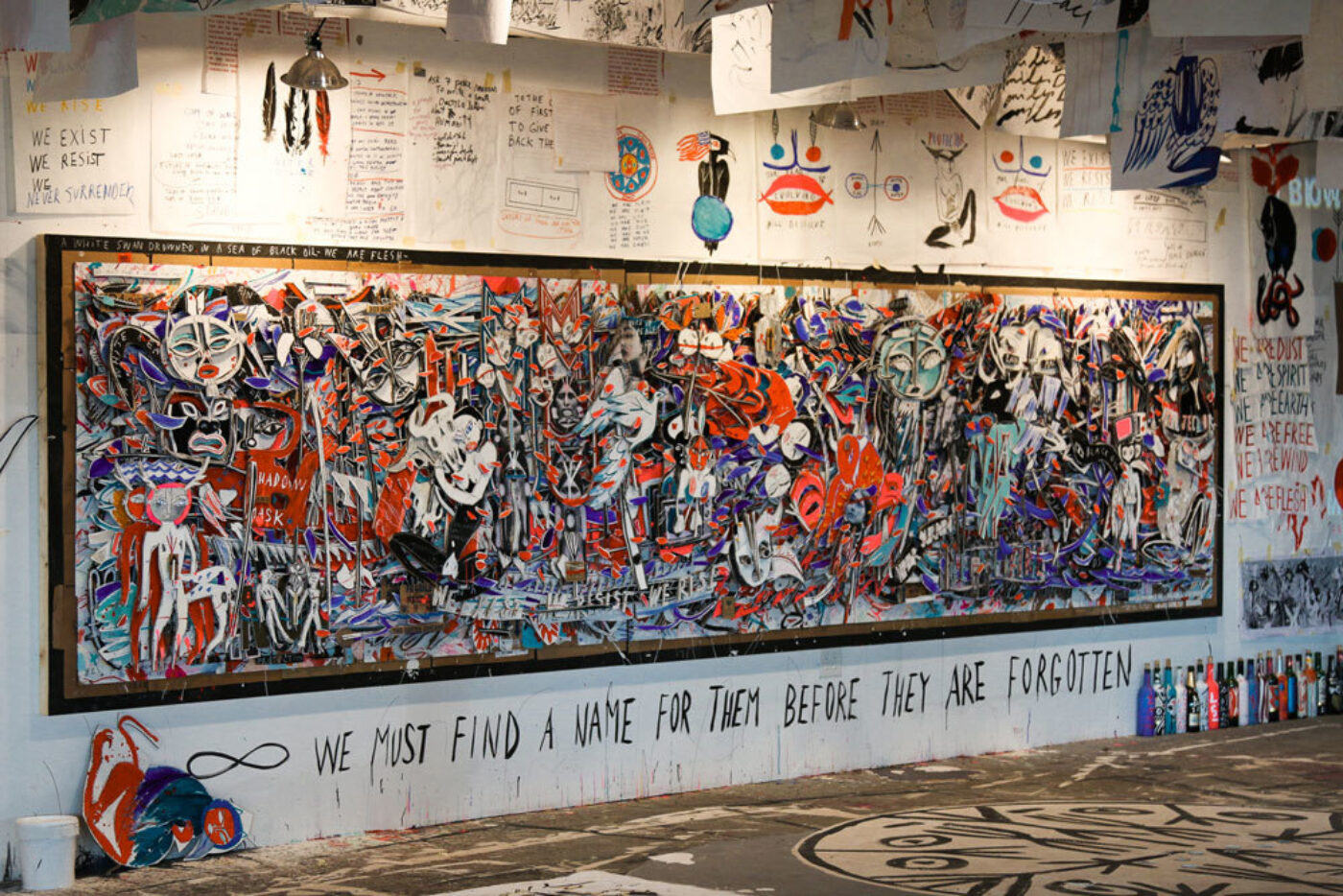 MH The mapping will draw out all these images from the canvas?
CD At one point a face will appear; at one point a moon will shine, and so on. It is a piece in motion. My idea is to go to Standing Rock and do interviews and make films, and hopefully include Native Americans in the mapping video as well. As you know, my typewriter is here too. I always type my poems because I like the rhythm of the words as I type. I mostly write by hand first. I use the "cut-up technique" made famous by William Burroughs. He would take magazines, cut words, and reassemble them. I do that with my own writings.
MH Do you think that you're able to create these images because you have the words too? One can't exist without the other?
CD I always try to destroy the boundaries between painting, writing, video. That's why some of my paintings and even sculptures only involve words. I've been working on this piece Deconstruction of America, which is a wallpaper project that will be produced in silkscreen and sold as wallpaper. Last summer I didn't have this studio yet, and I was going crazy. I was in the streets of New York cutting magazines and raging about America, so I created this piece. With the masks on the wall as well, I used recycled cardboard. For me it's like using the trash of America.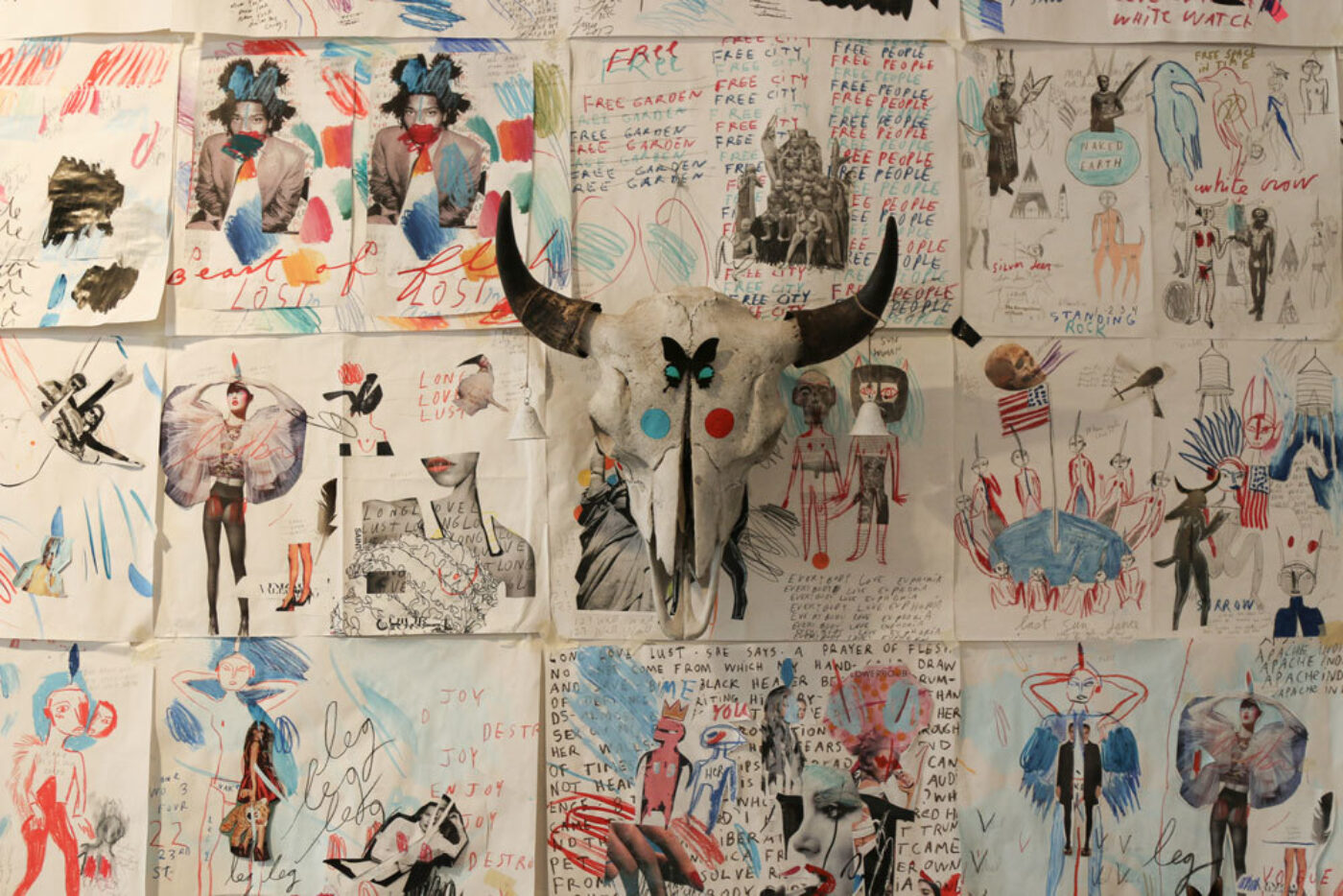 MH When do you, especially with these new 3D pieces, feel the layers are done?
CD It's the result of experience because I've done so many of them. It's an inner force that knows. I'm really excited about my paintings. I don't sleep at night; I don't go out; I just paint and paint, and I'm super obsessed and stay in the studio all night and dream about it and come back and at one point even before it's finished, my excitement drops. I learned that this means, stop now. For me a painting needs to be stopped before it's completed so that it's not perfect and leaves open a door for the viewer to go in.
MH You keep the energy in the painting flowing, existing here.
CD Yes, still flowing. Because for me viewers are not spectators. They're going to go in, and they're going to leave their energy within a piece, and it will transform the meaning of the painting because every person will add to the story. Most of the time, I look at this, and I don't even know how I did it!
MH But you're okay with that?
CD Yes! I think I really follow a vision that is higher than myself. My own desires are lower than what I want to achieve. So even if my ego says I want to do this kind of stuff, when I start, I know where I need to go.
MH Your art is a lot about doing what is right for you, too.
CD I think that each of my paintings, in a way, is a self-portrait. There is no distance between life, love, and art. Everything is one.
MH Your pieces have symbols on them but are also physical symbols themselves like a doorway, the chair, the suitcase.
CD A pantheon. I call it my own mythology. Even the colors of the symbols mean something. But I would never tell people. They make their own stories. They give meanings to certain things. I also started using the chair because no one is ever allowed to touch the art in museums, and for me it is so important to touch. So, I say that I'm going to do a piece that people are forced to touch, that they will sit on. They will walk through the arch, through a door, and into the unknown.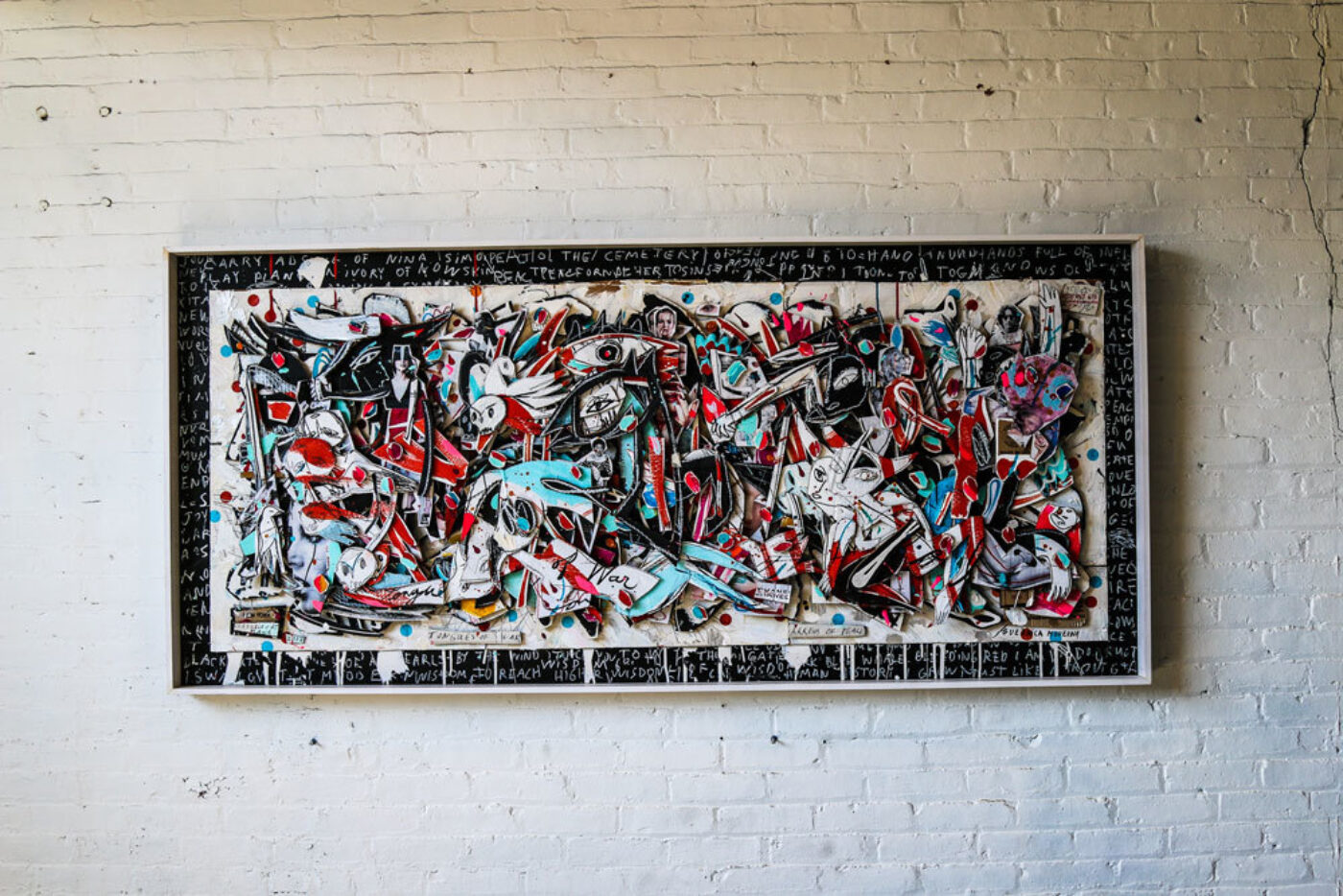 MH Now that I've known you for a few years I definitely see images or phrases that resurface with each of your projects. 
CD I have patterns. When I start a series, I always wear low-top black Converse, and then when I do an exhibition, I frame these shoes in a Plexiglas box, and it's my self-portrait. I have many of them now. It is a mythology. The symbols are like a key for people to understand. I'm lending a hand to take them into the paintings so they don't remain spectators but participants. So everything doesn't stay abstract.
MH You've always let us help you with your art. Even from the beginning you told us to come into your studio in Montreal and help. As a visual artist, I believe that is where you don't have that "ego."
CD The ritual of creation is important to me. We always see the completed piece. That's why at Mana they do studio tours, and the guide will bring up to fifty people. I might be in a trance or drunk with brushes in my hair, painting and painting, but these people come and we talk. There is an exchange. It is fragile at times, but dynamic.
Carlito Dalceggio's Les Espirits Sauvage is on view at Mana Contemporary in Jersey City, New Jersey, through June 15. 
Mina Hamedi is a Turkish/Iranian writer based in New York City. She earned her BA from The Gallatin School at NYU and her MFA from Columbia University. Her essays have appeared in Apogee Journal, The Columbia Journal of Art and Literature, and EuropeNow, among others. She is also the managing editor of the online journal, The Grief Diaries.