Becca Blackwell's They, Themself and Schmerm by Amber Power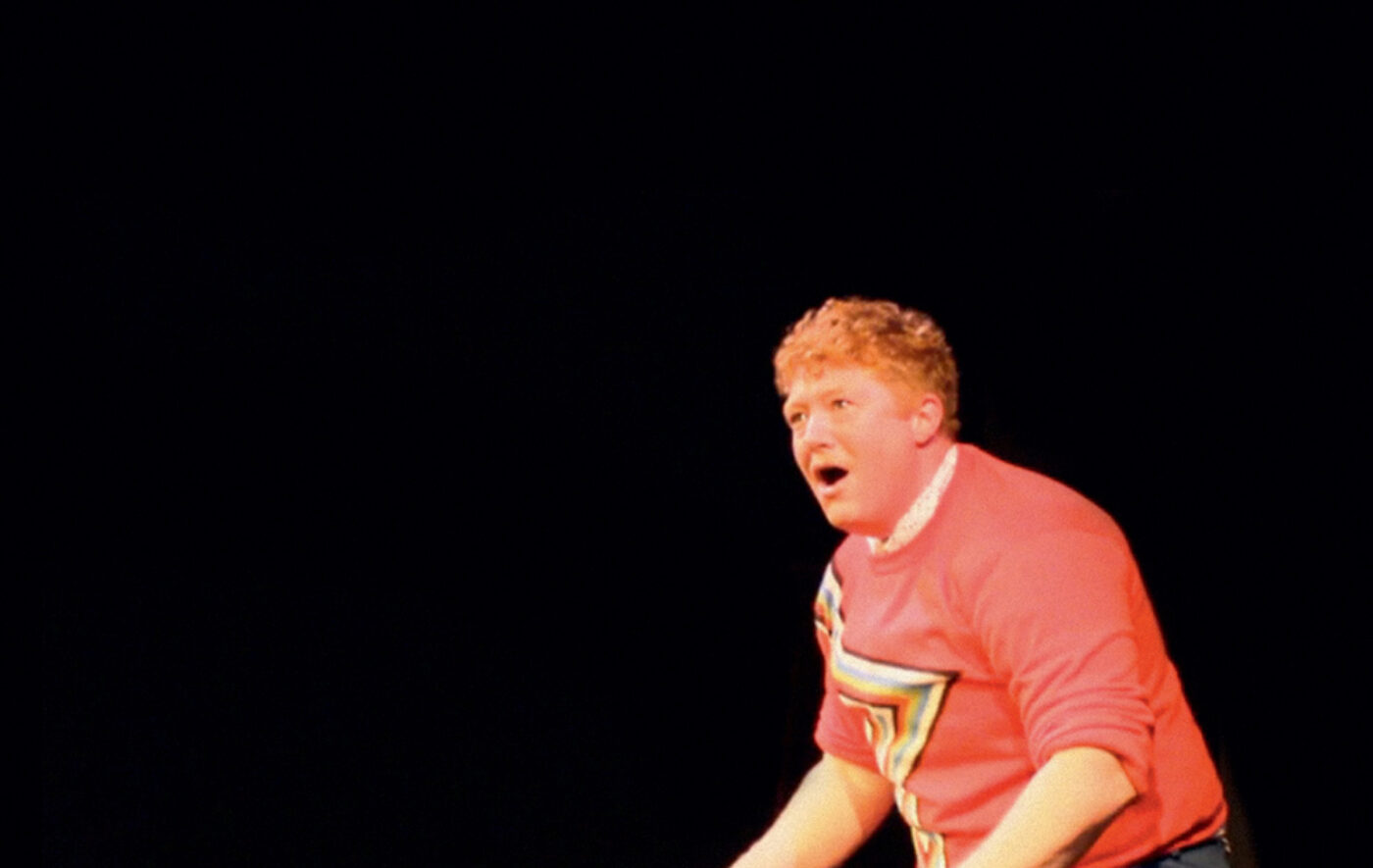 The Wild Project, 
New York, 2015
October 8, 2015
Dear Becca,
It's Corey Haim here—'80s heartthrob, teen idol, and tragic girlish boy next door. What's up, Schmerm? (Love your shorthand for the befuddlement cis-normative folk experience when trying to describe you. She … he … hrrm … ) I caught your one-person show, They, Themself and Schmerm, last night on the Lower East Side. Just in case you didn't notice my ghost in the rafters, let me tell you that your forty-five-minute long self-written, self-starring, autobiographical tragicomedy had me (and the whole audience) whooping and waving purple daisies in the air.
It was, if I may say, decent of you to resurrect and riff on my self-produced, straight-to-video documentary, Me Myself and I, "a day in the life of a teen idol," from 1989. Yes Becca, there was parody in your dressing like me (was that stonewash denim?) and in trying to approximate the "brainless and pretty" performativity thing so crucial to my appeal. However, under the critical surface of these things I also sensed compassion for the unspoken but oh so painfully obvious truths about my life—namely, the sexual abuse I suffered at the hands of those entrusted with my care, and the drug spiral that followed.
As I learned last night, the less clichéd leitmotif of your own biography includes these same tragic themes with the addition of your lifelong struggle to find a safe space for your gender identity. Imposing tights and skirts, the culture did its best to silo you into their tidy division of boys and girls. Your experiments to identify as either were disappointing (you found out the hard way that you needed a penis to pee standing up) and seem to have left you with the realization that perhaps the construct itself was flawed if it couldn't accommodate a glorious ginger schmerm like yourself (not to mention the other 700,000 transgender people living in the US today).
Your show, directed by the stellar Elena Heyman, had indie charm and do-it-yourself multimedia, including a hilarious pastiche video and PowerPoint chapter slides. The latter broke down the significant moments of your life into a kind of set list whose beats were executed by you with the razor-sharp timing of a stand-up comedian. Incredibly, the audience's laughter barely ebbed as you unspooled some of the more horrific realities of your childhood with a deadpan delivery that would impress Lucille Ball.
The moments that stick: your recollection of pissing on the radiator; your mother's mastectomy; the priest with his hand up your skirt; the love affair in the mental ward; your brief career as a phone sex operator; your empathy for the male "babyman" condition; prying a coin out of your four-year-old niece's anus in a prison bathroom; and finally, you singing Chaka Khan a cappella and spinning inside a Hula-Hoop, arms in the air, with all stories/selves coalescing into an ecstatic and harmonious one.
May I observe, Becca, that while your accomplishments over the last few years—prominent roles in Young Jean Lee's acclaimed Untitled Feminist Show and Tina Satter/Half Straddle's Seagull (Thinking of you), and the 2015 Doris Duke Impact Award—are the hard-won realizations of a fifteen-year NYC theater practice, they are also major steps in the development of a new, more inclusive performance atmosphere—one in which gender and human sexuality are treated like the fluid and polymorphous things they really are.
Which brings me back to your show. At some point during the night, your deft ruminations and rhetorical questions on the absurdity of gender ideologies receded (having fully rooted in our brains) and your audience was left contemplating the skill set of a seasoned artist who's smart enough to know that an honest personal performance can pack a political and consciousness-raising wallop. And despite your strict warning that nothing you said should inform our understanding of the LGBT community, your audience emerged from the theater last night with a greater awareness of a sociocultural transformation underway—one that may end up tracing your own arc: from confusion to denial to reconciliation to who-the-fuck-cares-let-the-love-in. So, all hail They-Themself-and-Schmerm—an actor for the new theater.
Be well my friend.
Love,
Corey
Amber Power is an art historian and BOMB's development associate.