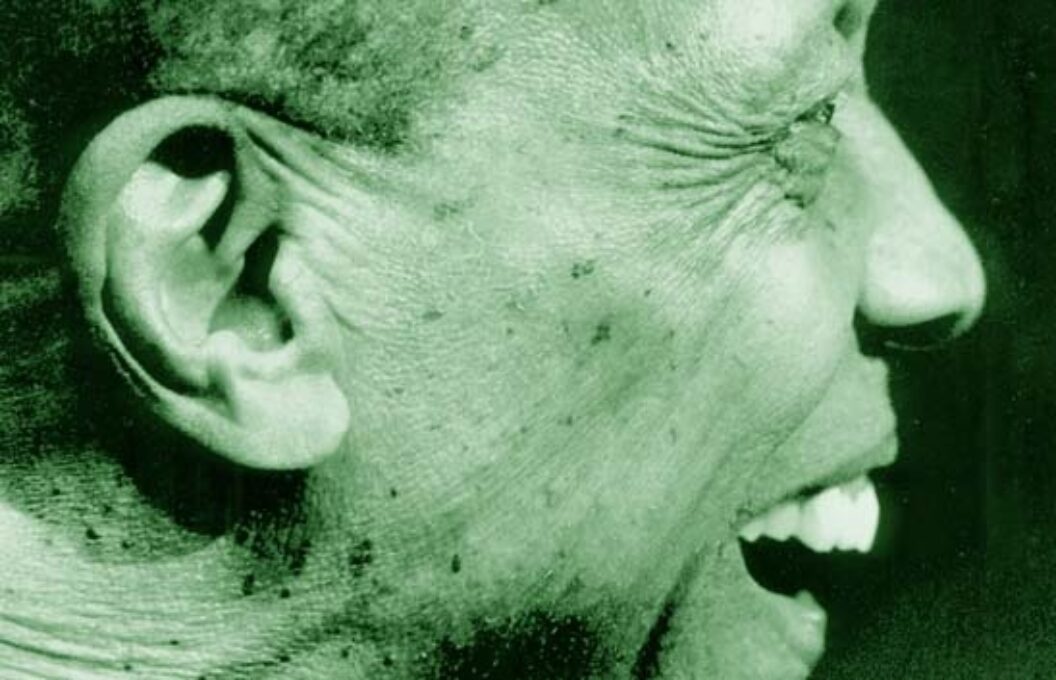 This past august I talked for a couple of hours with pianist Bebo Valdés on the occasion of the release of El arte del sabor (Blue Note), his trio album with bassist Israel "Cachao" Lopez and conguero Carlos "Potato" Valdés. Born in the village of Quivicán in 1918, by the late 1950s Bebo was at the top of his game as a pianist, arranger and leader of the Orquesta Sabor de Cuba in Havana. Since 1963 he has lived a quiet life in Stockholm, but in 1995 he came out of retirement to record Bebo Rides Again for the German label Messidor, and the following year he appeared on Cuba Jazz (Tropijazz) with Paquito D'Rivera. In 2000 he appeared in the filmCalle 54 , playing duets with Cachao and with his son, the multiple-Grammy-winning pianist Jesús "Chucho" Valdés. In these excerpts of our conversation, he talks about his decision to leave Cuba in 1960, never to return.
Bebo Valdés In '56 when the revolution began, bombs started sounding in Havana. And on a famous night in Havana, [January 1, 1957], we were playing in the two salons of the Tropicana—one was under the stars and the other, the summer salon, had air conditioning, but there were nights they had to open both because there were so many people. That night there were more than three thousand people.
There was a divine young girl very near my back, close to the piano, and apparently there was a pocketbook near her—I don't know, but they say it was that—and that girl was seated there at a table with her friends and family. She was dancing, then she came and sat down, and there was an explosion, and it tore off her left arm…very very near my back. The palm tree covered me, so nothing hit me. It could have hit me, and it could have hit Kiki Hernández, who was at my side. They took her out on a stretcher.
Ned Sublette The house was full?
BV Both salons were full! Both salons were full!
Oye, in Havana, since the time of the Spanish, at nine every night, at the Morro Castle they shot a cannon to announce the time…
NS They still do.
BV Still?
NS Yep.
BV Well, with all the bombs sounding we didn't know if it was six, seven o'clock, what time it was. There was a time when you couldn't go with your children to the movies—at the movie theater in Belascoain, near the police station, they planted a bomb that went off during a matinee. No one was hurt in that one, but bombs exploded everywhere. You couldn't go outside, it was terrible. I had experienced some of that in the time of Machado the government of Gerardo Machado (1925-33), which was terminated by a popular uprising and subsequent withdrawal of U.S. support after a period of war in the streets, but not to the same extent.
NS And that was the beginning of your disgust with those people [the revolutionaries]?
BV Well, the beginning was…in reality, I was a little disgusted already at Mil Diez. [A radio station at 1010 AM, maintained by the Communist Party, which employed a vast number of musicians during a period of relative political calm in Cuba. Mil Diez had a large orchestra, ten arrangers, numerous singers, including Celia Cruz, Olga Guillot and Miguelito Valdés, and groups including Arsenio Rodriguez, the Conjunto Matamoros, and Los Jóvenes del Cayo. They also maintained an archive in which they collected 19th century Cuban musical scores. Inaugurated in 1943, the station was closed down by Ramon Grau San Martin's government in 1948.] My father was a politico. And he was a liberal. In those days, when he started out, there was nothing more than liberals and conservatives. So I was at Mil Diez, on salary. After six or seven months my father began to have problems back home, because the news got to Quivicán that I had resigned from the party of Victor Martinez—who was the mayor—and that Mil Diez had registered me in their party. I said, "I signed because they told me it had nothing to do with politics." And I said, "Look, when have you seen me at a mitin [political rally]? I'm not of the Right or of the Left, what I am is a musician. Forget it, politics didn't interest me. My father is a politico but I'm not."
I left the Tropicana the 31st of August of 1957. I went to the Sevilla Biltmore. When we started at the Sevilla, I had the best grupo there was, which was a trio, it was Barreto, bassist Orestes Urfé and me…
NS Guillermo Barreto?
BV Guillermo Barreto! [Timbalero who played in the Tropicana Orchestra, in Cachao's famous descargas and in the group Los Amigos; husband of singer Merceditas Valdés.] My cousin, chico! And bueno, we installed ourselves there because Urfé also had problems at the Tropicana. He talked to me, and I told him: "Look, I think I'm going to split because of that problem with the bomb and all that ugly stuff." Bueno, then I got that gig at the Sevilla Biltmore, and in reality they paid me a lot better than at the Tropicana. I played six weeks with one week off.
In January of '58 Nat King Cole came to Havana. Since I had accompanied him, he asked me to do it again, with the Tropicana orchestra, but with me playing the piano, on the first record that he made in Havana. I went around with him, and we became friends. I don't speak English and he didn't speak Spanish, but the interpreter they brought was really good.
I stayed at the Sevilla Biltmore until the 31st of December of 1958, when it closed. [On January 1, 1959, Fulgencio Batista fled Cuba and the government of Fidel Castro was established.] They reopened it eventually, and I started up again, but beginning on the 31st of August that year, we had to include band members who were from the sindicatos [labor unions]. I didn't pay much attention, and nothing happened, but the problem then was—boom, they dropped me. But before that, I had formed the Orquesta Sabor de Cuba, because I knew that something like this was happening with other friends of mine. Then, Bueno, I began with the Orquesta. I had installed my son Chucho in the orchestra already, as the pianist, and I stayed with the cuarteto, but then when I needed to I would change places with Chucho, who wasn't yet 20. We were already doing that in '57—Chucho was born in '41—so he was 16 years old. I went to the Havana Hilton and worked there for two months. After two months they tossed me out. Then I had a program on Radio Progreso and I had another radio program as well, and there was a program I did once or twice a month on television. I had two singers, Pio Leyva and Rolando La Serie. [Leyva became internationally famous as part of the Buena Vista Social Club in 1997. With La Serie, Valdés had a major hit in 1959: "Sabor a Mi."]
La Serie and I were in agreement that in the orchestra there were two individuals who were spying on me. Then one of them calls me, who has since died, so I won't mention his name, and he says to me: "Starting next month this orchestra is going to be cooperative." And I said: "What? What do you mean, cooperative?" He says: "We've agreed that you'll direct, but I'm going to do the promotion and all that." And I said, "Says who?" And he says: "That's what we're proposing to you."
And I told him: "That will never happen. First I die. I won't accept it. Look, whose arrangements are they? Who wrote the numbers? The investment, the music stands, the business, this contract with Radio Progreso, those programs that I have with Alvarez Guedes [Impresario who co-founded the Gema record label in 1957] the contracts that I have—are they yours, or mine? You're part of the orchestra, but the business is mine. Whose publishing company is it? It's mine." I was about to get involved in starting my own record company. Some days went by, and the first minister was going to speak and they needed a million people. I said, "Well, I'm not going to any rally, not of the Left or of the Right, I don't like it." And they said, "Compañero, in this era of the Revolution—" And I said: "Look, chico, I'm not a politico. If I see it, I'll see it at home on television. I'm not going." So I got kicked out again.
And I played my last dance on the ninth of October—my birthday—in the Hotel Nacional. I already knew I had absolutely nothing. La Serie had the same problem as me. Someone got us a contract in Mexico, and it was an enormous problem to get permission to leave Cuba. They gave it to me, but it took three months.
I left Cuba. La Serie and I left together, along with La Serie's wife, on October 26th, 1960, and when we arrived in Mexico we swore that we would not go to Cuba again while the Communist system existed. I say: I don't know if it's good or bad, but for me personally, the regime does not go with me. I don't accept it. And I'm not a politico. I have always said: no, I accept no dictatorship, not of the Right or of the Left, no.
—Ned Sublette lives a mile north of ground zero. He is still working on his book about the history of Cuban music. His 1999 CD Cowboy Rumba is still available. His show of photographs In Cuba I Learned to See is on view at Tucson's Medicine Man Gallery.
Originally published in
Featuring interviews with Roberto Bolaño, Laura Restrepo, Miguel Leon-Portilla, Nancy Morejon, Graciela Sacco, Tunga, and Los Carpinteros.