Be Useful: Rirkrit Tiravanija Interviewed by Jessica Lanay
Making and not making art.

Discover MFA Programs in Art and Writing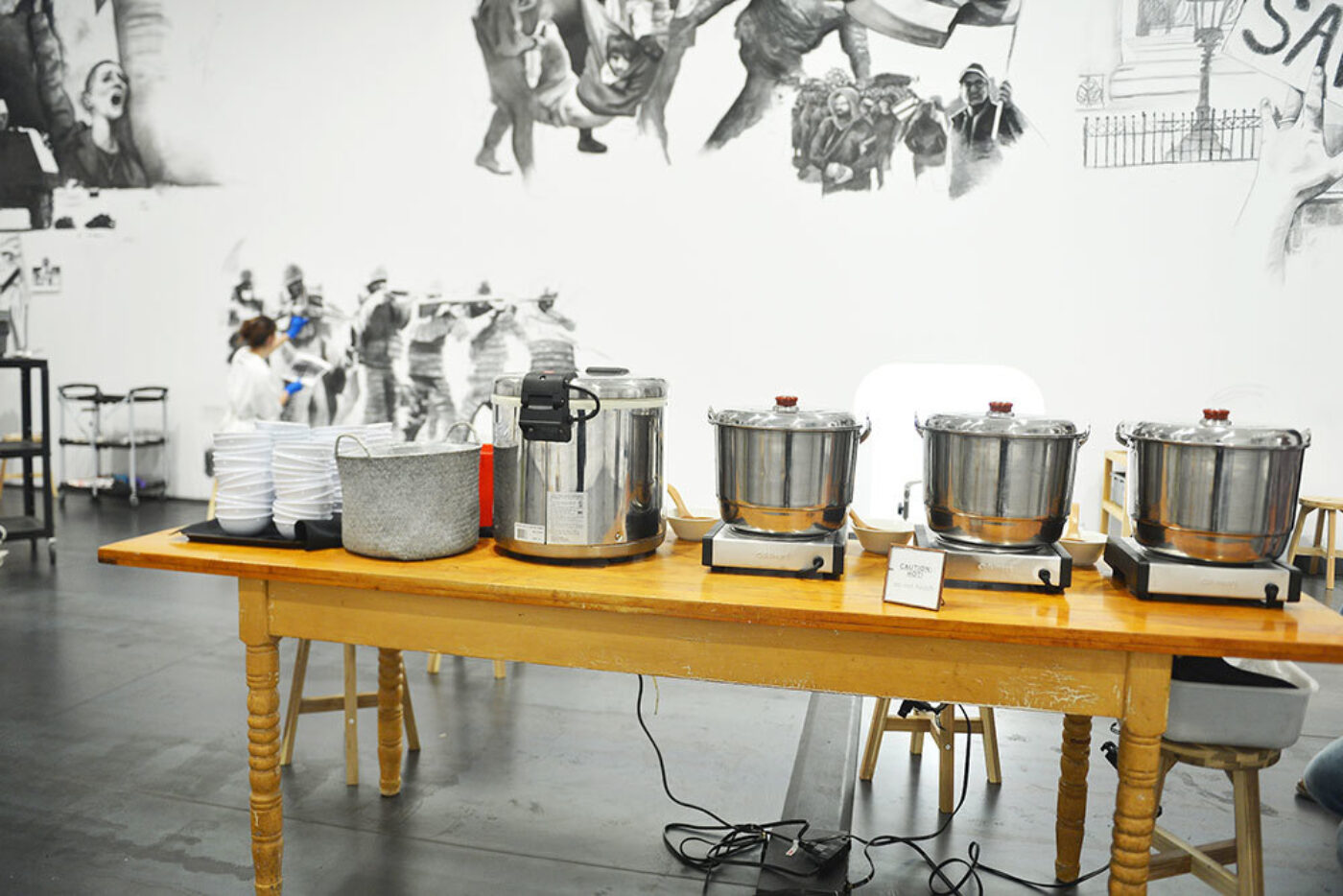 Rirkrit Tiravanija's art, as he has said many times, "does not sit on its ass." It does not wait; it does not linger; it arrives at the will of his conceptualization, and departs in the crushing palm of time. Winner of the 2004 Hugo Boss Prize from the Guggenheim Museum, Tiravanija is interested in the meniscus of existence, that tender bubble of being present that we all skirt or skim. The happenings that constitute the bulk of his work break down human experience to the activities that have the most potential to make people engage in their present moment: eating, talking, thinking. It is through these activities that Tiravanija even coaxes art institutions to challenge their own architectural and mission-based restrictions. As an individual, Tiravanija understands some basic desires: we all want not to be afraid anymore; we all want to be full and fed; and no matter how much we run from who we are, we continue to crave understanding of that being. I spoke to Tiravanija about the Hirshhorn Museum's current reenactment of (who's afraid of red, yellow, and green) (2010).
—Jessica Lanay
Jessica Lanay Space, time, and purpose are words that come to mind when I think of your work. Do you believe that by architecturally transforming space you are forcing participants to reside in several different times at once?
Rirkrit Tiravanija I would like to think of architecture as a place and how that place works in the expanse of time. It has more to do with the fact that I would like people to be able to find details or to pay attention as an idea of spending time or being in time. So I certainly am interested in finding a way to make kinds of attention or certain layers of attention that would make a person have to spend time or at least think about the experience in that way.
JL Have you ever experienced a moment where the function of your work presented a challenge for the institution supporting you?
RT Always! They ask you to make a space that is free, but they themselves are not free enough to let the space be free because they are obliged by legalities, by rules, by the registrar who is afraid of smell and smoke. There are always conflicts and conditions that one is running up against.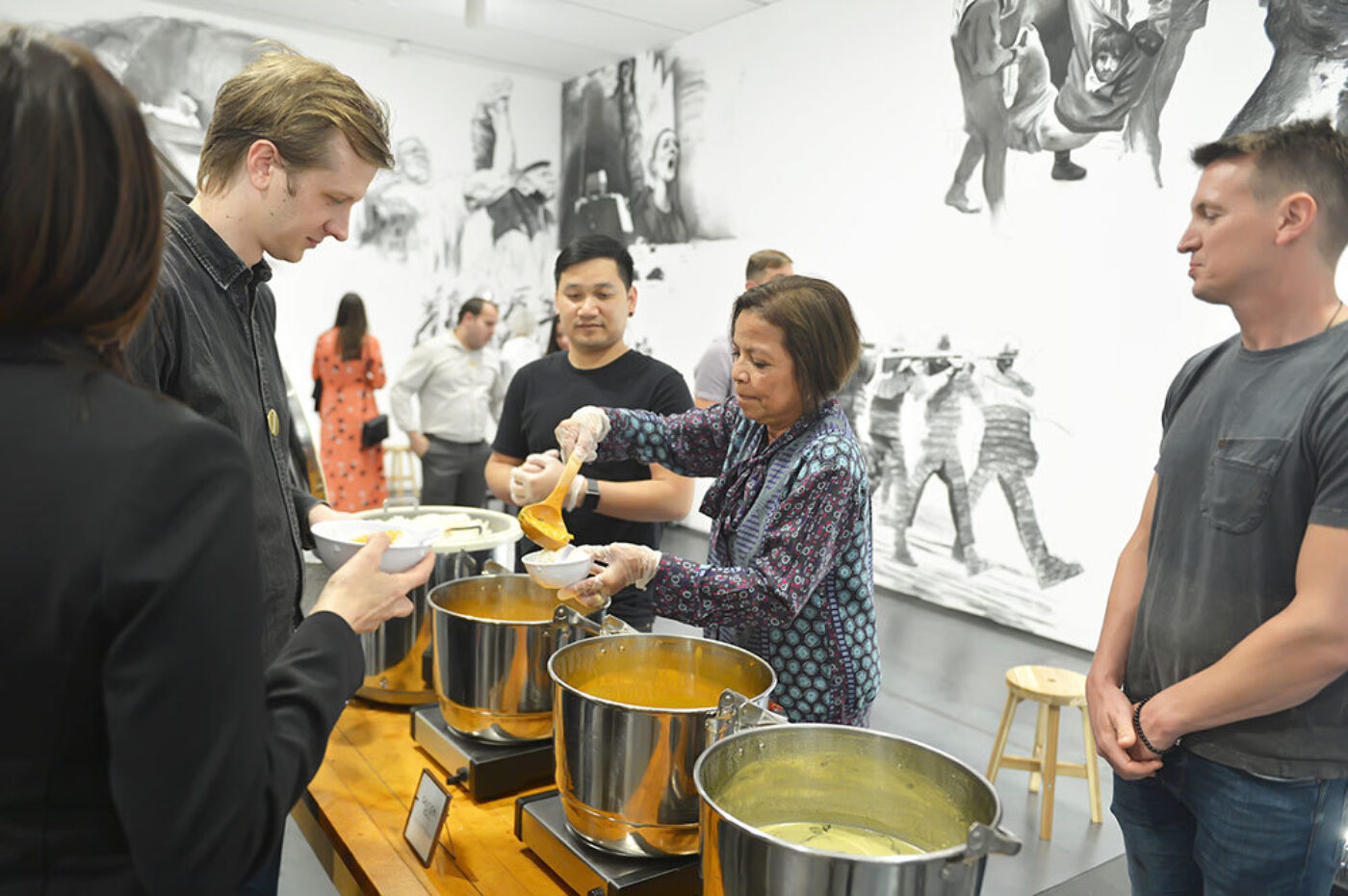 JL You often speak about the gaps between Western and Eastern methodologies for knowing the self. Is there any landscape shared between the two?
RT (laughter) Shared. That's a very complex question. Everybody has fear. It comes out differently, but I think that is something I am really looking at. What is problematic in the way that we approach life? I think it is fear. At the moment, fear of the other is everywhere. I am thinking a lot about that in terms of where, or why, or how one could find a way to overcome that. It has to do with loss of self, the fear of losing oneself. One doesn't want to be transformed into the other, or at least one thinks they are going to be transformed by or into the other. Therefore, one is always afraid. It is somehow about the self. I am working on a new book about cooking. I was giving another interview yesterday, and she mentioned the idea of fusion. I said that it is not about fusion because fusion somehow has a sense of origin, and origin in a way that it has a methodology. It has a structure. What I am trying to do in this book is to be more open about the methodology, open for possibility, open for influence or combinations. It is more instinctual. I met with a professor, and he spoke about how in India there is a lot of fear of the food of the other: you can't eat cow; you can't eat pork. That is interesting to me in terms of how one cultivates a structure of the self. Rules are made because someone needs to impose control over someone else. Ghosts in Thailand are kinds of rules, to make you afraid of something. And that fear is a way of keeping you from certain structures, or situations, or ideas.
JL Your life has been full of travel, education, and access to different cultures and economies; some would call this a privileged life. Many of your pieces, such as pad thai and Untitled (Free) from the 1990s, attracted people who are not so privileged—the homeless, the hungry. Also, the social events that spur your work are not something that the everyday person in those events can escape from. How do you think of your life experience and the life experience of the marginalized colliding?
RT Yes, it is a privilege to be free. But free doesn't necessarily mean that one has wealth. Today, I was on the train, and a man was sleeping on the train. It isn't a choice for him to sleep on the train; he had to sleep on the train. Of course one could also be free of having to live a life of having a home. That could be "free." For me there are moments that one does things because they are free and moments that one does things because one is obliged. When one is obliged, one feels that there isn't freedom. I would like to think that one could exist in a lot of different layers. There is what people see, what they think that one life could be; and then there is what one actually lives. None can be determined by the image. I like to think that what I do is a layer of practice—there are moments of privilege and moments where one can do things in many different layers. I am not interested in making art all the time. Actually, I am not interested in making art at all. I am not interested in being an artist. That keeps me free from being obliged.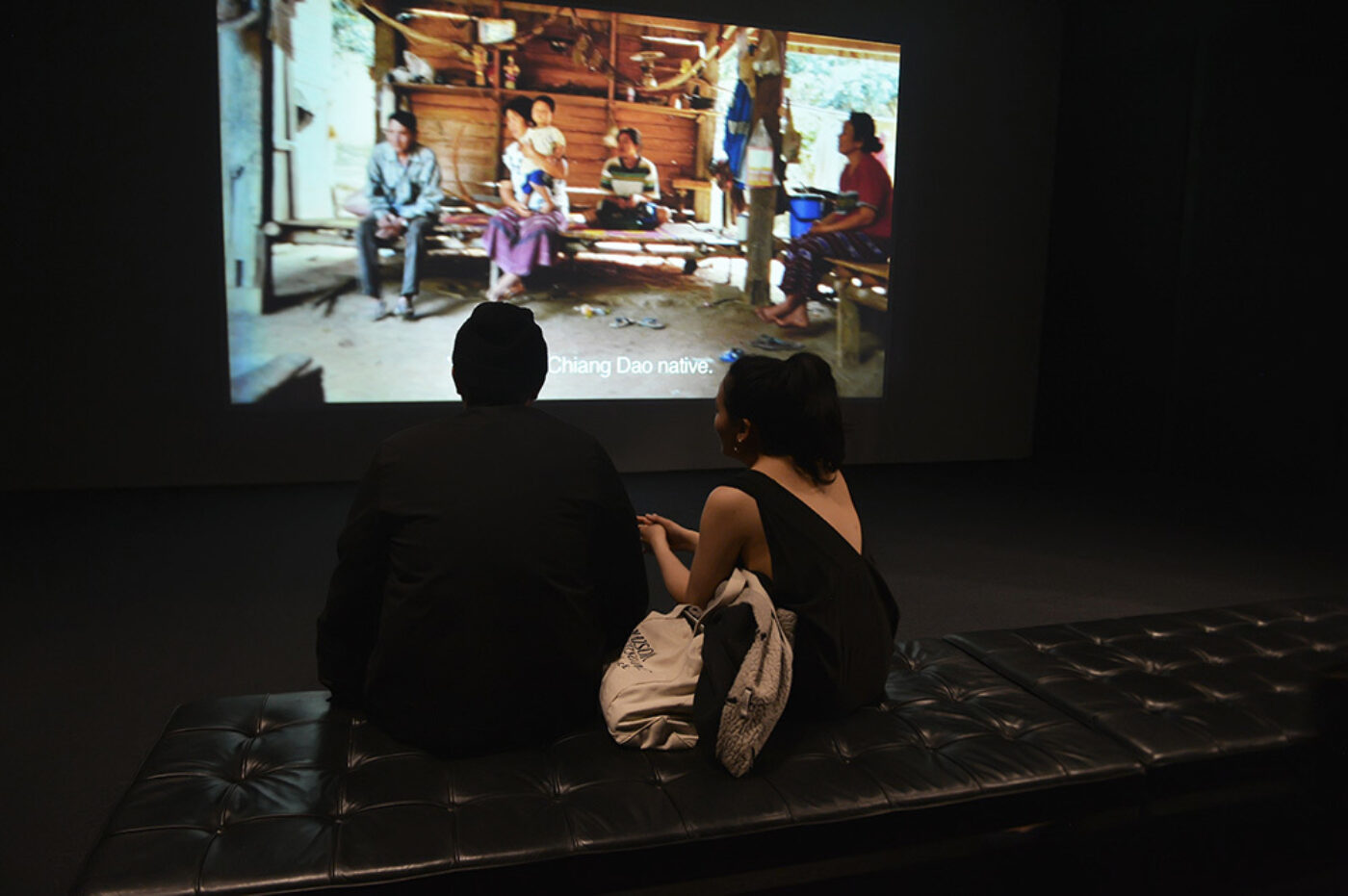 JL The piece at the Hirshhorn Museum arose from political strife in Thailand between factions wearing red shirts, wearing yellow shirts, and the green-uniformed military. Each time you re-create a happening, does it change based on its context?
RT This work, (who's afraid of red, yellow, and green), is very specific in that it was made in Thailand, and it was made in the moment of a military coup. The images in this work are specific in that they are images of protest from the history of protest in Thailand. So people are going to see and deal with that history. The curries are specific in that they are relating to certain colors and identities; people have identified themselves and their ideological stance through color. The colors are the colors of the curry that we actually eat. It is interesting to me to have the work exhibited in Washington, DC, which is another political structure. This work was supposed to be up and activated earlier; but because of the government shutdown, it was delayed. The piece is a reenactment. People will be able to come and eat, and there are going to be people that know how to draw, then the chance for just anybody to draw, to add to the layers. It is always up in the air for me where it is going to go.
JL Everyone focuses on pad thai as your first work. But what is the first work of art you remember yourself intentionally doing?
RT I always felt that I was in such a far place from where I came from or what I could have been in terms of whatever one can exist as. At one point in my life I went from Thailand to Ethiopia, which is where I learned English. There I remember drawing a bee, some kind of class assignment, which was the first time I was given a gold star for something. And I realized, Oh, I can actually draw. I was only seven years old, something like that. Around that same moment, there was a photograph my father took, which I claim as a work. It is a photograph of my sister and I playing around, and I had fashioned plasticine shapes on my ears to make myself look like Dr. Spock, like a Vulcan ear. If you think about it, it is just a kid making something; but then again if you think about it as sculpture, it is interesting, transforming yourself into an alien. Those are moments I kind of look back on and think, Maybe it was always there. In many ways maybe all of the work I do or have done is about trying to locate myself.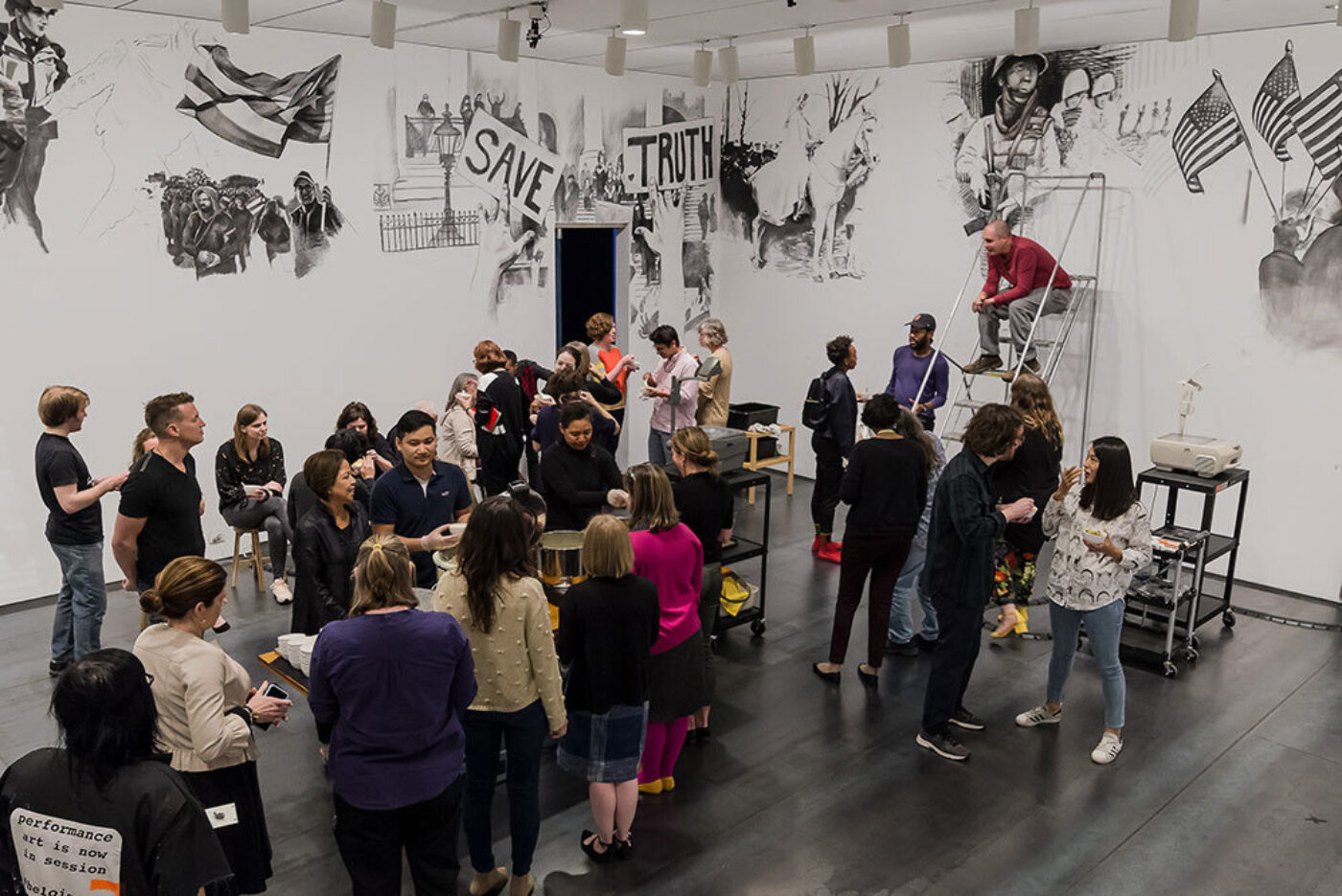 JL If you had to live your life only looking at the work of one artist, which artist's work would it be and why?
RT Wow. Ha! That's tough. But—I would go with Duchamp's urinal (Fountain, 1917). In the urinal itself is the spiritual and the absurd. It is both high and low. It is a particular form. It would be the original urinal or whatever, and how that form has a certain kind of similarity to the image of a Buddha. So, I would put it in that way. It is absurd, and ridiculous, and at the same time highly spiritualized.
JL If you could live any other life—what would it be?
RT I would be something useful. Like a … like a urinal. Like a bedpan. So people who can't get up and walk could piss into it—be useful.
Rirkrit Tiravanija: (who's afraid of red, yellow, and green) is on view at the Hirshhorn Museum and Sculpture Garden in Washington, DC, until July 24.
Jessica Lanay is an art writer, poet, librettist, and short fiction writer. A frequent contributor, BOMB is home to many of her interviews of artists and reviews. Her poetry can be found in Indiana Review, The Common, Bad Penny Review, Fugue, and others. In 2018, Lanay was awarded a Millay Colony residency and was nominated by The Normal School for a Pushcart Prize for her poem "Milk. Milk. Milk." In 2020, the opera she libretted, Virgula Divina, composed by Karen Brown, will premiere at the Opera Now Festival and the Pittsburgh Festival Opera program Fight for The Right.