Barbara Henning's Looking Up Harryette Mullen: Interviews on Sleeping with the Dictionary and Other Works by Patricia Spears Jones
Barbara Henning's sprawling volume underlines the joy of old-fashioned, mail correspondence and features a thorough and revealing interview with Harryette Mullen.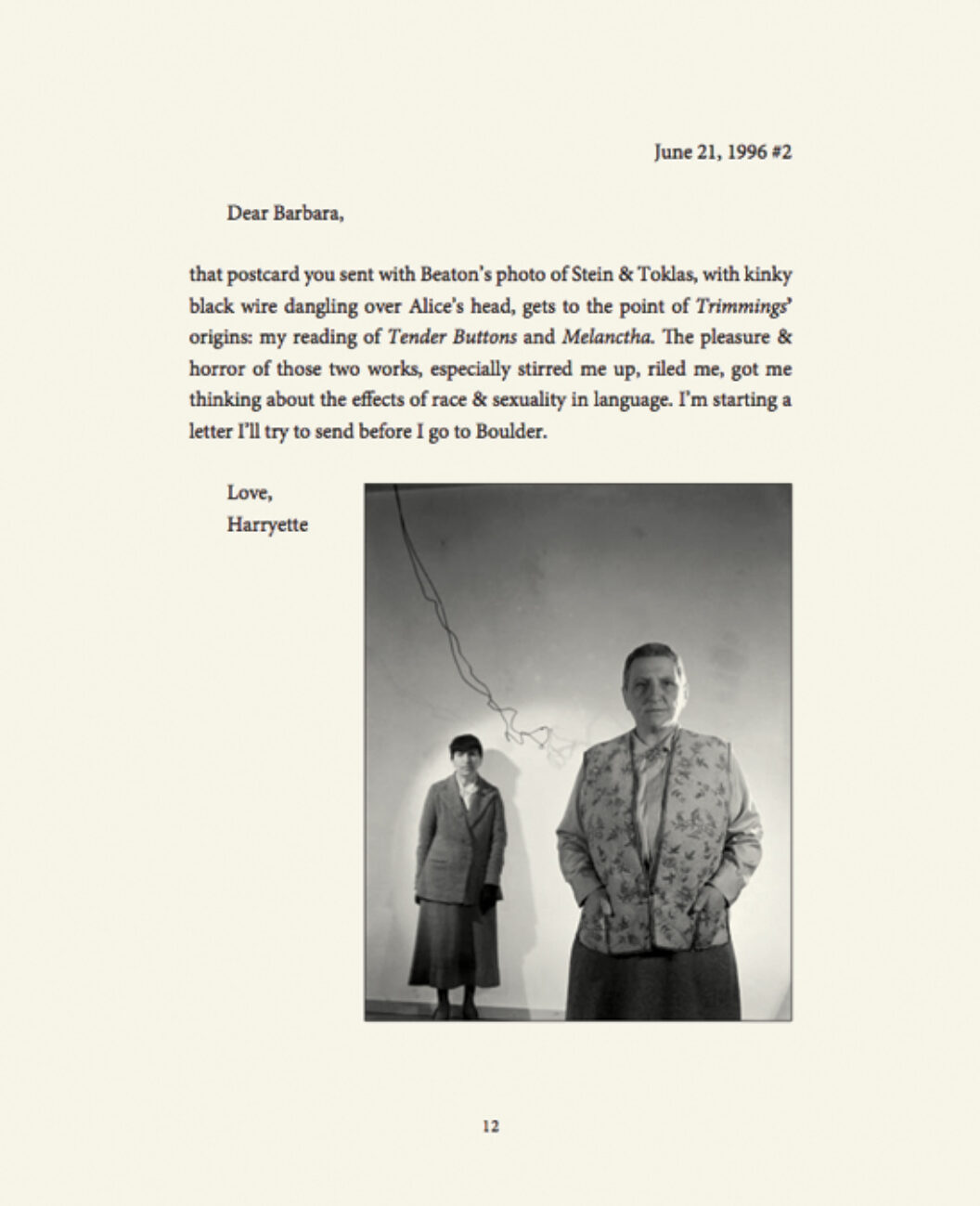 Correspondence—the old-fashioned kind—is a subversive method of communication these days. In an era where tweets serve as minipostcards from restaurants and rock concerts, it takes real moxie to allow correspondents to find each other slowly and often out of sequence. That is what happens in this illuminating volume by Barbara Henning, for which she and Harryette Mullen discussed Mullen's literary output—starting with Trimmings and Muse & Drudge—through an exchange which, like Fluxus correspondence of the 1960s and '70s, is happily off-kilter.
Henning's efforts are helped by a terrific book design that lets readers see postcards exchanged throughout 1996 in the book's first section, entitled "Snail Mail: From Coast to Coast," as well as other visuals that amplify Mullen's ideas. The second section of the book, "From A-Z: Conversations on Sleeping with the Dictionary," is based on an extensive interview regarding Mullen's 2002 book. Henning's questions are probing and respectful (sometimes a bit too respectful), and though Mullen's answers are carefully provided, you get the feeling that she does not hold back. About her participation in community, Mullen writes: "Most fundamentally, some persistent aspects of my identity and my work have been determined by my community of origin. The Southern black community of my childhood made both literary and oral traditions of poetry immediately available to me …"
At the start of their conversation in "From A to Z," which took place in 2009, Henning notes, "There's definitely a critique, concern, undoing, pointing at how language and racism are woven together. What do you think this phrase is saying about race—'Dark words more radiant than onyx.'" Mullen used this quote by André Breton at the start of her book, so an extensive discussion on Breton's "dark radiance," Surrealism, Gertrude Stein, and the Oulipo ensues. Mullen squarely places her writing in the midst of contemporary, international poetic practices, and discusses her use of Oulipo methods, the importance of which, for her, resides in "this group's systematic cataloguing and exuberant invention of textual operations and literary techniques." Mullen's use of their methods may be seen as subversive. In the book's introduction Juliana Spahr points out that Mullen's turn to Oulipo is "provocative [ … ] as Oulipo is also a group that is not only mainly French, but almost mainly male."
This extensive commentary by critic and poet lifts the interview with writers out of the formulaic into an entertaining (both women have wicked senses of humor) and profound interrogation. Many poets are as self-aware as Mullen, but few are as eloquent and witty. She knows when she's transgressive and Henning knows when to check a reference, bring up an old friend, and move the conversation forward.
Patricia Spears Jones is a Brooklyn-based poet and playwright and the author of Painkiller (Tia Chucha) and two other poetry collections.
Originally published in
Featuring interviews with Francis Alÿs, Binyavanga Wainaina, Simon Van Booy and Siri Hustvedt, Natalia Almada, Joanna Newsom, Scott Shepherd, and Mickalene Thomas.