Outstanding, Girl, You Knock Me Out: Ayana Evans and Tsedaye Makonnen Interviewed by Jessica Lanay
Two artists manifest, claim, and demand space in a society that operates around violence against black women's bodies while pretending that they don't exist.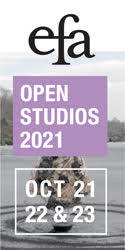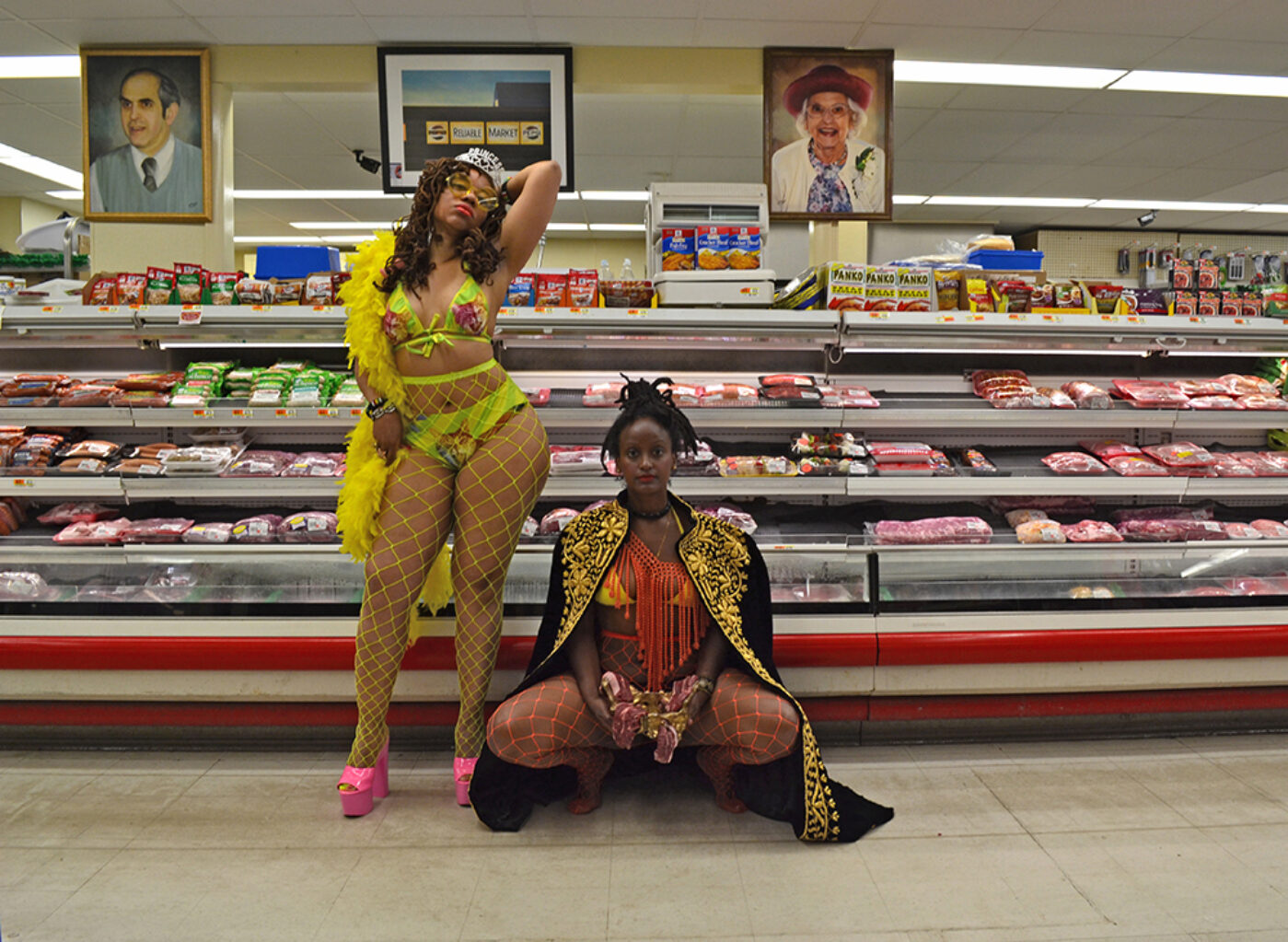 Ayana Evans and Tsedaye Makonnen recently returned from the Savage-Lewis Residency at Martha's Vineyard, where they collaborated on a performance project titled Inserting Ourselves. In the piece Evans and Makonnen are a crease of lightning against white beaches and backdrops of quaint, identical bungalows. Their bodies draped in black velvet, fishnets, multicolored bikinis, and tights make for a beautiful dissonance that springs from the marriage of their imaginations. They twirl their hair, play, smile, and flash each other knowing glances; they raise a banner of contrasting ankara cloth above the sea. Their separate aesthetics and approaches cross as, in one video, Makonnen puts on Evans's signature fashion gowns and Evans adorns her shoulders with Makonnen's kaba.
I talked with them about how they manifest, claim, and demand space in a society that operates around violence against black women's bodies while pretending that they don't exist.
—Jessica Lanay
Jessica LanayHow do your performances examine intersections of race and gender?
Ayana EvansIt has a lot to do with audience. A lot of times we are performing in white spaces in front of audiences who are feminists but not black. We are forcing them to think about that with our presence, and we are not wearing subtle outfits either. I am bossing people around. I ask, "Are you going to catch this black body?" And I leap, and they have to catch me. It is very intimate. You have to touch us; you're hearing our voices; there is music playing. You have to deal with the emotions; it is a complete interaction. You force people to deal with where they put you or how they judge you.
Tsedaye MakonnenI would never do anything like that again. I was in the thick of being a doula. I was tired as shit and over being a black woman in these spaces. I literally laid out the rebozo, a cloth that you use to alleviate pain during labor. You put it around pregnant women, and you shake their butt, and it shakes the baby down. It is actually from Mexico. I lay on top of it and pulled out my massage things that I use with the moms. I was like, "Massage each other, and massage me." Ninety-nine percent of those people were white. It turned into this situation where they had to take care of a black woman. I don't know if they realized that, but that is what happened. I got the best massage of my fucking life. I called the piece I Need a Motherfucking Doula.
JLPerformance art is hard to monetize; its reception ebbs and flows in the art world. But it also confronts the Western commodification of the black body. How does your work seek to trouble the connection between commodification and the black body?
AE We don't sit in the system the same way that other artists do. When I hang out with painters, it's a different vibe. They're more competitive with each other. We come from the underground scene. We don't treat each other that way—black, white, or other. The underground scene is super intersectional; we are all broke together. It is grimy but in the best way. If I need to call Esther up and be like, "I don't have toilet paper," she will bring me toilet paper. There's no fronting. My painter friends are pretending that they have toilet paper. You don't feel as desperate for institutional approval when you have community.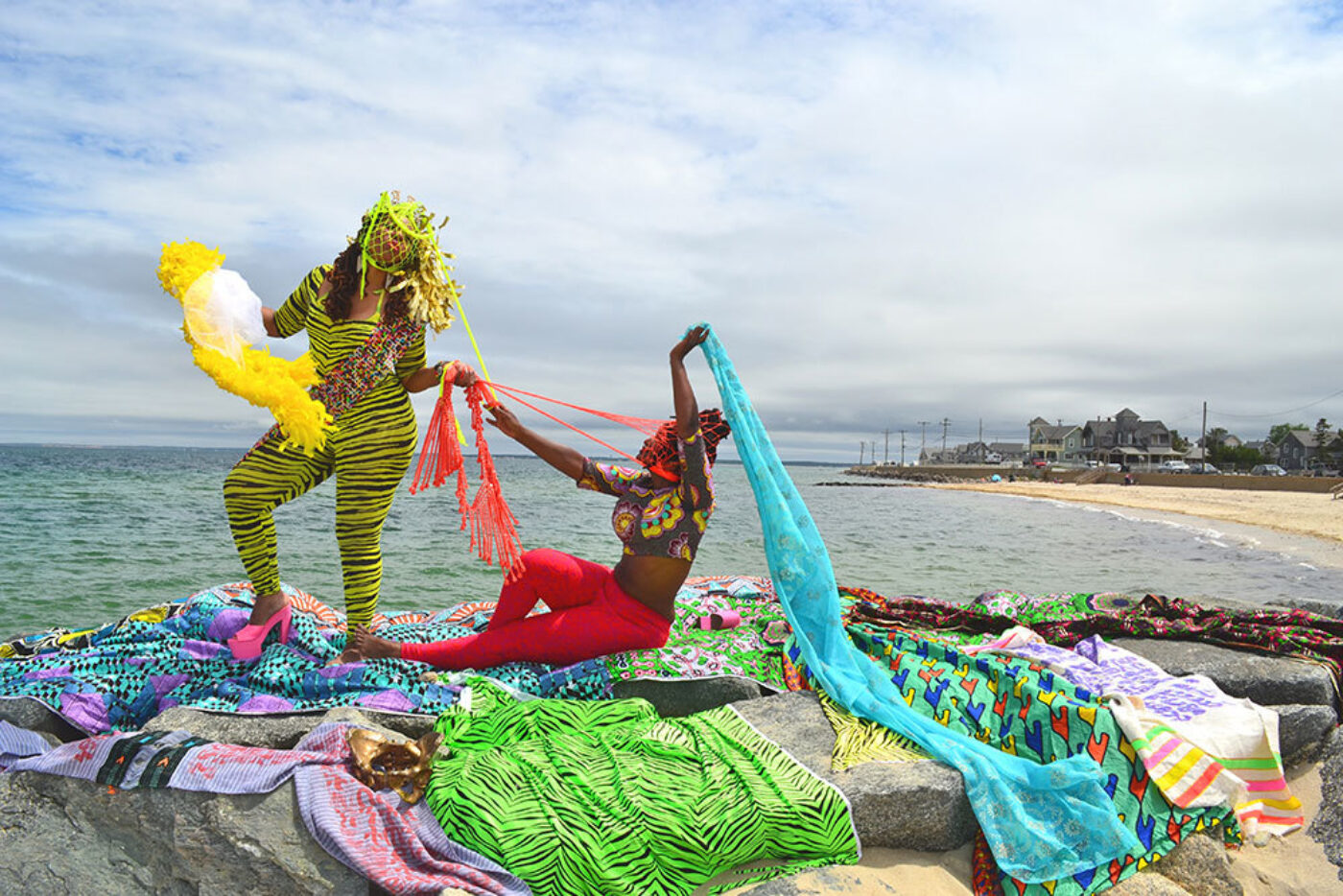 JL Ayana, I watched your Museum of Modern Art catsuit video. People performed unseeing you; and then, when you were not looking, they would take pictures of your body. How do you recover from these incredible acts of freedom and vulnerability?
AE I should admit it; I don't do that performance anymore. Because during that one I was silent. If anyone sees me perform now, I am never silent. This might sound bad, but I take my revenge while I am performing; I don't take it home with me. I've thrown chairs at people. I've hit people. I've cursed at people. I've said, "How dare you?" I call them racist if they aren't doing what I asked them to do. Even if I'm performing while tied up, I have the right to demand that someone untie me; and I still have the right to kick you. Just because my arm is tied doesn't mean I won't spit at you. And I won't apologize.
JL Tsedaye, same question. Your performative intervention at the Venice Biennale was confronted by an Italian police officer. Standing in front of Christoph Büchel's reclaimed migrant boat (Barca Nostra [2019]), on which more than eight hundred African migrants drowned in 2015, you were not breaking any rules. It seemed like your performed act of witching spectators away from the boat was reaffirmed by the police barricades put up, against the artist's wishes, to guard it. But this confrontation also questioned the legality of your body. How do you recover?
TM I went to the Biennale with a plan to do this piece, though they didn't invite me. I thought about it days before. I was not sure whether I would do it, but I came prepared. I sat there in front of the boat for three hours just observing. I watched people consume food, have meetings. That was the opening week. Everyone who was there knew what the fuck was going on. But because of it being placed there, it was almost like anything else, especially with death and black people: they were just desensitized. That alone was slightly traumatic to watch. Over eight hundred people died on this ship, drowned. And there were people taking selfies in front of it. My piece was very emotional; I was angry as fuck. People were just watching it as a spectacle more than anything else. I kept smacking the ground with flowers as they walked by. There was one guy who stuck his butt out and was like, Oh, smack my butt. I felt like all the stereotypes that we have of white culture, the fucked-up parts, were so present there.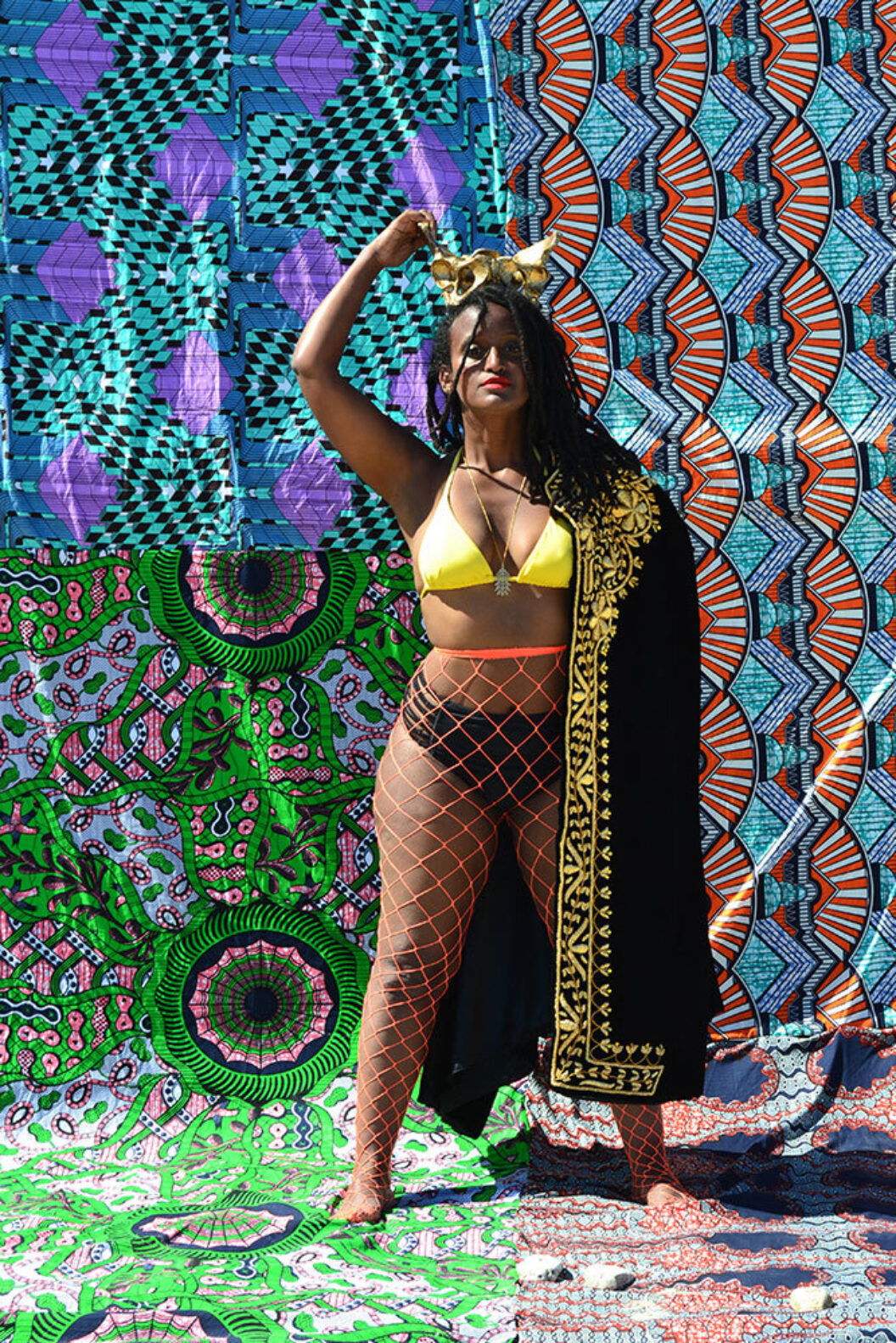 JL What are some major misnomers and assumptions about work by either of you?
AE People think that I am body-confident. People think that I started wearing that catsuit because I thought my body was hot. It was kind of the opposite. I was tired of covering up. It was like me saying, "Fuck it." You build yourself up as you force yourself to put yourself out there.
TM A misunderstanding I am noticing is that a lot of people think my work is solely about migration, specifically Ethiopian migration. My work has always been about black women. A lot of people don't know about my crowning series, because I did that during a time when no one was paying attention to me. But I did it for a long time. And that was all about black women and motherhood, black women giving birth, black women in the medical-industrial complex. Even the skin-bleaching piece—I did that for years. It's something that irks me now. I am always honing in on the experiences of black women, even in the context of migration.
AE But that is not a popular thing, saying your work is about black women. Somebody told me that a long time ago. They said it cautiously, but I was thankful that they explained it to me so I could say the right catch phrases to get press. If I say "feminism," "radical feminism," "vulnerability," "body politics," "acceptance," "hierarchies," or "class," I get my press. Somebody said to me once, "Your work isn't about being black." I said, "It is always about being black; it just isn't about explaining being black." I am not usually curated with other black artists because of that.
JL There is a lot about both of your practices that circles around desire: the desire to be desired, the desire to bring the dead back, the desire to be free. Can you talk about desire for me?
AE A lot of times that I start planning a performance I ask: What do I want that I am not saying? You've got to be bold enough to tell people. Sometimes people laugh at you. That is the fear: that someone is going to laugh at me if I say, Well, I want a husband; and I am old, and I don't have one. Because technically, I am supposed to be a cool art chick, and beyond that it is heteronormative. But then I look at my parents; they have forty-plus years, and it's cute. And their wealth is different because they're together. I am out here struggling, single, broke. There are some basic things that I want.
TM The taking-care-of-desire is in my work. And it probably relates to me being a parent. I am always taking care of somebody else. Performance is that moment for me, because usually my son is not with me, especially if I am traveling. Like, Oh my God, this is the moment for me to be by myself and do whatever the fuck I want. And in performance, I get to play that out, because I am in control. That is the other appeal of performance: you're stepping into my world, and I am going to tell you what happens here.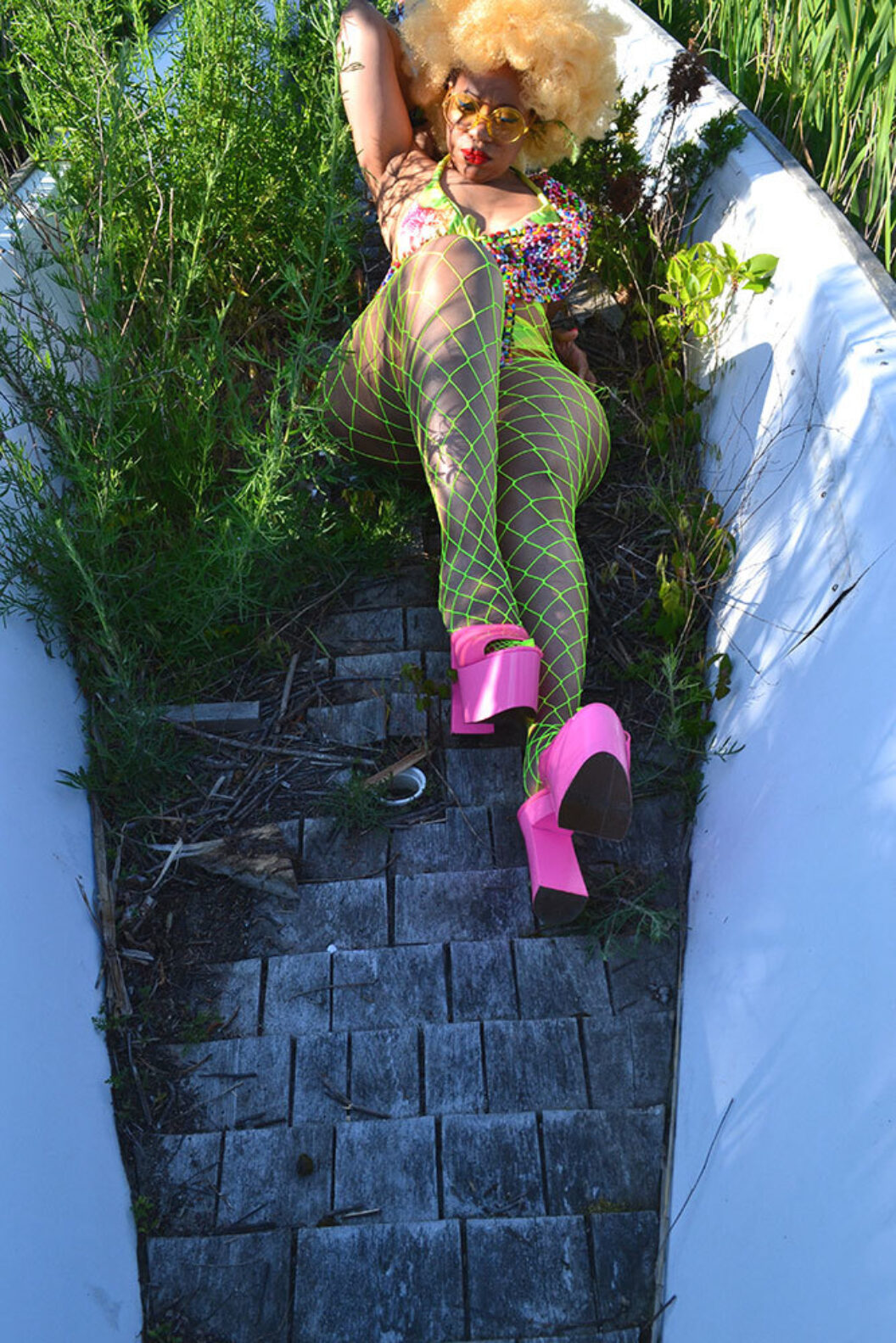 JL Ayana, you said in an interview that women who decide to unapologetically be themselves, especially black women, do not fair well in life. This question is for both of you: how do we break that spell?
AE I think in the art world there is some room for this; if you run through that open door right now, you can get away with a lot. Because of Trump and Beyonce there's a window right now where black women can be really bold, and not just black women. If you are othered right now, this is your window. If you were a curator maybe ten years ago and you called yourself a feminist, there wasn't pressure on you to prove that you were intersectional. Now there is pressure. You are going out and finding black women, trans women, Latinx women. You are looking for all of these different types of women to put in shows because you want to do your part.
TM I also think that we have been leading up to this for a while. People like Okwui Enwezor, Bisi Silva, and Kilolo Luckett, who is based in Pittsburgh, have been doing this work for so many years.
AE But let's be real, they like killed themselves to do it. Literally.
TM It is not a coincidence that most of these people have died at a young age.
JL If you could say anything, say it now.
AE If you've won a prize and had to apply for it, you should be giving that application to friends for them to see how to apply and win also. There is a way to dismantle this system and do activism that is actually not hard. Sometimes it is just making sure someone knows the right information. That is such a small thing. People don't do it for each other enough. Help each other. Reach for each other. You should start telling on the people who did you wrong. It cuts down on how many people they can hurt, and it increases your integrity with other people.
TM We need to stop replicating what white people do. That shit just doesn't work. We already have value. We do not need to have these extra things that are basically white validation to give us value.
Ayana Evans and Tsedaye Makonnen will present new collaborative works and a performance titled I Came by Boat so Meet Me at the Beach at the August Wilson African American Cultural Center on January 24. Organized by Kilolo Luckett, August Wilson's curator of Visual Arts.

Jessica Lanay is an art writer, poet, librettist, and short fiction writer. BOMB is home to many of her artist interviews and reviews. Her poetry can be found in Poet Lore, Indiana Review, The Common, [PANK], Prairie Schooner, and others. Her debut poetry collection am●phib●ian won the Naomi Long Madgett Poetry Prize and will be published in February of 2020 by Broadside Lotus Press. Also in 2020, the opera she libretted, Virgula Divina, composed by Karen Brown, will premiere at the Pittsburgh Festival Opera program Fight for The Right.