In Attenberg, filmmaker Athina Rachel Tsangari tells the story of a young woman's coming-of-age while highlighting the political situation in Greece and the age-old clash between our human and animal instincts.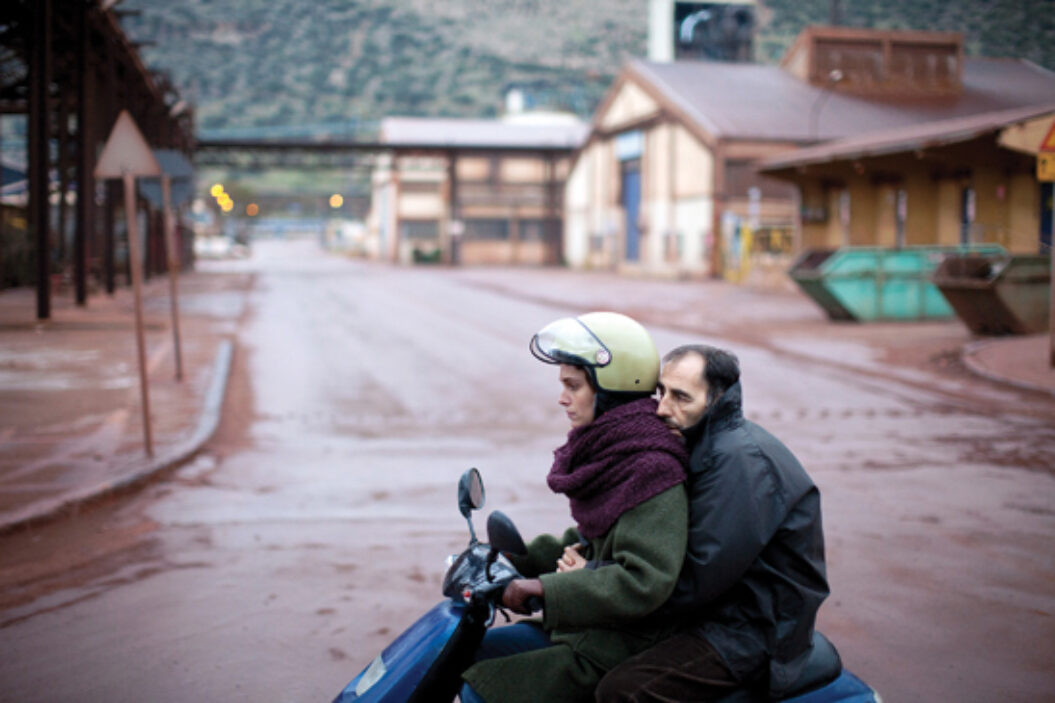 The film Attenberg functions allegorically on several levels: the personal (as a simple coming-of-age tale), the philosophical (as a description of the confusion wrought by our dual state as animals and rational creatures) and, most remarkably, for me, the political. Greek filmmaker Athina Rachel Tsangari, who wrote and directed, has created a lead character complex enough to retain individuality while representing, in the film's allegorical framework, an entire national consciousness. Attenberg tells the story of Marina, a young woman who seems almost freakishly naive in her interactions with members of the opposite sex, as if her sexuality had lain dormant until her early twenties, which is when the film begins. Marina (played by the remarkable Ariane Labed) spends her days caring for her terminally ill architect father, driving a scooter or car to and from the mine that employs her village, and hanging out with her friend, Bella (Evangelia Randou). Labed and Randou are non-actors, who are, in fact, both dancers and performance artists. Their interactions are very physical, as if the two were more conscious of each other as corporeal subjects than as young women. In fact, the film begins with the two friends awkwardly practicing kissing with each other before they break into an argument and a pantomime of two animals fighting over prey. Tellingly, the title of the film comes from Bella's mispronunciation of nature documentary host Richard Attenborough, from Marina's favorite TV series.
Tsangari's film dwells on the porous line that separates us from animals. Marina attempts to reconcile her creature reality (and all its physical and sexual responsibilities) with the awareness of her social and communicative responsibilities as a thinking person. On another level, Attenberg functions as political allegory, relating the death of an outdated modernist society and the thrusting of its young, possibly unprepared—and certainly undefined—generation of Greeks into the center of national politics and culture. The film's politics aren't limited to that troubled nation. Greece's economic collapse is a more extreme instance of a worldwide recognition, sudden and shocking, of the bankruptcy of a current, dominant generation's ideals. Attenberg translates this crisis into a familial one, almost (but not quite) depoliticizing the subject with a generational shift that becomes uncomfortably human and complex, turning the political into the personal and vice versa. The film's moral grounding and allegorical complexity is a rare achievement.
Clinton Krute is a writer and BOMB's web editor.
Originally published in
Featuring interviews with Francis Alÿs, Binyavanga Wainaina, Simon Van Booy and Siri Hustvedt, Natalia Almada, Joanna Newsom, Scott Shepherd, and Mickalene Thomas.