Atmospheric Entanglement: Jamila Johnson-Small's i ride in colour and soft focus, no longer anywhere by Jenn Joy
The choreographer explodes memory and explores the multiple.
We begin in darkness, walking into the uncertain half-light of a stage scattered with speakers, cords, sculpted foam rocks, and inky plastic pillows. i ride in colour and soft focus, no longer anywhere provokes a shifting aperture of attention, untethering visibility from the visible. Sound pulses with narrative fragments, calling out streets in London, dreams, conversations against a steady rhythm: White people, do something, then laughter, then …
Here, choreography becomes a metabolic entanglement of event, atmosphere, and emotion. When you kiss me … when you kiss me … never know how much … echoes as a sensate refrain; language becomes a tendril of feeling, marking its incapacity to mean. We hear the text and then read it projected on the screen, a reparative suture to the stories of environmental waste rising through the cracks in the sidewalk: her dreams of dysmorphia; his fear of waste bubbling up … soon I will be drowning; their question: Would you rather drown or burn? How do we enumerate the daily catastrophes in dissipating language?
Interrupting the darkness, a video of the choreographer, Jamila Johnson-Small, who performs as Last Yearz Interesting Negro, fills the rear wall. She dances in sneakers and a black hoodie against a magenta surface. She is solo, then multiple—her fluid dance reiterates across the screen, unfolding as a minor choreography of precise steps and patterns that build an extra code. Moving across the video surface as it alternates from magenta to white to gray, her dance calls out the aspirational fantasies of individuated subjectivity, palpably constructed through her many avatars.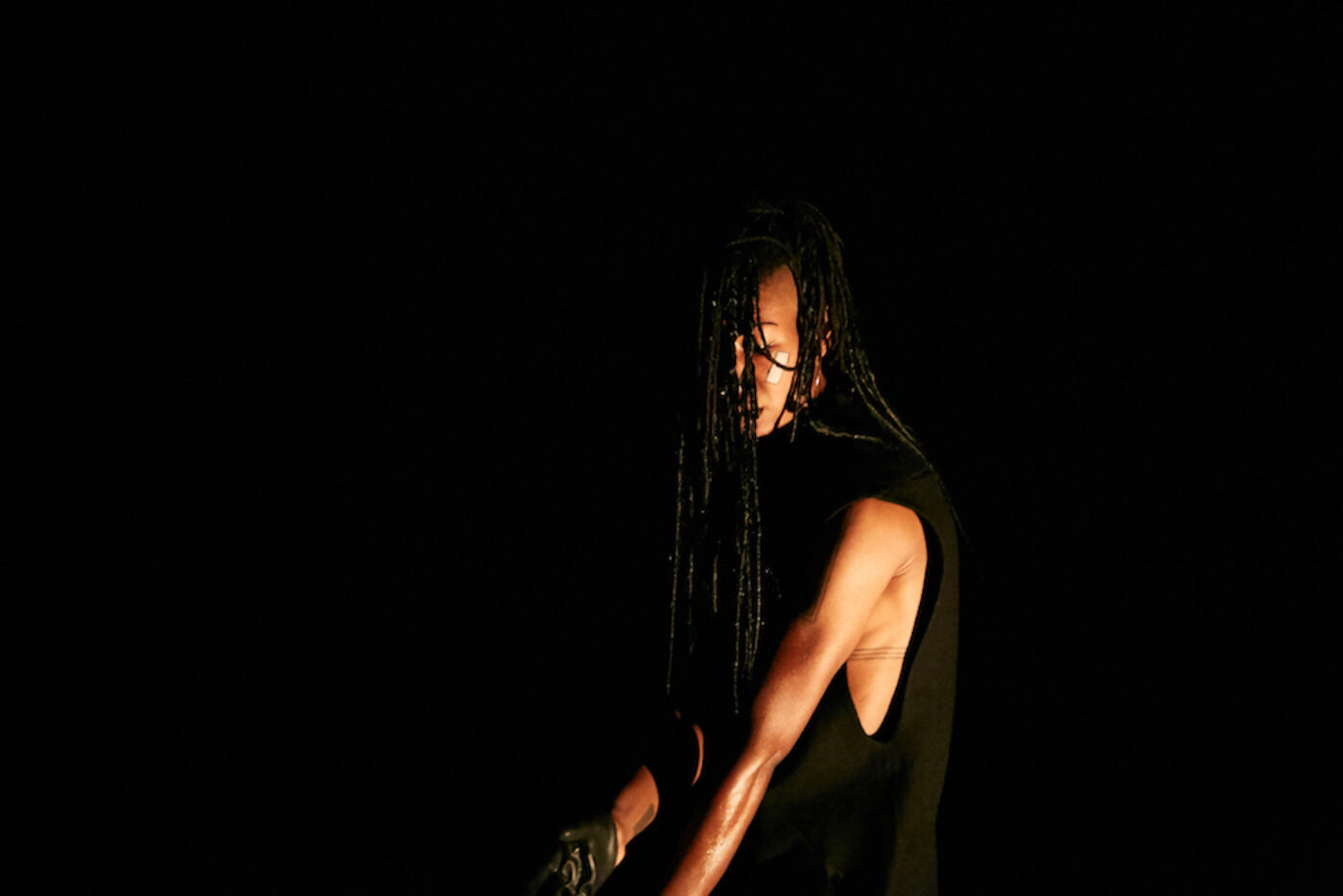 While we are distracted by the screen, on stage she slowly uncurls from under a metallic tarp which turns to transparent plastic as the light gradient shifts. Her exquisite solo moves through the debris of rock and ruin; she dances a serpentine of interior focus, moving from the spine as stories unfold. The collective of voices continue: A good tactic is to overload the senses so much on purpose that this excess overloads the overload and confounds the bodily systems; another is to devote yourself to a single source of stimulation and engage it repeatedly.
i ride in colour and soft focus, never anywhere knows how to use time, dilating temporality, playing with stalled anticipation against emotional velocity such that preceding fragments soon return as so many after-images. When she dances against the now empty screen, she casts a shadow, a somatic transposition of the digital avatar.
The work teaches us how to watch it: unfolding meteorologically through small shifts in temperature, abrupt rupture, or humid accumulation. Gestures repeat, words reiterate, sounds return, these many repetitions conjure intensities. At one moment, three audience members join her on stage and dance in their own hesitant, awkward way, before returning to their seats. Even this is an invitation for expansion, a reminder that the solo is never singular, but always a dense singularity, as Christina Sharpe will write, like the weather, which "necessitates changeability and improvisation; it is the atmospheric condition of time and place; it produces new ecologies." Choreography here becomes a sensitive instrument, rendering the dynamics of atmosphere as a visceral determinate rife with uncertainty and deeply relational. Sharpe is writing of the "infinitely distorted … gravitational forces" of antiblackness that reject any conclusive notion of the past as past. Living, loving, dancing within this weather demands choreographic attunement to the sedimentation and flux of histories and memories, both social and intimate.
Walking through the audience, she moves slowly so we see her gestures up close, hear her breathing. Behind us and almost out of view, she changes into a white tunic, a doubled t-shirt worn with a knee brace, and returns to the stage. Later the audience is invited to join her on stage and some are given animal eye masks, bright owl eyelashes and leopard prints, asked to surrender their vision. Lying down, almost touching the audience, she whispers that her father died recently; she wonders what shape his body was in when he hit the floor; she questions why she is telling us this. The exquisite intimacy of grief reverberating as kineasthetic shape, another fallen body on the floor.
Yet we do not end here, gathered in the dusk, in the rain. A final video returns. This time her body appears in fragments, rising out of or falling into the mercurial surface of the screen. Sometimes shot from above as she moves curling and unfolding on the floor, the reorientation of the projection renders her weightless, conjuring dance as speculative emergence. i ride in colour and soft focus, no longer anywhere foregrounds the work of witness against viewer, rendering the power of the solo to imagine collectivity not as nostalgic fantasy but as so many possibilities for engagement.
i ride in colour and soft focus, no longer anywhere will be performed at Théâtre de la Ville—Espace Cardin in Paris on October 6.
Jenn Joy is a Senior Critic in Sculpture at Yale School of Art, and is the author of The Choreographic (MIT Press, 2014). She is a BOMB contributing editor.