Astra Taylor's The People's Platform by Orit Gat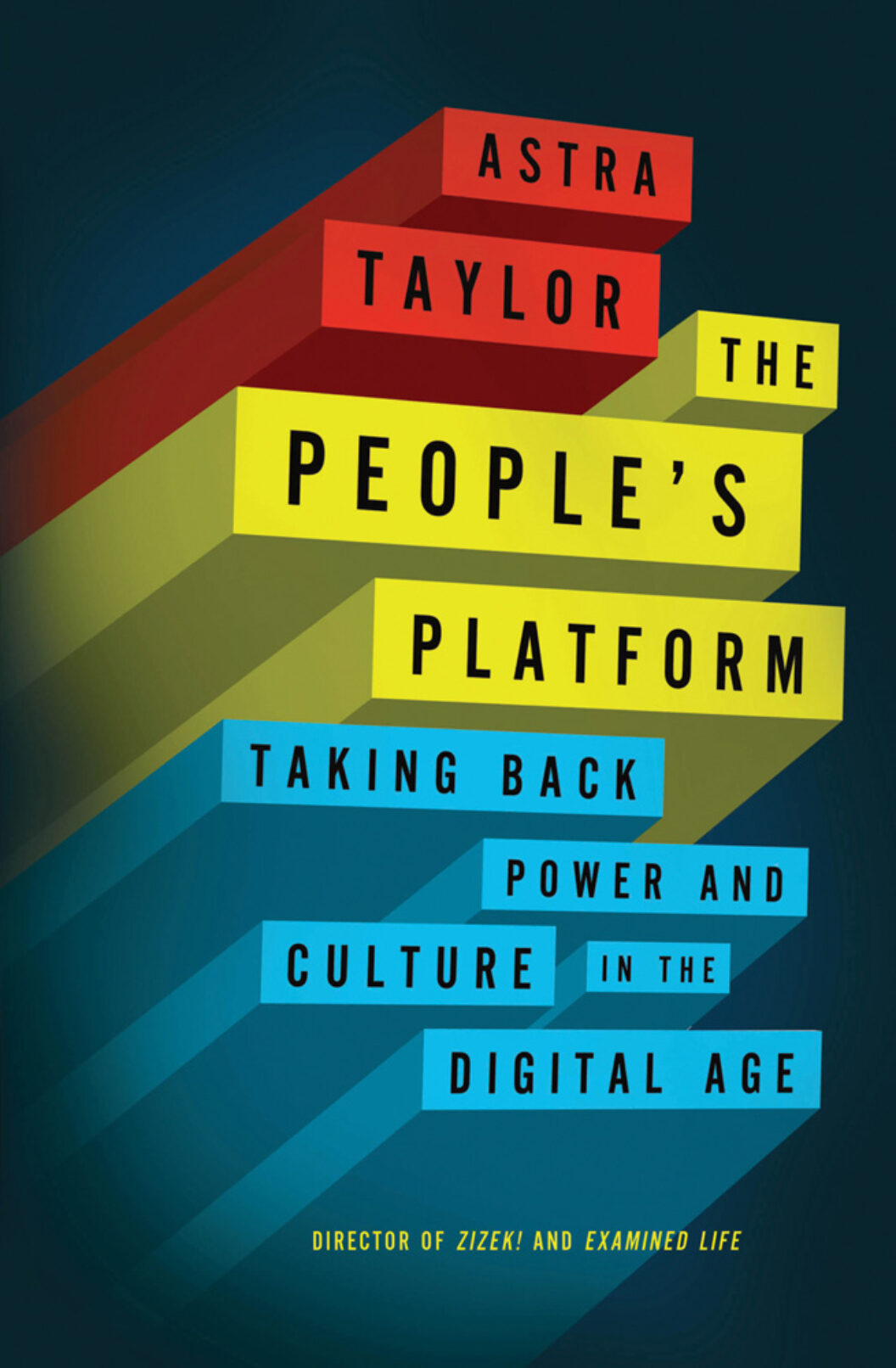 Metropolitan Books, 2014.
Was the Internet intended for you? It's hard to think about it structurally without throwing personal use into the mix. Taylor, a documentary filmmaker (Zizek!, Examined Life), does just that in her speculation on what a sustainable digital future may look like, emphasizing the role and space of culture in a digital society where the arts are stuff given out for free—bait to lure users in for more exposure to advertising. 

These structures are glaring when we pay attention, as Taylor does, to the language of euphemisms and broad statements that play out in discussions about the Internet. She spends time on terminology: openness (as in the incessant talk of gift economies online when someone always stands to benefit from content that is freely shared), leads to free (with a great analysis of the free-culture movement and how it could be funded), and culminates in some overarching statements about the democratizing potential of the Internet. According to Taylor, these turns of phrase are employed to disguise the underlying economic structures of the Internet and who ultimately gains from them (hint: not the end-user, the artist, or even the programmer).

The book's subtitle is Taking Back Power and Culture in the Digital Age. The conflation of power and culture seems especially pertinent today, when power is often measured by influence, calculated via website metrics and social media reach. Taylor allows her experience as a cultural producer to inform her writing—in a witty section, she recounts emailing people who uploaded her film with the request that they take it down, explaining exactly how much money was spent on the work and how she hoped to recoup at least part of the investment before the film was made available for free. This was obviously met by a shrug, but her focus on the position that cultural production occupies within these economic realities is an important leap in the discussion on the future of culture.

When speaking of this future, Taylor refrains from disillusionment. The current hunger for a critical look at our media system is almost satiated by her exacting book. What does it leave us with, though? It would be naive to think nonprofit institutions can provide a blanket, one-size-fits-all answer to the economic challenges of an increasingly centralized Internet, where the most visited sites are almost invariably (with the exception of Wikipedia) large, for-profit corporations. The next step ought to be the emergence of new models for funding of local culture online. Taylor dips her toes in the water for a fleeting moment. She discusses the finances of major cable companies in the United States, which freely use infrastructure laid out by the government (using taxpayer money) and not only charge excessive sums for their services but also preserve the so-called digital divide by focusing their services on the affluent states, leaving remote or poor locations out of the loop. Said cable companies also invest a fortune in lobbying to perpetuate this advantage, lest the US government pass legislation that would tax cable providers for their reliance on a publicly funded good. This is the current structure of the Internet. And this is what Taylor's careful optimism—"the future has not been decided"—motivates us to critique. 
Orit Gat writes about the intersection of contemporary art and technology for Rhizome, where she is a contributing editor, as well as a variety of other magazines. She is the art editor of BOMB Daily.
Originally published in
Featuring interviews with Adam Broomberg and Oliver Chanarin, Theaster Gates, Martin Wilner, Paola Prestini, A.G. Porta, Pierre Guyotat, Paweł Althamer, and Eugéne Green.