COVID-19 Artist Resources
A list of vital resources for ALL artists. New: Los Angeles Resources for Latinx Communities.

Discover MFA Programs in Art and Writing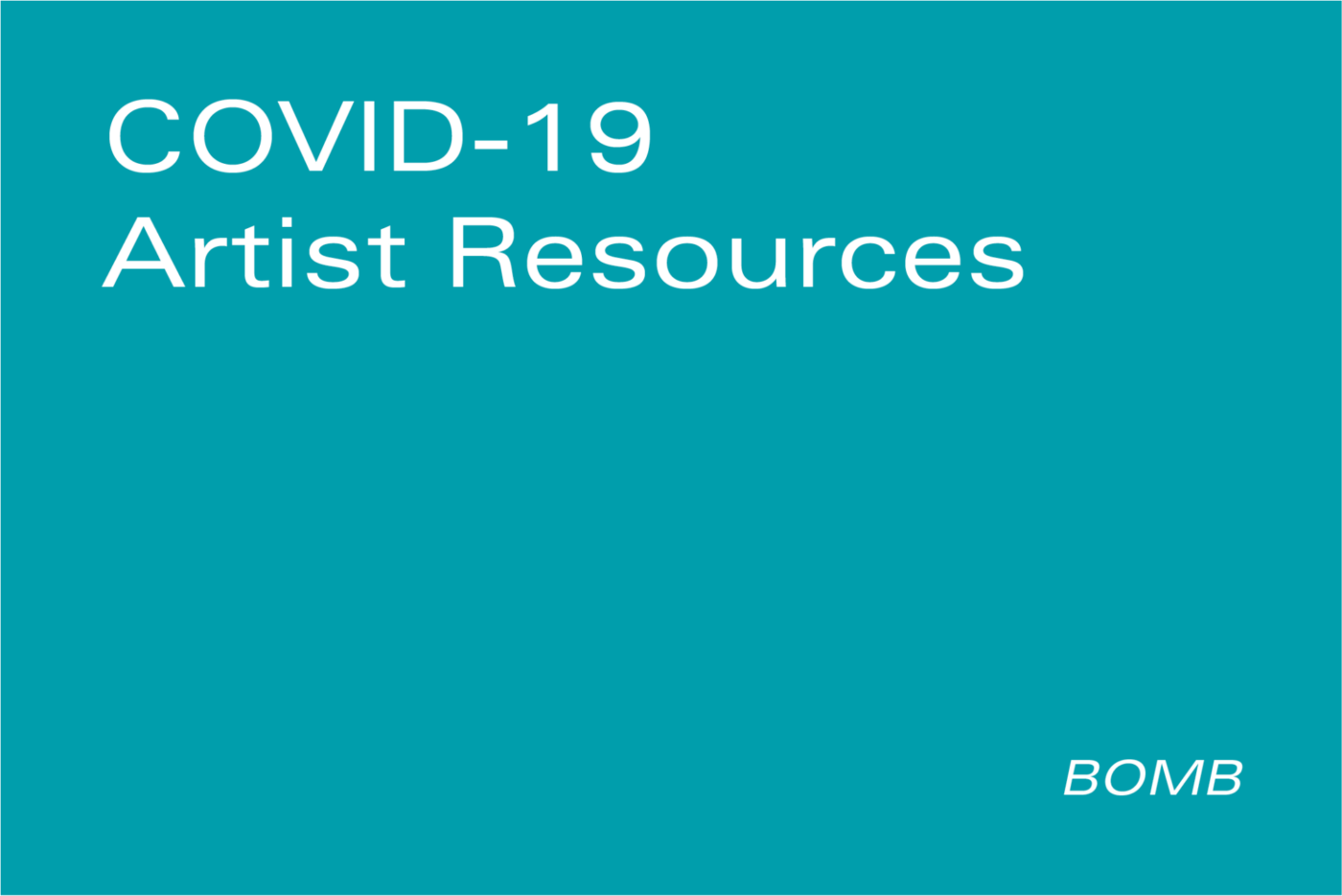 At BOMB Magazine, generating dialogue and community between artists across disciplines has been our core mission since we started in 1981. We believe the artist's voice is necessary, particularly in uncertain times.
We are so grateful to our readers, contributing artists and writers, and supporters. Our commitment to you is unshakeable, and we offer our firm support during a period when many of us are isolated and facing unprecedented challenges. In the coming weeks, BOMB will continue to publish new content daily, as well as resources and virtual outreach for artists in order to amplify and support the voices we hold dear in our community.
Please reach out to Libby (libby@bombsite.com) if you have suggestions, an online event, or an organization to add.
Testing Resources
Castlight Health COVID-19 Test Site Finder

Coronavirus test criteria and availability are changing daily. Check your state guidelines and call the coronavirus testing site before you go to learn about testing criteria, availability and hours.
Distance with Care is a collaborative website of pooled COVID-19+ resources built in an effort to support & connect communities during a time of social distancing and beyond.
*Note: This resource now serves as an archive, last updated February 18, 2021*
New York City COVID-19 Testing Sites
City-wide Covid-19 information portal. Enter your address to find a testing site near you, or text "COVID TEST" to 855-48.
Housing Works offers free viral diagnostic tests for COVID-19 to determine current infections and antibody tests to identify previous infections. Check the business hours of their various locations around New York City here.

COVID-19 Resources for Black Artists
BLACK LGBTQIA + MIGRANT PROJECT (BLMP)
This fund provides cash assistance to Black LGBTQ+ migrants and first generation people dealing with the impact of COVID-19
The Know Your Rights Camp COVID-19 Relief Fund
Started by Colin Kaepernick, donations will go toward Black and Brown communities that are disproportionately affected by COVID-19.
Southern Black Girls and Women's Consortium
Funds that will go toward organizations that need financial support while navigating the pandemic.
Movement for Black Lives COVID19 Mutual Aid Fund
Support for Black-led organizations during the pandemic.
Queer Writers of Color Relief Fund
A fund for writers of color who have been impacted by the current COVID-19.
*Note: This fund is not currently accepting contributions.*
NYC Low-Income Artist/Freelancer Relief Fund
This fund offers small grants to "low-income, BIPOC, trans/GNC/NB/Queer artists and freelancers whose livelihoods are being affected by this pandemic in NYC."
*Note: This fund is not currently accepting contributions.*

Arts Leaders of Color Emergency Fund
Provides financial assistance to BIPOC (Black, Indigenous, People of Color) artists and administrators (consultants, facilitators, box office staff, seasonal/temporary employees, etc.) who have been financially impacted due to COVID-19.
Los Angeles Resources for Latinx Communities
American Red Cross Community Conversations
Speakers from across Los Angeles illustrate ways to support the Latinx community during COVID-19. Para ver la versión en español, haga clic aquí.
Latino Community Foundation COVID-19 Resources

Statewide, Southern California, Bay Area, and National resources compiled by the Latino Community Foundation.
Latinx Center of Excellence COVID-19 Resource Page
LCOE has compiled these resources in multiple languages from internal and external organizations. Pleasefollow us on Twitter for the latest updates or send us an email at Latinx@ucsf.edu.
Latinx Therapy was founded in 2018 with the mission to destigmatize mental health in the Latinx community. Since then, we have expanded to become a bilingual podcast and national directory to find a Latinx Therapist (98% of our directory are Spanish speakers). Latinx Therapy strives to provides culturally-grounded workshops and services to our community.
Latinx Therapists Action Network
This Directory is an offering to the migrant rights movement. It is a directory of culturally grounded, Latinx mental health practitioners who believe in the human right and dignity of Latinx communities and Latinx migrant communities across the United States.
League of United Latin American Citizens Coronavirus Resources
This page offers a central online location where you can find opportunities to stay connected, volunteer activities, updates on community events and information on where to turn if you or someone you know is in need of assistance.
The Latino Community Foundation (LCF) launched the Love Not Fear Fund to ensure the most vulnerable Latino communities and the organizations that serve them survive the COVID-19 pandemic and emerge ready to flex their leadership and power.
Latino Resource Organization (LRO) has been providing a variety of social services to communities in the Greater West Los Angeles areas. Headquartered in the City of Venice, LRO serves 2,500 people annually. LRO operates as a community grass-root resource center where families can reach out to secure basic needs.
One Degree Los Angeles County Resource Guide
One Degree started the COVID-19 Resource Guide to address the urgent need to create one place to find essential community resources.
Los Angeles-based resources for violence prevention, transgender wellness, food services, and more.

Visión y Compromiso COVID-19 Resources
List of resources, including a webinar series, on Promotores' Community Response to COVID-19.

Get Involved
Artist Relief will distribute $5,000 grants to artists facing dire financial emergencies due to COVID-19. They're accepting donations here.
Help protect secure the freedom of immigrants currently detained in ICE facilities, where access to medical care and sanitary facilities is severely limited.
The COVID-19 virus is spreading faster in NYC jails than anywhere in the world. The Emergency Release Fund is raising
Domestic Workers Coronavirus Care Fund
The money you donate to the National Domestic Workers Alliance's fund will provide immediate financial support for domestic workers, enabling them to stay home and healthy.
*Note: This fund is not currently accepting contributions.*
Emergency Relief for Sex Workers in NY
This relief fund will be providing monetary aid to sex workers in the New York City area who have been impacted by the COVID-19 pandemic.
Instructions for makers here (including those with access to 3D printing, laser printing, sewing). A sample script to contact hospitals and for deliveries is available here. After reading all instructions, design tools for masks here, face shields here, and goggles here. Only engage in support efforts if you're healthy and practicing social distancing. Do NOT attempt to make any PPE if you or someone in your household is sick.
The City of New York is seeking donations. If you have a community space, you can register it to be used for emergency operations or community outreach events.
Invisible Hands Grocery Delivery Service
If you're healthy and from a low-risk community, you can volunteer to bring groceries and supplies to those in high-risk demographics (and vice versa).
A national service that pairs those with spare (or homemade) masks with healthcare workers who need them.
A grassroots campaign that collects and donates medical supplies (including handmade masks, caps, and protective face shields) to doctors and nurses.
A global network of volunteers accepting PPE donations to be delivered to workers on the front lines.
Meals for Brooklyn Hospital Staff Fund
This fund supports both Brooklyn Hospital workers and small, locally owned restaurants, delivering more than 1,500 meals/day to Brooklyn Hospital.
They connect NYC frontline workers directly with donors who have medical supplies and equipment to spare.
NYC Street Vendors Emergency Fund
Many street vendors are immigrant-owned, making them illegible for government support. The Urban Justice Center is collecting cash donations to directly support $200 relief payments made out to its 1,000+ street vendor members.
NYC United Against Coronavirus
A comprehensive collection of resources for the New York community, including a list of mutual aid networks organized by borough and neighborhood.
Donate to give cash assistance to tipped workers and other service workers.
NYC institution Pearl River Mart will be buying and donating a limited supply of KN95s from a Chinese manufacturer. They are collecting donations to support their efforts.
Rent Freeze NYC and LA
New York via Housing Justice for All: Petition (EN/ES) for full moratorium on evictions/foreclosures and other measures available here. Legislation available here.
Los Angeles via Healthy LA Coalition: Petition (EN/ES) for non-contact deliveries, paid sick leave, and more here. City council information here.
Spotify is making a donation to organizations including Centre National de la Musique, Help Musicians, PRS Foundation, Unison Benevolence Fund, and MusiCares and will match donations made via this page dollar for dollar up to a collective total of $10 million.
The New York State Youth Leadership Council (NYSYLC) is raising funds to provide emergency and preventative resources to undocumented youth at financial risk.
Artists, Writers, Performers, and Art Workers' Relief
Free and confidential social service programs are available nationally and address a wide array of challenges faced by people in performing arts and entertainment. Professional social workers offer counseling and support groups, education, emergency financial assistance, and practical help.
Adobe is offering a free, two-month deal for any existing customers who seek to cancel their memberships.
The Adolph & Esther Gottlieb Emergency Grant
A grant program intended to provide interim financial assistance to qualified painters, printmakers, and sculptors whose needs are the result of an unforeseen, catastrophic incident and who lack the resources to meet that situation. Each grant is given as one-time assistance.
American Documentary COVID-19 Artists Emergency Fund
They're providing one-time, rapid response grants of up to $500 to assist artists with basic needs.
American Guild of Musical Artists (AGMA) Relief Fund
A grant that provides support and temporary financial assistance to members who are in need. AGMA contracts with the Actors Fund to administer this program nationally and provide comprehensive social services.
Arts and Culture Leaders of Color Emergency Fund
This fund is for US-based BIPOC artists and administrators. This is a one-time micro-grant of $200. If you are interested in donating to the fund, click here.
Artist Relief will distribute $5,000 grants to U.S. artists of any discipline facing dire financial emergencies due to COVID-19.
A fellowship that provides emergency aid to professional visual artists and their families in times of sickness, natural disaster, bereavement, or unexpected extreme hardship
A grant that supports professional writers in financial need because of medical or health-related problems, temporary loss of income, or other misfortune by providing no-strings-attached "loans" to pay for pressing expenses.
Bartender Emergency Assistance Program
Grants are available for bartenders and the spouses and children of bartenders experiencing financial hardship. For more information, read eligibility guidelines and contact the USBG National Charity Foundation at foundation@usbg.org.
Bret Adams & Paul Reisch Foundation
In response to the COVID-19 Theatre closures, the Bret Adams & Paul Resich Foundation is redirecting its entire 2020 grant budget into emergency assistance grants of $2500 to playwrights, composers, librettists, and lyricists who have had a full professional show cancelled, closed, or indefinitely postponed due to COVID-19.
A nonprofit offering emergency relief grants for artists (prioritizing those who are infected).
Offering two remote residencies ($500 each) to writers and artists. More information here.
*Note: Applications for this fund are currently closed.*
COVID-19 Financial Solidarity Spreadsheet
A microgrant-based model spreadsheet of mutual aid. Participation guidelines are available here and administration can be reached at covidmutualaid@gmail.com.
COVID-19 Freelance Artist Resource
A comprehensive list of free resources, opportunities, and financial resource options available to US and international artists of all disciplines.
COVID-19 NYC Black Folk Mutual Aid Fund
A mutual aid resource available to black folk in NYC. Donate here, offer support here, and request aid here.
*Note: This fund is not currently accepting responses.*
A mutual aid resource available to New York City cinema workers whose hours have been curtailed because of COVID-19 closures and who are not being otherwise compensated.
*Note: This fund is not currently accepting responses.*
CERF+ emergency financial assistance is available to established artists working in a craft discipline.
A flexible grant that can be used toward medical expenses, childcare, groceries, or rent or mortgage. Please read details here.
*Note: This fund is not currently accepting applications.*
Creative Capital has aggregated a list of resources, including Emergency Grants and the Authors League Fund.
Emi Kuriyama Emergency Relief Award Lottery
The fund is offering two $500 emergency relief awards to individual artists and writers whose creative practices and incomes have been impacted by COVID-19. Two recipients will be determined by a lottery, and must each be based in Los Angeles County.
*Note: This fund is not currently accepting applications.*
If you are a musician who has lost income due to a cancelled gig as a result of the coronavirus outbreak, apply to receive money from Equal Sound's new program by submitting a form here.
*Note: This fund is not currently accepting applications.*
FCA Emergency Grants COVID-19 Fund
In light of the impact of the COVID-19 pandemic on the artist community, the Foundation for Contemporary Arts is creating a temporary fund to meet the needs of experimental artists who have been impacted by the economic fallout from postponed or canceled performances and exhibitions. If you are unsure about whether your work is experimental, you can see other artists we have supported on our Instagram and our website.
*Note: The FCA is offering is a second funding round with a March 2021 deadline.*
A division created specifically for freelance media workers.
The Foundation for Contemporary Arts
Emergency Grants are offered between $200 and $2,500 for visual and performing artists. Applications are reviewed once a month.
Although evictions are suspended indefinitely, each NYC borough will have one judge handling emergency cases including illegal lockout cases, emergency HP Actions, and post-eviction cases. Anyone in this situation can call the court. For questions about court or evictions, the Housing Court Answers's hotline will continue to operate Monday through Friday, 9AM–5PM: 212-962-4795.
Housing Works's clinics remain open for HIV/AIDS screenings. More information, guidelines, and donation policy is available here.
A re-granting program currently offering 60+ $1,000 grants to assist artists who have been affected by the COVID-19 pandemic. More information is available here.
*Note: This fund is not currently accepting applications.*
Interdisciplinary Remote/Remote-Friendly Work
An ongoing spreadsheet of remote-friendly employers—in advocacy, policy, education, and tech—curated by the weekly newsletter Words of Mouth.
Leveler.info Peer-to-Peer Wealth Distribution
The leveler is a tool for salaried workers to distribute wealth evenly across a database of freelancers, service industry, and gig economy folks who are impacted by COVID-19 health and safety restrictions (venue closures, shift/gig/commission cancellations etc).
Mount Sinai NOW Video Urgent Care
Mount Sinai NOW is a telehealth service that provides online medical consultations for $25, regardless of health insurance status.
Music industry professionals may apply for basic living assistance (rent or mortgage). Initial grant requests can be made up to $1000 to compensate for cancelled work that was scheduled and lost.
The Musicians' Emergency Relief Fund
A non-profit 501(c)(3) administered by the Musicians' Assistance Program (MAP). A New York State licensed social worker provides confidential social services to members and their families.
Musicians Foundation CV19 Emergency Aid Grant Program
Modest, one-time grants up to $200 are available to professional performers, educators, and composers who meet the Musician Foundation's eligibility requirements.
The collective ILYSM will be giving a weekly $500 grant to an artist with financial need whose main source of income has been affected by COVID-19 shutdowns. We are committing to offering this grant through the week of 5/14 and for as long as we are able to after that. Visit their Instagram for the application for the current week.
Available financial support as well as a list of remote and in-person volunteer opportunities (e.g., translation, budgeting, and food distribution). Email mutualaidnewyork@gmail.com for more information.
Financial support is available for new, creative, and improvised music freelancers whose livelihood has been threatened as a result of performances which have been canceled during the COVID-19 crisis.
The NYC COVID-19 Response & Impact Fund was created to aid nonprofit service providers struggling with the health and economic effects of the coronavirus. It will give grants and loans to NYC-based nonprofits that are trying to meet the new and urgent needs that are hitting the city.
*Note: This fund is not currently accepting applications.*
NYFA Rauschenberg Emergency Grants
The New York Foundation for the Arts and the Rauschenberg Foundation have teamed up to offer visual and media artists and choreographers in the US grants of up to $5,000 for medical-related emergencies.
A Google Form and aggregated spreadsheet for those who are available for online studio visits, guest lectures, and crits through video chat and other platforms.
PEN American Writers' Emergency Fund
A small grants program for professional—published or produced—writers in acute or unexpected financial crisis. Depending on the situation and level of need, grants are in the range of $2,000.
Jeremy O. Harris and The Bushwick Starr are partnering to provide financial relief to playwrights during this period of isolation in response to the COVID-19 pandemic. This grant will distribute 152 unrestricted cash awards of $500 each directly to US-based playwrights, of any employment and/or immigration status.
*Note: This fund is not currently accepting applications.*
A DC-based, mutual aid directory and intake form for independent and freelance artists.
A mutual aid network for service workers in Brooklyn. Email serviceworkerscoalition@gmail.com if you need help or want to get involved.
A grassroots effort to connect unemployed (or underemployed) service workers with supporters who can provide monetary assistance.
Spectrum will provide sixty days of free Internet to customers and students without access. Note: you must not yet have service with the provider. Call 844-488-8395 and proceed through the automated prompts until you connect with a representative.
Study Hall Digest and Opportunities Newsletter
Study Hall is an online support group for media workers making its digest and opportunities newsletter unpaywalled and available to all on Twitter (@studyhallxyz) for the foreseeable future.
Sweet Relief provides immediate assistance with a limited amount of funds available to be used specifically for musicians and music industry workers affected by the coronavirus. Funds raised will go toward medical expenses, lodging, clothing, food, and other vital living expenses to those impacted due to sickness or loss of work.
Twenty Summers Emergency Arts Fund & Art Interrupted
A nationwide Emergency Arts Fund (EAF) initiative launched by Twenty Summers for artists and arts organizations facing severe financial loss as a result of COVID-19. Art Interrupted is a new digital series featuring songs, writings, musings, and advice from musicians, authors, and other cultural figures during social isolation. Nominate an artist here or an arts organization here.
Queer Writers of Color Relief Fund
This fund is for queer writers of color only (not organizations or nonprofits) who are in need of financial assistance right now.
*Note: This fund is not currently accepting applications.*
Women's Center for Creative Work: COVID-19 Emergency Health Grant for Artists
WCCW is currently making grants of up to $1,000 to support the most vulnerable in the community in Southern California, those hit the hardest by the health and financial ramifications of COVID-19.
*Note: This fund is not currently accepting applications.*
Your Friends in New York Business Relief Fund
Providing temporary relief to creative-based businesses owned and operated by minorities and women.
Last Updated: February 23, 2021.
All information on the Artist Resource page is provided in good faith; however, we make no representation or warranty of any kind, express or implied, regarding the accuracy, adequacy, validity, reliability, availability, or completeness of any information on the site or our mobile application.