Artistry and Access: Sasha Wortzel Interviewed by Kevin Gotkin
The possibilities of museum access.

Discover MFA Programs in Art and Writing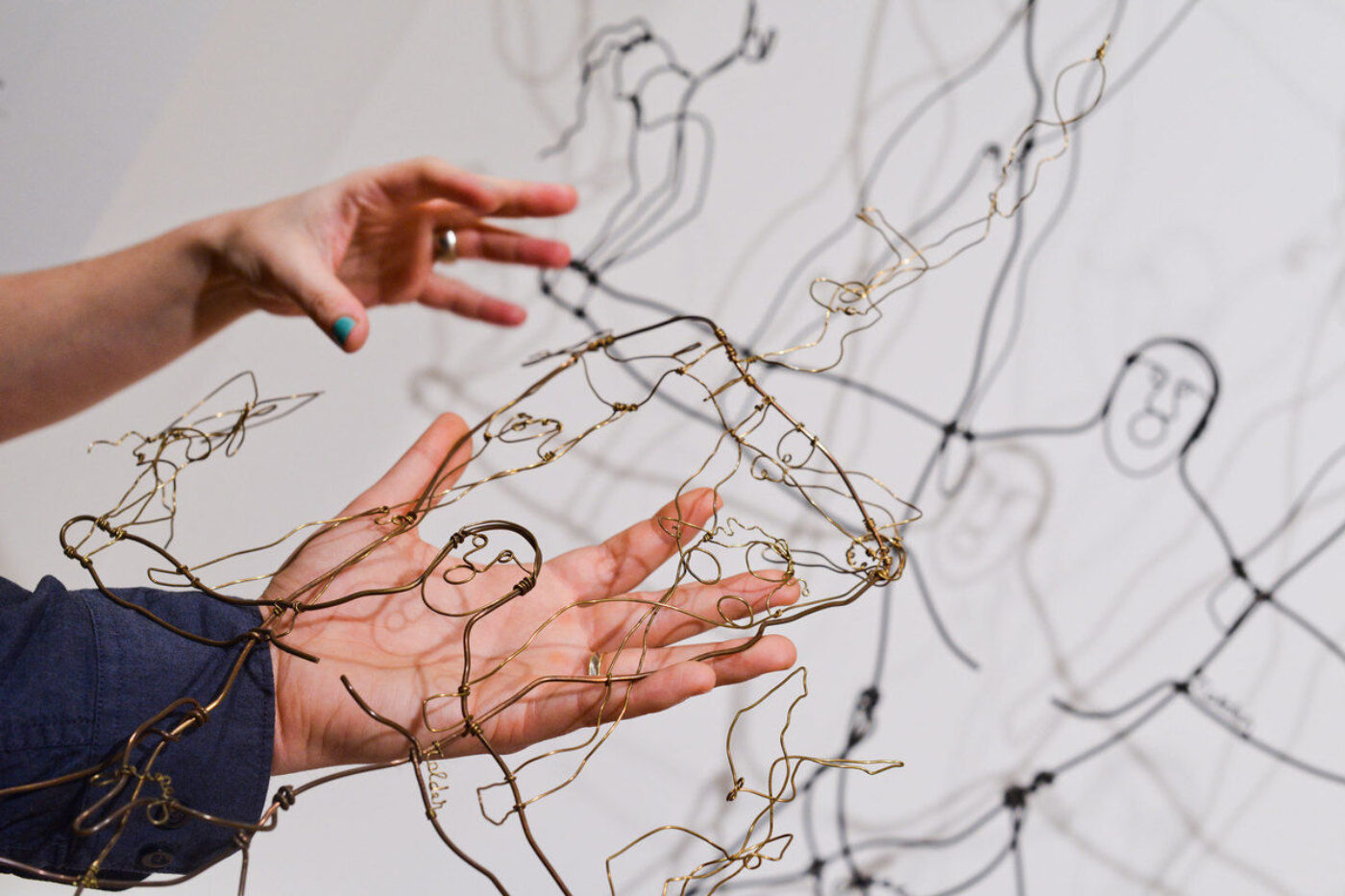 During a recent program at the Whitney Museum of American Art, artist Kevin Beasley manipulated the sounds emitting from a cotton gin motor in one room while a few dozen blind, low-vision, and non-visual visitors explored the room next door, feeling the subwoofers that doubled as benches.
Earlier, the museum's Access & Community Programs Assistant Justin Allen read aloud a description of the motor, offering an explanatory soundtrack to the otherwise quiet room that many visitors experience through sight. A series of microphone wires in a soundproof case "cascade from one corner of the chamber," Allen said, foreshadowing a room the group would encounter later on the tour. Throughout the journey between these rooms, visitors pass around a small object designed to convey the materials encased in large resin structures. A visitor running her hands through the different fabrics asked if the blocks touch the wall. They didn't, which prompted Allen to describe how heavy they seem as they sit on their relatively thin bases.
This interaction was part of the Whitney Museum's Verbal Description and Touch Tour, a genre of programming that remains largely unfamiliar to non-disabled audiences. The lack of awareness is not surprising, since these events are designed for communities that are often excluded by museums' offerings. But the work happening through these events deserves a much wider audience, especially when it enriches the sensory explorations in exhibitions like Beasley's.
Disability in museums is too often relegated to narrow reporting about legal compliance, like the articles in late January 2019 about a "wave" of litigation over museums' online inaccessibility that cast disabled plaintiffs as troublemakers for pursuing some of the only viable avenues to accessibility in the arts. Museums' access programs are rare and ingenious spaces that take seriously the innovative pedagogy of disability.
Sasha Wortzel directs the Whitney Museum's Access & Community Programs department. An artist and filmmaker herself, she seeks ways to connect artistry and accessibility. Wortzel resists the idea that accessibility should come last. Instead, she programs many of her department's "Study Sessions" with New York's emerging disabled artists who model the ways disability animates their work. She divines an artfulness to access itself, a revelation that is poised to upend how museums engage their publics.
—Kevin Gotkin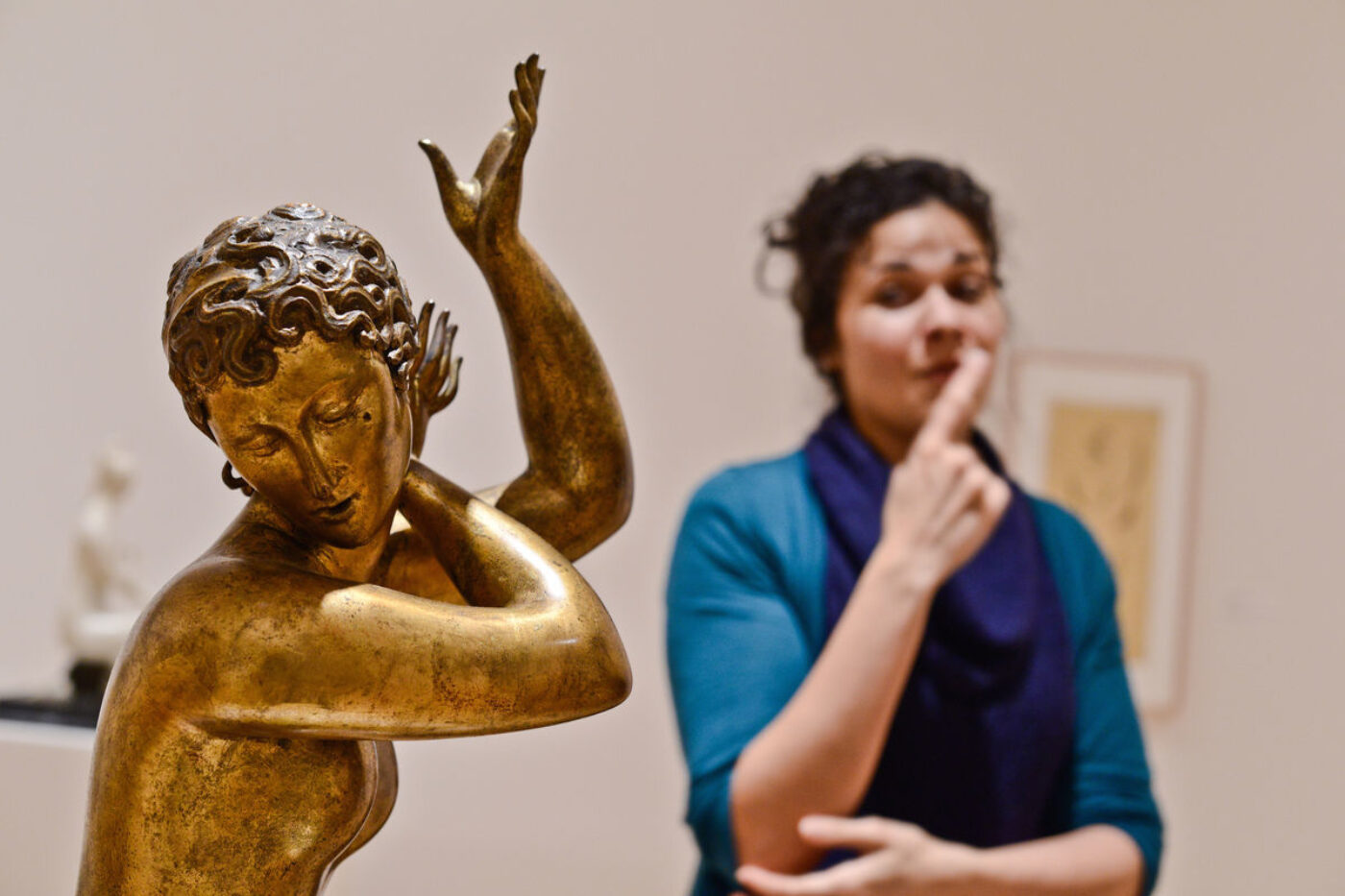 Kevin Gotkin
What are the Verbal Description and Touch Tours that the Whitney offers?
Sasha Wortzel
The Whitney's Verbal Description and Touch Tours (VDTTs) provide an opportunity for visitors who are blind or have low vision and their friends to explore the Whitney's exhibitions. Skilled museum educators provide detailed verbal description of the works on display, while a selection of objects and material samples are experienced through touch. Manual wheelchairs, stools, and assistive-listening devices are also available for all touch programs. As a museum with a special focus on the work of living artists, we are uniquely positioned to bring artists directly into our programming. We recently worked with artist Kevin Beasley in conjunction with his exhibition, A view of a landscape, in which he engaged with the legacy of the American South through a new installation that centered on a cotton gin motor from Maplesville, Alabama. One evening when the museum was closed to the public, visitors first experienced the work through verbal description and touch, and then Beasley interacted directly with the installation to produce new sound compositions in the gallery space. These evenings always conclude with a reception where people can hang out. New York City can be such an isolating place, and there are a multitude of barriers that can exclude some audiences from accessing the museum—social, financial, and physical. What we often hear from disabled audiences and artists is simply a desire for a space to connect and socialize, so we are committed to bringing that into all of our programming. Beyond providing access, we are thinking critically about how the museum can be a vital resource for our audiences, and also a space to connect and come together.
KG
How do you create these tours? Are there approaches or literature you use?
SW
For every exhibition, our team of freelance educators is invited to a walkthrough with the curators and sometimes the artists themselves. Educators are given access to a collection of related resources and readings, and we often workshop our ideas with one another and set aside time to practice in the galleries. We use a minimalistic approach when designing the description, and invite visitors to create a collaborative experience based on their impressions and interpretation of the work. This strategy complicates the tired dynamic of sighted educator as the sole "expert" conduit to experiencing an artwork, and instead centers the knowledge of blind and partially sighted participants so that we are shaping our experience of artworks in the galleries collectively.
Excerpt from the verbal description script for Kevin Beasley's A view of a landscape, written by Justin Allen:
We're in an almost square gallery with white walls. The sole entrance is on the gallery's north wall.
At the center of the gallery, a glass chamber holds a cotton gin motor surrounded by microphones. The chamber is rectangular with a black metal frame, and stands seven feet, ten inches tall; twelve feet wide; and eight feet deep. The chamber takes up about one third of the gallery, and within the chamber, the cotton gin motor sits at the very center, taking up about two thirds of the space.
[…]
The body of the motor is a larger cylinder, thick and stout, that is about two feet wide and three feet tall with beveled edges. It is bolted down to a slightly wider metal platform with a series of large, rusty screws. Its round sides contain a pattern of windows, similar to the border of a roll of film.
Surrounding the motor are a number of microphones hanging from the ceiling of the chamber as well as emerging from the floor of the chamber on stands. A series of wires cascades from one corner of the chamber and connects to the array of sound equipment. The high tech equipment and sleek appearance of the chamber sharply contrast the old, rusting metal motor.
KG
These programs, and your whole department, came into the Whitney after disability arts activists protested the museum's lack of commitment to accessibility. Am I right?
SW
Yes, certainly vital institutional critique, which is always at the root of necessary institutional change. The Whitney's first access programming began in 1990, when the museum formalized a partnership with Art Education for the Blind. However, in 2005, when the Whitney was still located uptown in the Breuer building, a number of voices in and outside the museum raised concerns about accessibility and Americans with Disabilities Act compliance, regarding both exhibition content and the physical structures of the museum. This prompted the Whitney to commit to going above and beyond compliance and to establish a full-fledged Access program. Before the Whitney opened its new downtown location, Access was expanded to encompass "access and community." The education department did extensive research and outreach, and formed a community advisory network of local residents, teachers, parents, and representatives from community-based organizations that continues to meet today.
In addition to offering a suite of free access programs for visitors with disabilities such as Verbal Description and Touch Tours and American Sign Language (ASL) tours led by Deaf educators (Whitney Signs), we provide accommodations for disabled visitors such as large print labels, assisted listening devices, and also additional materials on our multimedia guide like transcripts for sound and video works and an ASL video tour of artworks in the galleries. Choice is crucial: visitors should have the option of joining a program that is specifically designed for them like Whitney Signs, or not, and still have a rich experience at the museum. This is why it has been critical to work collaboratively with our colleagues in education and across the museum to socialize this philosophy and work to make all our programming accessible, from public programs to events for teens and members.
My approach to access has been deeply inspired and shaped by disability justice, a term coined by disabled queer and trans people of color and a movement led by QTBIPOC people with disabilities. While the largely white-dominated disability rights movement has made some gains for disabled people, it often excludes people at the intersection of oppressions such as disabled people of color, Indigenous people with disabilities, queer and trans disabled people, people living with HIV, and incarcerated people with disabilities. These audiences often overlap, of course. A disability justice framework is intersectional and understands ableism, white supremacy, heteropatriarchy, and colonialism as inextricably linked.
KG
One of the things that I admire about your work is that you're skeptical about a strict distinction between artistry and accessibility. Often the field imagines that access features are layered on top of the work in some way, that access doesn't touch the work itself but is only delivered as part of an institution's obligation to legal and regulatory compliance. But it seems that this method for engagement has a transformative and pedagogical element, even challenging ocularcentrism as a master apparatus in exhibition spaces. Could we call access an interrogative artistry?
SW
Great work has been done in the cultural-access field to develop a series of approaches and best practices for making cultural institutions accessible to people with a range of needs and disabilities. While these approaches are important, they often narrowly focus on impairment to retrofit inaccessible spaces and programming, and can overlook the myriad other barriers that audience, staff, and artists with disabilities may experience. As you said, access is often layered on top of the work rather than interrogating the work or the museum itself. This approach also puts the emphasis on disabled audiences, which is certainly very important, but it fails to recognize and speak to the richness of artists engaging with disability. Art-making and writing by QTBIPOC disabled people have been and continue to be a critical part of disability justice as a movement and culture. Supporting and amplifying the work of artists with disabilities, who have largely been ignored and marginalized by arts institutions, is deeply integral to the project of fostering a more accessible, equitable, and inclusive museum.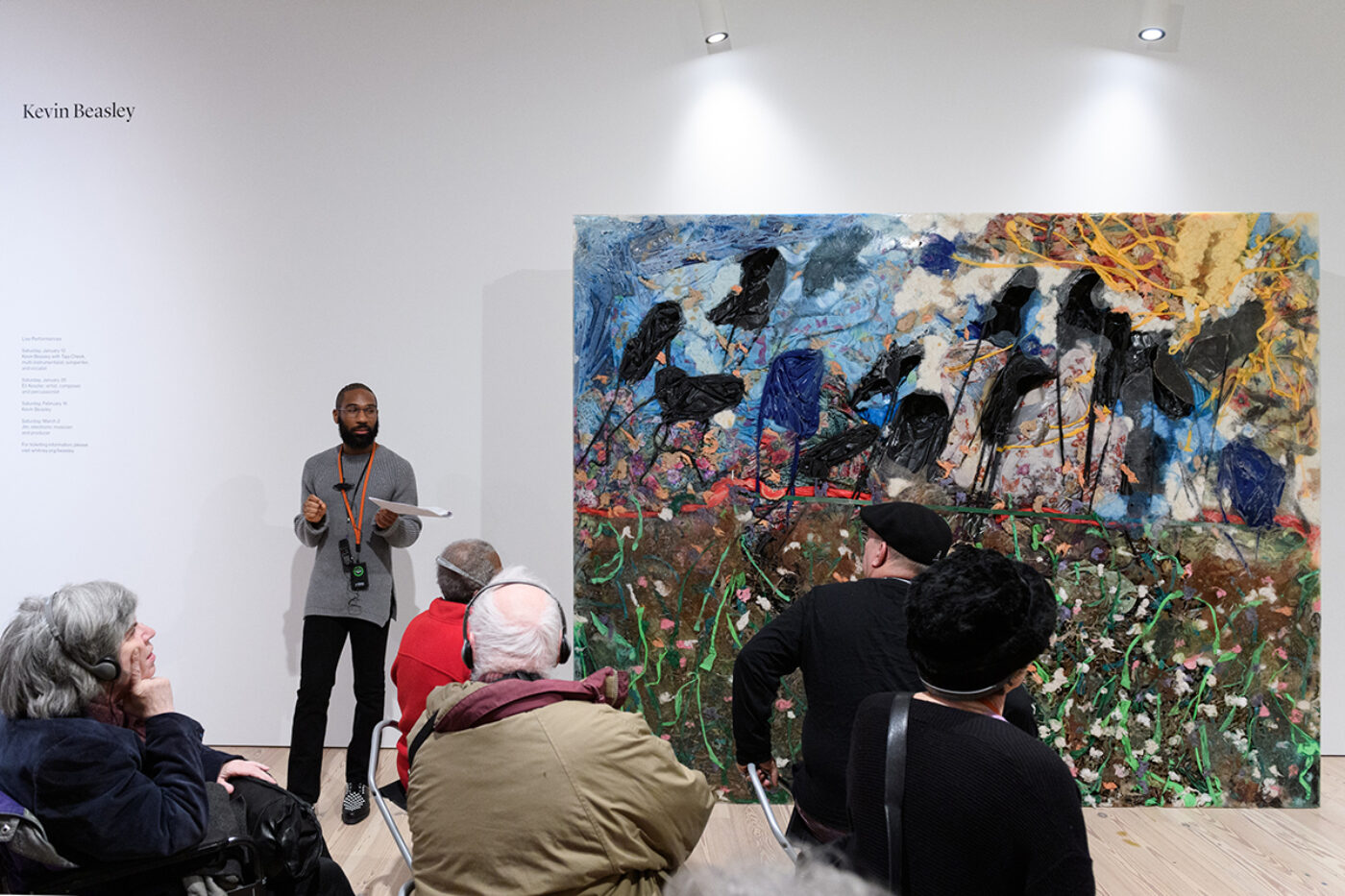 KG
I'm curious about how this work has affected your art practice. How do you make your films accessible?
SW
My experience working in museum access has had a huge impact on my work. Disability and accessibility is built into the architecture and thinking behind everything I do whether that is about content, aesthetics, or access strategies. I've made a commitment to captioning and creating audio description for all my video work, and I make sure venues are accessible, which often leads to vital education and conversation about access overall. The more that artists, non-disabled and disabled, create with access and disability in mind, and the more artists demand that all art venues make their programming and spaces accessible, the more radical change will take place.
KG
How do we know when an access program works well?
SW
A successful access program should foster joy. Choice is key. No one size fits all. And the work of access is never done or complete. It is ongoing, ever evolving, and everywhere.
There will be a Verbal Description and Touch Tour at the Whitney Museum on Friday, May 24, from 10:00–11:30 AM for the Spilling Over: Painting Color in the 1960s exhibition.
Kevin Gotkin is a Visiting Assistant Professor of Media, Culture, & Communication at New York University and Co-Director of Disability/Arts/NYC.