Art into the World: Marion Wilson Interviewed by Louis Bury
A social-practice artist talks about working with painting and photography.

Discover MFA Programs in Art and Writing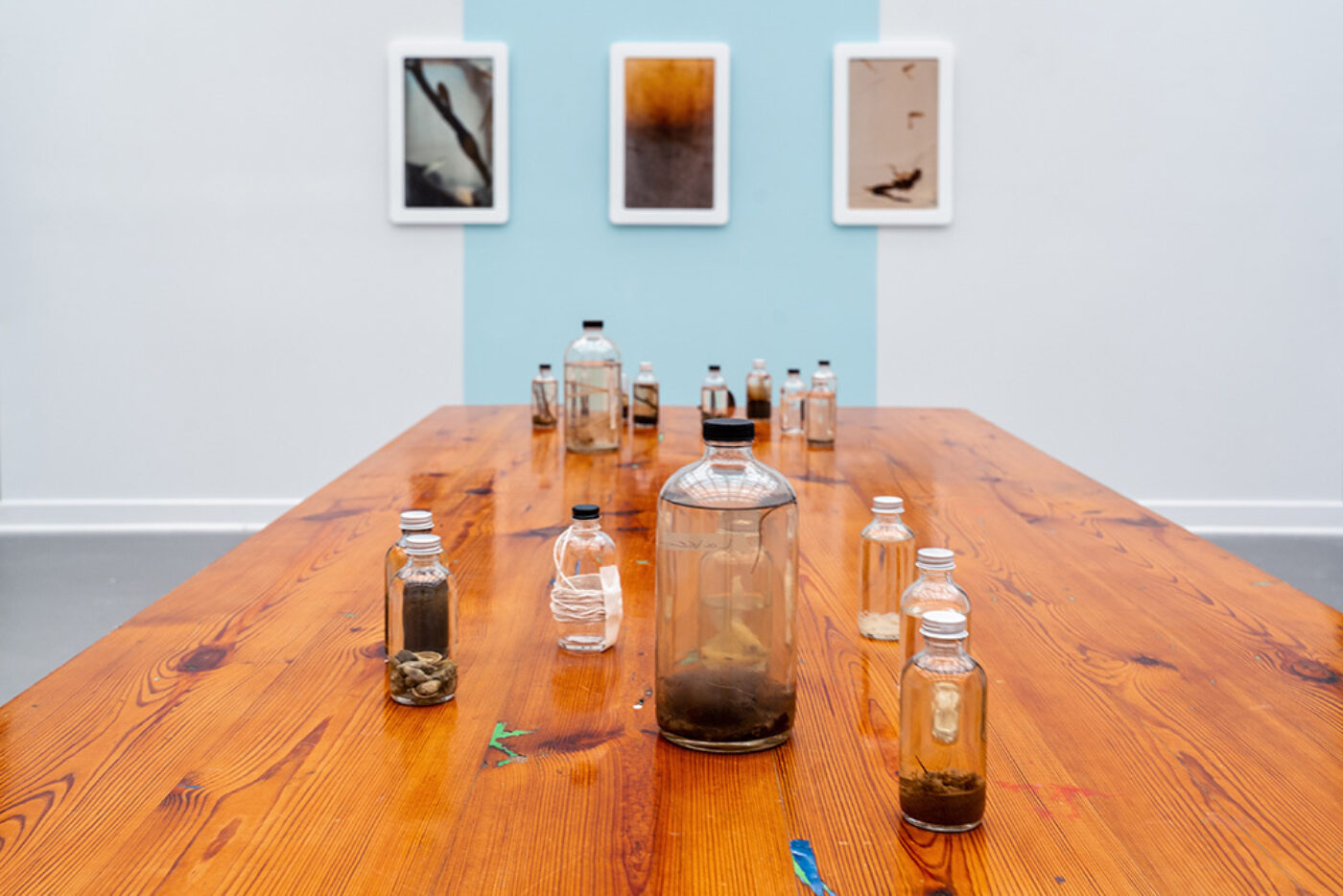 Marion Wilson is best known for collaborative, ecologically minded social-practice projects that affirm the power of creativity for marginalized communities. Yet painting, the medium in which she was trained, has become increasingly important to her practice in recent years. This return to her studio roots coincides with a return to her family roots in The Landscape Is Sanctuary to Our Fears, a beguiling exhibition at William Paterson University's New Gallery. In part as a response to William Carlos Williams's epic poem Paterson, Wilson undertook archival research into the eponymous city's historical role in the textile industry, and she engaged in collaborative scientific research into its present-day water quality.
But the not-so-secret heart of the exhibition is the way in which Wilson's civic archaeology opens onto a personal one in the form of a series of oblique responses to her upbringing as the daughter of 1960s politician Jerome Wilson. She dug through her father's photographic archive, then arranged thematic selections from it in the gallery (Assemblage of Artist-Edited Historical Photographs [2020]). She collected water samples from regional lakes first visited during her childhood, then took close-up, semi-abstract photographs—each as languid and fuzzy as memory itself—of their silty contents (The Waters of My Childhood [2019]). She painted oil-on-Mylar portraits of her family as colorful, layered hybrids of human, floral, and geometric forms (Family Portrait [2019]). Each exhibition element is like a strand of yarn pulled from the quilt of history. Gathered and arranged this way, these personal-political threads are ecological in the most capacious sense of the term: poetic proof of the interrelation of everything with everything else.
—Louis Bury
Louis Bury Where did the idea for The Landscape Is Sanctuary to Our Fears come from?
Marion Wilson The title is a shifted quote from William Carlos Williams's Paterson. The original line was, "The Library is sanctuary to our fears." During my year-long commission at William Paterson University (WPU), I did research in the Paterson public library and the Paterson Museum. I'd planned to stage my WPU exhibition as a library until I realized the work was really about the silk industry's impact on the landscape.
LB Williams considered "the local" a source of value and inspiration.
MW Questions of the local have been important in my life and work, as well as in the larger conversation about environmentalism. I was raised in New York City and New Jersey, then taught at Syracuse University for twenty years. Living upstate felt difficult for me until my work began to focus on the Syracuse region.
LB That's fascinating.
MW As part of the New Museum's group show Counter Culture (2004), I had set up an art-vending cart, This Store Too (2004), outside the Bowery Mission and bartered with people in the neighborhood. Syracuse University's then-chancellor, Nancy Cantor, wanted me to make similar connections between the campus and the larger city.
LB How did these concerns play out in your WPU commission?
MW There was the possibility of doing a community-based, social-practice project. But for me that takes much longer than a year. Also, after fifteen years of collaborative, social-practice work, I wanted to turn inward.
LB Had you worked in this personal way before?
MW No, I hadn't made work before about my immediate family.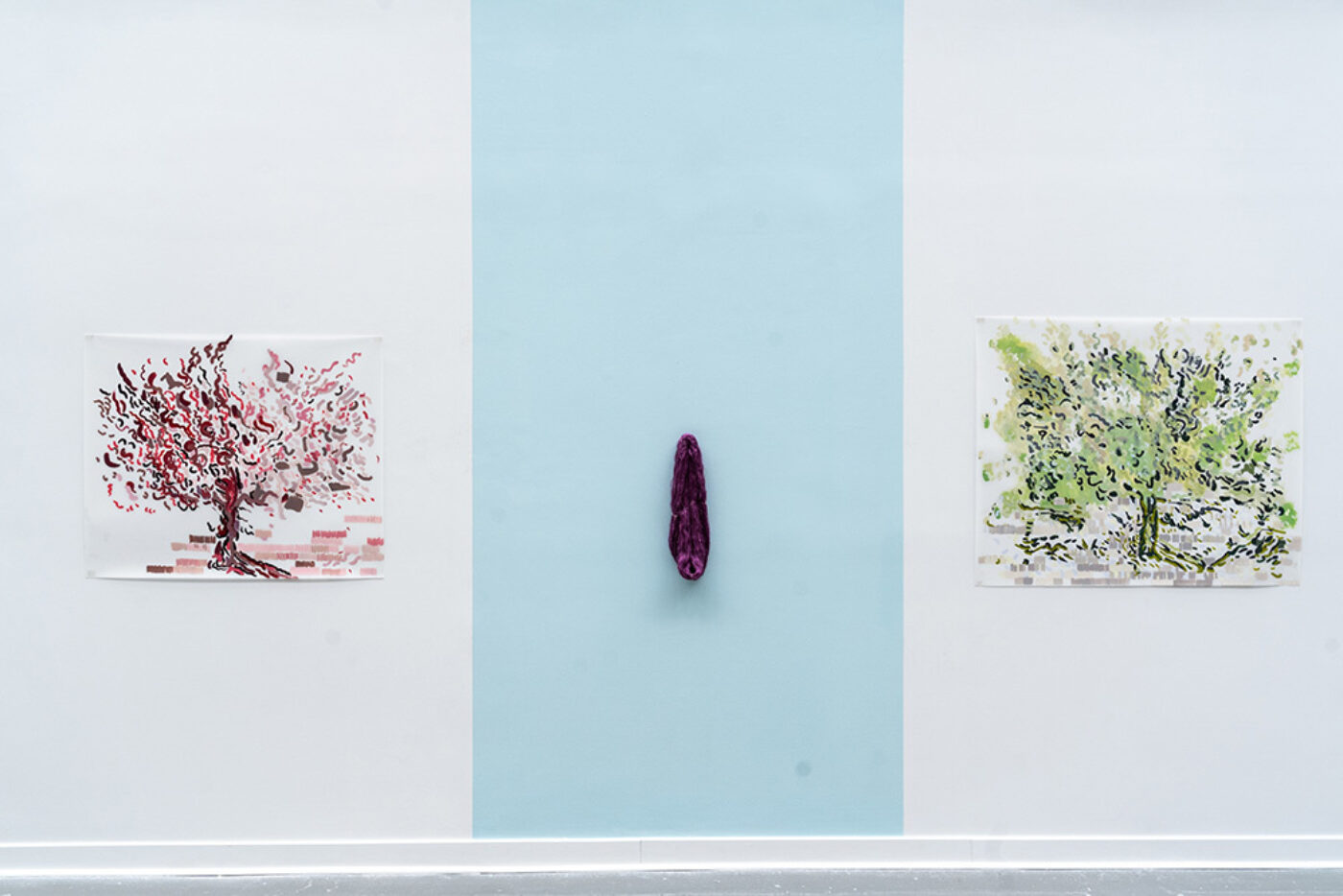 LB The portrait of your father, Stop Hurting Me While I Laugh at You (2019), is arresting. His agape mouth recalls Francis Bacon's screaming Popes, and the red patches of paint on his forehead and arms have sinister overtones.
MW I'm not beautifying or sentimentalizing him. It's more in the realm of humor; he was quite funny, but with an undercut of meanness. At the time he posed for this portrait, he had dementia and a small wound on his arm. The resulting image feels representative of him. He was a man with an incredible public record who raised his four daughters to believe they could be who they wanted to be. Yet he also seemed broken in ways that affected our relationship.
LB What political offices did he hold?
MW He was New York State Senator from 1963–66. Then he ran for Congress before leaving politics when I was eight. He was a civil rights activist who fought for things like tenants' rights, labor laws, divorce reform, and safe equipment in city parks.
LB The other distinctive image of your father in the show, Crossing to America (2019), barely contains him at all. He's asleep on the campaign trail, and you've cropped the photo so that only part of his head can be seen, in the lower right corner.
MW That image made me realize that my father belonged in this show. I came across it while going through the photos he kept from his political career, which showed him with figures like Robert Kennedy and Eleanor Roosevelt. Among these images, I found this one of him asleep; it was the only photo that made him look like a regular person. The Statue of Liberty in the image also fits the story I wanted to tell about immigration to Paterson and the early twentieth-century silk industry's labor unrest, child-labor exploitation, and racism.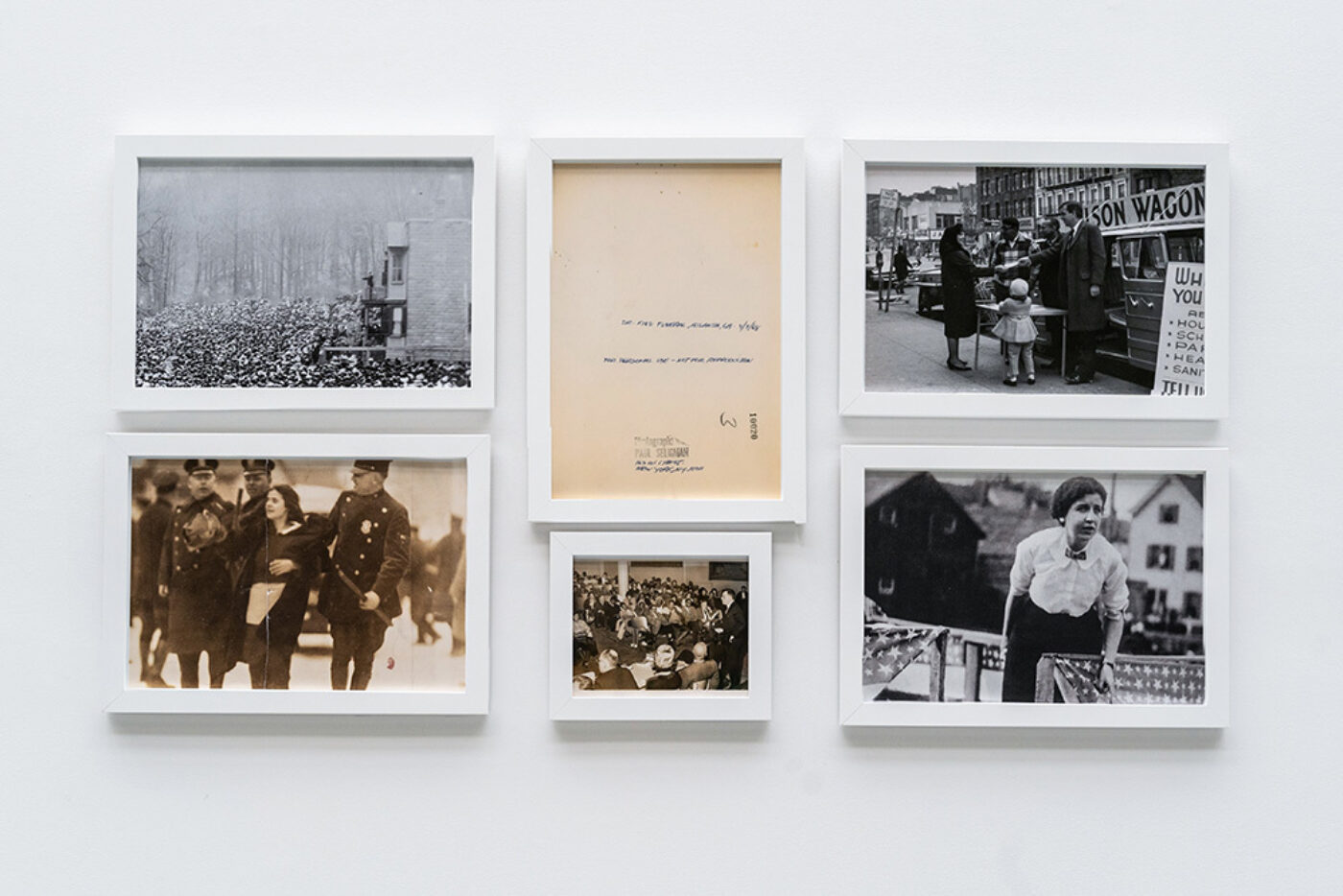 LB That contrast between public persona and behind-the-scenes reality feels important in relation to Landscape's interplay between order and disorder.
MW Our home life was a political party every Saturday night, but we cleaned up and went to church every Sunday.
LB How does this dynamic manifest in your work?
MW I always start a project with something associative. Take 601 Tully (2011), a social-practice project in a former Syracuse-area crack house whose new purpose it took a while to settle on. My students and I sat with chairs in the driveway and invited neighbors to talk, asking them questions such as, "What's your memory of this building? What's the history you can tell?" It's a way of collecting experience that's messy. We frustrated the architects because we wouldn't say what the building was going to be. We'd tell them, "We'll know what the building is going to be when the neighborhood tells us."
LB How can social-practice art impact local communities?
MW Artists engage in urban development in ways architects don't. They know better than to wear a suit when they walk in the neighborhood. They collect twigs off the street. They look at the palette. They engage the senses to better understand a place. The cycle of artistic processing isn't as threatening or goal-oriented as commercial development.
LB Can you talk about your use of materials?
MW I'm deeply material sensitive, but people have a hard time pinpointing me as a painter, or sculptor, or photographer. I trained as a painter but opened up to other media when I felt painting couldn't answer the questions I wanted to address.
LB What questions did paint not answer for you?
MW I felt I couldn't get it out into the world. Now I understand paint in a different way.
LB How so?
MW I've always known how to move paint around but didn't always know what I wanted to say with it. Paint is like a non-verbal language; the paint takes over and does some of the work. I got back into painting after I experienced a gallery fire in which I lost three years' worth of work and resolved to work for a year with what I had in my studio. I found these little pieces of glass, about one inch by three inches in size, three inches by four inches max. Their tininess made painting feel nonthreatening. And they made sense to use, in response to a Superfund site I was visiting, because they felt scientific.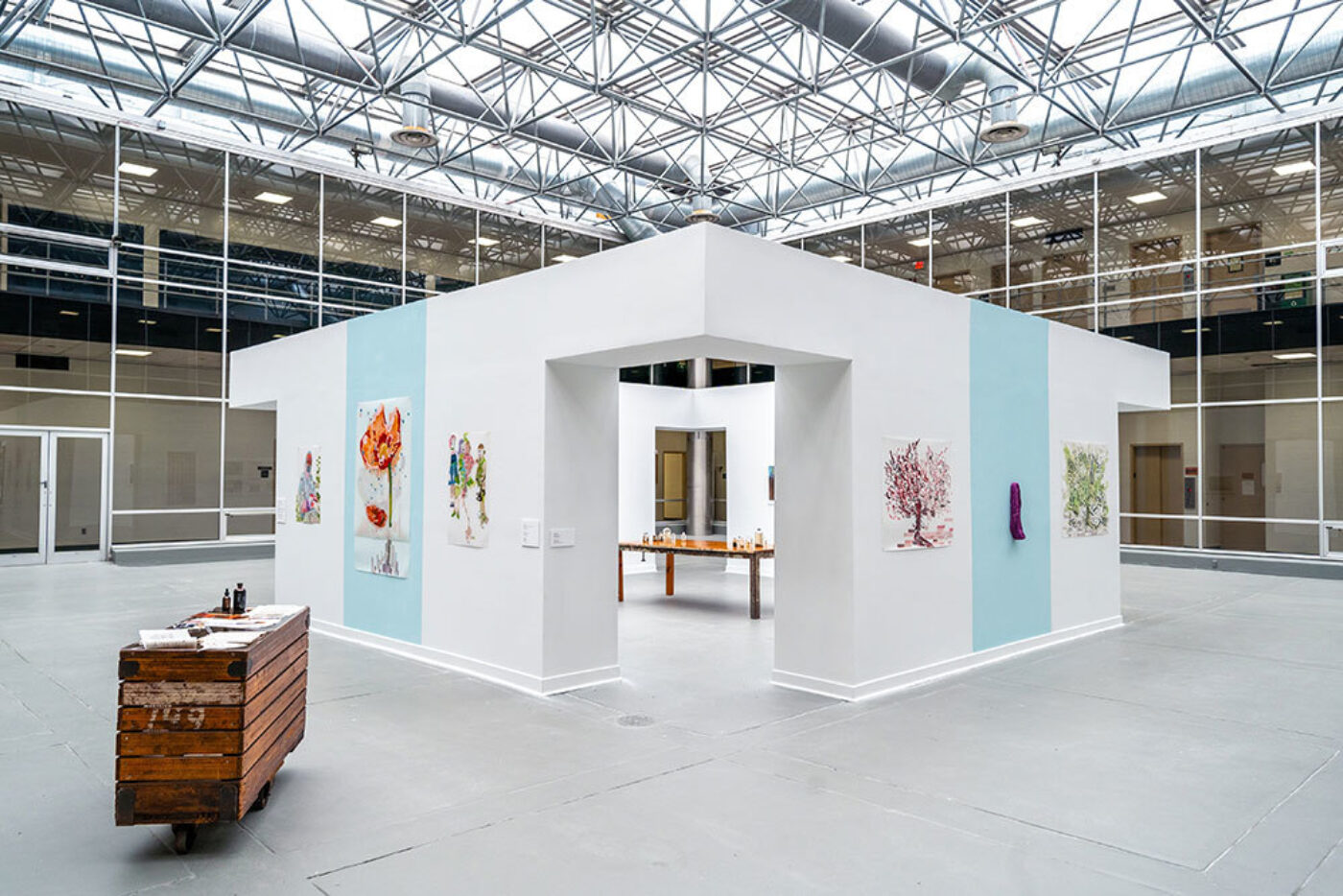 LB What science background do you have?
MW I studied bryophytes, or moss species, for a semester with Robin Kimmerer, a Native American botanist who's a professor at SUNY College of Environmental Science and Forestry. She teaches science from an animist perspective, which emphasizes that we know things not just intellectually but also spiritually, physically, emotionally. She's a big influence on how I think about ecology, as are artists such as Tattfoo Tan and Mary Mattingly.
LB Tattfoo and Mary are both concerned with getting art out into the world.
MW All three of us create platforms for ecological justice. I believe in the necessity of creativity whether or not it solves a political problem. Everyone has the right to it. I teach people experiencing homelessness how to draw in the same way that I teach college students. One man told me, "I can think about my problems all day. I come here to forget them." We all have the need not only to engage but also to turn off, or to engage other parts of ourselves.
LB Sometimes impractical-seeming detours lead to practical destinations.
MW I'm an extremely hopeful, optimistic person. That may be because I live a lot in my imagination; I'm grateful I was afforded that opportunity as a professor. But good politicians are also fundamentally optimists. They have a vision to make society better. I was raised to believe we can make a difference, and I'm interested in the strength of the vulnerable. Plus, I have worked with young people for so long it forces me to be optimistic and model for them how they might want to live their lives.
Marion Wilson: The Landscape Is Sanctuary to Our Fears is on view at William Paterson University's New Gallery in Wayne, NJ, until May 6. (William Paterson University's New Gallery is temporarily closed due to the coronavirus.)
Louis Bury is the author of Exercises in Criticism (Dalkey Archive) and Assistant Professor of English at Hostos Community College, CUNY. He writes regularly about visual art for Hyperallergic, and his creative and critical work has been published in Bookforum, Brooklyn Rail, Los Angeles Review of Books, Boston Review, and The Believer.