Artists Madeleine Hunt-Ehrlich and Jacqueline Hoang Nguyen unpack the politics of the creative process.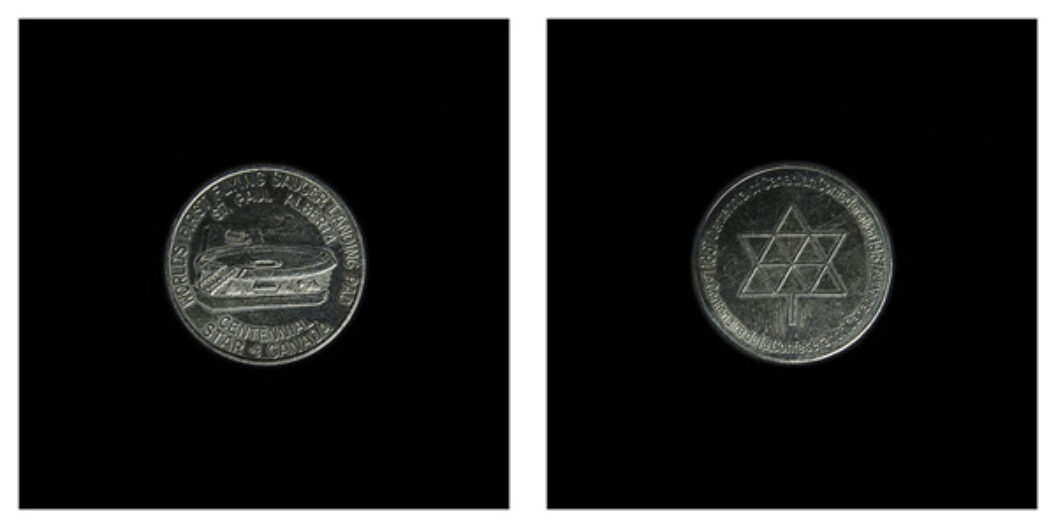 I first met the formidable Jacqueline Hoang Nguyen at an iteration of the Be Black Baby party I had co-curated with artist Simone Leigh at Recess Activities in TriBeCa. Jacqueline—a recent graduate of the Whitney Independent Study program—at the time was still sharing creative space at the new ISP headquarters off of Canal Street. That day the artist was in the midst of her newest investigation, a project that compares a small Canadian town's choice to build the first UFO landing pad in 1967 to the alienating aspects pertaining to the politics of immigration. Jacqueline and I continued that conversation, considering the roles of identity and activism within our respective practices.
Madeleine Hunt-Ehrlich Jacqueline, tell me a little about your individual history. How did you arrive at your artistic practice?
Jacqueline Hoang Nguyen Born of Vietnamese immigrants in Canada, I was raised in the French-speaking part of Montreal. In other words, I belong to the visible minority group within a national linguistic minority group, the Québécois, in a vastly English-dominant Canada. So, in short, my life is a constant exercise of translation, negotiating and resistance between cultures, languages, and economical classes.
I received my MFA and a post-graduate diploma in Critical Studies at the Malmö Art Academy. In addition to my studies in Sweden, I was involved in the editorial group of the anti-racist magazine MANA and was editor for the contemporary art section of the Swedish queer cultural magazine FUL. In 2010-2011, I was participating in the Whitney Museum of American Art's Independent Study Program. These experiences gave me the necessary theoretical tools for undertaking the type of research-based practice I'm doing today.
In my artistic practice, I'm interested in revealing the unnoticed political relevance of seemingly innocent anecdotes by shedding a novel light on trivial stories. In this respect, the most valuable research material to this process is what is overlooked by the canons of history. This is not the work of a historian, yet my works are results of findings, collected material, re-framed content, visual translations with the aim of putting forth a different and novel interpretation. History is used in my work in accordance with Walter Benjamin's assertion that every story about the past is more importantly a story about the present, suggesting that memory functions less as an accurate tool for exploring the past and much more as a re-interpretation.
MHE I also approach my work from a position of cross-cultural negotiation. I come from a Caribbean and Jewish background and grew up in an artist's co-op in the Lower East Side. I think growing up watching the Lower East Side and all of New York gentrify so mercilessly left me with a desire to revise ideals of modernity.
For several years I have been making images that capture hybridization of culture in urban space, specifically in Caribbean-American neighborhoods such as Little Haiti in Miami, Flatbush in Brooklyn, Cambria Heights in Queens, and Gunhill Road in the Bronx where African, African-American, West Indian, and Asian cultures engage and confront what it means to be in North America.
Jacqueline, just as your work looks to the banal anecdote I am also interested in the vernacular occurrence. However, I would say I'm less interested in translating as you spoke of, and more interested in presenting the endless creoles of urban space. I think in the experience of trying to understand something in flux, and learning to be comfortable with a structure that can be reassembled at anytime, everyone can learn something.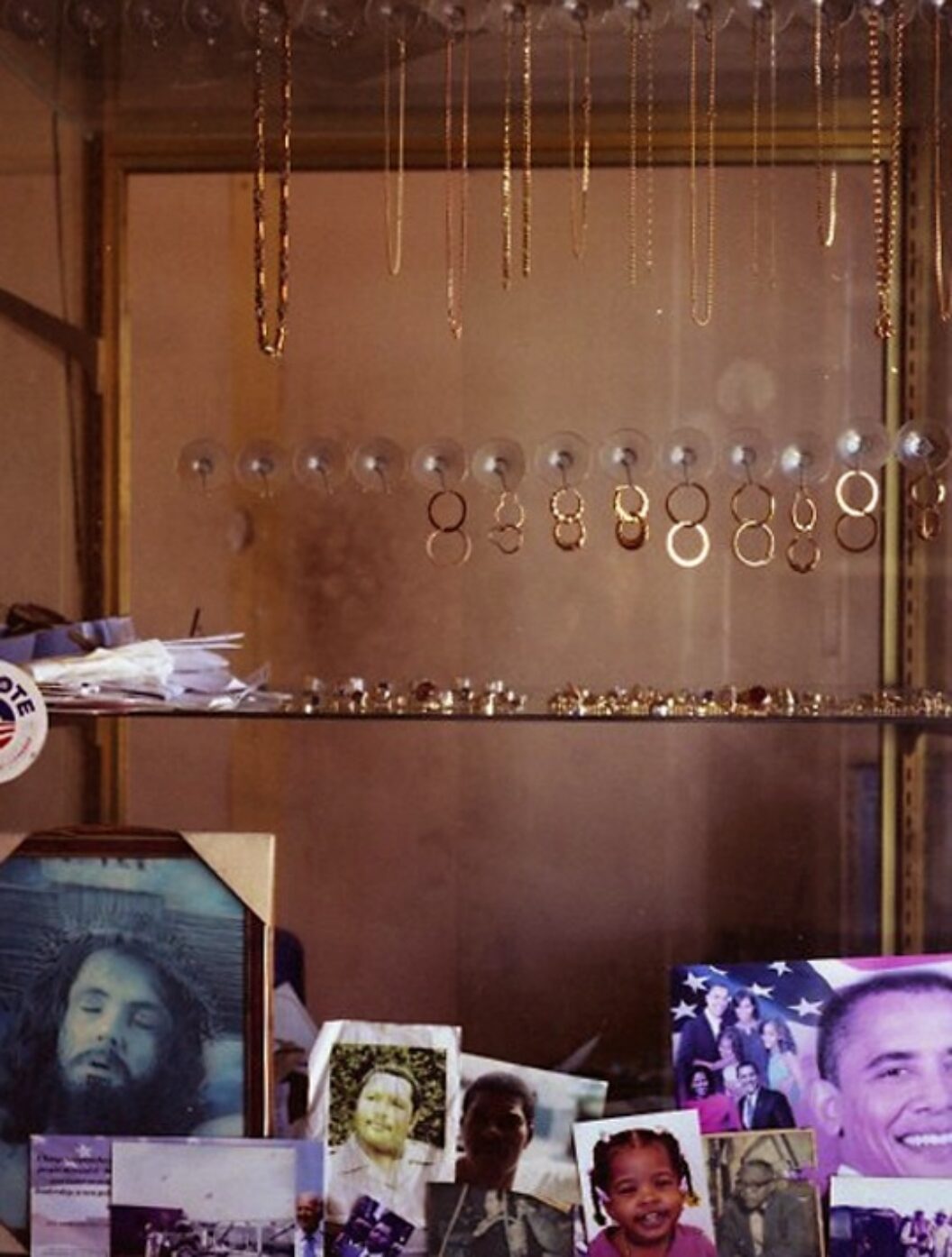 JHN For me, artists are—before everything else—citizens, which means that we are embedded in a social fabric with specific histories. So, to fully understand what an artist does, one needs to understand the social, economical, and cultural forces that shape their subjectivity. I think the role of the artist—regardless of the cultural climate—is to challenge the hegemony in place, and during periods similar to the one we are currently living in, the contributions by artists are of even more importance for offering alternative visions of the world and different ways of living together. So, in this sense, I agree with Nicolas Bourriaud's definition of the Altermodern artist that its role is to "produce links between signs far away from each other, exploring the past and the present to create original paths."
MHE Absolutely, artists at their best are cultural excavators—constructing metaphor as you spoke of, is a part of this. I would add that in this time we are living in artists continue to play a special role in society by virtue of their patience alone. In the face of marketing machines that co-opt and disseminate the aesthetic production of creative producers more rapidly than ever before, patience is the distinguishing quality between art and advertising. We need to get out there—in public space—to seek out that moment where something can mean many things at once and, most importantly, in that moment to not be afraid to sit with it.
JHN I entirely agree with you about the importance of occupying public spaces and the mobilization of bodies as a direct form of expressing frustration and disappointment by the people.
MHE I recently collaborated with playwright Diane Exavier on a short video piece Stay Close. Stay Close examines the significance of wearing crucifixes on the street. It's about style of course, but I was surprised how many men spoke about it as a token worn in memorial to the dead just as often as it was a symbol of loyalty—whether it's to a place of origin, a way of life, or to one's crew.
As an iconography I just think it is a response to the amount of violence there is all over the world right now, especially in black and brown urban neighborhoods. There are a lot of black people in mourning. You can see it in the many names tattooed on people's bodies, in the style of wearing crucifixes, t-shirts spray-painted RIP, there's a new style of laminating a photo of the deceased and wearing it on a chain which I've see on high school aged kids. The iconography still connects people to the church and I am not trying to say it has no relation at all anymore but I also think it takes on additional significance in the context of the street. In some ways this is how men are signaling their mortality to one another.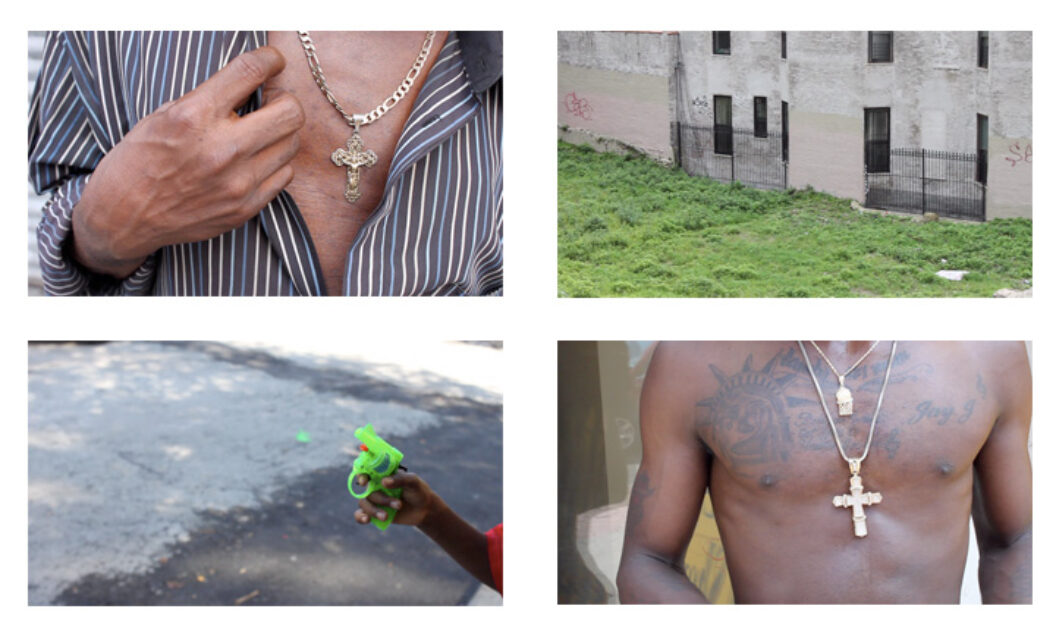 JHN My entry point in the exhibition lies in the feeling of the uneasiness in trying to locate one form of pride amongst North Americans and its shaky grounds.
For the exhibition I am presenting the work-in-progress 1967: A People Kind of Place. In this research-based project, I investigated a forgotten monument built in the Canadian prairies. The small community of St. Paul, located northeast of Edmonton, inaugurated the world's first UFO Landing Pad on June 3, 1967 as part of Canada's Centennial, with the aim to symbolically welcome the whole world, and even intergalactic beings, to Canada. I therefore see the UFO landing pad as a contradictory nationalist and anti-nationalist utopian monument. With this gesture for unconditional hospitality in mind, my focus revolves around the multiple readings of the word alien and the intersection of the discourses of the UFO landing pad and the shift in Canadian immigration policies, which occurred that same year, with the implementation of the point base system which consequently posited Canada as the instigator of multiculturalism. The convergence of science-fiction and identity politics is particularly apropos here, as literary critic Fredric Jameson eloquently puts forth in Archeologies of the Future: The Desire Called Utopia and Other Science Fictions:"The fundamental dynamic of any Utopian politics (or any political Utopianism) will therefore always lie in the dialectic of Identity and Difference."
So, in this work I wish to question the very constructed nature of multiculturalism and the malleable nature of this ideology. However, this social ordering of difference is in most cases a social engineering of culture by the government, as Canadian artist Ken Lum has articulated. So, as part of the current turn to the right in the Western countries, we can observe a consensus that has emerged notably in European countries where leaders such as French President Nicolas Sarkozy, British Prime Minister David Cameron, and German chancellor Angela Merkel have claimed that multiculturalism has failed. Mr. Sarkozy clearly posited his viewpoint during televised interview on TF1 on February 10, 2011 that too much attention is given to the foreigner's identity making the French national integrity compromised. [This was] an expression of inverted racism that is symptomatic of the multiculturalism of late capitalism.
MHE I agree that the term multicultural is an engineered ideology, which is why I think Caribbean cultural theory can evolve the way we talk about North American cities. I am a big champion of Edouard Glissant's Poetics of Relation, mostly because I was out on the street making these images and I would go home and read Glissant and be like, "That's what I saw today."
JHN In your images and writing on Little Haiti, the Haitian Diaspora community in Miami, you talked about this locality as a loose sketch of Haiti. Could you talk about the relationship between culture, imagination, and fiction based on your impressions?
MHE The homogeneity of Little Haiti's residents, who are predominantly recently immigrated Haitian families, has transformed that landscape in such a way that it has a direct relationship to the country itself, but in more heterogeneous urban space as well there are millions of homelands reconstructed, overlapping and affecting one another at different scales.
There's this misconception that the pastoral does not exist in the inner city, but, in my experience, I find this narrative inaccurate. The Bronx is one of the greenest urban spaces I've seen—I mean, there is some serious gardening happening in the Bronx! Also some of the freshest produce can be found in many urban neighborhoods especially immigrant neighborhoods—and certainly not at Wholefoods prices! I think that farming/plant life is really valued and can serve as a physical link to the memory of a homeland and of the rural. I've seen big stalks of corn being grown in public housing complexes. So cultural memory, the Caribbean Imaginary for instance, this nostalgia for lush land of the Antilles impacts the landscape of American cities.
What about about the role of contributing to an archive or index ? How does that play out in your work?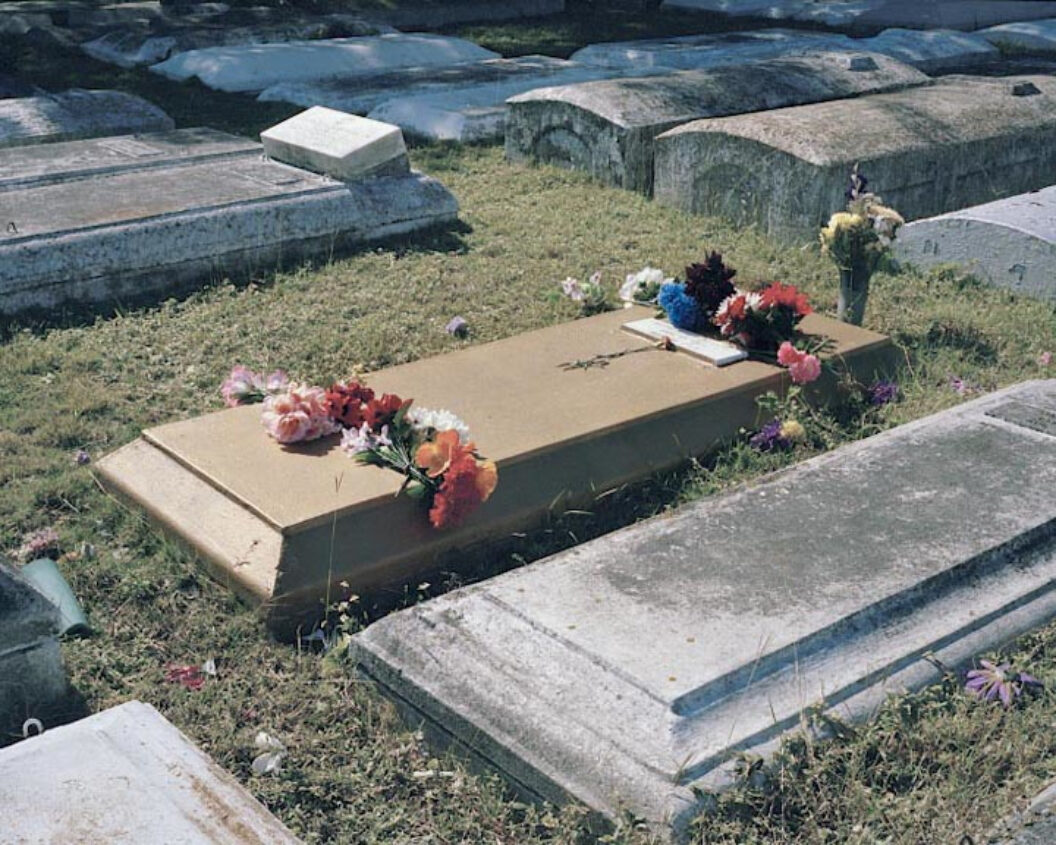 JHN Unfortunately, history has mostly been written from a male perspective and so, the use of archives helps me to locate blank spots in history or to use it as a medium for re-shuffling a classically ordered form of knowledge. As theorist Mark Wigley puts forth in his essay "Unleashing the Archive," an "unused archive is not an archive." Thus I see my role in this research project as an activist archivist, as defined by Wigley. An activist archivist is "one who designs an archive whose purpose is to polemically rearrange the standard perception of the worlds outside … is to change the direction of thinking."
So, I believe that in our respective practices of excavating the past and re-evaluating modernism, there's a dual mechanism at play. On one side, a desire to work against cultural relativism and on the other to challenge cultural standardization.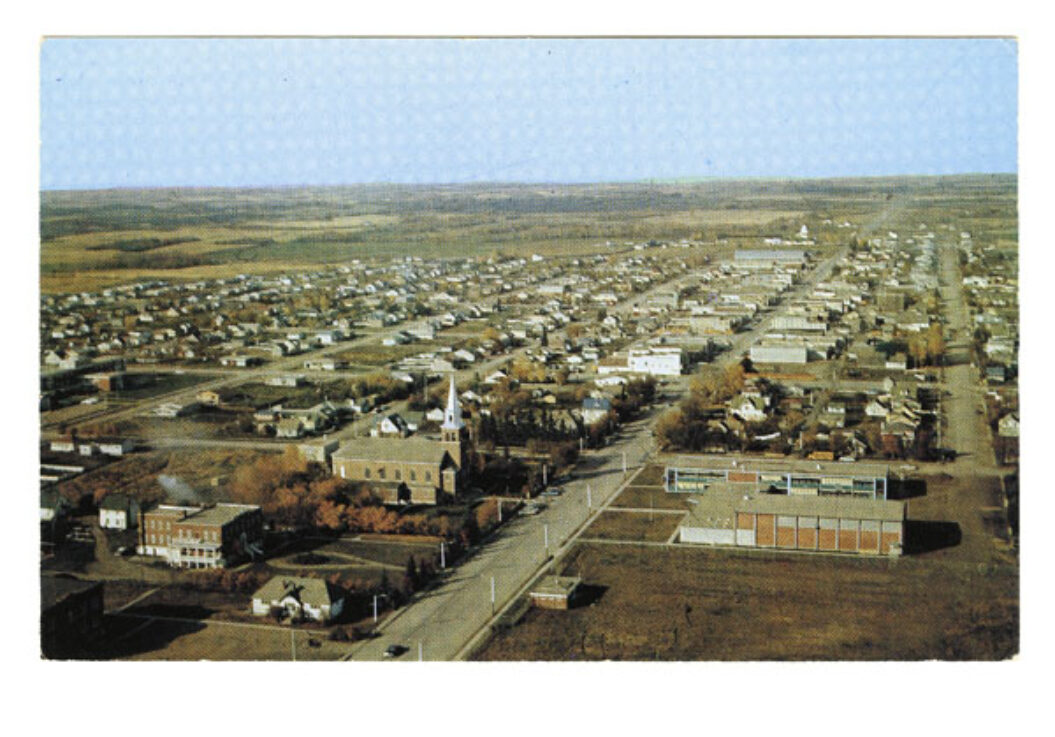 Madeleine Hunt-Ehrlich is a photographer and filmmaker whose work examines the Caribbean Diaspora as it impacts and exists in America. Her images and writings have appeared in Studio Magazine, ARC magazine and Guernica Magazine, among others. For more of her work, visit her website.
Madeleine Hunt-Ehrlich and Jacqueline Hoang Nguyen exhibited together with a roster of other artists in American Idolatry, a pop-up exhibition at The Invisible Dog that wrapped up on November 5th.