Amy Lawless on the conceptual collaborative nature of Ben Fama's Mall Witch.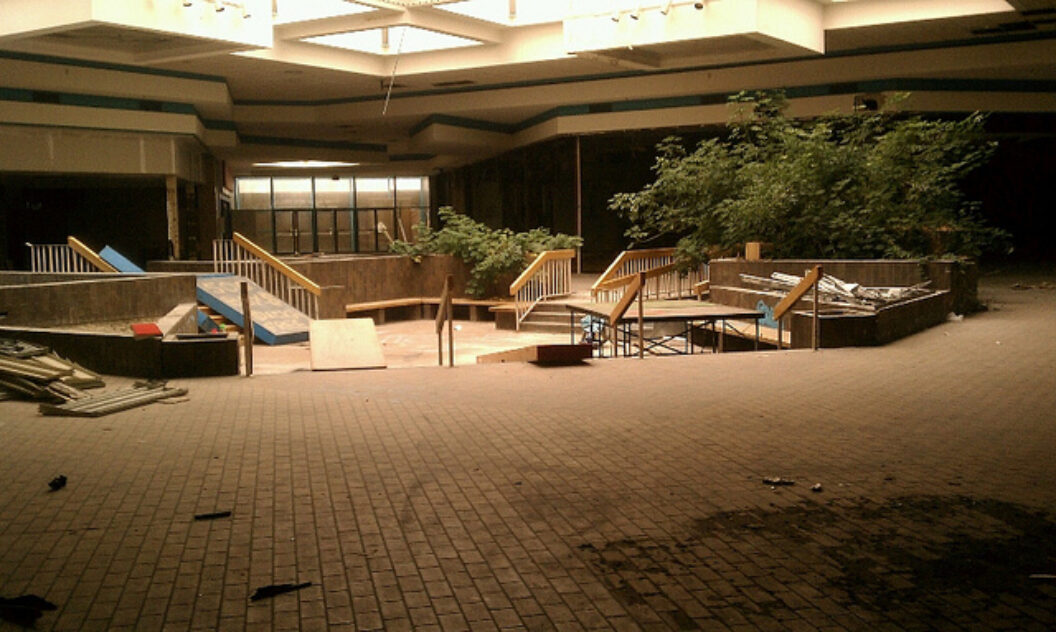 Conceptual poetry has, in the past, made my skin crawl. I used to want to open up a book, approach it from my limited (non-omniscient) perspective, and read it on its own terms. I wanted to think, but was chiefly concerned with the (groan) fascinating bounds of my own mind's processes as related to a connection with the work I was reading. I figured I'd read criticism or not read criticism later on. This is, of course, naïve. One can never read a book without previous knowledge. Usually, some prime move in your universe caused you to buy, borrow, steal, or even get a PDF of a book. Maybe the author looks kinda hot and do-able in the author photo. Maybe the historical significance of the work caused you a moment of autodidactic-narcissistic-self-flagellation-cum-PayPal-drain. Maybe you respect the press. Maybe you keep hearing a name at lit parties or in that gently annoying banter before a reading. Maybe you see quotes of it Tweeted or posted to Facebook by friends or by people you respect. Maybe your dead mentor told you to read Dryden, and you're carrying that on your shoulders until you read some Dryden. Maybe you like feminist work. Whatever it is, we move toward things. We are impacted. We glide. We read. We are part of a literary community whether we identify as writers, readers, critics, or a softcore pullulating mix of roles. We ride. But does that context matter? Yeah it matters. It sticks like a burr in your brain and can help you understand the work. You can't rid yourself of it. Sometimes that context is a history or school of poetics or maybe it's a series of linked ideas (concept) as expressed in the book Mall Witch.
Mall Witch, the first full-length collection by Ben Fama is built on a concept. In Notes on Conceptualisms Robert Fitterman and Vanessa Place write: "Mimicry/mimesis being the means by which the subject makes the imaged self. Contingency/multiplicity is therefore the one true nature of universality." This addresses the very nature of learning, how we learn to be human beings. When I was a baby, I gestured to my mother for the name of the toy swimming in my bathtub. She said "fish." I repeated "fish." It was my first word. I copied. I didn't say it like she did. No one could. She was a woman in her early 30s with full access to language while I really didn't know much of anything. But I said it. I copied. Copying is part of what makes us human and is how we learn and adhere and culturally manifest ANYTHING.By "the true nature of universality," Fitterman/Place might mean many things. Maybe they were talking about language acquisition or understanding that which is around us, what makes us human beings. Maybe they were talking about how we get our writer's "chops." Maybe they were talking about Mall Witch. The nature of universality is one paradigm through which we might understand the poetics of Ben Fama or, more terrifyingly, Ben Fama himself. One question that reading the poems in Mall Witch answers is, "What do Ben Fama's friends think Ben Fama's work is?" It can be argued that this is a lot more loving way to hear what your friends think about your poems than having them talk about you and your poems behind your back.
But what exactly is Mall Witch trying to do? What's its angle? In 2011, Andrew Durbin and Paul Legault began collaborating on a series of poems that were written in the manner of "Ben Fama poems." Fama had been reading his poems in Brooklyn for a while at that point. The persona of these poems was droll, kinda-asshole, pseudo-goth, intellectual, online, shy, liked glitter, straight but homo-curious and –conscious. These are poems more concerned with a cultivated voice than image-making with words. His Facebook persona solidified this version of Ben Fama. He'd regularly update his status with phrases like "I miss summer." But what does a goth guy miss about summer? This tug of inconsistencies is very human, very specific, very individualistic. This complication, this seeming ironic disagreement is what moved Durbin and Legault to open up a Google doc and flirt with each other by writing a series of collaborative Ben Fama imitation poems. Or maybe not. Both men [Durbin and Legault] are prolific writers. Legault's work on imitation, translation, re-interpretation of preexisting texts has been regarded and his publishing record is proof of this. But Legault had never translated a person—another living poet—into a book of poems (to my knowledge). No one has. The radical nature of such a project deserves some serious credit.
Ben Fama did not have a full-length collection of books out previous to Mall Witch. Ugly Duckling Presse published his chapbook Aquarius Rising. That's it besides some discreet poems and poetic sequences published online and in print journals. Legault/Durbin were working with just a few works and their direct IRL and virtual knowledge of Ben Fama. Let me say this again: Mall Witch is a translation of a friend into a book of poems. As a concept: radical.
Collaboration is not, however, a radical concept. Nor is friendship. However, what is important to this book is the idea of friendship and how that informs the work. Recently I saw "Dancing around the Bride: Cage, Cunningham, Johns, Rauschenberg, and Duchamp" at the Philadelphia Art Museum. It was an exhibit that "explored the interwoven lives of" Marcel Duchamp, Merce Cunningham, Jasper Johns, Robert Rauschenberg, and John Cage. These men influenced each other, flirted, pined, made fun, and generally influenced one another whether each was aware of his own influence on the others or not. This was a state of constant play. These guys were having a lot of fun, made jokes about testicles, and wanted/needed to work with each other.
In making art and poetry we humans need one another. We inspire each other; we lift each other up. Sure, outliers do indeed exist, rage, and delight in privacy, but the existence of Mall Witch recalls this play withjoy de vivre, one-ups-manship, and heat. It reminds us of what is possible and how poetry can have no rules (or tells us that any rules we think matter are shit). Johns, Rauschenberg, et al. have shown that having artists to play off of in one's work has contributed unilaterally to America's canon. Mall Witch understands this. The authors who wrote Mall Witch were having a lot of fun. And when people have fun they are often subject to much criticism by those who aren't having enough fun.
The book is printed in full color. It is visually arresting and the designers, Joseph Kaplan and Legault, were going for purposefully cheesy, late 1990's teen-girl-chic look. In other words: another joke. Chintzy low-res Internet windows, buttplugs pasted onto a landscape painting. Voluminous laughter clearly occurred during the layout process. The imagery is reminiscent of just finding out that you can make a smiley face with a colon and an end-parenthesis, being 13 and the moment mom's minivan ignites and drives away and now you can really start having fun. Think of the smile on your face when you first gave a guy your phone number. Think of the smile on your face when you first got a girl's phone number. Translate that smile into a shade of pink. This full color expression has caused the book to be expensive: $30. But with this many [not cheap] gags, black and white wouldn't cut it.
The poems vary. One problem with conceptual poetry is that sometimes the poems don't seem to want to stand on their own; they use the concept as a crutch. However, concept aside, these poems stand on their own six feet. Collaborative poems are so fun and people should do this more. Where one mind wandered at play now two romp. In the case of Mall Witch: three [counting designer Kaplan, four]. And unlike an anthology, the minds all work toward one common goal and this is not the goal of one's own expanded poetic oeuvre (in service to a hungry ego). One poem that particularly stands out after repeated readings is called "Boo" (scroll down to find the full poem it in Action Yes). This poem does not make easy the work of simple "ventriloquism." No, the speaker here is self-possessed in his floundering. The speaker has concerns and were the reader not aware of the concept/project at play here would not question whether this piece was a poetic interpretation of the interiority of a Ben Fama on a day or days. Here "Fama" writes:
One of the first images of utopia I saw was the 

MTV

video for Today

by the Smashing Pumpkins. It's inconclusive whether the bread truck

they drive around is running on vegetable oil, though the whole video

is basically a depiction of the art-as-play narrative post-modernity rescued

through Nietzsche,

or Adorno's impossible-but-necessary image of liberation

that he said society needed to move forward

If Snooki was my daughter, I would not be proud of her

Let me give you a second to tweet that
This is not a poem that flaps pop culture referents on top of one another for its own sake. While I might privately argue among friends that a pop culture reference prevents a poem from being timeless, and don't we want our work to live forever? Is there some difference between O'Hara drinking Coke and Ben Fama listening to the Smashing Pumpkins and talking about Snookie? Well a lot but also nothing. Maybe it's about how artifice itself and the noise of the now and of the moment in and of itself is part of our now. Also who cares? Also if, in the effervescent brew of crap I don't give a shit about like Snookie and MTV, someone writes "is basically a depiction of the art-as-play narrative post-modernity rescued through Nietzsche, / or Adorno's impossible-but-necessary image of liberation / that he said society needed to move forward," which are lines one must stop with, savor, in order to ingest. Let it trip you up and laugh uncomfortably at yourself because you weren't in on the joke. It's a moment of pulling back the curtain: the phrase "art as play" directs the reader to what is happening in the whole book. Fama, Durbin, and Legault are saying Hi, I'm having fun with you. If you don't want to play then maybe I'll see you tomorrow when you're in a better mood. Nietzsche has reminded us to dance every day and that even the horse (like Snookie) has feelings. Hi, I'm having fun. I hope you're having fun too.
Amy Lawless is the author of two books of poetry My Dead (Octopus Books, 2013) and Noctis Licentia (Black Maze Books, 2008). Recent poems and prose have appeared or are forthcoming in Octopus Magazine, Best American Poetry 2013, and HTML Giant. Amy keeps a blog at amylawless.blogspot.com and teaches creative writing at Rutgers University.