Art and Ecology: Mariel Villeré and Dylan Gauthier Interviewed by Louis Bury
From landfill to park and artist residency program.

Discover MFA Programs in Art and Writing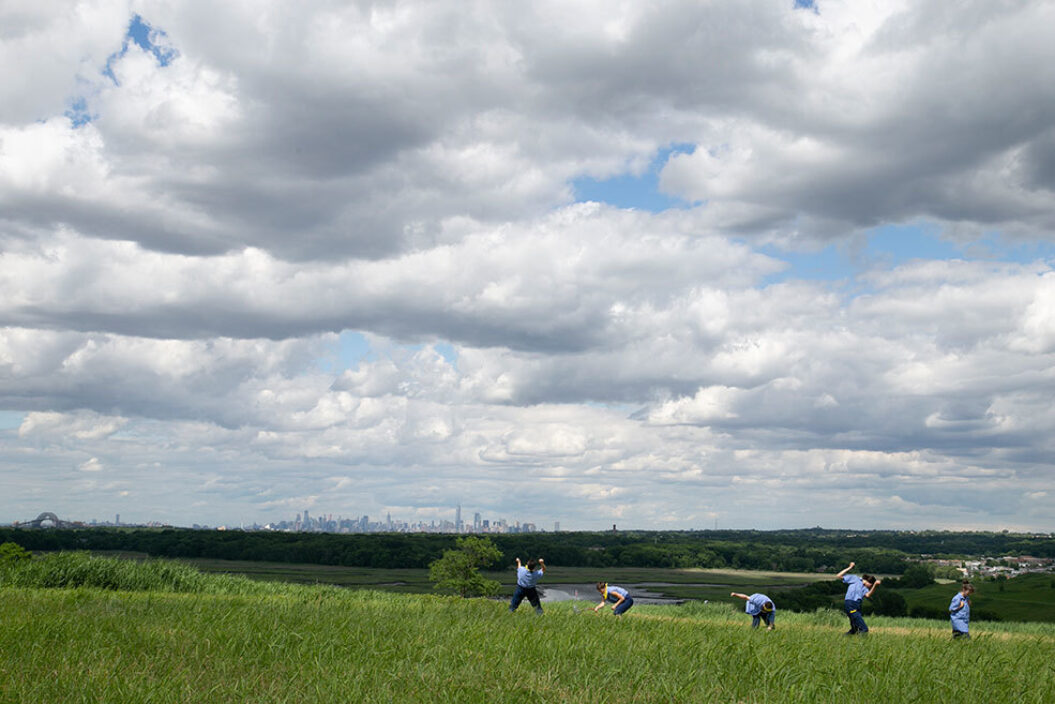 Under construction on the site of Staten Island's former Fresh Kills Landfill―which was established in 1948 and was the world's largest landfill from 1955 until its 2001 closure―Freshkills Park currently exists in a liminal state. While small sections of the park have already been built and opened to the public, the majority of the site will be developed over the course of the next two decades. When completed, the 2,200-acre park will be two-and-a-half times the size of Manhattan's Central Park.
The Freshkills Park: Field Research/Development residency program (Field R/D) has been smartly designed to integrate an artistic research component into the site's transition from landfill to park. Co-organized by Freshkills Park's Mariel Villeré and artist and curator Dylan Gauthier, the residency invites artists to investigate and respond to the site in a flexible, open-ended, and collaborative way. This emphasis on artistic process afforded by the park's long development time horizon offers an uncommonly pressure-free creative laboratory for participating artists. With Field R/D's first cohort of artists―Billy and Steven Dufala, Mare Liberum, Mary Mattingly, Lize Mogel, Nancy Nowacek, Joe Riley and Audrey Snyder with photographer Natalie Conn, and scholar and poet Kendra Sullivan―completing its residency and exhibiting work at Freshkills Park Studio + Gallery through February 15, I spoke with Villeré and Gauthier about the program.
—Louis Bury
Louis Bury How would you describe the Field R/D program?
Mariel Villeré Field R/D is an expansive art-research project focused around questions of land use, infrastructure, waterways as commons, waste management, and ecology. Our goal is to develop a community-responsive residency program for Freshkills Park. With the site's decades-long construction timeline and considerable size, the program offers artists time and space without the pressures associated with goal-oriented production. The projects are all site-based, if not always site-bound, and can take visual and performing artistic forms, as well as written, architectural, pedagogical, and ecological ones.
Dylan Gauthier Each cohort participates in seminar-style meetings that allow artists to develop their own projects in a collaborative setting. Guest speakers such as Robin Nagle, the Department of Sanitation's anthropologist-in-residence, share research and scientific data. The cohorts also watch artists' films made at the old Fresh Kills Landfill, an incredible subgenre of work that includes a biographical portrait of Mierle Laderman Ukeles, A World of Art: Works in Progress (1997), and Gordon Matta-Clark's Fresh Kill (1972), in which the artist's van is demolished by waste disposal machinery.
LB What kind of responses do people have when they visit the site?
MV Artists respond with an overwhelming sense of possibility, often to the point where it can feel paralyzing. This response led us to design the Field R/D program to be supportive and inquiry-based.
DG The site's scale is overwhelming. Being there changes your understanding of the larger city and its infrastructural complexity. You realize that a half century of the city's garbage didn't just magically disappear but is buried under your feet.
MV Local community perceptions of the site have been mixed and evolving. When the landfill initially closed, many residents wanted to move on and not encounter reminders of it; but since then, community members have increasingly become advocates for the park's future. The park attempts to ameliorate the environmental injustice neighboring communities have suffered.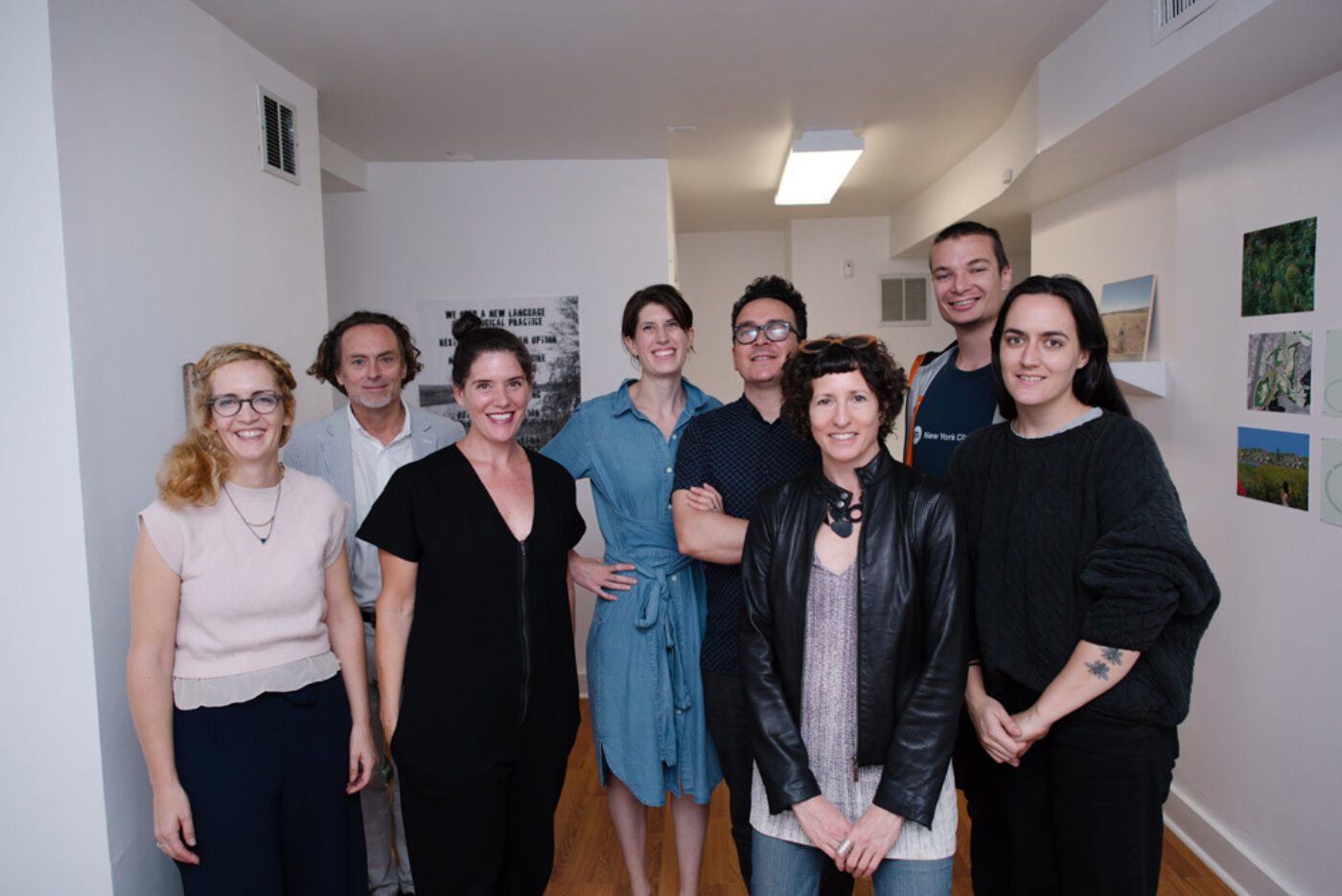 LB When the site was a landfill, what was its relationship to the surrounding neighborhoods?
DG Before 1948, the site consisted of tidal creeks, coastal marsh, and wetlands used for agricultural purposes, far from New York City's densely populated areas. After the Verrazano Bridge was built in 1964, connecting Staten Island to Brooklyn, neighborhoods were developed in closer proximity to the landfill. At the same time, as the landfill's waste mounds grew bigger, they became increasingly noticeable in sight and smell, and infamous for their massive seagull population.
MV Freshkills occupies six percent of Staten Island's landmass, but is largely invisible, tucked away behind berm and tree cover on the island's far West Shore. The berm runs along the eastern edge of the park, where the site faces Richmond Avenue, the borough's largest commercial corridor and site of the Staten Island Mall. Driving Freshkills's perimeter is like playing a game of peek-a-boo with the mounds.
LB How have artists engaged with the legacy of the site's inconspicuousness?
MV Several artists in the first Field R/D cohort contemplated how to make waste management infrastructures more visible. Joe Riley and Audrey Snyder, for example, researched New York City's waste export network, established after the landfill closed, mapping its routes throughout the northeastern United States and addressing the out-of-sight-out-of-mind attitude we have toward our waste. Their work consists of a video sculpture and a proposal to map these new waste disposal routes, at scale, on Freshkills's North Mound.
DG Billy and Steven Dufala explored motifs of camouflage and visibility in their work with garbage dumpsters, proposing a deliberately outlandish and unrealizable performance in which dumpsters would be arranged and toppled like dominoes across the Freshkills site. And Lize Mogel proposed a monument to the park's disappeared seagull populations.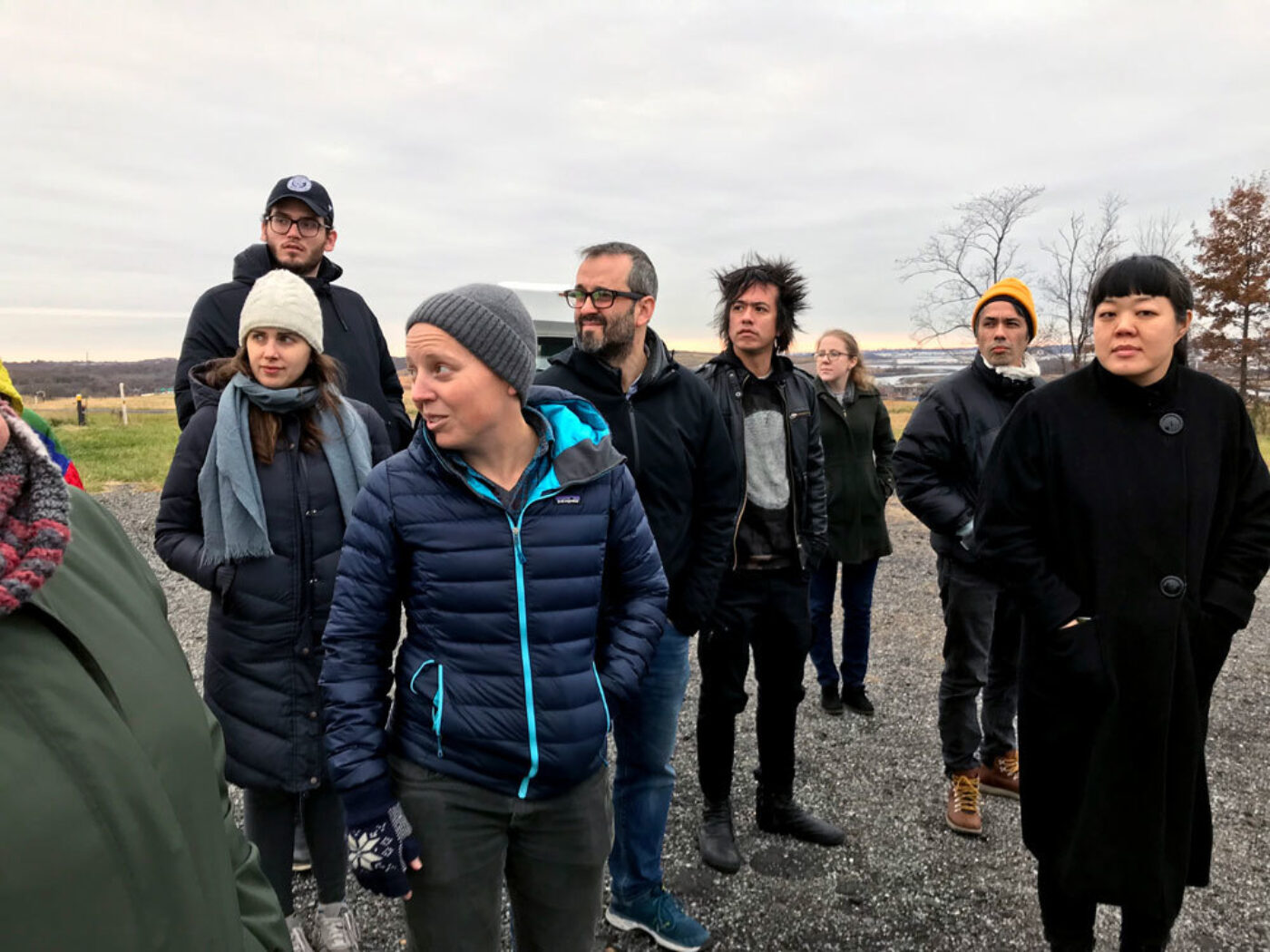 LB What other research and work emerged from the first Field R/D cohort?
MV Nancy Nowacek's performance and 360-degree video, FIELDWORK (2018), used a gestural vocabulary based on manual labor to raise questions about how research and data might be put to practical use. Lize Mogel's bus tour, Off-Trail (2018), highlighted the geologic and human time scales at work in the park. Mary Mattingly's eco-sculptural intervention, Four Spheres (2018), currently piloted outside Freshkills Park Studio + Gallery, reinstates healthy ecosystems for bees, birds, butterflies, and other pollinators. The cohort's work serves as research files for future Field R/D cohorts, and has impacted how we communicate the site's potential to the public.
LB Dylan, you're a member of Mare Liberum, an artist collective participating in Field R/D. How would you describe the collective and its involvement with Freshkills?
DG Mare Liberum investigates historical and contemporary relationships between waterways and surrounding communities by creating publications and designing boats as platforms for environmental pedagogy. We formed in 2007 and drew on a Right-to-the-City framework that understands urban waterways as a public commons. Based in Gowanus, Brooklyn, and Marseille, France, the collective is currently comprised of Jean Barberis, Ben Cohen, Arthur Poisson, Sunita Prasad, Kendra Sullivan, Stephan von Muehlen, and myself. For Freshkills, we've proposed two boat designs: the first, a marsh boat made entirely out of recycled cardboard, would provide a platform for aquatic research; the second, built entirely out of ocean plastics and based on an open-source kit by scientist Max Liboiron, would trawl creeks for small bits of plastic.
LB Mariel, how does your background in both art and architecture help you understand the relationship between these two fields in the park's development?
MV I started my career at New York City's Skyscraper Museum where my work was focused on densely built positive spaces, especially as determined by economics. Then, in graduate school, my work focused more on negative space, on how architects reuse already existing spaces, such as parks and gardens, to rebuild cities. The Freshkills site constitutes a unique mix of positive and negative space. Overlooked for decades as a null or void space, the site was in fact built out of the city's waste. Now that the site is becoming a park―the largest New York City park built in a century and the largest landfill reclamation project ever―its topography is being shaped in other ways, including through the Field R/D program.
LB What is the relationship between the larger site and The Freshkills Park Studio + Gallery, located in the northeast corner of the park and opened in 2018?
MV The house in which the gallery is situated was acquired by the Parks Department in the early 2000s from Robert Zink, who opened it in 1999 as the Wildlife Rehabilitation and Education Center. It is the only facility on site for the display of artwork, and one of the few such spaces on Staten Island's West Shore, so it's a place to engage the public, as well as a facility that might accommodate future artists-in-residence or collaborators.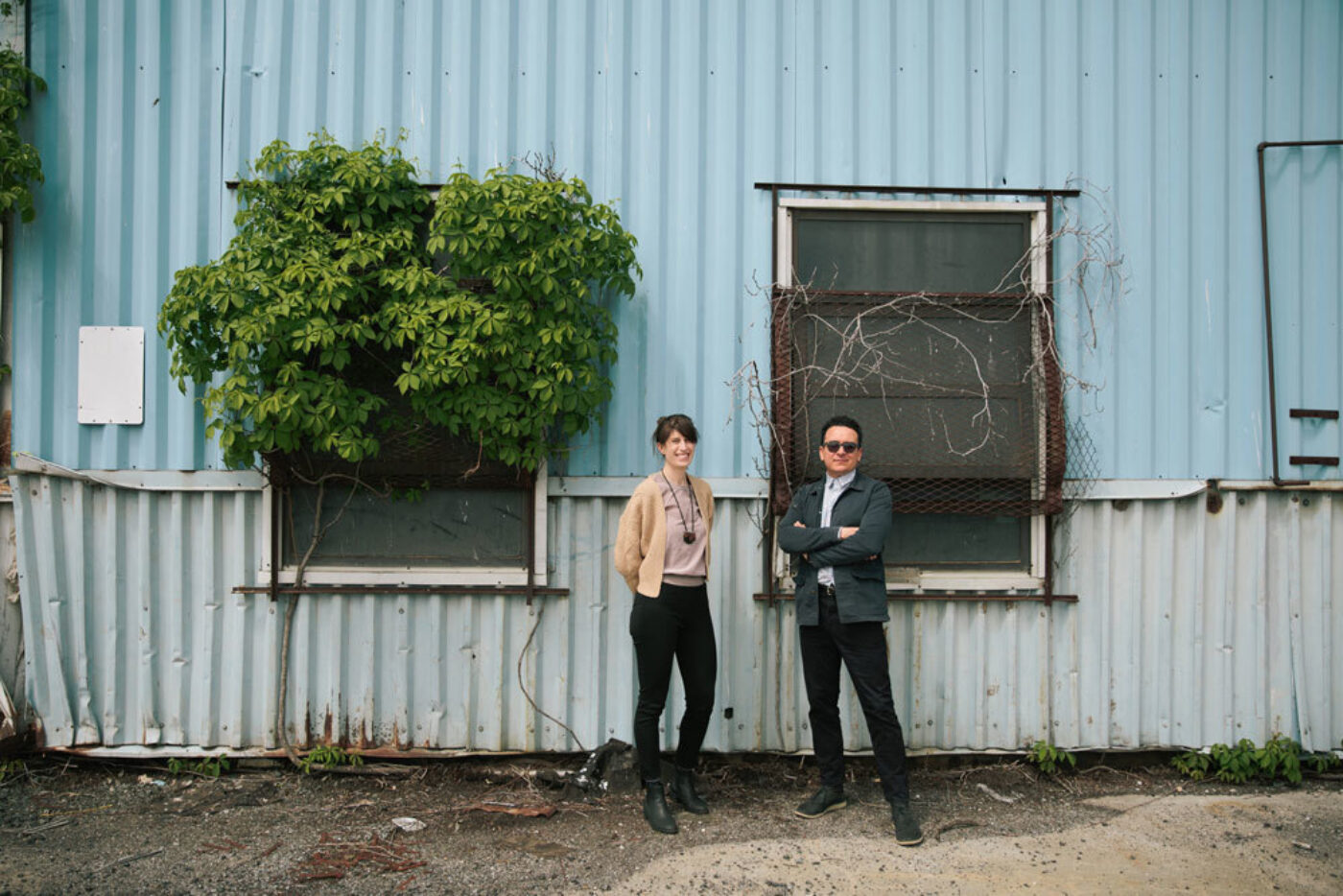 LB What lessons have you learned from the residency's first cohort?
MV We learned that a large cohort fosters dialogue so rich and expansive that even a eighteen-month residency duration feels too brief. For the second cohort, we're trying out a smaller group of artists―Sto Len, Jen Liu, Antonio Serna―for a twelve-month duration. We're coming to think of the program as an ideal school, in which we provide the group with resources and allow them to explore their interests.
DG Another takeaway has been the generosity, thought, and care of the city agencies that are creating this new kind of commons for future generations. A layered bureaucratic ecosystem supports the park's biodiverse wilderness. As artists, we've had to think about our own agency, as well as the government's, in relation to an anthropogenic site that is changing and will continue to change long past our lifetimes.
The Freshkills Park: Field Research/Development residency program exhibition is on view at the Freshkills Park Studio + Gallery until February 15.
Louis Bury is the author of Exercises in Criticism (Dalkey Archive) and Assistant Professor of English at Hostos Community College, CUNY. He writes regularly about visual art for Hyperallergic, and his creative and critical work has been published in Bookforum, Brooklyn Rail, Los Angeles Review of Books, Boston Review, and The Believer.