Art and Archive: Brian Jungen Interviewed by Sheila Regan
Working with the immediate environment.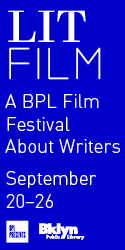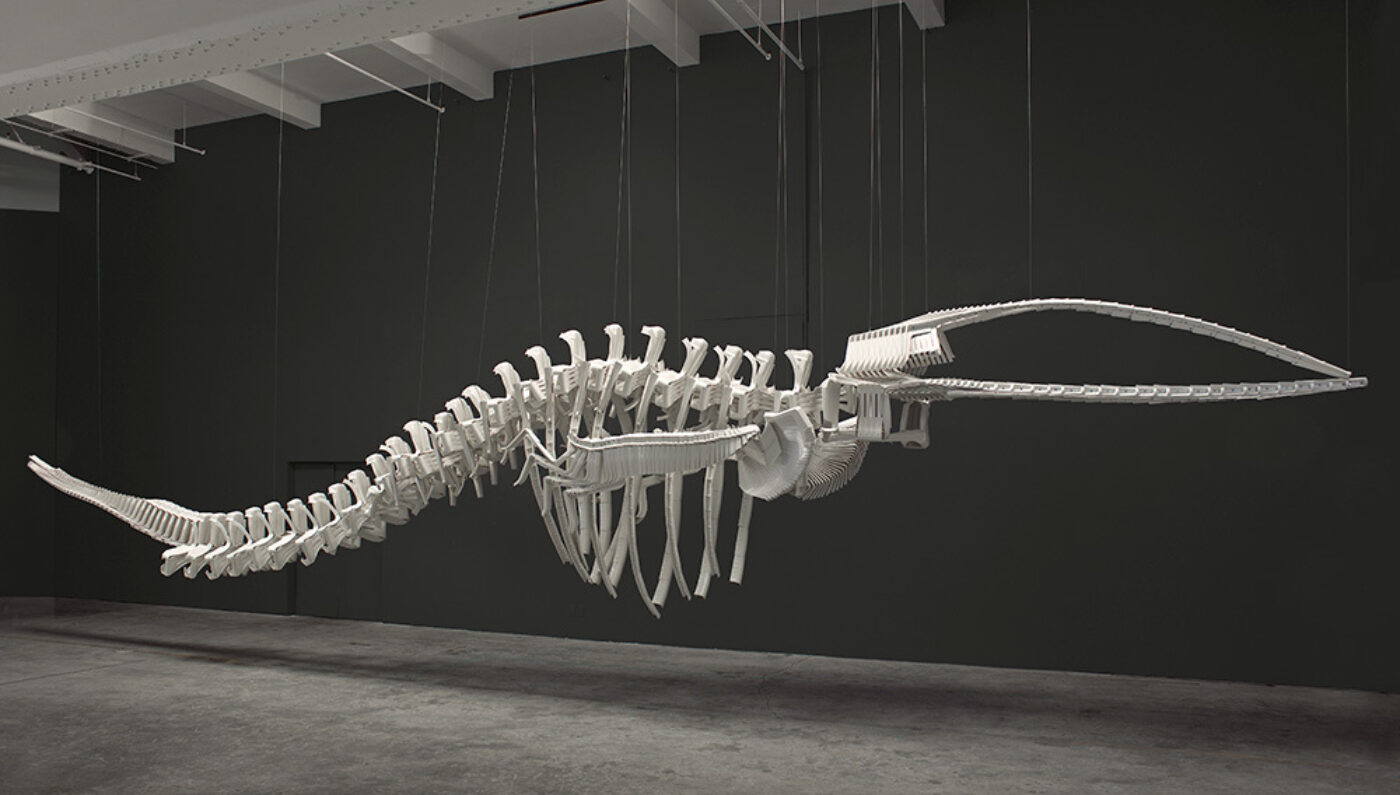 Brian Jungen's retrospective exhibition at the Art Gallery of Ontario (AGO) draws its title, Friendship Centre, from the indigenous community centers set up across Canada in the 1950s to be used for activities such as powwows and traditional dancing. Jungen, who is Dane-zaa and Swiss, has said that the large, cavernous rooms of AGO remind him of those of the Friendship Centres.
Jungen first rose to prominence internationally with his series Prototypes for New Understanding (1998–2005), created from repurposed Nike Air Jordans made to look like Northwest-Coast masks in a commentary about the commodification and misappropriation of First Nations culture. Organized by AGO and curated Kitty Scott, the exhibition tracks the evolution of Jungen's work with Air Jordans and includes a new version of a moving-image work he created with Omaskêko Cree artist Duane Linklater about treaty negotiations surrounding hunting and fishing rights for First Nations people. The show also features for the first time an archive of Jungen's personal items, which illuminate an intimate view into his practice.
—Sheila Regan
Sheila Regan Besides your artwork, you will be exhibiting objects from your personal collection. What are some of those objects, and what do you hope they will bring to this survey?
Brian Jungen I've used a lot of Air Jordan shoes in my work, so I have thousands of shoe boxes. Years and years ago, I used them to store stuff in, just like everybody does. It became a way of making a very mixed archive of my life by just Warhol-style sweeping everything into the boxes every once in a while, or using them to store materials from art projects. Rather than store the shoe boxes in storage, I decided to just build shelving for them that went up to the ceiling—eighteen-feet high. So I had this huge wall of these shoe boxes, and when the curator came to my studio, she was very impressed by the way I was displaying them. She wanted to make that part of the exhibition.
SR Are the objects things that inspired you throughout your career?
BJ Yeah. I'm quite a private person, so it's very unusual for me to show these parts of my life. I know I've been involved in the contemporary art world for a while, but I've kind of been truant for a lot of it. I prefer to be off in mountains. This provides a window into my world.
SR What does that feel like preparing to let viewers into that private space?
BJ It's just been a negotiation with the curator about what I'm willing to expose.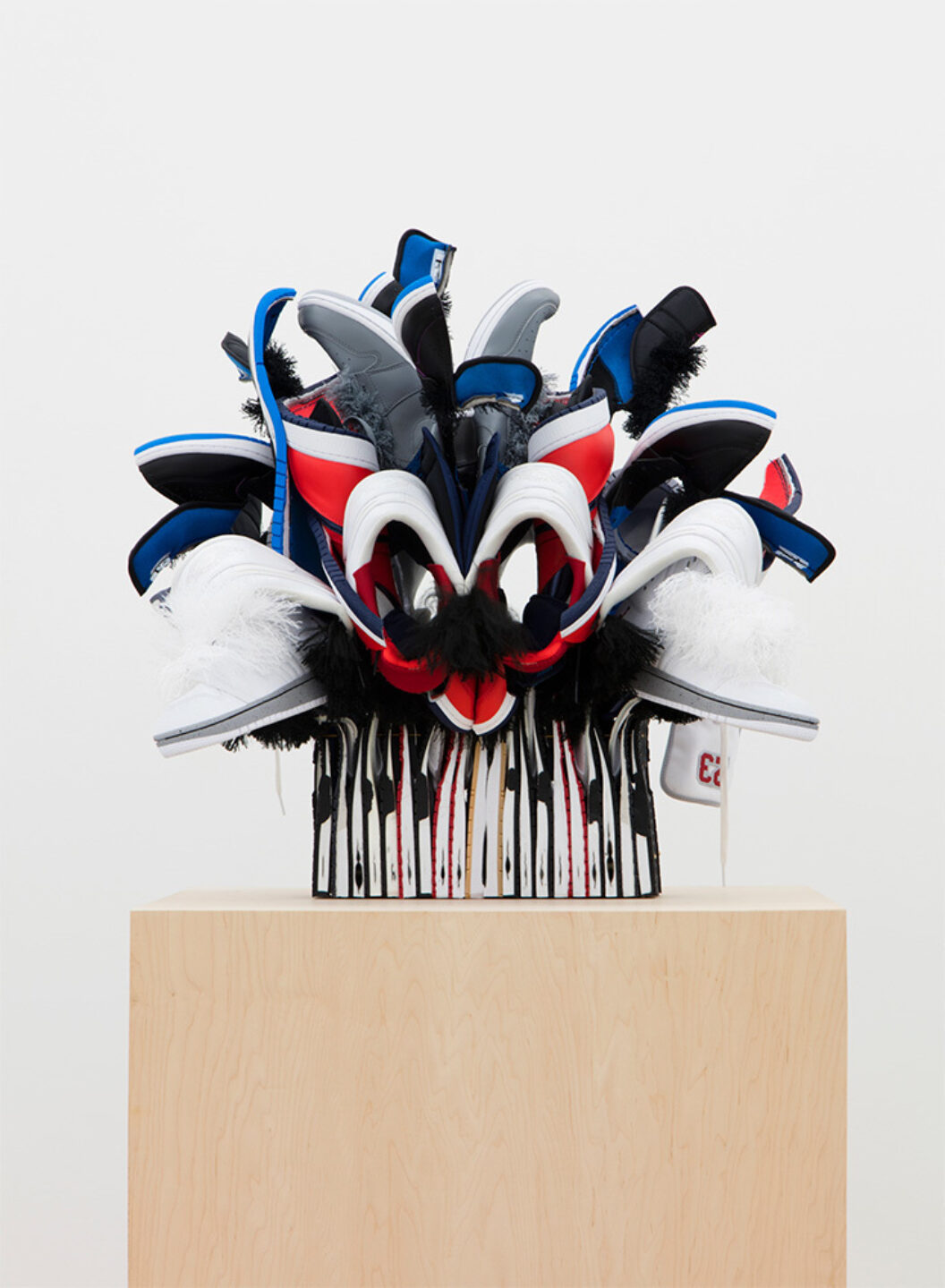 SR Your work with Nike shoes began over two decades ago. Prototypes for New Understanding in many ways put you on the map in the contemporary art world. Do you feel that you are trying to say something different or new as you return to this particular form, or do you feel that it's a similar impulse to that when you first started?
BJ I think it's a similar impulse, but I am so tied to those shoes. It's a theme I choose to pick up every once in a while and put back down again. I made a whole new series of masks and headdresses that could actually be worn, which is completely new for me. I've attended so many powwows in the past, and a lot of indigenous folks know who I am. They always ask me if I would make a mask for a Fancy Dance, so this past year I started making them so they could actually be worn—but only privately.
It's difficult because art museums almost never like to have people wear the artwork, especially if it's owned by someone else. A lot of my work is owned, so it's too difficult to negotiate that with the lender and institution. It's easiest if I just try them out with my friends. Those pieces really haven't been shown before. I've also made some Air Jordan pieces that are very unwearable. It's nice to have everything shown together at AGO.
SR What goes into choosing the materials for a given piece?
BJ If you look at how my indigenous ancestors approached object-making, they typically used whatever they had on hand, working with what was in their immediate environment. My practice carries on that tradition. I live rurally now, but I lived in Vancouver for twenty-something years, and so my immediate environment then was very urban, with shopping malls and so on. I started using animal hides, too, because hunting is also a big part of my experience. I thought it would be interesting to mix the two.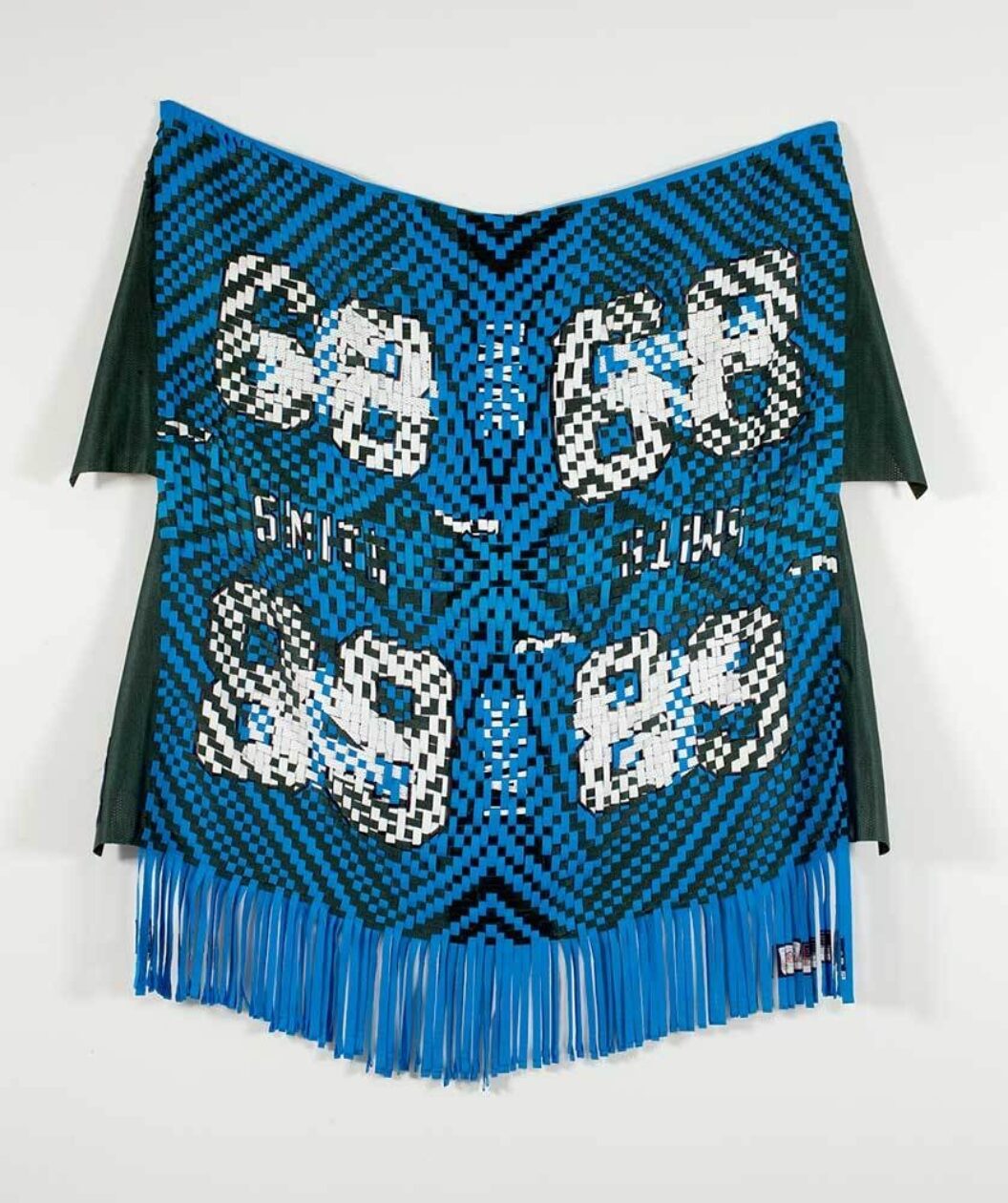 SR I wanted to talk to you about the film you made with Duane Linklater, Modest Livelihood (2012). You've taken footage of the two of you on a moose-hunting trip during which you recall a 1999 Supreme Court decision about hunting and fishing rights for First Nations people in Canada. What were you hoping to critique with this film?
BJ It's not really a critique, just an activation of the treaty rights that Duane and I have. We both come from parts of Canada that are under treaty, and those treaties are almost always being contested and challenged in court on both sides, but one of the consistent things is the right to the land, the right to hunt and fish without any restrictions. It's something that's very important to First Nations people in Canada.
That project was also based on conversations we had about how we could document a hunting trip. It has a built-in narrative: you go stalking an animal. We decided to use 16 mm film so that we wouldn't be able to immediately look at the footage. We wanted to have a camera there but also not know if it would even turn out. We liked that parallel between the technology and the act of hunting itself: we didn't even know if we were going to get an animal.
SR Had you made films before?
BJ I made some really terrible 8 mm films in art school, but Duane is much more multimedia-savvy than I am. What I decided to do for AGO—because we had already shown it there five years ago—is cut the footage and split it across five screens. It became a much more immersive experience.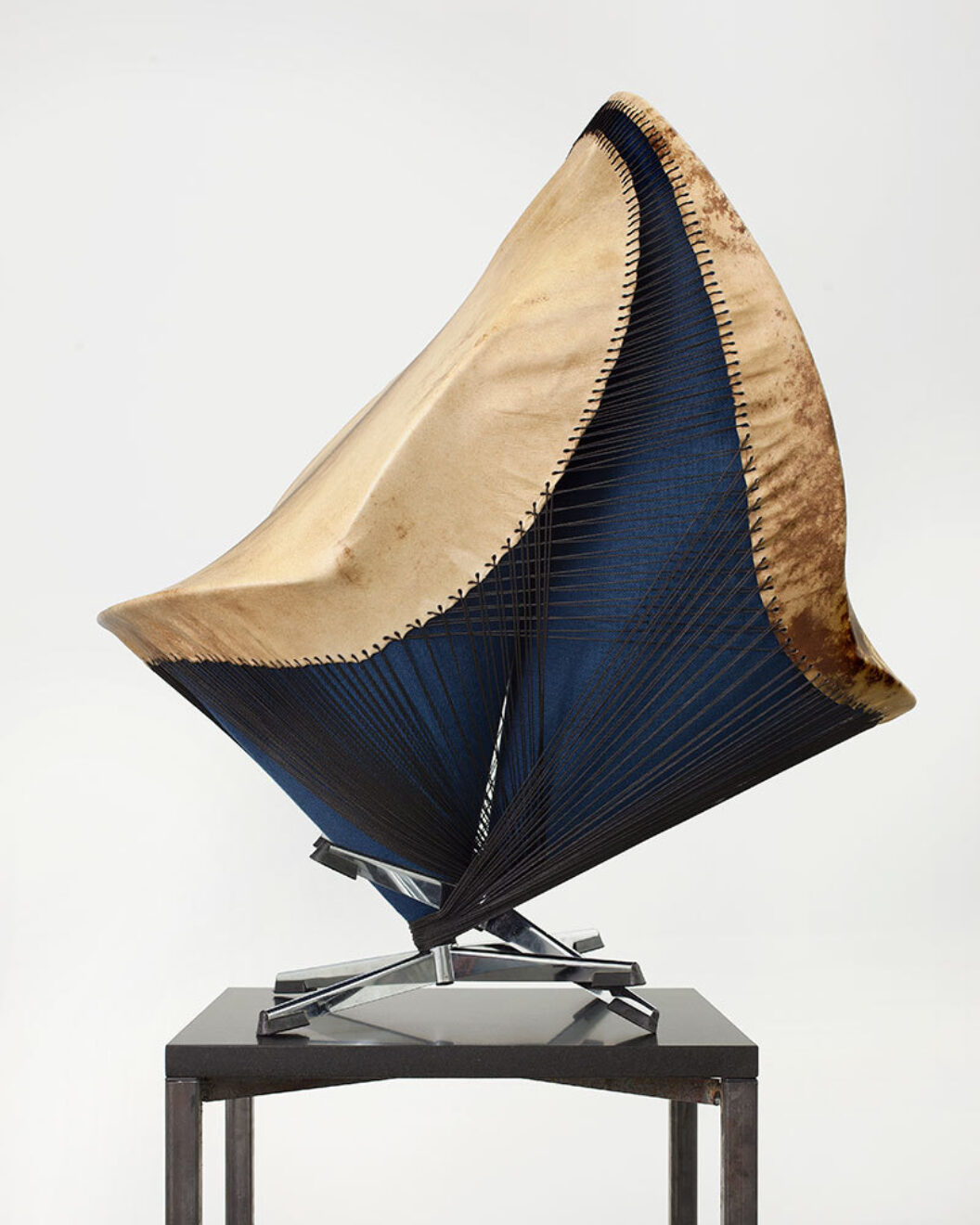 SR Is there anything else you might say about how this exhibition reveals your trajectory as an artist and, especially with this more personal aspect, as a human being?
BJ It's definitely a reflection of where I've been and where I've come from. I hope indigenous artists in Canada will see this show and realize that there's power in art, that people will believe in them, that it can save you. I had a miserable childhood. Art was very important to me. It kind of saved my ass. I grew up in the North and was very isolated. I want to impart inspiration to young, indigenous artists and remind them that their voice matters, that it's okay to cut up your shoes. It's okay to do something that is experimental and challenging. A lot of young people, when they see my work in museums, they kind of lose it because at first all they see is that I cut up all these Air Jordans. There's this kind of sacrilegious shock a lot of kids have. And then they see what it's become. There's this switch that happens. I like that. I like that it happens.
Brian Jungen: Friendship Centre is on view at the Art Gallery of Ontario in Toronto until August 25.
Sheila Regan is a Minneapolis writer. She has written about visual art for Hyperallergic, Artnet News, First American Art Magazine, C Magazine, Broadly, Grok Nation, ArtAsiaPacific, and American Photo Magazine; she also writes about dance for the Minneapolis Star Tribune.